Investment Thesis
I am optimistic about Kohl's (KSS) because their stock price appears undervalued. They continue to beat their competitors in areas that are important such as revenue, ROIC, store productivity, and e-commerce.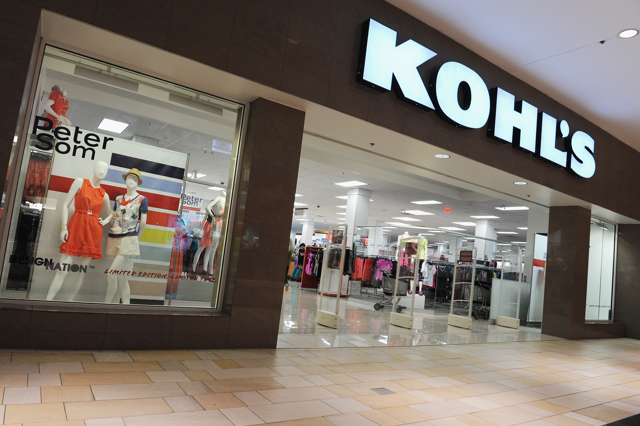 Source: Time.com
Kohl's reported a comparable sales increase of 6.3% and reported diluted earnings per share of $5.12 in their fourth-quarter press release. In the last year, Kohl's stock price nearly doubled from $39.59 in May of 2017 to $66.91 today. Kohl's is keeping up its momentum by opening up stores, while many of its competitors are closing stores.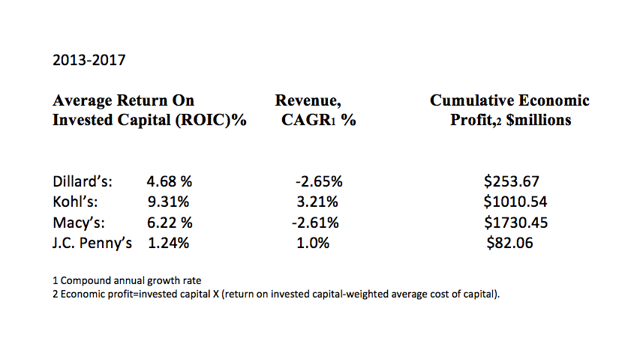 Source: Apothémata Stocks Research, using data from various sources
As seen from the chart above, Kohl's is doing better than most of its competitors. A healthy ROIC is generally between 10-20%. Kohl's is approaching the 10% mark. This metric puts them a step above their competition. They are also reporting positive revenue growth unlike Dillard's (NYSE:DDS) and Macy's (NYSE:M).
Winning The E-Commerce Game!
Kohl's announced last August that it was opening up its fifth e-commerce fulfillment center. Every retailer is now competing with Amazon (NASDAQ:AMZN). Kohl's is getting an estimated 36.69 million views a month to its website. It is ranking for over 2.7 million keywords.
Compared to its competitors, Kohl's is winning the online game by a longshot. Dillard's is getting an estimated 5.04 million visits a month and J.C. Penny (NYSE:JCP) is getting an estimated 26.48 million visits a month. Macy's is the only competitor that has more online traffic than Kohl's with an estimated 57.14 million visits a month.
Kohl's advertising budget decreased from $347 million in 2013 to $305.5 million in 2016. This is a significant decrease.
It was reported in November of 2017 that Kohl's online sales grew by 15%. All things considered, this is impressive. Kohl's is looking ahead to the future and understands that having a competitive online game could be a large part of how it stays in business in the future.
Sales Productivity and Same-Stores Sales Growth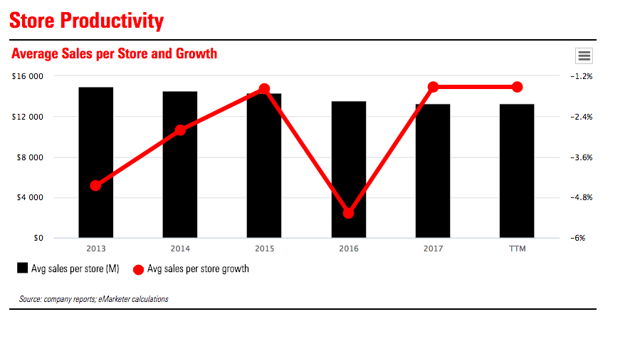 Source: Emarketer.com
Kohl's average sales-per-store is $13.27 million from 2013 to 2017. This amount decreased by -1.5% in 2017. However, in 2015, this number was down by -5.3%. Their average sales-per-square-foot is $156. This number is down from $168 per-square-foot in 2014. Looking at these numbers can often tell us where Kohl's is going revenue-wise. In 2018, Kohl's posted a 2.19% revenue increase in the first-quarter. In 2017, they posted a total revenue loss of -2.70%. So while these numbers do not tell us everything, they do tell us that Kohl's revenue has been flat to slightly decreasing over the last five years.
In order to gain a better perspective, we need to look at Kohl's competitors.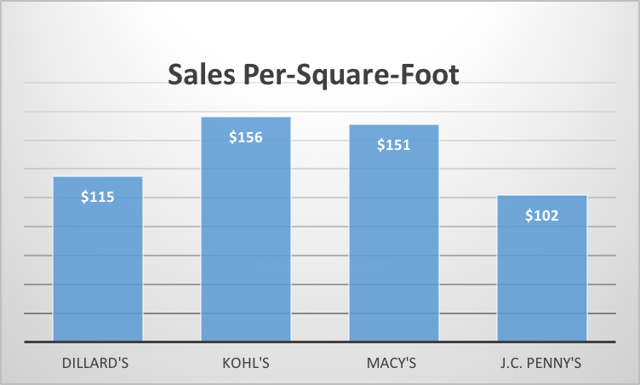 Source: Emarketer.com
Kohl's appears to have the highest sales-per-square-foot of all its competitors. This means that it is making good use of its floor space. Kohl's sales-per-square-foot is considerably higher than Dillard's and J.C. Penny. This would speak to the fact that Kohl's is making good use of its floor space.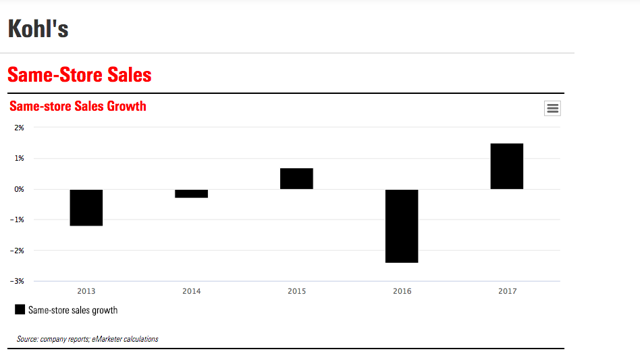 Source: Emarketer.com
Kohl's same-store sales growth has been up and down since 2013 as the chart above shows. In 2017, they were up 1.5%. However, in 2016, they were down -2.4%. These numbers have been relatively flat going between being positive and negative since 2013.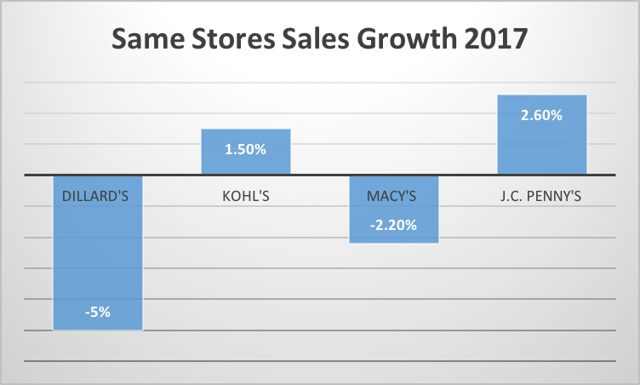 Source: Emarketer.com
Kohl's competitors are in the same ballpark regarding same-store sales growth. While Kohl's same-store sales growth was in positive territory in 2017, it was not there in 2016. Retail stores at large are suffering because of the retail apocalypse. Dillard's appears to be struggling the most, but that does not mean that the others are doing great either.
Strong Earnings Growth Forecast
Kohl's forecasted growth earnings are 7.13% in 2018 and then peak at a growth of 20.61% in January 2020. However, is expected to maintain a 5-year growth rate at 8.75%. Let's see if these numbers line up. Kohl's P/E ratio is 13.02. Its forward P/E ratio is 11.89. Its lowest P/E ratio in the last five years was 9.78 in August of 2017. Its highest was 18.78 in March of 2015. The average P/E ratio has been 15 over the last five years.
February 2018: EPS $5.14 (+64%)
January 2017: EPS $3.12 (-10%)
January 2016: EPS $3.48 (-18%)
January 2015: EPS $4:28
While these numbers do go all over the board, the February 2018 numbers make me optimistic that the forecasted earnings statement is indeed true. The 64% gain in my viewpoint makes up for the two decreases. While the revenues appear flat to slightly increasing, I am optimistic these numbers will continue to increase.
What Is Kohl's Stock Really Worth?
When we calculate the intrinsic value of a stock, we are using the current values of future distributable cash flow and dividing that sum by the number of outstanding shares. Thus, that number depends on your projections for those values.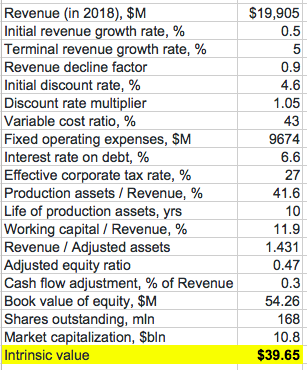 Source: Author's Projection
For this calculation, I used the initial revenue growth rate at 0.5%. The 5-year CAGR growth rate is -0.2%. If I increased that number to the current growth rate of 2.2%, the intrinsic value would be $87.23. If $39.65 sounds too low but $87.23 sounds too high, you can add those numbers together and then divide them and that number equals $63.44. If forecasted earnings growth happens as projected, then Kohl's stock is undervalued at $64.
Kohl's tabulate tangible book value is $32.30. This number is reached when you take the stockholder equity and subtract the intangibles such as goodwill, licenses, and other assets. This number is divided by the total numbers of outstanding shares. The $32.30 is the number that shareholders would get if Kohl's filed for bankruptcy or decided to liquidate. When you are looking at the tabulate tangible book value, you want this number to be as close to the stock price as possible. Currently, this number is half of what the stock price is. This number is slightly concerning, but Kohl's shows no signs of filing for bankruptcy or liquidating anytime soon.
Conclusion
Kohl's gross margins are currently at 36.23% and this is comparable to the industry. In the last quarter, Kohl's saw a gross profit growth of 10.61% and a net income growth of 84.98%. While the clothing retail industry in America is facing its share of challenges, Kohl's appears to be winning the game. Its revenue is managing to keep positive numbers while many other retail stores are not. It is beating Dillard's and Macy's in sales-per-square-foot. One of the biggest things that strike me is how it is able to increase its earnings per share price by 64% while its revenues are increasing. This stock appears to be undervalued and appears to have plenty of room for growth.
I am optimistic about this stock. It is beating the retail store trend and proving that it still is possible for a retail chain to succeed in America. If the growth predictions turn out to be true, Kohl's could be light years from its competitors in 2020s.
Disclosure: I/we have no positions in any stocks mentioned, and no plans to initiate any positions within the next 72 hours.
I wrote this article myself, and it expresses my own opinions. I am not receiving compensation for it (other than from Seeking Alpha). I have no business relationship with any company whose stock is mentioned in this article.