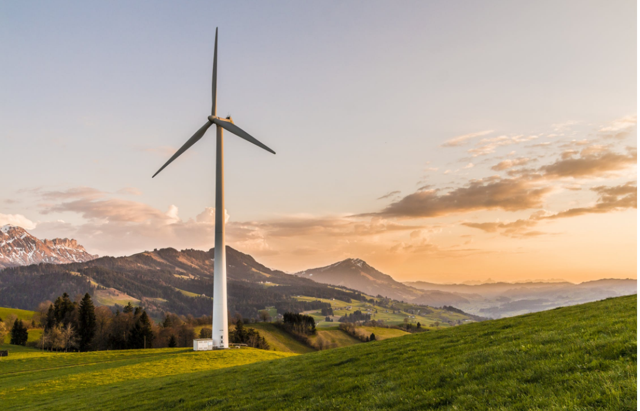 Being an advisor in New Jersey, I have often run into clients and prospects interested in investing in line with their moral or religious beliefs.
They are not alone, and sponsors had responded with both "socially responsible investing" or ("SRI") and religious themed funds. In recent years, we have also seen a new series of funds labeled "ESG," and just about a year ago, VanEck even launched a "Green Bond" fund.
Even though all of these investments were present, I had very few investors actually take them up, as in most cases, they simply did not make sense, and as such, they have not been at the forefront of ideas to be implemented.
Just last week, however, we saw yet another "socially responsible" series of investments from BlackRock, focused on removing firearms exposure.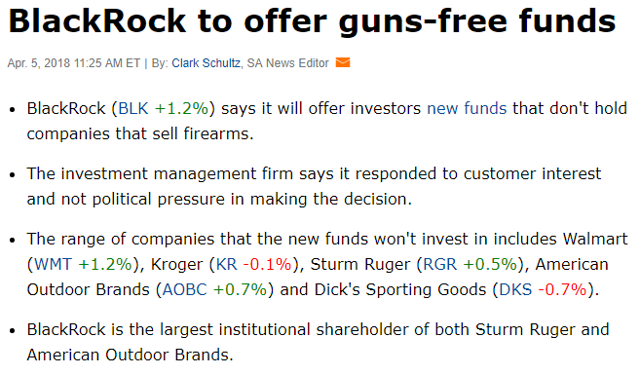 (Source: Seeking Alpha)
This new product announcement inspired me to take another look at these investments in order to try and figure out:
"Can investors invest with their morals without impacting their bottom line?"
Let's take a look.
"Moral" Investing 101
SRI, ESG, Green, Impact... what's the difference? Investors and the media tend to use the tittles interchangeably, and unfortunately, there are no set standards with the exception of two: "Green Bonds" and "Catholic Values."
While you would have to look at the details of each investment to figure out if its specifics suit your tastes, let me try to set some guidelines for each category.
Socially Responsible Investments - "SRI" - The first group of investments is generally known as SRI, or Socially Responsible Investments. Typically, these investments take a base index and then exclude certain industries. Traditionally, alcohol, tobacco, firearms, gambling, and other "sin stocks" are excluded. While there is no standard, many of such funds now exclude nuclear and fossil fuel energy companies as well.
Environment, Social and Governance - "ESG" - The next evolution of SRI investments comes from a different perspective. Unlike SRI funds, which build their portfolios from a position of excluding certain industries, ESG funds, on the other hand, choose to build their portfolios based on inclusion, focusing only on companies which they believe are good corporate citizens. These are companies which the managers believe are good stewards of the environment, have good policies and relationships with their employees and customers, and have corporate policies that align the interests of the company with its shareholders.
Impact Funds - Even though most would confuse "impact" with "ESG," there is a difference of focus. With "impact investing," fund performance and social change are equally important goals. Generally, these types of funds will either take a more vocal position with their shares in order to call for social change and/or donate a portion of their fees to charity. So, while all impact funds are ESG funds, not all ESG funds are impact funds. One prime example of this would be "Green Bonds," as seen in funds such as the VanEck Vectors Green Bond ETF (NYSEARCA:GRNB).
Religious Values - Much like SRI funds, which exclude certain "socially questionable" activities or values, religious values funds exclude investments which are not in compliance with Biblical values or Islamic principles. Currently, there are investment options available for Christian, Catholic and Islamic values. The Christian and Catholic funds would exclude companies engaged in production of contraceptives or stem cell research. The Catholic funds, in particular, comply with the "Responsible Investment Guidelines of the U.S. Conference of Catholic Bishops" (USCCB). Islamic funds invest in companies which comply with Sharia investment principles. If you are looking for some more details on religious funds in particular, Steven M. Williams wrote about them in his article "How To Invest According To Your Religious Values: ETFs And Mutual Funds."
So... How Have They Performed?
Generally speaking, you have two differing points of views on this.
From the marketing perspective, sponsors will usually bring up a study or two that shows that SRI or ESG funds do not give up performance for "investing with morals."
From the advisor perspective, I have yet to see any SRI investments which have kept up or outperformed their non-SRI or ESG peers over any meaningful time periods.
There have been new entrants into the field. Has anything changed?
The two largest SRI/ESG investments in the ETF marketplace are the iShares KLD 400 Social Index ETF (NYSEARCA:DSI) and the iShares MSCI USA ESG Select ETF (NYSEARCA:SUSA) with over $1.5 billion in assets combined. Both of these funds benchmark themselves against the MSCI USA index.
As ETFs, this should be a terrific comparison and perhaps the best opportunity for SRI/ESG funds to shine, as they are in efficient, low-cost ETF vehicles.
Over the previous 3 years, we can see that both DSI and SUSA lagged the benchmark, although SUSA is quite close.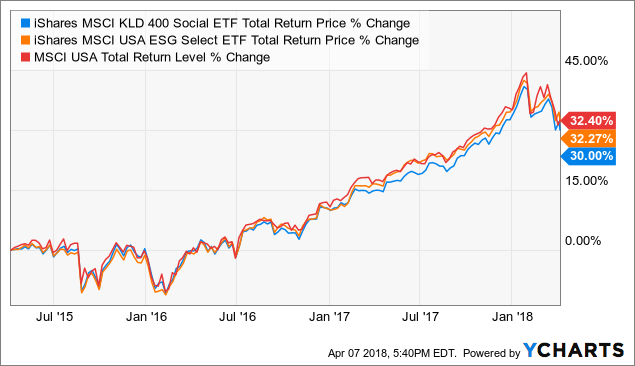 On a 5-year basis, however, the spreads get wider and the two SRI funds lag by 5%.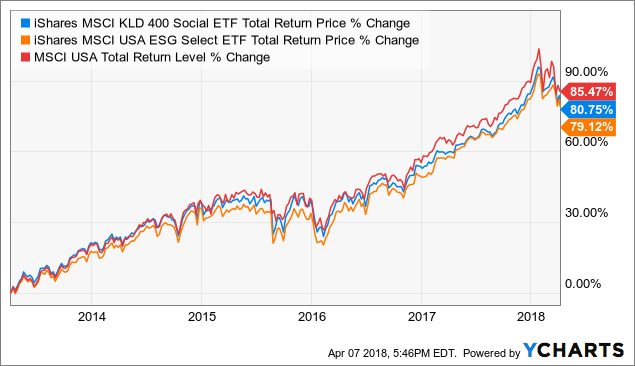 On a 10-year basis, we can find a 6% difference between the index and (DSI) and a 13% difference between the base index and (SUSA).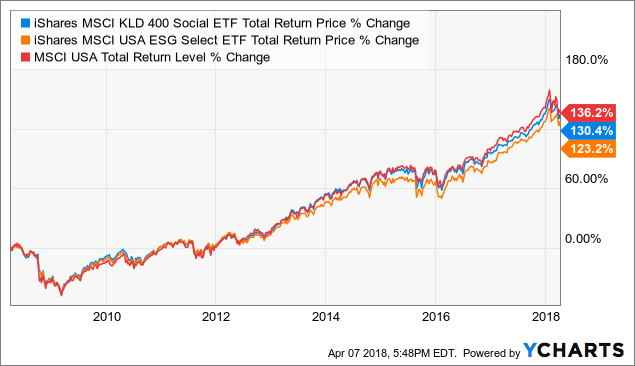 Overall, however, the results are not all that bad, and the funds generally keep in step with their unrestricted base indexes.
Why?
Because in reality, many of the companies are going to be the same as what you would find in most other large-cap funds, with very few companies, on a percentage basis, excluded from the index.
Most of the retail money in the SRI/ESG space is actually in open-end mutual funds.
Three of the more popular and more seasoned funds in this space are the Parnassus Endeavor (MUTF:PARWX), Vanguard FTSE Social Index (MUTF:VFTSX) and Calvert US Large-Cap Core Responsible Index (MUTF:CSXAX) funds.
Generally, over the previous year, actively managed funds have lagged the S&P 500 index as measured by (SPY).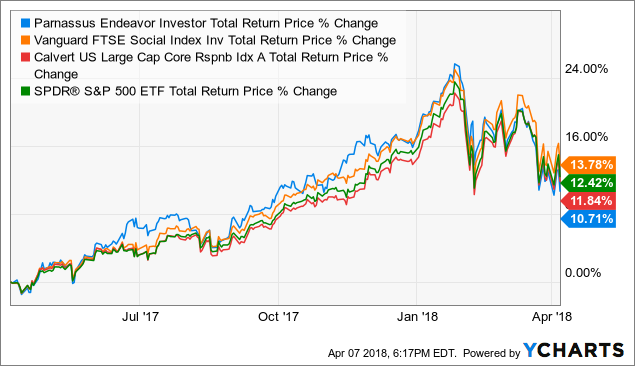 On a 3-year basis, however, we start seeing a change. The actively managed Parnassus fund has meaningfully outperformed both its actively managed competition and the passive indexes.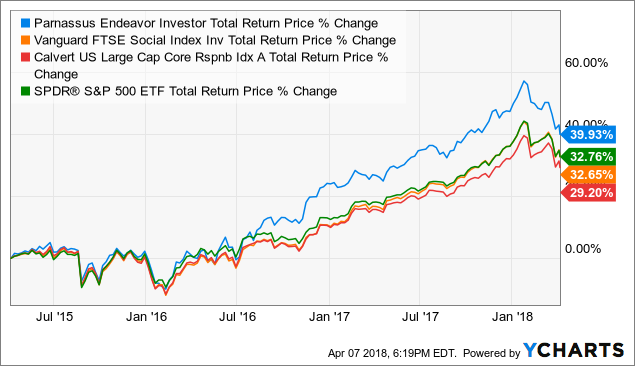 On a 5-year basis, this difference increases, with the Parnassus fund taking the lead once again. Interestingly, even the Calvert US Large-Cap fund outperformed the S&P 500.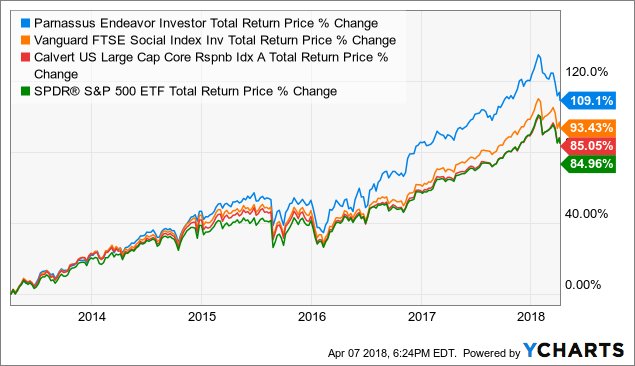 On a 10-year basis, the difference increases even more, all leading back to how the fund performed coming out of the financial crisis and recession.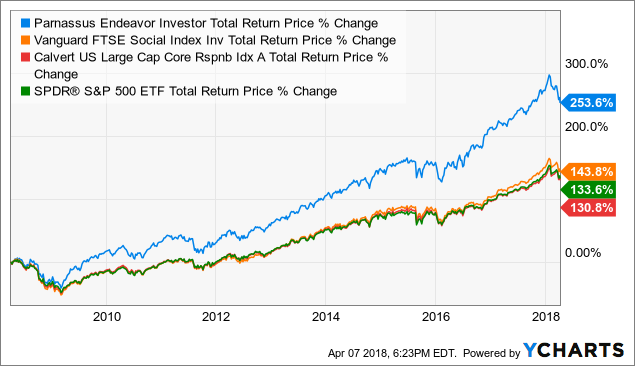 One reason for this outperformance would be that the Parnassus fund has about 20% allocated to mid-cap stocks, which surely helped.
Of course, these are stellar returns. Does this show that ESG funds outperform non-ESG investments? I don't believe so. I believe what this shows is that a good actively managed fund can meaningfully outperform a passive index.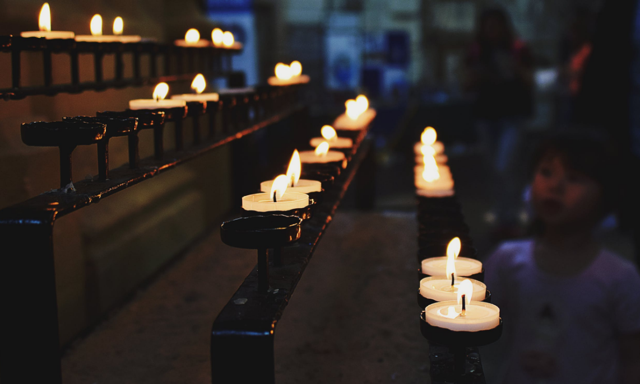 So what about Faith?
Surprisingly, it seems it has not been that difficult to outperform the S&P 500 while investing in line with your morals.
There are currently two faith-based ETFs: the Global X S&P 500 Catholic Values Index ETF (NASDAQ:CATH) and the Inspire Global Hope Large Cap ETF (NYSEARCA:BLES) which follows Christian values. Both of these were launched in 2017. They exclude companies that are related to or support abortion, gambling, alcohol, pornography or LGBT lifestyles.
The majority of the funds, however, are in the open-end mutual funds: the Ave Maria Rising Dividend (MUTF:AVEDX), Epiphany Faith And Family Values (MUTF:EPVNX) and LKCM Aquinas Catholic Equity (MUTF:AQEIX) funds.
Last, we have one of the only available funds compliant with Islamic principles: the Amana Mutual Funds Trust Growth Fund (MUTF:AMAGX).
Over the longest most common period for all of the funds, we can find that 4 of the funds have outperformed the S&P 500 on a total return basis: the Amana Growth, Epiphany FFV, LKCM Aquinas funds and the Global X Catholic Values ETF.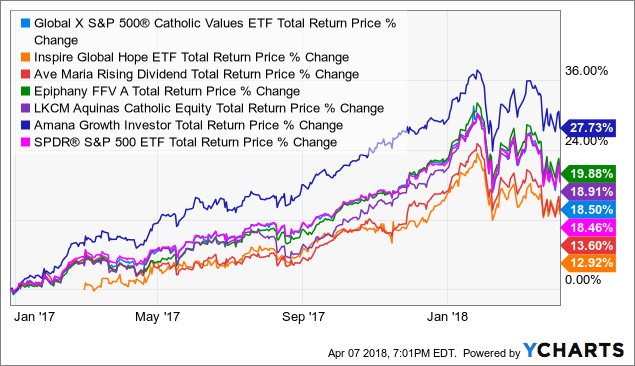 Over the previous three years, we can see the Amana fund has outperformed the S&P 500, but the Catholic values funds have lagged behind the S&P 500 by a meaningful margin.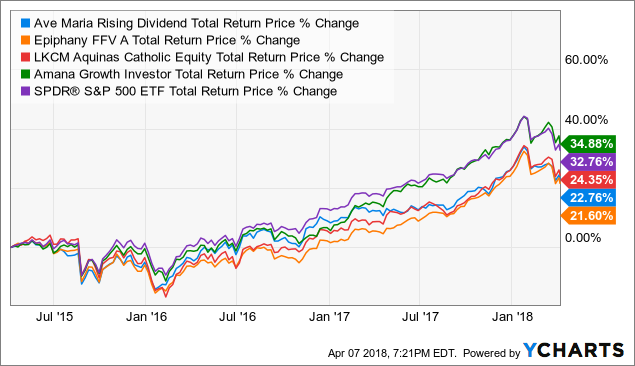 Over the previous 5 years, however, none of the faith-based funds have been successful.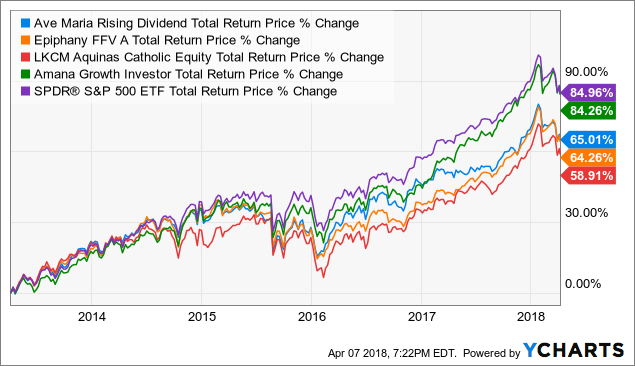 Looking back over the previous 10 years, though, we see a slightly different picture.
On a total return basis, the best-performing fund was the Ave Maria Rising Dividend fund, achieving 146.6%, coming in above the S&P 500's 133.6%.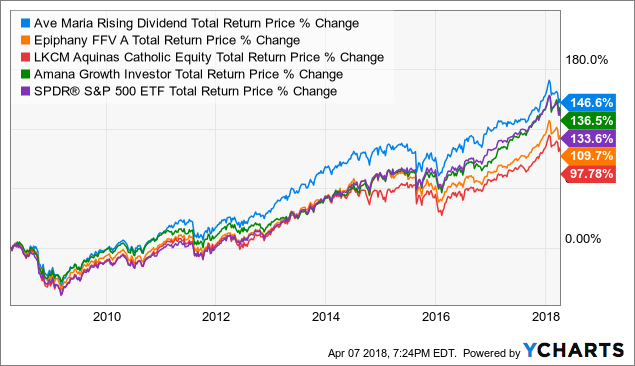 Over the longest common period since 2007, we can see that once again that the Ave Maria Catholic values and Amana Islamic principles funds have outperformed the S&P 500. The LKCM Aquinas and Epiphany Faith And Family Values funds, however, have meaningfully lagged.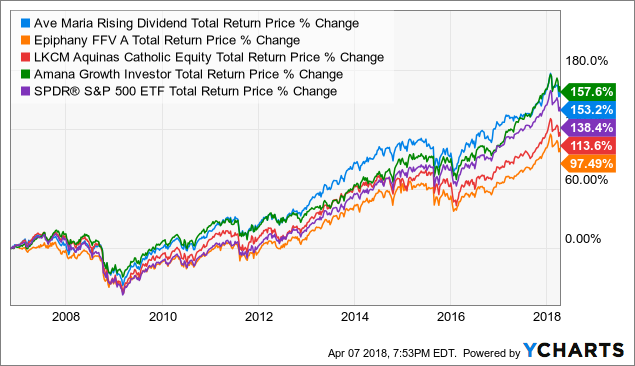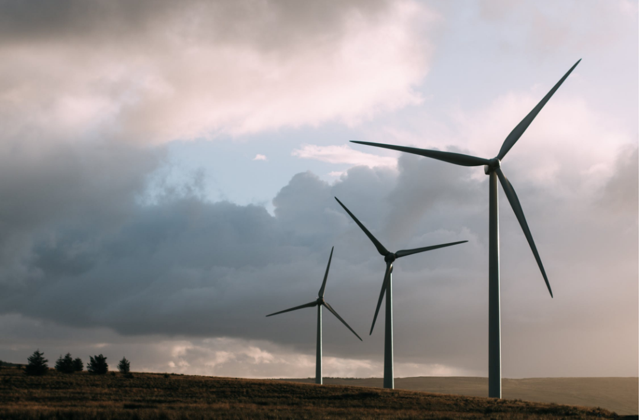 What About Income?
We also have a number of options on the income side, varying both in structure and focus.
Looking at the ESG and SRI ETF options does give us a good list. Unfortunately, they were recently launched and we do not yet have a full history for them.
The more popular new ETFs in this space are the iShares ESG USD Corporate Bond ETF (NASDAQ:SUSC), the Sage ESG Intermediate Credit ETF (BATS:GUDB), the Nuveen NuShares ESG U.S. Aggregate Bond ETF (NYSEARCA:NUBD) and GRNB.
What we can see over the short history is that the 4 ETFs behaved similarly, with the exception of the VanEck Vectors Green Bond ETF.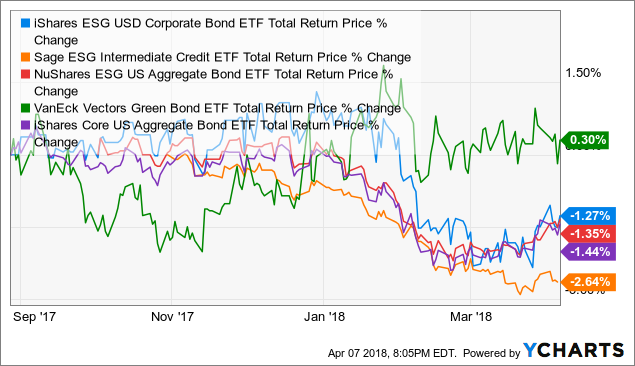 Most of the ESG and religious values income funds are once again open-end mutual funds.
On the ESG/SRI side, we have a number of funds such as the Calvert Bond Fund (MUTF:CSIBX), the Parnassus Fixed Income Fund (MUTF:PRFIX), the PAX Core Bond Fund (MUTF:PAXBX), the Touchstone Total Return Bond Fund A (MUTF:TCPAX), the TIAA-CREF Social Choice Bond Fund (MUTF:TSBRX), the BlackRock Impact Bond Fund (MUTF:BIAAX) and the PIMCO ESG Total Return Fund (MUTF:PTSAX).
Over the previous year, there has not been much difference in the portfolio. Over this time frame, the Calvert, TIAA, PIMCO and Touchstone funds outperformed the iShares US Aggregate Bond ETF (NYSEARCA:AGG).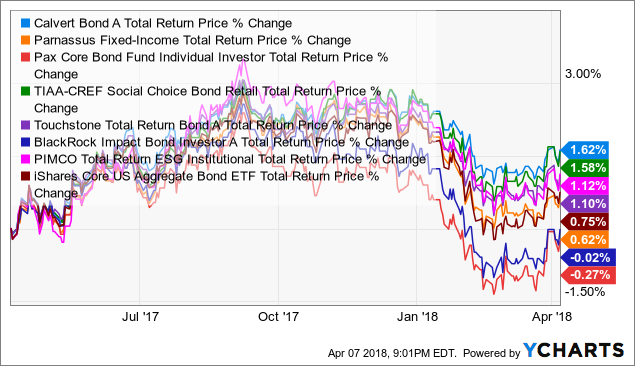 But how did the SRI/ESG bonds perform against any staple fixed-income mutual fund investors may already use? Two of the funds which have been a go-to for me as an advisor are the Fidelity Advisor Strategic Income (MUTF:FSTAX) and Lord Abbett Bond Debenture (MUTF:LBNDX) funds.
As we can see, over that same year, the two actively managed funds handily outperformed the SRI/ESG funds.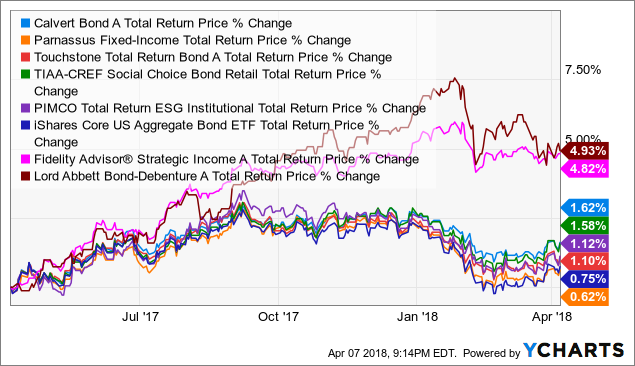 The same story holds true over 3-year,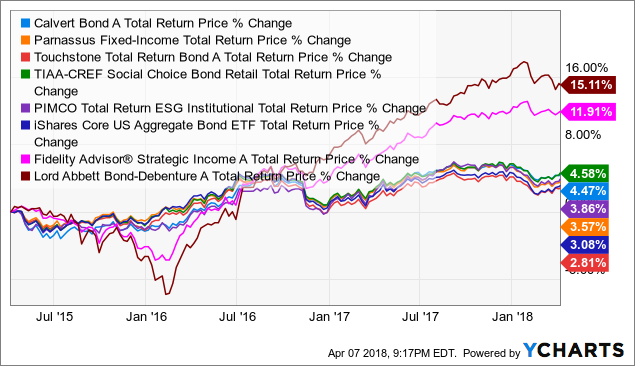 5-year,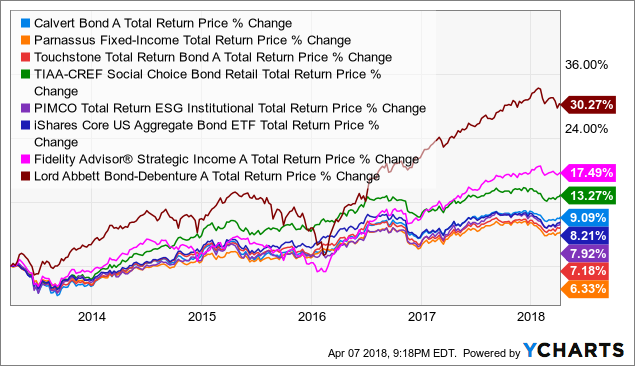 and 10-year time frames.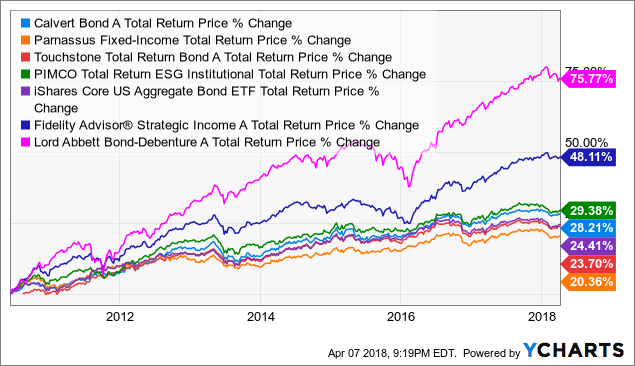 High Yield Funds
If we look and focus strictly on the "high yield" space, we can find three ESG-/SRI-driven funds: the Calvert High Yield Bond Fund (MUTF:CYBAX), Pax High Yield Bond Fund (MUTF:PAXHX) and the RBC BlueBay High Yield Bond Fund (MUTF:RHYAX). We can compare them to the SPDR Bloomberg Barclays High Yield Bond ETF (NYSEARCA:JNK) and two high yield funds from the same two fund families we previously looked at, the Fidelity Advisor High Income Advantage (MUTF:FAHDX) and Lord Abbett High Yield (MUTF:LHYAX) funds.
It is a similar story once again. Over the previous three years, we can find that while all 5 actively managed mutual funds outperformed the ETF, the two non-SRI/ESG mutual funds meaningfully outperformed.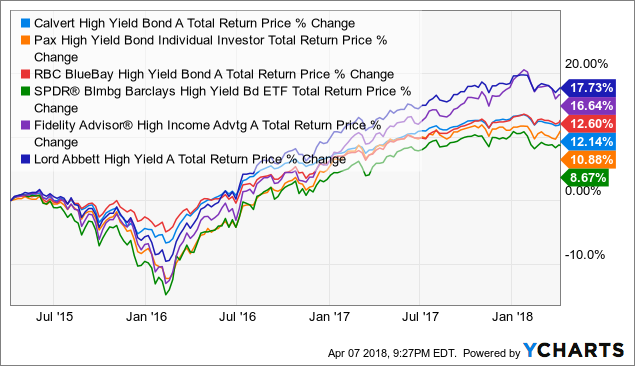 Over the earliest common time period, the story remains the same since the RBC's funds inception. The two non ESG/SRI restricted funds meaningfully lead the way. The RBC fund leads the ESG crowd but still trails behind. The PAX and Calvert funds further fail to beat the base index.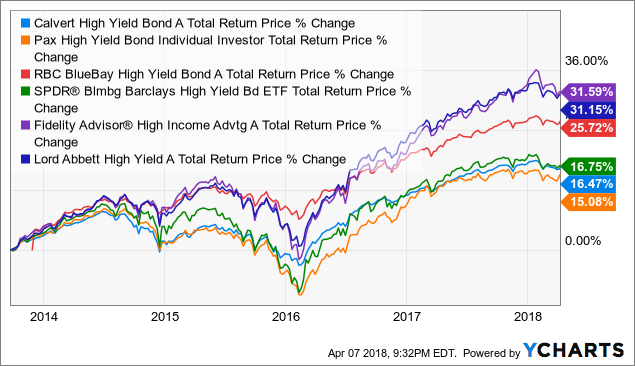 Going back 5 years, we continue to see the distinction, with the gap in performance continuing to open up.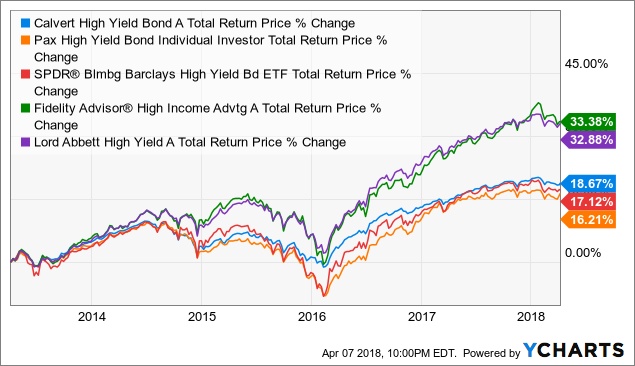 Going back 10 years, we see the case for active management in fixed-income made quite clearly. At this point, while the Calvert fund did beat the benchmark ETF, it still lagged quite behind non-ESG peers.
PAXHX, however, even fails to outperform the SPDR High Yield ETF, which, in the fixed-income world, should not be at all difficult for a competent fixed-income manager.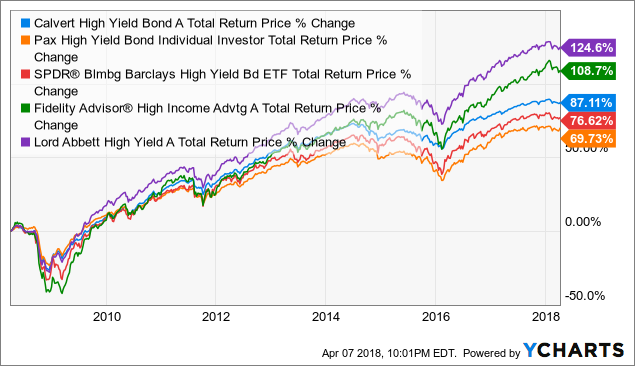 Faith-Based Income Funds
There are also a number of different faith-based income funds. While on the equity side ESG/SRI and faith-based funds focused on similar concepts, with income there are quite a few differences, especially for Islamic-focused funds where traditional interest paid by loans is considered usury and against Islamic principals.
The main faith based income funds available today are the Inspire Corporate Bond Impact ETF (NYSEARCA:IBD), the first faith-based fixed-income ETF focused on investment grade intermediate-term corporates, the SEI Catholic Values Trust Catholic Values Fixed Income Fund (MUTF:CFVAX), the Ave Maria Bond Fund (MUTF:AVEFX), the Epiphany FFV Strategic Income Fund (MUTF:EPIAX) and the two Islamic values funds, the Amana Participation Fund (MUTF:AMAPX) and the Azzad Wise Capital Fund (MUTF:WISEX).
Over the previous year or so, there has not been much difference, however. While the two Islamic funds have been positive, the Christian/Catholic funds were down, with the exception of the Ave Maria Bond Fund, which returned a 1.61% total return.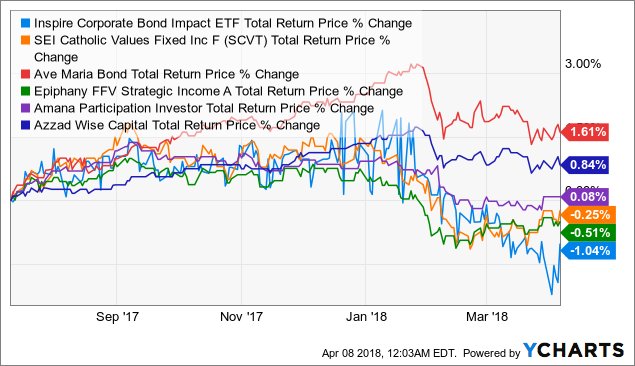 Taking out the newly launched ETF, we can get some longer history. Once again, though, I will add the two taxable income funds: the Fidelity Advisor Strategic Income Fund (FSTAX) and the Lord Abbett Bond Debenture Fund (LBNDX).
As we can see over the previous 3 years or so, the faith-based values funds have lagged the unrestricted taxable funds just like the ESG/SRI funds. The one standout from the group, however, is the Ave Maria fund, which fills the gap between the two groups.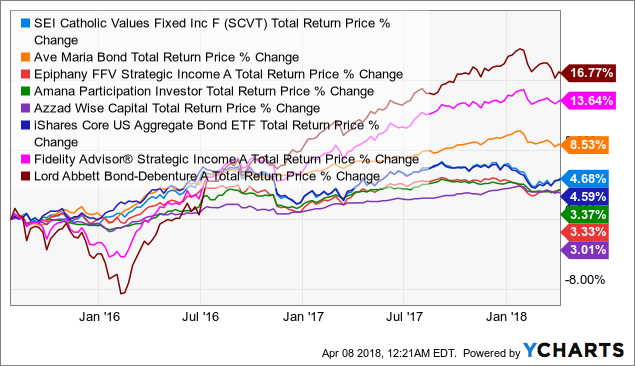 To get a 5-year number, we need to remove the two recently launched funds, the SEI Catholic Values and the Amana Participation funds.
The trend, however, remains the same. Once again, the Ave Maria Bond fund comes close to meeting the Fidelity Strategic Income fund, which is okay but nothing extraordinary.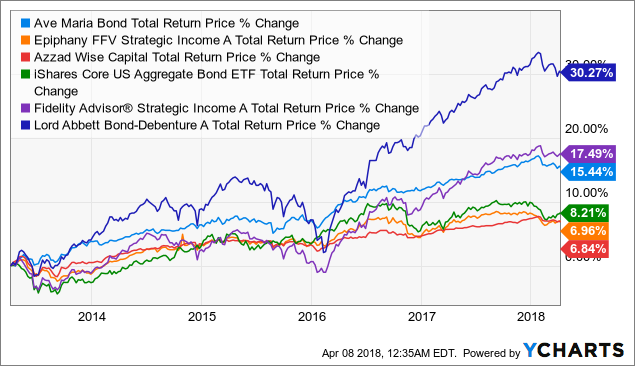 Over the previous 8 years, the longest common time frame for the remaining funds, we have more of the same.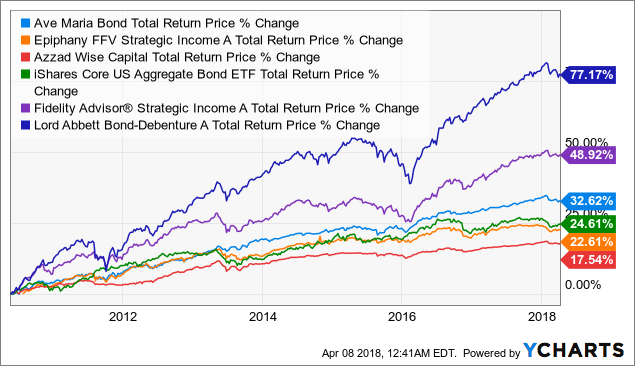 The only faith-based fixed-income fund that has been around for more than 10 years is the Ave Maria Bond fund. Looking back over 10 years gives us a fairly consistent fund, which, while it has outperformed AGG, has meaningfully lagged behind other fund non-faith based funds.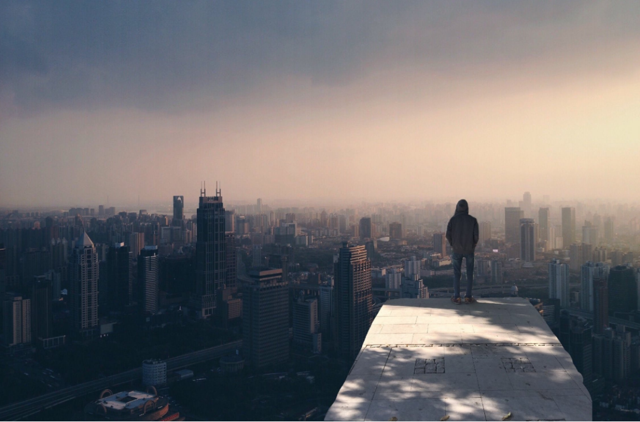 How About Munis?
In the municipal bond arena, there are far less available options. The main funds are the Calvert Responsible Municipal Income Fund (MUTF:CTTLX), the Columbia U.S. Social Bond Fund (MUTF:CONAX) and the JPMorgan Municipal Income Fund (MUTF:OTBAX).
We can take a look at how those three funds do against the plain-vanilla iShares National AMT-Free Muni Bond ETF (NYSEARCA:MUB), which I discussed in detail in the article "iShares National Muni Bond ETF - What's In This Hamburger?"
In order to see what type of an impact having an ESG/SRI focus has on performance, we can take a look at how the three do against my favorite open-end municipal bond fund, the Nuveen All-American Municipal Bond Fund (MUTF:FLAAX) and Columbia's non-ESG focused Tax-Exempt Fund (MUTF:COLTX).
Over the past year, we see with munis what we saw with taxable bonds: non-ESG/SRI funds lead the way.
In this case, the Nuveen All-American fund achieved a 3.9% total return, followed by the Columbia Tax-Exempt fund with its 3.24%. Columbia's Social Bond fund achieved 2.92%. The Calvert fund achieved a 2.37% total return and all 4 outperformed the iShares National Muni Bond ETF.
The JPMorgan muni fund, however, lagged all by a wide margin.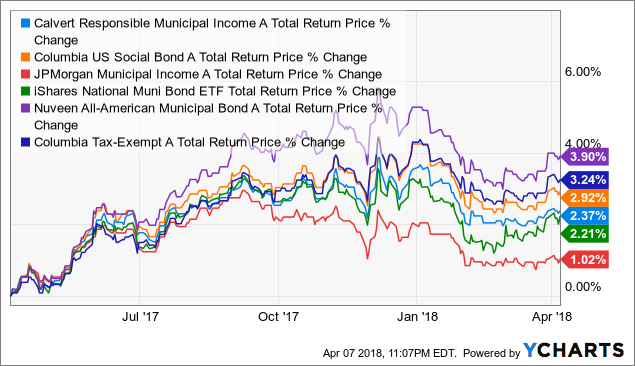 Over the most common time period for the 5 funds of just over 3 years, we see the same results. The two non-ESG/SRI funds meaningfully outperform the ESG/SRI funds.
Furthermore, while CONAX outperforms the iShares National Muni Bond ETF, the Calvert and JPMorgan funds do not.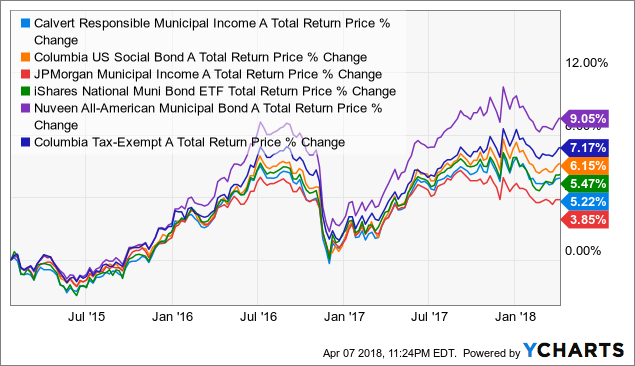 There is no change over 5 years, as our trend continues. The two actively managed ESG/SRI funds lag the unmanaged passive ETF, which the two non-ESG/SRI funds handily outperform.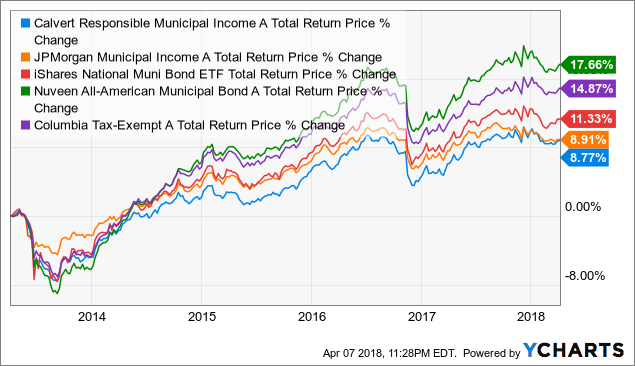 Over a 10-year period of time, we start seeing just how much money an ESG/SRI mandate is costing investors. The Calvert and JPMorgan municipal bond funds are giving up nearly 50% of their return to the iShares ETF and are doubled up by the Nuveen All-American Municipal Bond Fund, with the Columbia Tax-Exempt fund splitting the difference.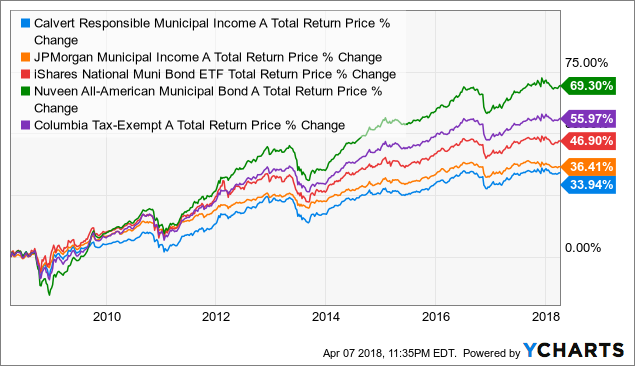 Bottom Line
I hope this article was helpful in understanding of the socially responsible and values-based investment landscape and their performance trends.
Generally speaking, I believe socially conscious or religious investors do not have to be afraid in choosing their equity investments based on their beliefs. While they will generally give up some performance, the higher up the market capitalization that you go, the less the penalty is.
We can see this with the long-term track records of the many actively managed mutual funds.
Where there is a distinct gap in performance, however, is in the passively managed investments.
We therefore have the question, "Are the SRI/ESG/Faith based equity funds which perform well against their unrestricted peers keeping up or excelling because of the SRI/ESG/Faith-based principles? Or merely because of good active management?"
My own take on that is that it is strictly good managers.
When we look at the numerous passive ETFs, what we find is that the SRI/ESG indexes generally lagged their base indexes over most time periods.
Where there is absolutely no question, however, is in the fixed-income world.
With both taxable and tax-free bond funds, the SRI/ESG and Faith-based funds have been struggling with both the underlying passive indexes and run-of-the-mill actively managed, higher fee, open-end mutual funds.
There are numerous investments which have been introduced over the past year, and unfortunately, we will not know how they perform for quite some time.
For the time being, investors seriously need to consider whether having your investments aligned with your beliefs is a must-have or a nice to have.
For me, while I am pleasantly surprised at the number of SRI/ESG equity funds performing well, I am not at all surprised to see them lag against the many competent, actively managed fixed-income mutual funds and passively managed ETFs. The only way I would recommend investors allocating to ESG/SRI/Faith-based fixed-income funds would be with a full disclosure of their historical lackluster performance and client acknowledgement that their preference and priorities are on the values rather than absolute performance.
The only other near-absolute case for faith-based income funds is for observant Muslims, who would either be focused strictly on equity investments or would need the allocation to sukuk, or Islamic bonds.
I hope this was helpful in your due diligence process and gives you some ideas.
If you have no interest in SRI/ESG or faith-based funds and rather have a preference towards your alcohol, tobacco and firearms, you can take a look at another market beating fund, the USA Mutuals Vice Fund (MUTF:VICEX).
If your focus is predominantly on the environment, then you can also look into the numerous funds which target companies that are low-carbon or carbon-neutral.
If you are interested in clean water and resources investments, do take a look at my water investment series,
"When the well's dry, we know the worth of water."

- Benjamin Franklin
Disclosure: I/we have no positions in any stocks mentioned, and no plans to initiate any positions within the next 72 hours. I wrote this article myself, and it expresses my own opinions. I am not receiving compensation for it (other than from Seeking Alpha). I have no business relationship with any company whose stock is mentioned in this article.