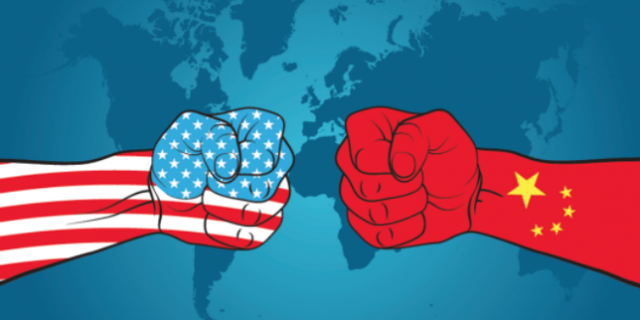 The prospects of a global trade war and the escalating tension between the US and China have taken center stage over the past few weeks. The ever-fluctuating news that could change at the instant of a tweet coming from Washington has caused much elevated volatility in the stock markets. When investors just started to become less concerned about the tariffs in early March that China and the United States are threatening to volley at each other, President Trump shocked markets last week with a new $100 billion tariff plan. The S&P 500 Index subsequently dropped over 2% on Friday.
In an earlier blog post, we discussed the reasons why governments impose tariffs and trade barriers. Before we present our view on the ramifications and implications on the stock markets, we conducted a survey asking our clients their thoughts on the impact of the trade war on global stock markets. We asked investors whether a full-scale trade war would have a mild, medium or large impact on the stock market, or even no impact at all. The following are the results of the survey: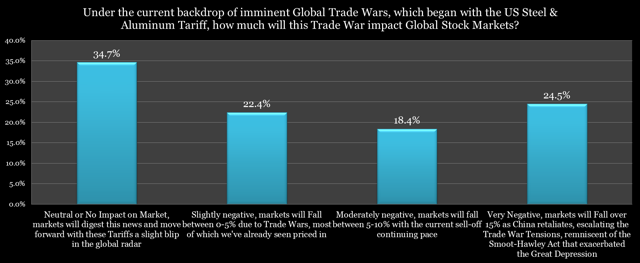 The survey statistics are fairly polarized, as around 35% of respondents think there will be no impact on market, and roughly 25% think a full-out trade war will be very negative and markets will fall over -15%. This should give investors a keen insight into what the market is thinking and what we can expect should tensions continue to escalate between the US and China.
Market positioning can render a significant impact on how markets will be impacted by this potential global trade war. Stay tuned for CrowdThnk's view on ramifications and implications on stock markets.
Disclosure: I/we have no positions in any stocks mentioned, and no plans to initiate any positions within the next 72 hours. I wrote this article myself, and it expresses my own opinions. I am not receiving compensation for it. I have no business relationship with any company whose stock is mentioned in this article.