Are Soybean Tariffs Irrelevant?
Editor's note: This article was originally published on April 9, 2018, by Menzie Chinn here.
I've seen the argument that China's tariffs on soybeans will have no effect because the soybeans will be relabeled so that US soybeans go to Europe, and soybeans that previously went to Europe go to China, evading Chinese tariffs on US soybeans. John Cochrane makes this point. This seems to have surface appeal in a world where transport costs are zero, and there are no set-up costs to establishing new trading links. Still, I sensed that this conclusion must rest on some assumptions, including for instance infinitely elastic supply. I decided to investigate further.
For the sake of argument, let's assume zero transport costs. What does formal modeling say? This was beyond me, fortunately I didn't have to re-invent the wheel. From Gardner and Kimbrough, "The economics of country specific tariffs," International Economic Review (1990):
[W]hen the favored country's free trade production of home importables is large enough the imposition of a country-specific tariff will alter the pattern of world trade but will not affect relative prices or welfare levels throughout the world economy. When this condition is not satisfied a country-specific tariff has an impact that is equivalent to that of a uniform tariff plus a production subsidy in the favored country that is paid for by a transfer from the home country.
In this context, China is "home" and the "favored country" is Brazil or Argentina. Then Cochrane is correct - if Brazil or Argentina is a sufficiently large low-cost producer, then the country-specific tariff targeting the US merely re-arranges trading patterns.
However, if neither Brazil nor Argentina are the largest producer, or the US is a low-cost producer, then the tariff will lower world prices, and raise prices in China. What do the data say?
For costs, this 2016 USDA ERS report suggests that the US is neither the lowest cost, nor highest cost, producer.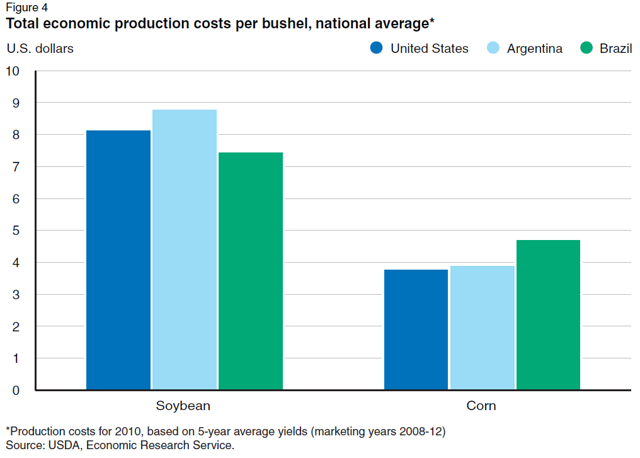 Source: Birgit Meade, Estefanía Puricelli, William McBride, Constanza Valdes, Linwood Hoffman, Linda Foreman, and Erik Dohlman (2016).
For production, it's also close; from Reuters via The Burning Platform.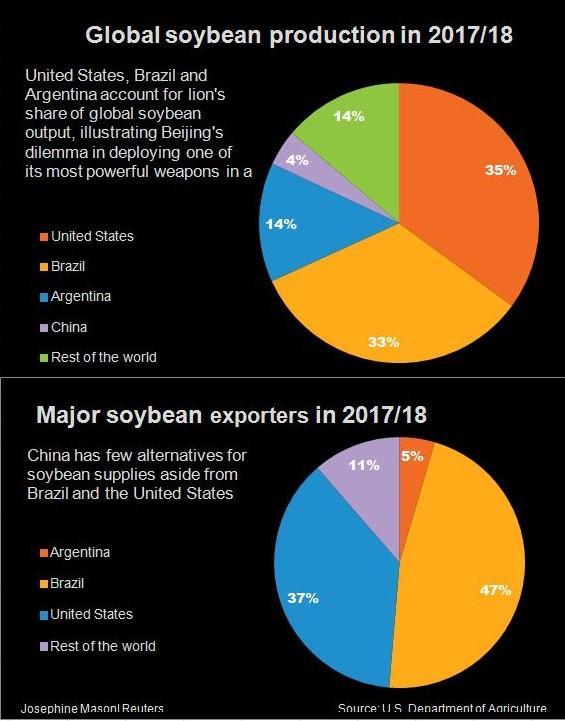 The data suggest that it's entirely possible that the Chinese tariffs will have an impact on US soybean export prices, Chinese import prices inclusive of tariffs, and US and Argentine/Brazilian soybean export prices.
This article was written by
James D. Hamilton has been a professor in the Economics Department at the University of California at San Diego since 1992. He served as department chair from 1999-2002, and has also taught at Harvard University and the University of Virginia. He received a Ph.D. in economics from the University of California at Berkeley in 1983. Professor Hamilton has published articles on a wide range of topics including econometrics, business cycles, monetary policy, and energy markets. His graduate textbook on time series analysis has over 14,000 scholarly citations and has been translated into Chinese, Japanese, and Italian. Academic honors include election as a Fellow of the Econometric Society and Research Associate with the National Bureau of Economic Research. He has been a visiting scholar at the Federal Reserve Board in Washington, DC, as well as the Federal Reserve Banks of Atlanta, Boston, New York, Richmond, and San Francisco. He has also been a consultant for the National Academy of Sciences, Commodity Futures Trading Commission and the European Central Bank and has testified before the United States Congress. _________________________________________________ Menzie D. Chinn is Professor of Public Affairs and Economics at the University of Wisconsin's Robert M. La Follette School of Public Affairs. His research is focused on international finance and macroeconomics. He is currently a co-editor of the Journal of International Money and Finance, and an associate editor of the Journal of Money, Credit and Banking, and was formerly an associate editor at the Journal of International Economics and the Review of International Economics. In 2000-2001, Professor Chinn served as Senior Staff Economist for International Finance on the President's Council of Economic Advisers. He is currently a Research Fellow in the International Finance and Macroeconomics Program of the National Bureau of Economic Research, and has been a visiting scholar at the International Monetary Fund, the Congressional Budget Office, the Federal Reserve Board and the European Central Bank. He currently serves on the CBO Panel of Economic Advisers. With Jeffry Frieden, he is coauthor of Lost Decades: The Making of America's Debt Crisis and the Long Recovery (2011, W.W. Norton). He is also a contributor to Econbrowser, a weblog on macroeconomic issues. Prior to his appointment at the University of Wisconsin–Madison in 2003, Professor Chinn taught at the University of California, Santa Cruz. He received his doctorate in Economics from the University of California, Berkeley, and his AB from Harvard University.