For investors who are interested in stocks of Chinese companies listed in the U.S., there are some heavyweight developments lately regarding this sector that they should be fully aware of. In the just ended annual parliamentary meetings in China, top government leaders announced that they were working hard on offering CDRs – Chinese Depository Receipts – to investors in China. At almost the same time, Chinese SEC officials also announced that they would dramatically shorten the time of IPO approval for well-qualified companies and that the country welcome Chinese companies listed overseas to come back home to have their common shares or CDRs listed and traded on Shanghai and Shenzhen stock exchanges. Here is a news piece in China reporting these recent developments, and an English report of the developments can be read on Forbes.com.
The situation warrants special attention to investors in the U.S. because the coming months may mark a once-in-a-decade opportunity to enjoy extraordinary, event-driven returns on stocks of Chinese companies currently trading in the U.S. The reason is strong and simple: for the majority shareholders and top executives of many Chinese companies trading at low valuation levels on the NYSE or Nasdaq, the much higher valuation multiples of their peers trading on Shanghai or Shenzhen exchanges are just too appealing to them. How high are the valuation multiples of their peers trading in China compared to Chinese companies trading in the U.S.? Let's take big and well-known Chinese Internet portals Baidu (NASDAQ: BIDU) and Sina (NASDAQ: SINA) for examples. The following table shows their P/E (Price-to-Earning) and P/B (Price-to-Book) ratios compared to two well-known Internet portals trading on the Shanghai exchange. As we can see, the stocks of two comparable peers in China enjoy P/E ratios more than 10 times as high as Baidu's and Sina's and P/B ratios twice as high as Baidu's and Sina's.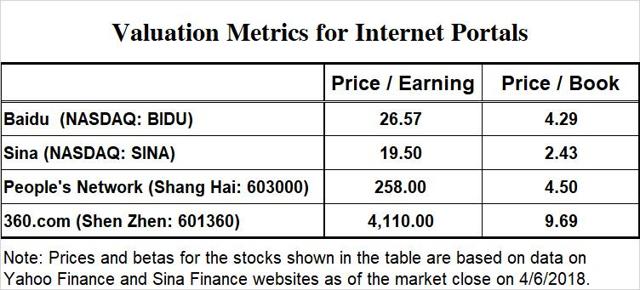 360.com serves as the strongest and most vivid example of the swift and huge arbitration gain a U.S.-listed Chinese company can take by changing the listing of its stock from a stock exchange in the U.S. to a stock exchange in China. Before announcing the going private deal at the end of 2015, 360.com's stock traded at a market capital of about $8 billion in the U.S. After going private in the U.S. and then listing the company's stock on the Shen Zhen exchange, the company was valued at around $54 billion at the end of 2017. That represents a humongous arbitration gain of 575% in just two years for its majority shareholders!
There are two ways for a Chinese company listed oversea to go home. The first way is to list CDRs of its common shares on Shanghai or Shen Zhen exchange. The company that is most likely to be the first one to go through this route is Alibaba (NYSE: BABA), the most well-known Chinese ecommerce giant. As of today, Alibaba's stock is trading at a P/E ratio of about 40. Even though the valuation multiple is higher than Baidu's or Sina's, it is still dwarfed by those of the Internet companies listed in China mentioned above. An article published by Reuters last month reported the details of Alibaba's intent to dual-list its shares in the U.S. and China. Other Chinese tech giants such as Tencent Holdings (OTC: TCEHY), Baidu, and NetEase (NASDAQ: NTES) also expressed interest of supporting their government's call to go home, as reported by an article published on Pan Daily. The fact that Alibaba is likely to be the first oversea Chinese company to go home may seem somewhat counter-intuitive since the company is not the most undervalued Chinese company listed overseas. However, two important factors – national security and national pride – are in play here. Being the largest company of China, Alibaba dominates the nation's e-commerce market. According to China Internet Watch, Alibaba's Taobao and Tmall sites own about 56% of the B2C market and 80% of mobile shopping market in China. Taobao and Tmall have become so big that they are now important and fast growing sales channels for some of the biggest players in other industries in China such as New Oriental Education (NYSE: EDU) and Kingold Jewelry (NASDAQ: KGJI). In the Chinese government's eyes, letting a stock exchange of another country control the shares of its biggest Internet titan poses a threat to its national security. It is also a dent to China's national pride, a thing that its government emphasized repetitively in recent years. Alibaba's security issue has become a very serious issue to the Chinese government because its financial services – AliPay and Antlin.com – have become so enormous over the past several years and are now processing tens of trillions of RMB transactions every year and managing over two trillion RMB of assets at any given time. The idea that an international conglomerate, possibly supported by foreign governments, may buy the majority shares of Alibaba and take control of a big part of its financial system makes Chinese leaders sleepless at night.
At the same time, listing its shares in the Shanghai or Shenzhen exchanges is also a wise thing for Alibaba to do and fits its own interest. Alibaba's main customer base is still located in China, and it still has big plans of expanding into many new businesses in China. Those expansions need huge amounts of capital and support by the Chinese government. Thus, having access to the public capital market and gaining the status of a publicly-listed company in China are important to the company. Alibaba chose to go public in the U.S. several years ago simply because at that time it was very hard for it to conform to the rigid rules and procedures of going public in China. For one thing, its layered ownership structure, featuring preferred shares and common shares, was a conflict to China's business law. The situation has changed now. The Chinese government is overhauling its laws and regulations quickly; it may even just give Alibaba a special green light before new laws and regulations are set in place because it is so eager to have the company go back home.
For smaller Chinese companies currently listing their stocks in the U.S., maintaining dual listings in the U.S. and China may not be cost-effective. The costs not only include money but also include time and energy spent in maintaining a listing on a stock exchange. A more appealing way may be just going private first in the U.S. and then going IPO again in China. Because China has simplified the process and shortened the time of approving an IPO application this year, the maneuver of withdrawing a listing in the U.S. and then going public in China has become much less painful and time-consuming for Chinese companies listed overseas. Among Chinese small-caps, companies with low valuation multiples yet with established histories and strong brand-names in their respective industries, such as Xinyuan Real Estate (NYSE: XIN) and Kingold Jewelry, are the most likely buyout targets and thus the most likely the ones to go back home soon. Xinyuan Real Estate is currently trading at a P/E ratio of about 5 and a P/B ratio of less than 0.4 on the NYSE, while similar-sized real estate companies listed in China are trading at P/E ratios of 15 or higher and P/B ratios of 2 or higher. For Kingold Jewelry, the company is currently trading at a P/E ratio of just over 3 and a P/B ratio of just over 0.2, while gold companies listed in China are trading at P/E ratios of 40 to over 100 and P/B ratios of 2 to over 10.
The escalating disputes between the U.S. and China regarding tariffs and intellectual properties are amplifying China's sense of national security and pride, making China's urge to call its companies listed overseas home stronger than ever. There may be a flurry of dual-listing and private-buyout cases among Chinese companies this year. Interested investors may consider establishing some positions in selected Chinese companies now to be in a position to take opportune gains should announcements of dual-listings or buyouts come out from some Chinese companies at some time in 2018.
Disclosure: I am/we are long KGJI.
I wrote this article myself, and it expresses my own opinions. I am not receiving compensation for it (other than from Seeking Alpha). I have no business relationship with any company whose stock is mentioned in this article.
Additional disclosure: Disclaimer: The opinions of the author are not recommendations to buy or sell any security. Please remember to do your own research prior to making any investment decisions, as well as knowing your own unique goals and tolerance for risk.
Editor's Note: This article discusses one or more securities that do not trade on a major U.S. exchange. Please be aware of the risks associated with these stocks.