Dean Foods (DF) shareholders have had a rough 52 week run with the company's stock. Shares are more than 50% off of their 52-week highs. While income investors may be attracted to the company's recent 4% crossing dividend yield, the company's bonds have also sold off. The company's 2023 maturing senior notes are now trading at 99.5 cents on the dollar. Combined with a 6.5% coupon, the bonds are yielding 6.6% to maturity and look to be a safer investment than the stock.

Source: FINRA
Dean Foods saw slightly improved revenues in 2017. After a noticeable sales decline in 2016, revenues increased $80 million (1%) in 2017. Unfortunately, the company's cost of goods rose by more than revenues leading to a gross profit that was the lowest in at least three years. After operating expenses, operating income was down $180 million or only one third of 2016. Fortunately, $55 million of that drop was related to one-time charges such as reorganization costs and impairment.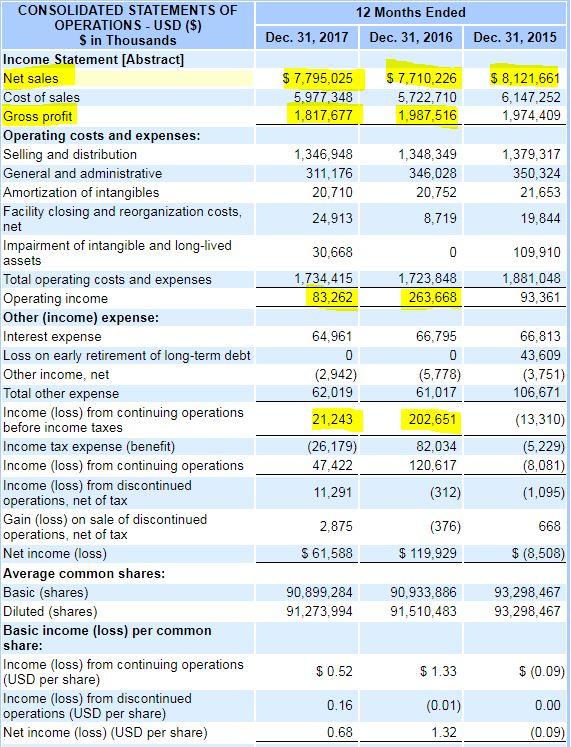 Source: SEC 10-K
Dean Food's balance sheet saw mostly uneventful changes in 2017. One noteworthy item to investors is the changes in the company's debt profile. While at first sight, the increase of long term debt by $170 million may be alarming to bondholders, the capital structure is sounder. The company saw $140 million in current debt come due and the company financed it by issuing long term debt. Overall, Dean Foods liabilities actually decreased by $150 million in 2017.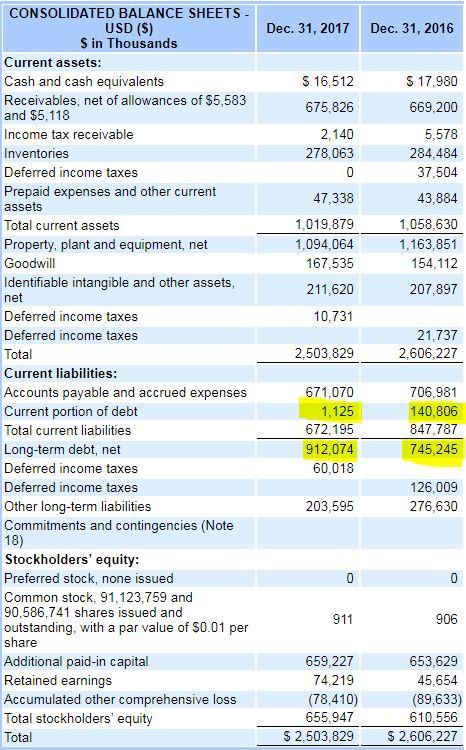 Source: SEC 10-K
With the income statement and balance sheet telling two different stories, the cash flow statement becomes paramount to the ability of the company to pay down its debt. Operating cash flow did fall by $110 million in 2017, but this was mainly due to $50 million in tax treatment changes and $38.5 million in pension contributions. According to the employee retirement section in the 10-K's notes, the pension contributions should decline by $20 million in 2018. After capital expenditures, the company had roughly $28 million in free cash flow in 2017. Unfortunately, the company had paid $33 million in dividends and had a business acquisition, which led to the need for additional financing.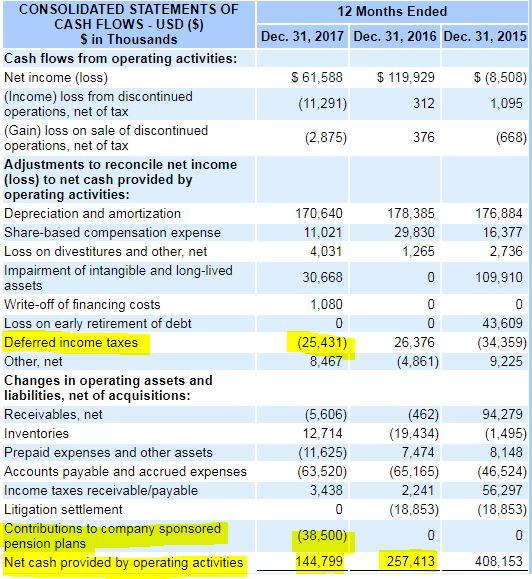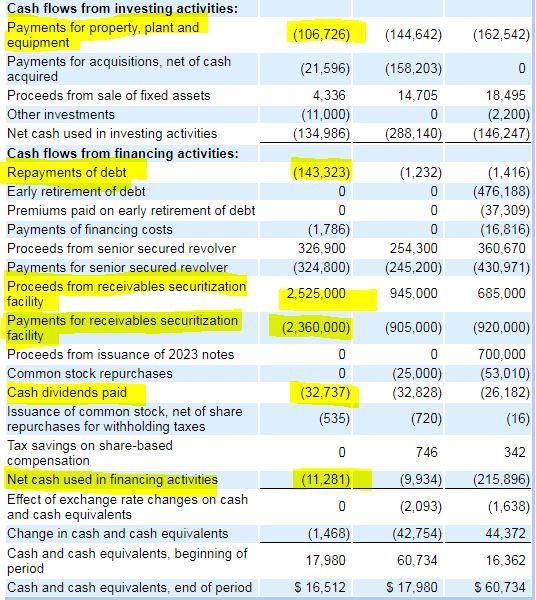 Source: SEC 10-K
In terms of the additional financing in 2017, Dean Foods used its receivables securitization facility to pay off senior notes that were due. This will end up saving the company some money over time as the receivables facility carries an interest rate greater than 400 basis under the 2017 notes. The receivables facility is the next large balance debt to come due (in 2020). The 2023 bonds are next, with the company needing to pay down or refinance $700 million at that time.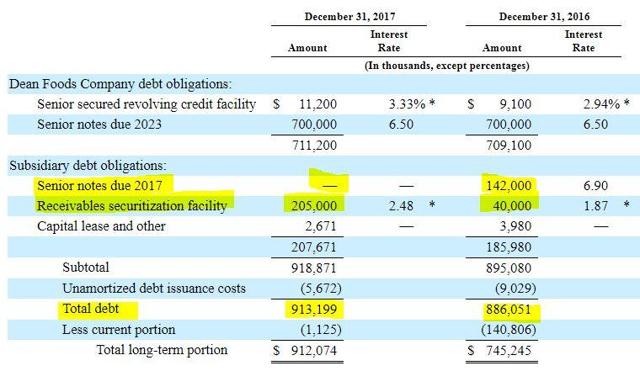 Source: SEC 10-K
Fortunately for bond investors, Dean Foods provided robust 2018 guidance to help determine whether or not the company can reduce its debt load. If we take the middle ranges of free cash flow and cap ex guidance, Dean Foods will generate $7.5 million in cash after dividends in 2018. The company's guidance also noted $150 million in cost savings by 2020. By assuming that will start in 2018, our model assumes $50 million in increased operational cash flow for 2019 and 2020. The analysis concludes with no changes in 2021 or 2022.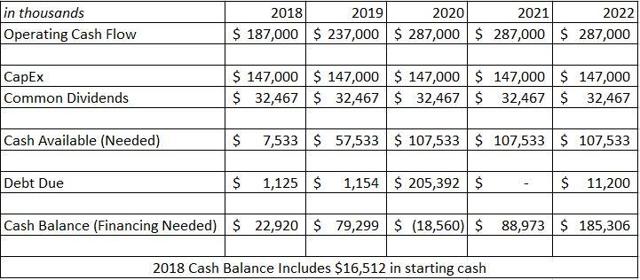 Source: Company Guidance Data Inputted in Spreadsheet
Based on the company's guidance, I believe that Dean Foods will be able to greatly reduce its receivables facility by 2020 and refinance a portion of under $50 million going forward. For the 2023 bonds, the company should enter the year with the ability to pay down $200 million and refinance the remaining balance, possibly rolling some of it into the receivables facility. While the notion of saving $150 million over five years by eliminating the dividend would not be appetizing to equity holders, it represents another avenue the company can take to generate the cash to reduce debt.
Overall, the 7% income on the debt is far safer than the 4% income on the equity.
CUSIP: U24044AB2
Price: 97.00
Coupon: 6.5%
Yield to Maturity: 7.0%
Maturity Date: 3/15/2023
Disclosure: I/we have no positions in any stocks mentioned, and no plans to initiate any positions within the next 72 hours. I wrote this article myself, and it expresses my own opinions. I am not receiving compensation for it (other than from Seeking Alpha). I have no business relationship with any company whose stock is mentioned in this article.