Account Overview
REITs recovered nicely from two consecutive months of violent declines to generate a return of 3.23% per the MSCI US REIT index (RMZ). On the other hand, broader stocks declined by 2.74%, as Tariffs and Technology weighed down the SPDR S&P 500 ETF (SPY). Leadership from REITs and Utilities, was a welcome reversal for income-seeking investors. Both sectors sat atop the monthly return rankings by sector, and at least for REITs, it was the first time it cracked the top 3 since June 2017.
Returns were also more tightly dispersed than in the previous 3 months when the difference between the top and bottom performing sectors were over 12%. We still believe this is an environment for active management and suggest investors pay careful attention to index-hugging ETFs and instead focus on actively-managed ETFs and mutual funds – or individual security selection – provided it's done with adequate diversification.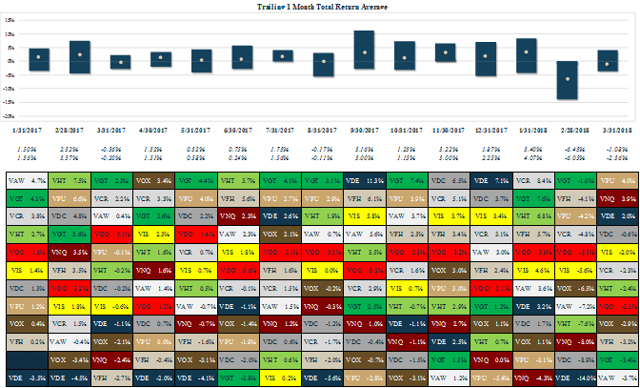 March 2018 Performance
Our portfolio outperformed the benchmark MSCI US REIT Index for the 6th consecutive month with a return of 4.08% compared to the index return of 3.23%. Our top contributors were QTS Realty (QTS), which took a beating the previous month for lowering guidance – even though that lowered guidance is temporary. Rounding out the Top 5 contributors were Independence Realty Trust (IRT), Uniti (UNIT), Duke Realty (DRE) and Monmouth (MNR).
Our top detractors from performance were General Growth Properties (GGP), Kimco (KIM) and Hospitality Properties Trust (HPT). This month we saw a dramatic reversal from last month, when only three positions had gains. This month, only those three positions mentioned were in the red, and HPT was down just 0.02%.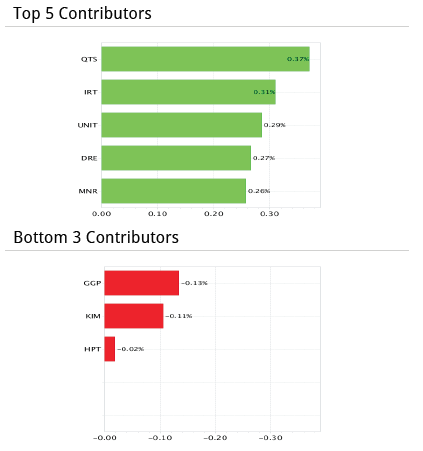 The average weight, return and contribution of each position is shown below: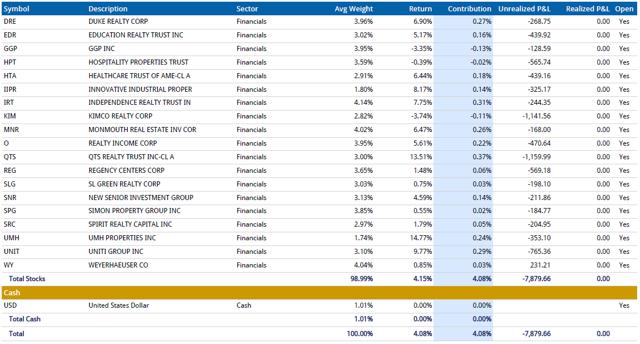 A breakdown of the performance by symbol is shown below: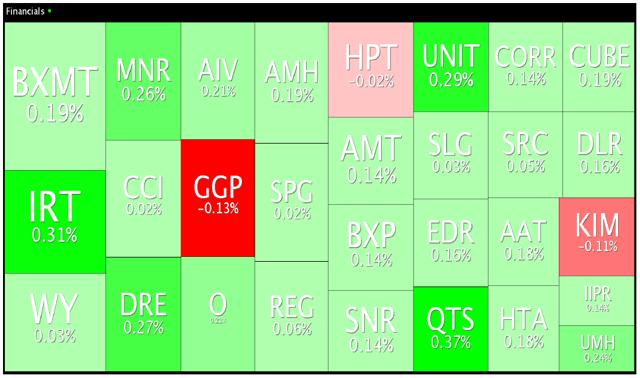 YTD
The portfolio is still down almost 7% on a YTD basis, outperforming the MSCI US REIT Index, with a YTD loss of 9.08%.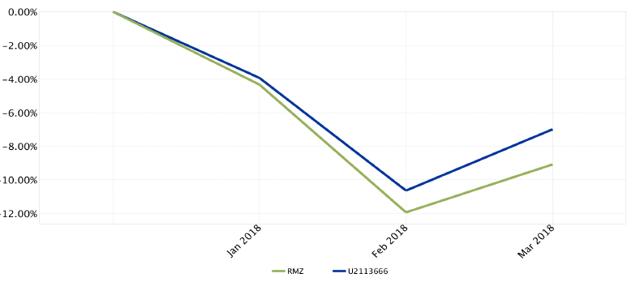 The portfolio has outperformed the broader REIT index each month this calendar year, which has resulted in lower downside volatility.

Downside deviation for the portfolio was 5.09% while the broader REIT index had a downside deviation of 5.69%.

Performance By Symbol
Very few positions have generated positive returns on a YTD basis and declines are led by QTS Realty, Kimco, and Monmouth, 3 of the top 5 performers this past month.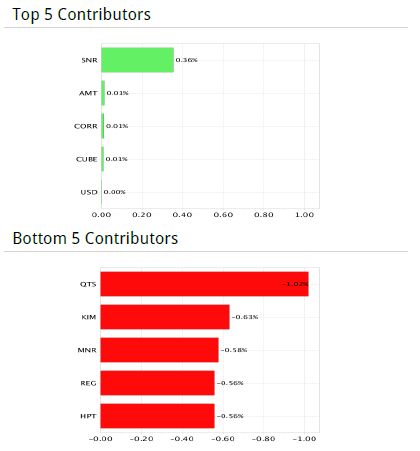 Since Inception
As mentioned earlier, the portfolio has outperformed the index for 6 consecutive months and now has a cumulative loss of -5.11% compared to a 9.88% loss on the index.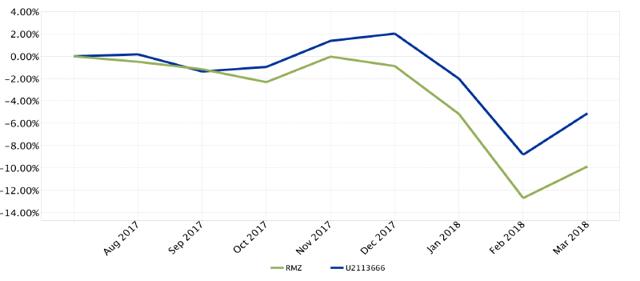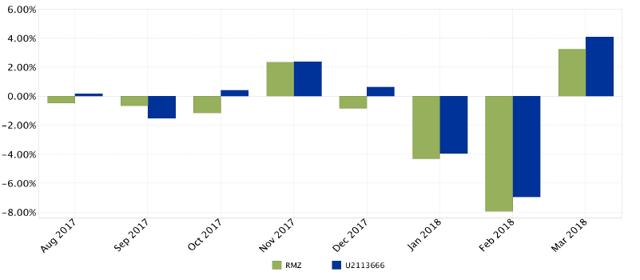 Standard deviation for the portfolio remains on par with the index and slightly better than the index when looking at just downside deviation. The standard deviation of the portfolio is 3.29%, which is 11.4% annualized – although we caution readers that these statistics are based on an inadequate number of data points. The downside deviation of the portfolio is 3.21%, compared to 3.62% for the index.
The portfolio does exhibit a high correlation to the index, and justifiably so, since it is 100% allocated to REITs. We also want to highlight the number of positive periods for the portfolio is 5 out of the 8 months since inception, while the index has only had 2 months of positive performance.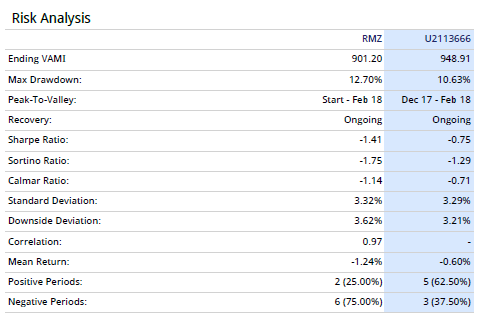 Performance By Symbol
Since inception, the top contributors to performance have remained relatively stable, even though positioning has slightly changed. The Top 5 Contributors are shown below led by Blackstone Mortgage Trust (BXMT), Crown Castle International (CCI), CubeSmart (CUBE), Weyerhaeuser (WY) and CorEnergy Infrastructure Trust (CORR). We have been pleasantly surprised by the performance of CubeSmart, which despite the small percentage allocation, has contributed 0.44% to the portfolio with a 19.8% return since purchase.
QTS recovered this month but is still the leading detractor to the portfolio at -0.93%, followed by Kimco (KIM) and American Assets Trust (AAT). We recently sold AAT to reposition those assets into sub-sectors where we have more higher conviction. The position in AAT was a good diversifier with its multi-sector strategy but we prefer to allocate that capital ourselves based on our own assessments of each sector.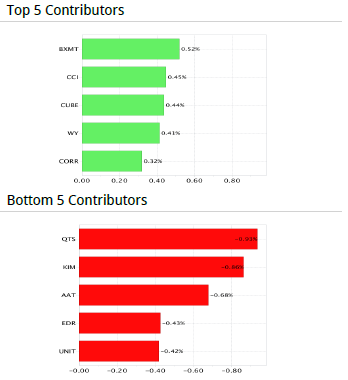 Dividends
Dividends remained steady and slightly below December 2017 but higher than the previous month.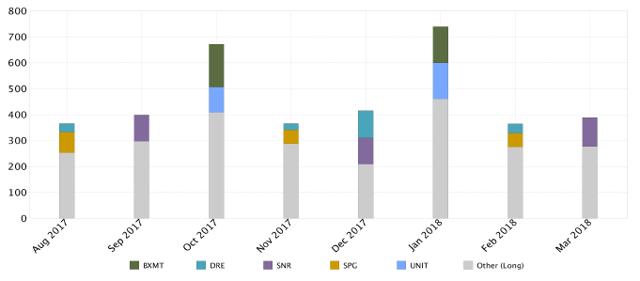 Current Portfolio
Changes to the Strategic Allocations from the prior month were due to changes in the aggregate market cap weightings of each sector caused by changes in the underlying companies. As a reminder, the Strategic Allocation is the market cap weighting of all of the companies within the NAREIT Index divided by sub-sector.
Our tactical allocation at the sector level was intentionally changed to reflect our more favorable views on the Residential REITs, particularly Single Family REITs, where we added Invitation Homes (INVH). As previously mentioned, we sold American Assets Trust as a result of reducing our tactical allocation to Diversified REITs to 0%, and the idea is to maintain it at 0%, as we decided internally how to allocate to each sector. We also reduced Timber from 5% to 4%, after solid returns from Weyerhaeuser. We continue to look at Potlatch as another Timber REIT position.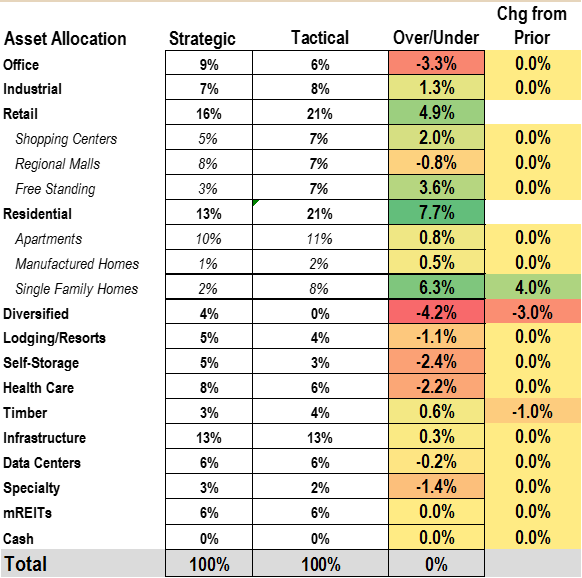 The individual positions within the portfolio are shown below and you will note a 4% allocation to cash, which we are in the process of deploying. This was an additional cash inflow into the portfolio at Interactive Brokers and is just a matter of time before it gets invested.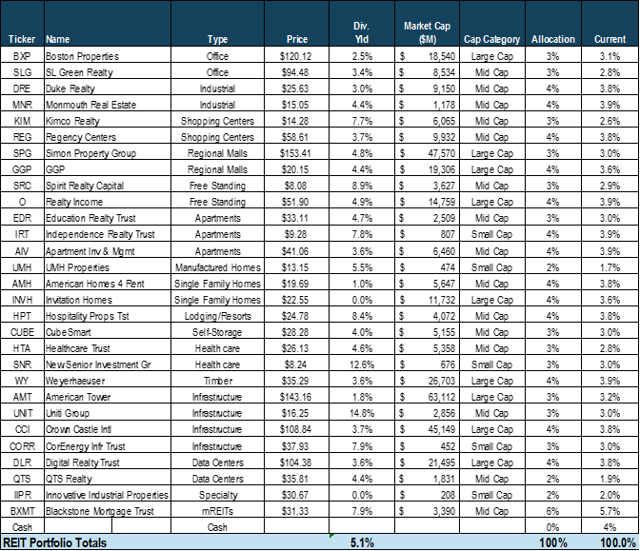 The current breakdown by market cap is as follows and we have been trying to increase the small and the mid cap portion of the portfolio but have treaded lightly thus far.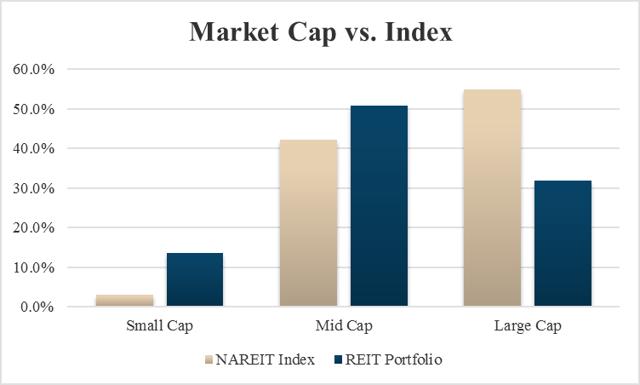 Disclaimer: Please note, this article is meant to identify an idea for further research and analysis and should not be taken as a recommendation to invest. It is intended only to provide information to interested parties. Readers should carefully consider their own investment objectives, risk tolerance, time horizon, tax situation, liquidity needs, and concentration levels, or contact their advisor to determine if any ideas presented here are appropriate for their unique circumstances.
Past performance is not an indicator of future performance.
Investing in any security has risks and readers should ensure they understand these risks before investing.
Real Estate Investment Trusts are subject to decreases in value, adverse economic conditions, overbuilding, competition, fluctuations in rental income, and fluctuations in property taxes and operating expenses.
This post is illustrative and educational and is not a specific offer of products or services.
Information on this blog is not an offer to buy or sell, or a solicitation of any offer to buy or sell the securities mentioned herein, nor is the author compensated by any of the products mentioned.
Information presented is believed to be factual and up-to-date, but we do not guarantee its accuracy and it should not be regarded as a complete analysis of the topics or subjects discussed.
Information presented is not believed to be exhaustive nor are all the risks associated with the topic of each article explicitly mentioned. Readers are cautioned to perform their own analysis or seek the advice of their financial advisor before making any investment decisions based on this information.
Investment decisions should be based on an individual's own goals, time horizon, and tolerance for risk. Nothing in this content should be considered to be legal or tax advice and you are encouraged to consult your own lawyer, accountant, or other advisor before making any financial decision.
All expressions of opinion reflect the judgment of the author, which does not assume any duty to update any of the information
Any positive comments made by others should not be construed as an endorsement of the author's abilities to act as an investment advisor.
To sign up for exclusive reports and articles, click HERE
Disclosure: I am/we are long BXP. I wrote this article myself, and it expresses my own opinions. I am not receiving compensation for it (other than from Seeking Alpha). I have no business relationship with any company whose stock is mentioned in this article.
Additional disclosure: Long BXP SLG DRE MNR KIM REG SPG GGP SRC O EDR IRT AIV UMH AMH INVH HPT CUBE HTA SNR WY AMT UNIT CCI CORR DLR QTS IIPR BXMT