In my previous article on British Petroleum (NYSE:BP), I had stated that it is one of the best energy stocks that investors can buy. With a strong upstream business, improving cash flows and investments in alternative energy sector, British Petroleum is ready to adapt itself to a complex market environment. In this article, I will present one more reason that gives BP a strategic advantage over other major oil and gas companies. BP's investments in India and its strategic partnership with India's largest private sector corporation - Reliance Industries Limited (RIL) - may prove to be a game changer for the oil and gas giant. It must be noted that BP's stock was trading at $41.66 at the time of writing this article, witnessing an increase of around 6% since March 21, 2018, when I last wrote about it.
British Petroleum is looking to increase its investments in India
Very few investors are aware that British Petroleum is one of the largest international companies present in India, and has invested close to $8 billion in the country (in the last seven years). BP employs around 7500 people in India and has a presence in the oil, gas, lubricant and petrochemical segments. It must be noted that India is currently the third biggest energy consumer in the world and one of the biggest LNG importers in Asia. In fact, the country is now preparing to triple its LNG imports to 70 million tons per year by 2022, and BP is ready to tap this opportunity by focusing on its gas business.
British Petroleum has a strategic alliance with RIL for its gas business in India, and according to British Petroleum's Regional President and Head of India, Sashi Mukundan, BP is looking to invest around $2 billion in India's upstream sector in next few years. "By 2022, we will have all three projects (KG D6, R-Series, D55 ) up and running and we should get to our peak production by 2023 with around 30-35 million metric standard cubic meters per day (mmscmd). That's a billion cubic feet of gas a day and if you look at the forecast for gas demand in India, that is about 10% of India's gas demand by 2022," said Sashi Mukundan in an interview.
BP's strategic alliance with RIL includes a 30% share in India's Krishna Godavari, Cauvery, Mahanandi Basins (BP already has its share in existing gas fields- D1, D3 and D26) and a 50/50 joint venture - India Gas Solutions Private Limited. It must be noted that India Gas Solutions Private Limited is planning to market gas at a cheaper price than imported LNG.
There are two advantages for British Petroleum here, the first one is its tie-up with Reliance Industries Limited, which is India's best performing private sector company. RIL is a Fortune 500 (ranked 203 in year 2017) company and operates the world's largest refining hub located in Jamnagar, India. So, this strategic alliance combines RIL's operations and project management expertise with British Petroleum's deep water exploration and development capability. The second advantage is British Petroleum's formidable presence in India as compared to other global oil and gas companies.
Why is BP investing heavily in India?
Royal Dutch Shell (NYSE:RDS.A) (NYSE:RDS.B) is another energy company that has invested around $1 billion in India and employs around 4000 people in the country. Shell also has a global R&D center in Bangalore, and operates in the downstream sector (marketing of fuels, lubricants and specialty products). Although good, it is still less when compared to an $8 billion investment made by British Petroleum.
At present, there are 1,150 multinational companies that have their Global In House Centers (GICs) in India. Earlier, India was primarily known as an outsourcing destination that provided cheap labor. Now, India is known for its advancements in digital technology and a huge internal consumption market that is attracting Multinational companies. In my earlier article, I had stated that BP was looking to invest in opportunities available in digital platforms that include quantum computing, block chain and cognitive computing.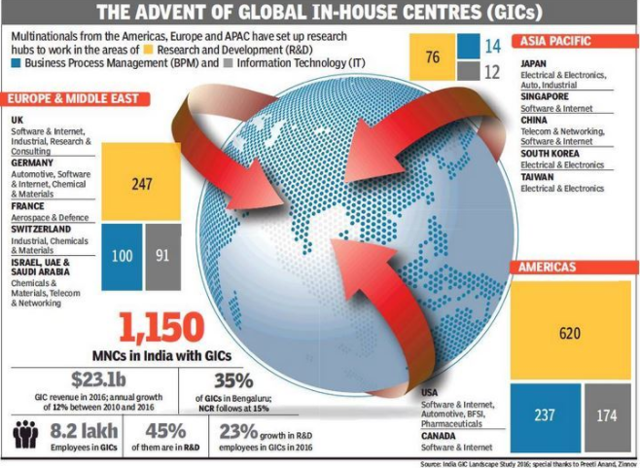 Image Source: Times of India
Investors must note that BP has set up its R&D center in Mumbai for developing its global lubricant operations. Besides, the company has also hired Indian vendors for developing its IT applications.
Conclusion
According to BP Energy Outlook 2018, India's natural gas consumption will almost triple by 2040 and it will be the largest growth market for energy by the same year. This is one of the main reasons why BP is investing so heavily in India. In fact, BP expects around 10% of its total global earnings to come from India by next decade. Although most of its current earnings (in India) are from its lubricant business , BP is ready to take advantage of its strategic alliance with RIL and expand its gas business in India. In my opinion, the 'India factor' will definitely support BP's stock price in long term. With this, I advise investors to buy and accumulate BP.
Disclosure: I/we have no positions in any stocks mentioned, and no plans to initiate any positions within the next 72 hours. I wrote this article myself, and it expresses my own opinions. I am not receiving compensation for it (other than from Seeking Alpha). I have no business relationship with any company whose stock is mentioned in this article.