Copper Demand
Demand for copper is wide-ranging across electrical applications, communications equipment, construction, transportation, and industrial machinery. The following slide from an International Copper Study Group presentation shows the geographic distribution and components of copper demand in 2016: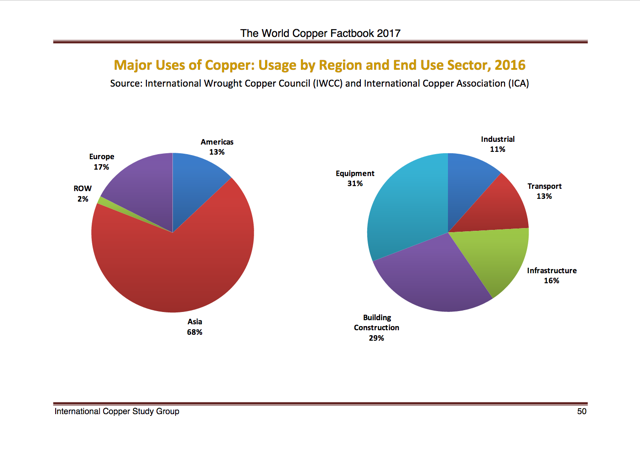 You can see here that the U.S. economy actually plays a minor role when it comes to copper demand as copper demand is centered around emerging Asia. If you hear someone mention U.S. infrastructure development driving copper demand, ignore them.
The Coming Copper Supply Deficit?
Investors who have spent any amount of time looking at presentations from copper miners have no doubt come across graphics similar to this one from a 2017 Teck Resources (TECK) presentation: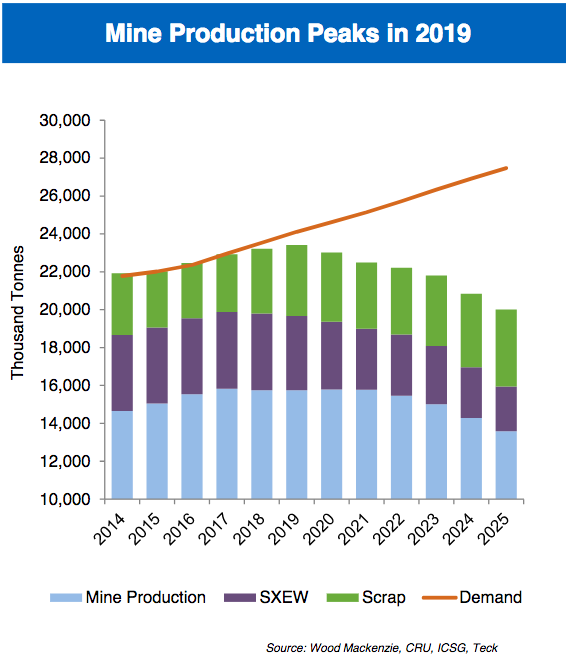 Such graphics show copper supply peaking in 2019 before falling hard against a reasonable demand trajectory. However, the following graphic from Wood Mackenzie's Q4 2016, Copper Outlook shows the same trends, but also includes the additional supply that could potentially be brought online from new projects: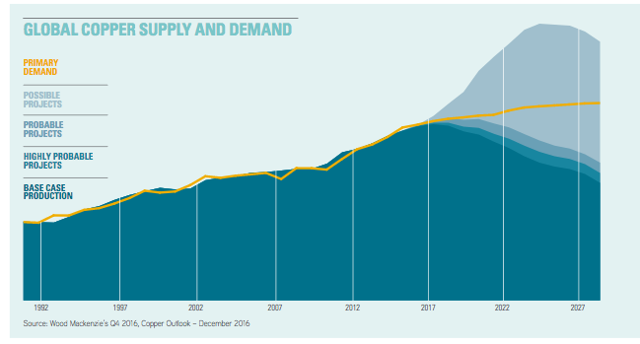 This additional supply from "possible" projects is often missing from presentations looking to present a bullish case for copper prices. Nevertheless, this Wood Mackenzie chart shows demand really beginning to outplace supply around 2020 even if "probable" and "highly probable" projects come online.
My Own Copper Outlook
Over the last couple months, I have put together my own database on copper fundamentals. It now includes data on about 80 of the world's largest copper mines. The following chart shows how I see supply and demand playing out: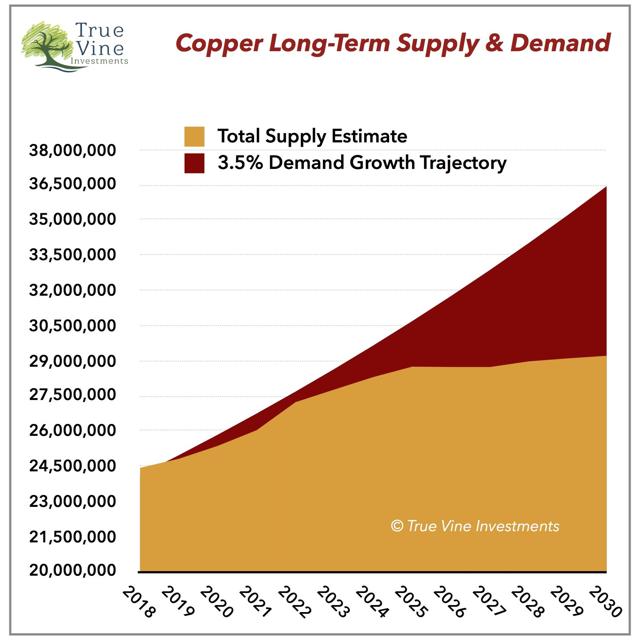 Here is a list of the important variables that went into my projections:
I start with the long-term production projections for the largest mines. Where not made publicly available, I assume continued constant production based on recent annual figures. This is more conservative since I do not assume any unknown fall-off in production.
I assume steady-state annual production from the world's remaining mines going forward and add it to my estimated production for the largest mines. This amount came out to 6,681,516 tonnes for 2017. In other words, my database of the largest 80 mines includes over 2/3s of the world's production (14,117,203 tonnes for 2018). I thus do not include most small projects that will come online in coming years, but I also do not include those that will go offline. In future years, I will adjust this "other" production level as updated world mine production figures are published.
I assume scrap supply increases at a rate that keeps it at about 15% of total world demand. This is in-line with where it has been in recent years.
I assume 3.5% annual demand growth. This is in-line with what the world has averaged over the last 14 years. This could prove to be conservative given the potential demand increase coming from Indian economic growth and the buildout of electric vehicle infrastructure on top of China. Some research suggests that electric vehicles could add 1.5 million tonnes of annual copper demand in 10 years which is roughly a 6% increase from current levels.
What I like about my approach is that I can quickly update my database when new mine projects are announced, as companies publish new production forecasts, and as mine production goes offline (for whatever reason). This provides me with an instantaneous assessment of the supply and demand impact which feeds into my Industrial Minefinder™ company rankings.
My projections show a 301,703 tonne surplus in 2018 and a slight 154,737 tonne deficit in 2019 before the market begins to move into a period of deeper sustained annual deficits: (475,976) in 2020, (712,094) in 2021, and (450,946) in 2022. After this, supply really begins to fall off a cliff.
One thing I should point out here is that scrap supply was roughly 300,000 tonnes higher in 2017 versus the annual averages of 2013 to 2016 so we could possibly see scrap supply undershoot in 2018. If significant, this could move my surplus to a slight surplus or even balanced market.
My projection for a 300,000 tonne surplus this year is not consensus. Most analysts seem to be calling for either a balanced market or one that is slightly in surplus or deficit. Warehouse stock levels have been rising in recent months which gives credence to my projections and may reflect the increased year-over-year production coming out of Escondida in Chile (more on that later). The following 2 charts of London Metals Exchange ("LME") copper stocks show that levels have recently broken higher: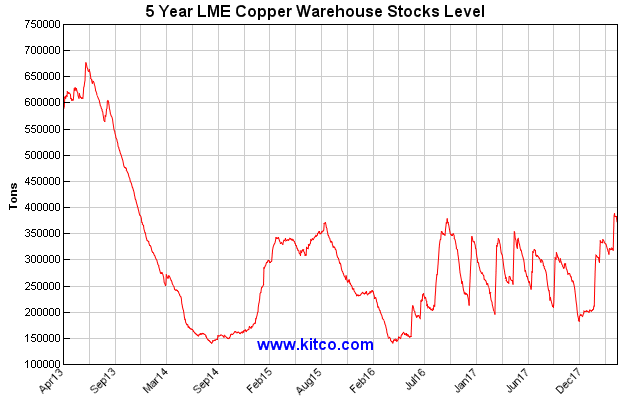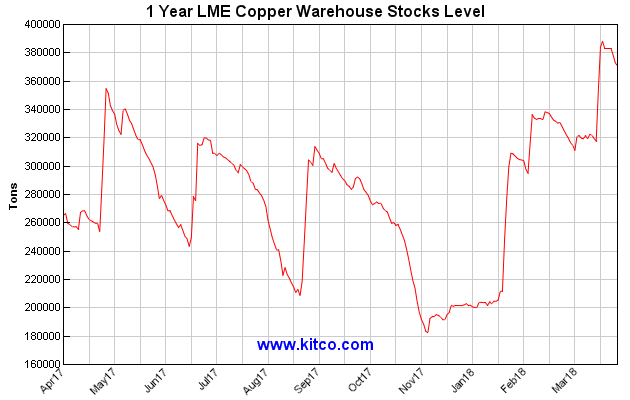 The surplus I am showing for this year and the fact that stocks continue to increase could drag on prices for a few quarters.
The following WEEKLY price chart of copper (orange is LME; red is COMEX) includes the MONTHLY lower trendline: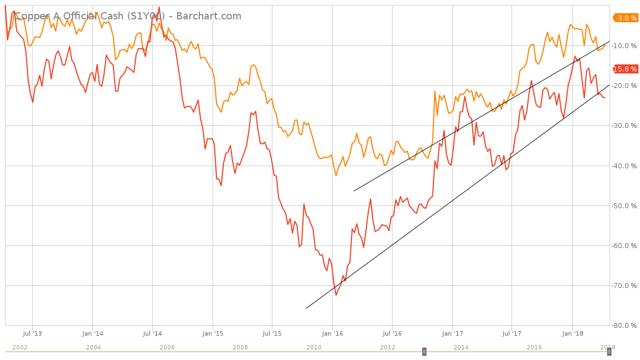 click to enlarge
chart courtesy of barchart.com
You can see here in this copper bullish trend that the WEEKLY price chart often dips below the bottom MONTHLY trendline right before going higher again. Here is the same chart of just LME copper with the price shown on the right-hand side: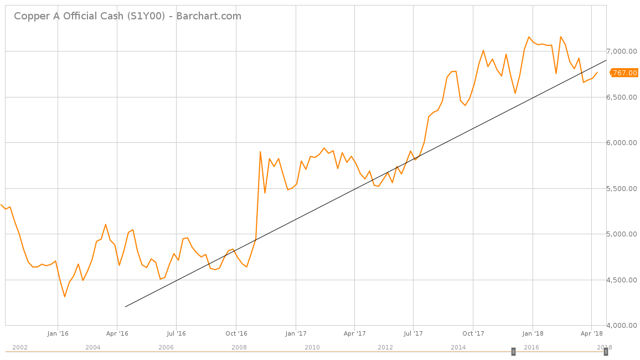 click to enlargeEither we are going to break higher towards $7,500 per tonne ($3.40 per lb.) or we are going to have extended correction or sideways correction, possibly due to the near-term oversupply situation (increasing inventories) that I have highlighted here. I am leaning towards the former.
Expected Increases in Mine Production
I am projecting a significant increase in mine production in 2018-20.82 million tonnes versus 19.86 million tonnes in 2017. This 954,000 thousand tonne jump is a 4.8% increase. Here is a breakdown of where I see the bulk of this supply coming from:
Company
Mine
Country
2018 Production Increase
(tonnes)
Southern Copper (SCCO)
Toquepala
Peru
72,000
Glencore (GLCNY; OTCPK:GLCNF)
Katanga
DRC
145,000
Freeport McMoran (FCX)
Grasberg
Indonesia
53,000
First Quantum Minerals (OTCPK:FQVLF)
Cobre Panama
Panama
50,000
First Quantum Minerals
Sentinel
Zambia
88,000
BHP (BHP) / Rio Tinto (RIO)
Escondida
Chile
408,000
You can see here that production increases at the giant Escondida mine in Chile are expected to account for almost half of the increase. Much of the increase at Escondida has already hit the market because BHP's 2018 fiscal year end is June 30, 2018 (guidance is on a fiscal year basis). Here is a chart from a recent BHP presentation that shows the trajectory of production at Escondida: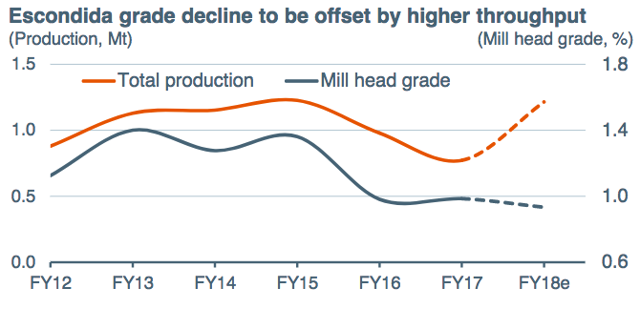 Grades have been declining there so BHP has had to increase the tonnes of material processed to continue to produce the same amount of copper. Escondida supplies almost 6% of the world's mine production so it is an important mine to keep an eye on. A setback there can easily swing copper into a deficit.
Other than Escondida, the only other mine expected to increase production by more than 100,000 tonnes is Glencore's Katanga mine which recently came online in the DRC. It is expected to produce 150,000 tonnes versus only 5,100 last year and is expected to further increase production to a 300,000 tonnes per annum steady rate in 2019. A setback at Katanga would also impact copper fundamentals.
Strategic Conclusion
A few hundred thousand tonnes of oversupply is likely to keep copper prices more subdued in 2018. Looking out further, the anticipated structural deficit is certainly for real. The only thing that can erase my projections for 2019-2021 deficits is a significant global economic downturn. It takes too long for new mine production to come online to see measurable increases come from unannounced new projects. Prices are likely to continue to trend higher, especially after this year, to encourage the capital investment necessary to increase mine supply.
I want to have some exposure to copper producers now, but still leave some buying room in the future to let current holdings continue to grow (no profit taking) or add to them as these projected deficits hit home. In other words, I think we should be buying the dips when it comes to copper.
Disclaimer: I am an investment adviser and owner of True Vine Investments, a Registered Investment Advisor in the State of Pennsylvania (U.S.A.). I screen electronic communications from prospective clients in other states to ensure that I do not communicate directly with any prospect in another state where I have not met the registration requirements or do not have an applicable exemption.
Any investment advice or recommendations involving securities referenced in this article is general in nature and geared towards a readership of sophisticated investors. This article does not involve an attempt to effect transactions in a specific security nor constitute specific investment advice to any particular individual. It does not take into the account the specific financial situation, investment objectives, or particular needs of any specific person who may read this article. Individual investors are encouraged to independently evaluate specific investments and consult a licensed professional before making any investment decisions.
All data presented by the author is regarded as factual, however, its accuracy is not guaranteed. Investors are encouraged to conduct their own comprehensive analysis.
Positive comments made regarding this article should not be construed by readers to be an endorsement of my abilities to act as an investment adviser.
Disclosure: I/we have no positions in any stocks mentioned, and no plans to initiate any positions within the next 72 hours. I wrote this article myself, and it expresses my own opinions. I am not receiving compensation for it (other than from Seeking Alpha). I have no business relationship with any company whose stock is mentioned in this article.
Editor's Note: This article covers one or more microcap stocks. Please be aware of the risks associated with these stocks.