Explosive Growth From Vicor's New Products That Are Powering Cloud Servers And Supercomputers
Summary
Vicor's growing backlog was achieved by their new products being designed into servers from Alphabet, IBM, Nvidia, Cray and Pezy.
Nvidia's newest V100 GPU's use the Vicor power converters and these converters are enabling higher performance computers.
The IBM Power 9 Open Power servers are using Vicor converters.
Alphabet is using Vicor converters in their data center servers.
As a result of the success of Vicor's new products, Vicor is on the cusp of a long-term secular growth path.
Vicor (NASDAQ:VICR) is an under-followed small-cap company that has released a myriad of new products that are rapidly gaining traction with top tier data center and supercomputer customers. This traction will lead to explosive incremental revenue for the foreseeable future. With a highly leveraged business model the EPS will follow.
Even though the share price has run from $8.00 a share when my first article was posted in August 2014 to a current price of around $28, this stock is headed much higher as the investment community learns about Vicor's growth story and enabling technology.
High-Profile Customers
Vicor's is powering the most advanced computers and data centers In the world.
Vicor (VICR) was driven to new highs last week by the revelation that their new Power on Package, POP, is powering the new Nvidia (NVDA) GPU's. The picture below, from Vicor's twitter feed, shows two Vicor gold Modular Current Multipliers (MCMs) right next to the GPU and a third gold converter to the left of the GPU, along with a Vicor Picor chip on the bottom right hand corner with the new Nvidia GPU.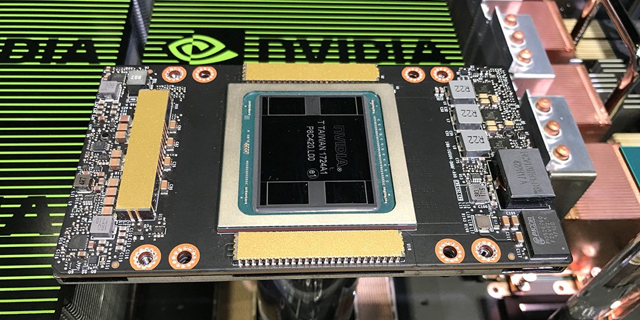 The Vicor POP converters are enabling server and supercomputer companies who use the Nvidia V100 to achieve higher performance. By freeing up pins on the Nvidia GPU, the new V100's have more interconnects that allow more data to be pumped in and out of the processors. Processors and memory can be placed closer together, reducing the distance the data needs to travel, again enabling higher performance computers. I have a detailed explanation of how this is possible in my prior Seeking Alpha article.
The Vicor converters, because of their high efficiency and their placement in close proximity to the GPU, significantly reduces energy loss do to voltage conversion and transmission losses. At the Nvidia GPU Technology Conference, Nvidia stressed over and over again the power savings from their new GPU's. The Vicor highly efficient converters helped by reducing energy losses.
Last year, Vicor had only prototype and pre-production orders from Nvidia. With the release of the new Nvidia GPU's Vicor expects that production orders will lead to substantial incremental revenue.
Here is a picture of a Cray (CRAY) motherboard with the gold Vicor parts. This picture is from a post of Robert Gendron's LinkedIn page. Robert is a corporate Vice President at Vicor. As mentioned above, the Vicor parts enable higher performance and reduced energy losses. Cray's competitors will be forced to respond by using the Vicor parts or they will be left behind.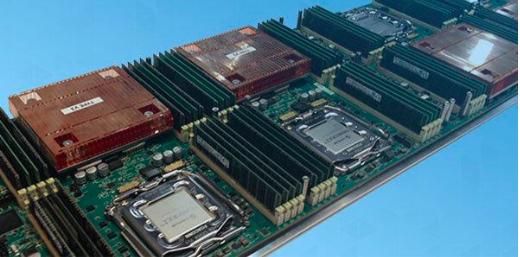 Here is a link to a Cray whitepaper. Scroll down to page 15 and you will read about Cray's 48V to POL solution, which is based on Vicor's factorized power architecture.
Here is a link to a Pezy computer powered by the Vicor POP. The POP's are the gold converters right next to the Pezy processor.
Here is a picture of an IBM (IBM) power 9 Open Power Server with the Vicor parts. I took this picture at the Vicor Annual meeting. IBM just starting to ship the Power 9 chips for general availability the first quarter of this year. Like with Nvidia, Vicor only had prototype and pre-production orders for the Power 9 processors. Now, production orders will lead to significant incremental revenue for Vicor.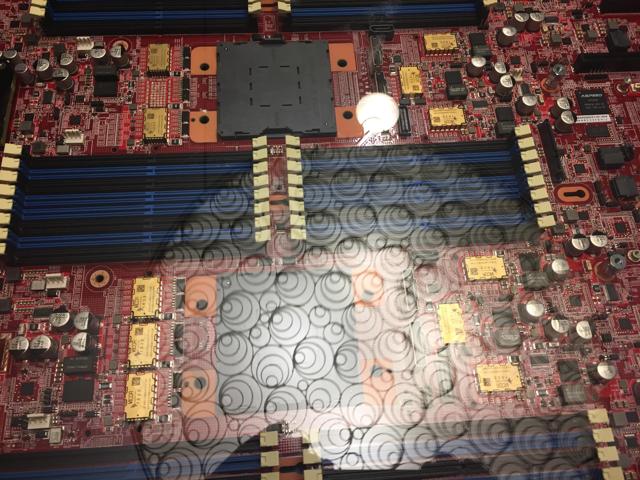 Here is a link to the OPF, Open Power Foundation, where Alphabet (GOOG) announced a Platform based on the IBM power series servers, along with their commitment of a 48V rack design.
As mentioned in my previous Seeking Alpha article, Alphabet was the pioneer, who adopted the Vicor 48V Factorized Power Architecture. Alphabet joined the Open Compute Project, OCP, with a 48V rack design which led the start of changing the data center infrastructure from a 12V to a 48V architecture. Alphabet has publicly stated many times how Vicor's 48V factorized power has enabled Alphabet to save considerable money in reduced electricity costs.
While Alphabet pioneered the migration to 48V, the data center market is slow to change because the data centers have billions of dollars invested in existing architecture. In order to accelerate the adoption to 48V, Vicor introduced a 12 to 48V converter that allows the Vicor parts to be used with existing 12V data center infrastructures. This is not as elegant of a solution, as the 48V direct to the point of load that Vicor pioneered and Alphabet deployed; however, it immediately opens up the whole data center market to the benefits of the Vicor POP solution that was just released with the new Nvidia GPU. This was a brilliant move by Vicor that will lead to increased sales.
Insider Purchase
Patrizio Vinciarelli, CEO recently purchased over $700,000 of Vicor's stock on the open market. The CEO already owns more that ½ of the company and over 80% controlling interest with his B shares.
The CEO
The CEO, Dr. Patrizio Vinciarelli, is, in my opinion, brilliant. He received his doctorate in Physics from the University of Rome, Italy. Dr. Vinciarelli is published in over 40 academic publications and holds more than 100 patents for power electronics/conversion technology.
The CEO is first and foremost an engineer. He has engineered a complete manufacturing process that is incredibly efficient from the minute an order is received to when the product is shipped. This process allows Vicor to built the majority of their products in the United States. The exception is Picor, which is a fabless semiconductor division and their products are built overseas. On a conference call many years ago, the CEO was asked why he does not build his products overseas. He responded, "because I can make them in the U.S. for less and with better quality."
Led by the CEO's obsession in R&D, Vicor invested over $350,000,000 in their new products. This investment has resulted in enabling new products that are years ahead of the competition. The CEO has the ability to run his company like a private company since he has an 80% controlling interest. I do not believe the investments he made would be possible in a non-controlled company.
The CEO does not promote Vicor to the wall street community. He focuses on running his business. I have asked him in the past if Vicor will do a road show, and he responded, no, because I am going to focus on running the company. He is an excellent CEO, treats his employees well and his salary is very modest.
Dr. Patrizio Vinciarelli is a CEO I want to invest in.
Additional Manufacturing
During the Q4 conference call, Vicor announced that they are planning to build an additional manufacturing facility of 250,000 square feet. This facility will have the capacity to produce an additional $500,000,000 in revenue a year. On their Q3 conference call, Vicor stated that they were interested in 80,000 to 120,000 additional square feet of space. They quickly realized that this was not enough space for the forecast volumes.
Vicor selected a local contract manufacturing company to supplement their existing manufacturing. Vicor has the ability to produce over $500,000,000 in their existing facility. With the contract manufacturer they will be able to meet their expected demand until the new plant is built.
With the new plant and the contract manufacture they will be able to produce over $1,000,000,000 in annual revenue. This is approximately five times their last years revenue.
Having a contract manufacturer and a new plant will help overcome the objection some companies have toward a sole source supplier.
Vicor is investing in the future and planning for success.
APLI, Andover Parking Lot Indicator
A follower on Seeking Alpha, whose alias is Waveform, lives in the Andover area where Vicor has its manufacturing plant. He drives by the Vicor factory on Sundays and count the cars in the parking lot and posts the number of cars on the comments section of my articles. This count gives us excellent insight into Vicor's factory utilization. For two weeks in a row, Waveform noted that the parking lot was almost full. That was the most cars he has counted in almost 10 years. This is an excellent indicator of sales for the upcoming quarter.
Another indicator of future growth can be seen in Vicor's career section on their website. They are looking for second and third shift manufacturing employees.
Price Target and Forecast
As the result of the above factors, I am raising my price target to $49.00 a share. Monolithic Power (MPWR), a competitor of Vicor's, is trading at a price/sales ratio of approximately 10 to 1. Taking this into consideration my $49.00 target is very achievable. Vicor has a very leverage business model where increases in sales will quickly drop dollars to the bottom line.
My forecast for the 1st quarter is $65,000,000 in revenue and $.08 of EPS. For the year I have $300,000,000 in revenue and $.65 of EPS.
Risks
Vicor has a history of building superior converters, however in the past they have not had the cost card to drive widespread adoption. They were successful with their legacy products in niche high performance markets and they were very strong in the mass customization markets of defense and industrial production. Now they are transitioning to a very large volume supplier, and they will need to significantly ramp up their manufacturing. Execution is now a must.
There were recent insider sales at Vicor.
The share price has already run from $8.00 a share when my first article was posted in August, 2014 to over $28.00.
Vicor's competitors are forming an alliance to compete with Vicor. I have described that alliance below.
Competition
Vicor's competitors have formed an alliance in order to compete against Vicor by producing a pin compatible product.
Artesys Embedded Technologies, Bel Power Solutions, Flex and ST Microelectronics (STM) formed the Power Stamp Alliance to compete against Vicor. In the press release they state that they will collaborate to build pin compatible 48V to low-voltage on-board DC-DC converters. This is a good solution for providing second source parts to the data center community. By building pin compatible parts, customers have multiple sources for similar parts. However, this is a race to the bottom, where only price matters.
While the competition focuses on low cost and me too products, Vicor continues to advance with designing and manufacturing high performance enabling converters with a cost card.
Summary
Vicor has turned a commodity product into an enabling product. Alphabet, IBM, Nvidia, Cray and Pezy are using the Vicor converters because the Vicor products enable higher performance computers, use less energy and are competitively priced.
Vicor has driven the cost out of their products and now Vicor not only has the highest performance product, but they also have a cost card. This combination of lower costs and higher performance is allowing them to grab market share.
The design wins listed above, along with others that have not been announced, will drive substantial revenue for the foreseeable future.
Because of the Vicor's history of manufacturing excellence, I do not see execution as a big risk. In effect, Alphabet, IBM, Nvidia, Cray and Pezy agree.
Vicor has a significant lead on their competitors and there is a long runway for their products. Competitors of Alphabet, IBM, Nvidia, Cray and Pezy will be compelled to go to Vicor's technology or be left behind.
We are in the first inning, and I expect significant sustained incremental revenue starting this quarter.
Disclaimer: Please do your own due diligence. The article reflects my beliefs and you should consult a financial advisor before investing.
This article was written by
I am a Vice President in a small high-tech company with over 35 years of investing in small-cap stocks. My specialty is small-cap tech companies, and I seek out companies with tremendous growth opportunities that have significant insider ownership and a solid balance sheet. My goal is to find these companies in the early stages of growth and at a reasonable price.For fun, I race bicycles, paint, and try to play the piano. I like to sing Karaoke but not well.
Analyst's Disclosure: I am/we are long VICR. I wrote this article myself, and it expresses my own opinions. I am not receiving compensation for it (other than from Seeking Alpha). I have no business relationship with any company whose stock is mentioned in this article.
Seeking Alpha's Disclosure: Past performance is no guarantee of future results. No recommendation or advice is being given as to whether any investment is suitable for a particular investor. Any views or opinions expressed above may not reflect those of Seeking Alpha as a whole. Seeking Alpha is not a licensed securities dealer, broker or US investment adviser or investment bank. Our analysts are third party authors that include both professional investors and individual investors who may not be licensed or certified by any institute or regulatory body.