Can Socially Responsible Investing Be Good For Your Wallet? - Today's Editors' Picks
Good morning! I'm your curator, Jason Kirsch
Here are today's Editors' Picks:
Chart of the day: Forward PE ratio of SPY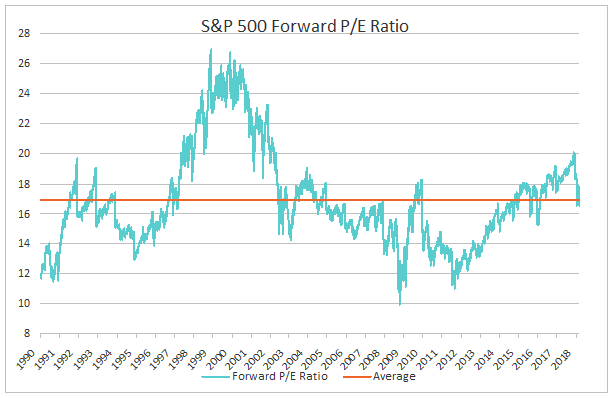 Comment of the day, by contributor Ploutos
At today's forward earnings multiple, stocks look fairly valued. Juxtaposed against still low-interest rates, stocks still look cheap relative to lower risk alternatives like cash and bonds. Will earnings hit the forward projections baked into this multiple? Historically, prognosticators actually miss earnings projections too low as a higher proportion of companies beat estimates than miss. Ultimately, whether this forward earnings multiple proves too high or too low is a function of your view on the current state of the business cycle. If you believe we have longer to run, then stocks could prove to be modestly cheap here and offer above trend forward returns. If the economic cycle is drawing to the end - as it was in October 2007 - then the forward earnings multiple is misstated and could be pressed lower by share prices that fall further.

For investors with a long horizon, stocks look as cheap on a forward basis as they have in two years after this recent correction and are close to their longer-run average. Adjusted for below average interest rates, earnings yields look a tad on the cheap side. I hope this examination of forward earnings multiples provides value to Seeking Alpha readers as we seek to frame the evolving market environment.
Quote of the day:
The best and most beautiful things in the world cannot be seen or even touched - they must be felt with the heart. - Hellen Keller
Thanks for reading. Please share your 'Editor's Pick' with fellow investors by posting it in the comments.
Have a great day!
Jason
This article was written by
We're the folks who pick the best articles on SA every day and share them with you. Follow us to get a daily email with the day's best articles.