In compiling the Dividend Champions spreadsheet, I separate the Champions (25 or more years of higher dividends), Contenders (10-24 years), and Challengers (5-9 years) into distinct groupings. Note that "CCC" refers to the combination of Champions, Contenders, and Challengers.
Dividends in Danger: Overview
In any given year, there are a number of companies that fail to extend their streaks of consecutive annual dividend increases. The cause of failure generally falls into one of three main categories: Cuts, Freezes, and M&A (Mergers and Acquisitions). (A fourth category – Other – includes miscellaneous situations, such as Spin-offs, Reorganizations, and Currency-related decreases.) Here's a look at the past 10 years of history:

A few "anomalies" bear explanation. First, the 2008-2009 period of the "Great Recession" included mainly Champions (and a few Contenders), whereas the large number of Freezes in 2010 coincided with the addition of the Challengers, when a number of companies were both added and deleted. (I believe those Freezes were a residual effect of the Great Recession.) Next, after several years of relative stability, the number of deletions surged from 2015 to 2017, following a "Great Expansion" in the CCC universe in 2014 and 2015.
Note the large number of cuts in 2015 and 2016. This coincides with the carnage among MLPs (Master Limited Partnerships) and other oil-related listings. The high number of Freezes in 2016 and 2017 reflected new Challengers in the prior years that can best be described as borderline qualifiers that did not have a strong dividend "culture" established. The past few years have also seen a pick-up in M&A targets, which I sometimes describe as the "good" kind of deletions, since shareholders usually receive a premium from the acquisition. Although 502 deletions seem like a lot, remember that it's about 50 per year that "fail" while hundreds of companies have had 10+ consecutive "successes." Here's a look at that success rate: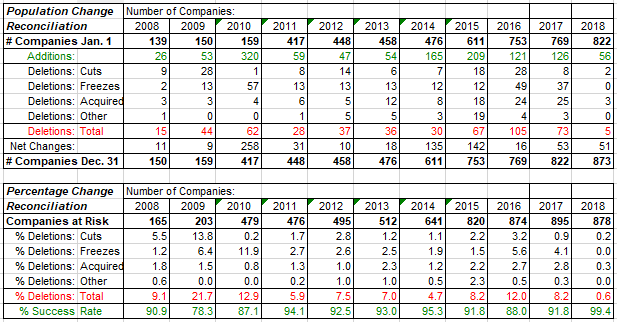 Keep in mind that we, as Dividend Growth Investors, may be a little spoiled. In addition to the "good" kind of deletion (acquisitions), the fact is that Freezes are really a "neutral" event or, more accurately, a non-event, since such companies merely continued to pay the same amount. And some companies resume increases after the unfortunate break in their streak of increases. (See Appendix B on the Notes tab, the "Frozen Angels.") There's even some good news for the "Cutters," as many have resumed increases in more recent years.
Too Much Yield?
Predicting dividend cuts is tricky business, but one of the warning signs is high yield. Below are the 20 highest yielding CCC companies as of March 29. You'll notice that the list is dominated by MLPs and REITs (Real Estate Investment Trusts).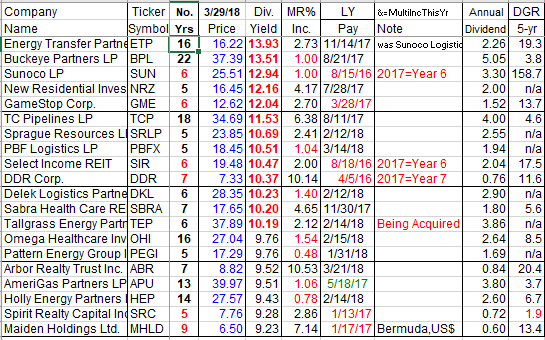 MR=Most Recent; LY=Last Year; DGR=Dividend Growth Rate
Although these types of securities typically offer higher yields than "normal" stocks, recent price weakness in them has resulted in some yields above 10%, which is often dangerous. So the question is whether these are bargains…or traps. Note that some have declared recent increases, which is a good sign, while others are overdue for an increase, which is not. (Those with Red Number of Years are also on the list of potential 2018 Freezes below. Think of that as having "two strikes" against them.) Will we see a repeat of 2015-2016, when MLPs dominated the Cuts, or can they hang on until their prices recover? In any case, it's a dangerous proposition to "chase yield."
Potential 2018 Freezes
In the chart(s) below, I present a preliminary list of 2018 Freezes, which would result in deletion for any that fail to pay an increase by the fourth quarter, since it would result in paying the same total dividends in 2018 as in 2017. This "back-to-back" simply means that a company is no longer qualified to be included as a CCC company.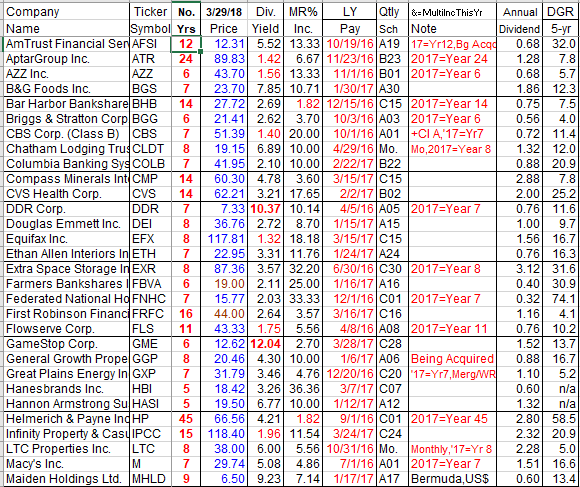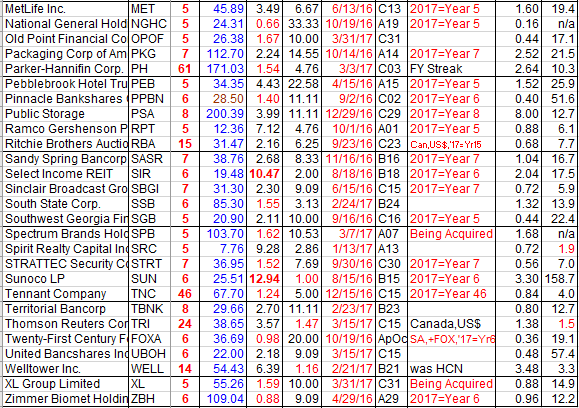 MR=Most Recent; LY=Last Year; DGR=Dividend Growth Rate
Fortunately, each company has several months remaining to announce an increase and save (extend) its streak. (Note that Parker-Hannifin has a Fiscal Year streak, so it only has until September to pay an increased amount.) Some companies routinely go more than a year between increases, so I expect this list to dwindle over time, but it cannot increase, since any company that "goes overdue" now will have paid at least one lower amount in 2017. Here, then, is an extremely early look at potential 2019 Freezes:

MR=Most Recent; LY=Last Year; DGR=Dividend Growth Rate
Also note that there are some duplications between the Overdue stocks and the High Yielders above, as well as the Acquisition targets below.
The "Good" Kind of Deletion
Generally, companies being acquired receive a premium over their previous trading range because the acquirer needs to offer enough cash and/or stock to gain shareholder approval for the deal to go through. Here's a look at the CCC companies that have agreed to be acquired (or approve a merger). Sometimes, it takes a year or two for the deal to be finalized, so some of these may not be done until 2019. There's also a chance, though slim, that a deal may be cancelled, so I keep companies in the listing until their stock stops trading, barring a dividend Cut or Freeze.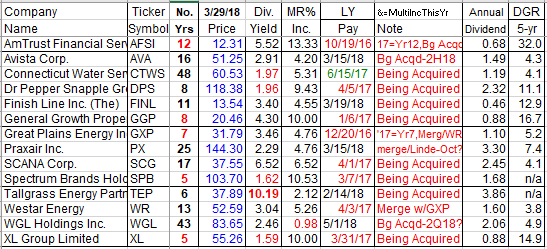 MR=Most Recent; LY=Last Year; DGR=Dividend Growth Rate
In the case of the GXP/WR merger, I believe that GXP will continue to be listed on the stock exchange, so only WR would be deleted. I'm sure that there will be more deals announced between now and year-end, so this list will grow. After all, companies that raise their dividends each year tend to be attractive targets for acquisition!
Conclusion
It's early yet, but it would appear that 2018 will go down as a typical year in which less than 10% of the CCC companies will be deleted. Of course, we always have to be wary of a "black swan" event that results in unexpected carnage. But even then, the CCC companies have shown their ability to increase dividends in the face of negative news. As mentioned earlier, this is a "worst case" look at potential deletions, some of which will not come to pass. Here's a look at the latest projections:

Note that each year, the Additions tend to be "front-end loaded" (and have pushed the CCC population up from 822 at the end of 2017) while the Freezes tend to be "back-end loaded," as you can see in the last four months of the year. So the "universe" should grow slightly during the Summer – the "quiet" months - then contract until year-end. My next article in this series will be submitted in August, in time for the beginning of "Freezin' Season."
Disclosure: I/we have no positions in any stocks mentioned, and no plans to initiate any positions within the next 72 hours. I wrote this article myself, and it expresses my own opinions. I am not receiving compensation for it (other than from Seeking Alpha). I have no business relationship with any company whose stock is mentioned in this article.
Editor's Note: This article covers one or more microcap stocks. Please be aware of the risks associated with these stocks.