Background
This month's article marks the thirty-seventh installment in my on-going series outlining my efforts to achieve dividend growth success. The portfolio is nicknamed the MnM portfolio, which is a moniker for "Minne(sota) 'n Monthly."
Note: The portfolio was trimmed this month to 31 stocks. I have revised my strategy a little, resetting my target portfolio size to 33, down from my prior target of 40. For me, this portfolio size will be easier to monitor while still maintaining strong diversification.
I also receive 100 free trades each year from my brokerage, so I can trade in small quantities without worry about brokerage trading costs.
That being said, here's what happened in March.
March 2018
In terms of valuations, March was another sluggish month in the broader market. The portfolio saw a ~1.5% decline and finished the month down 4.2% for the year. I have been trying to find a more appropriate index to compare to and it seems that the S&P 500 Value Index is a closer proxy than the S&P 500. The Value Index is down by ~3.5% for the year, which I would consider a more comparable return. Frequent readers will note that I also benchmark against the Vanguard Dividend Appreciation ETF (NYSEARCA:VIG), which I recently discussed on Seeking Alpha here.
As usual, I'm perfectly fine with a pullback in the market. If anything we're seeing better entry prices and more opportunities for value buys. It would have been nice had the sell-off occurred about a month earlier, such that my employer's discretionary contribution ($11k, from last month) would have been made at a lower prices, haha. But on the same note I am glad that it did not go in at January highs either.
I have captured the activity for March and for the year-to-date in the standard rollforward summary below.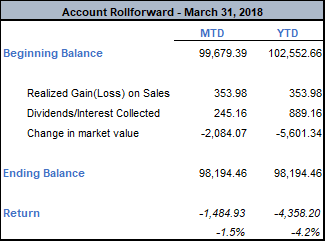 The portfolio collected $245.16 in dividends and interest during the month, of which $195.00 was recurring on positions held. Note that dividends from positions sold and $.29 of interest comprised the remainder. I will go into the sales in greater detail below.
The portfolio was comprised of the following securities as of March 31, 2018: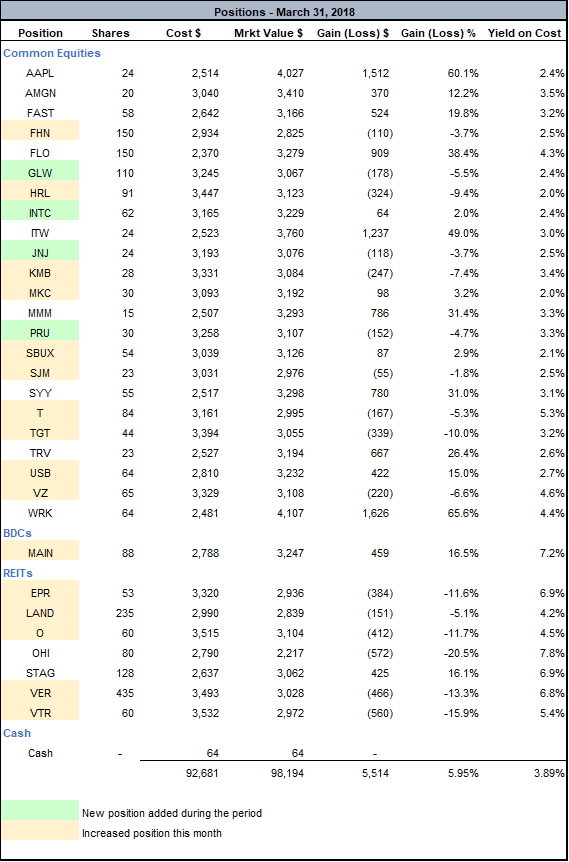 The following sections go into greater detail of the events that have occurred since the end of February.
Sales
I spend a lot of time looking over the portfolio and I have come to feel a bit like a gardener tending to my investment mix. This month it was time to do some pruning and I will attempt to discuss in greater detail why I took the actions I did. My goals in the shake-up were to reduce the portfolio to a more manageable size, to drive up the average dividend growth rate of the portfolio, and remove stocks I have lost faith in as dividend growers.
As I am always highlighting, my primary objective is dividend income growth. I would consider the last year to be successful as I was able to record year-over-year income growth at a consistent rate of 11+%. While this is good, I have begun to believe that I can do better. Within the portfolio there were laggards hiding, stocks that are either not increasing dividends, or are doing so at sub-par rates. This month was an opportunity to trim some of these underperformers, and introduce new holdings, with better prospects.
First, I sold Patterson Dental (NASDAQ:PDCO), General Mills (NYSE:GIS) and CVS Health (NYSE:CVS). Readers can correct me if I'm wrong, but there will be no dividend growth for any of these in 2018. The dividends are frozen. I took some lumps with Patterson, but avoided a bigger loss on General Mills, which sold off after I had sold it on another disappointing quarter.
I sold my position in KeyBank (NYSE:KEY) as I chose to build First Horizon (NYSE:FHN) instead and do not need multiple regional banks. I sold VF Corp (NYSE:VFC) as its price has run up to a level where it's too high to justify filling in. I have left it on my watchlist; however, as it was a nice portfolio component. I ditched Procter & Gamble (NYSE:PG) as part of my effort to trim a couple of consumer packaged goods stocks. Its dividend growth was on the lower end of the bunch. I also sold Lexington Realty Trust (NYSE:LXP) as its dividend growth is stagnant and I am more optimistic about Vereit's (NYSE:VER) prospects despite its dividend not resuming growth just yet.
Lastly, I made several swaps of positions for others I viewed as having better dividend growth prospects. I opted to trade Emerson Electric (NYSE:EMR) for Corning (NYSE:GLW), Cardinal Health (NYSE:CAH) for Johnson & Johnson (NYSE:JNJ), and UnitedHealth (NYSE:UNH) and Cincinnati Financial (NASDAQ:CINF) for Prudential (NYSE:PRU) and Intel (NASDAQ:INTC). This was the hardest set to swap as I like what Emerson, UnitedHealth and Cincinnati are doing, they just got really expensive.
In total, I was fortunate that the gains covered the losses.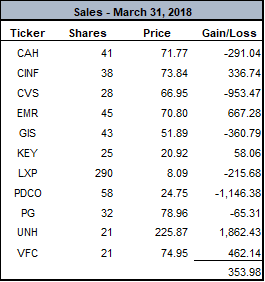 Additions
As noted in the preceding section, as a result of all of these sales, there was a lot of cash to deploy. Over 26k, to be precise. I allocated the proceeds of all of the sales amongst the majority of the stocks in the portfolio, with the goal of building the average portfolio position to around $3k.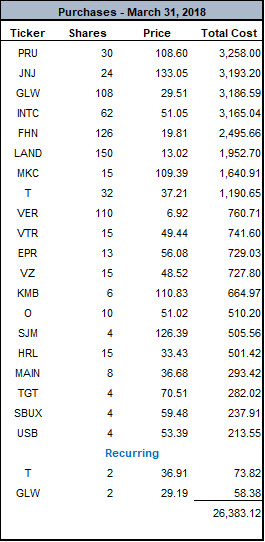 The lone stock left out of the buying was Omega Healthcare (NYSE:OHI), which I am currently monitoring. I would like to see some stabilization in their results, and some resolution to their tenant issues, before I resume allocating additional resources.
I have included a snapshot of the current fundamentals of the new stocks which were added to the portfolio. As I highlighted above, I found each of these to be trading at fair multiples, with good earnings growth and dividend growth metrics. This data helped support my decision to add them to the portfolio.

Dividends Collected
As noted earlier, I collected $245.16 in dividends during the month. As noted above, $195.00 was from recurring positions and the remainder was dividends from positions sold, including $21.83 from Emerson, $15.75 from UnitedHealth, $9.66 from VF Corp, $2.63 from KeyBank, and $.29 of interest.
I have updated and included the forward-looking dividend summary as follows: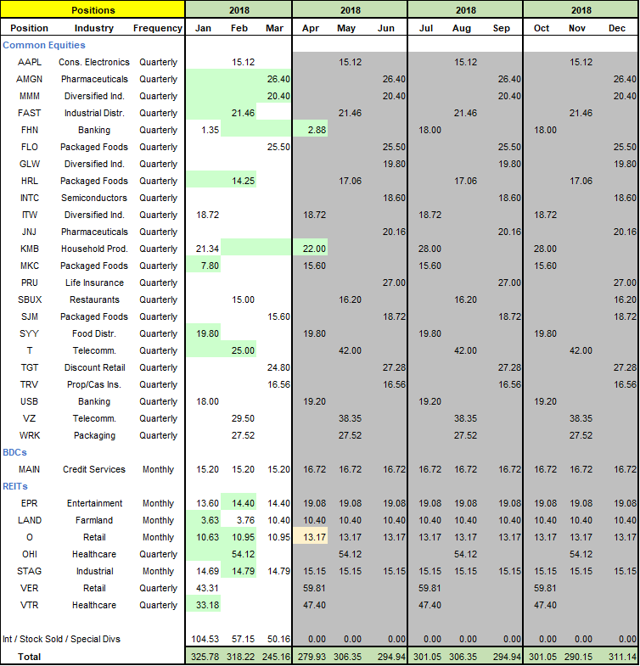 Note: I have highlighted current month dividend raises in a shade of yellow to distinguish from previously reported increases.
The portfolio actions were largely neutral to dividend growth, with the only impact being that Q2 2018 income growth has momentarily decreased to 9% from near 11%. It will finish higher, but the decline occurred because I did not reallocate to First Horizon in time to collect the April dividend. I did; however, receive additional dividends in March from Gladstone Land (NASDAQ:LAND), which offset about half of the one-time loss of First Horizon dividends. Looking out a bit further, Q3 2018 is already trending near 10% growth.
Dividend Increases
It was a slow month, and only one increase came across. Thanks to Realty Income for the .2% bump. While the quarterly bumps are small, they are always important and add up over time.

Next month I will be looking for a bump from Gladstone Land, and maybe even Apple (NASDAQ:AAPL), both of which are due for an increase.
The MnM 401K
This was a standard month for the 401K. I made the usual contributions and there will be no dividends received until April.

Closing Thoughts
Wow. I honestly didn't know I had this in me to undertake such a portfolio makeover again. I've stated in the past that I wish to limit the portfolio's turnover, but now for two years in a row I have gone ahead and turned over about a quarter of it. I know there will be those who disagree with the actions, but I am optimistic that most will see the merit of the exercise. I was able to get a little more concentrated, removing laggards and replacing them with better dividend growth prospects. A side benefit was that I was also able to balance the income stream a little bit more, now seeing about $300 per month in dividends.
My strategy is definitely evolving. I don't know if there is an ideal portfolio size, but shrinking it felt like the right thing to do right now. Only time will tell if this was a good move or not. I will say that with this behind me, I do not anticipate needing any additional sales this year.
If I have learned anything these last couple years, it's that it can be tough to sell stocks, even when it's time to. For example, I have always had a particular affinity for General Mills. They are a Minnesota company. I eat their yogurt and cereal (sometimes) and generally want them to do well. It has been fun owning the stock. Unfortunately, they haven't been able to grow their business, and now consequently, their dividend. Maybe they will in the future, but for now I am sticking with other packaged foods players that are doing better, including Flowers Foods (NYSE:FLO), McCormick, JM Smucker (NYSE:SJM) and Hormel (NYSE:HRL). It still wasn't easy parting with them.
Looking towards April, it will be time to get back to buying. I was on vacation to Disneyland at the end of March, which is why the cash balance wasn't yet invested, but as of the time of writing I have already added to my Intel and AT&T holdings. Later this month I am aiming to build on Gladstone Land and First Horizon.
Lastly, I would be remiss if I didn't send a special thank you to Dividend Derek for mentioning Prudential and Corning in his monthly article. He presented an excellent case and I followed his lead with these two stocks. If you don't already follow him, be sure you do. He produces quality articles and is a key contributor to the community.
Disclosure: I am/we are long THE STOCKS LISTED IN THE PORTFOLIO. I wrote this article myself, and it expresses my own opinions. I am not receiving compensation for it (other than from Seeking Alpha). I have no business relationship with any company whose stock is mentioned in this article.