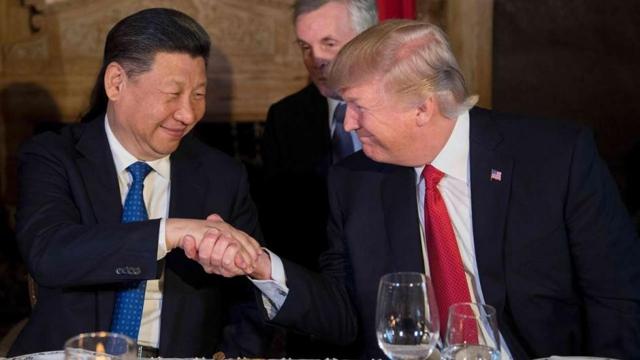 Chinese President Xi Jinping has sent an ultimatum to US President Trump demanding the withdrawal of trade tariffs. Otherwise, he vows to fight resolutely until having complete victory. Source: SCMP
Beijing has sent what practically amounted to an ultimatum to Washington last Friday, calling upon it to stop unilateral trade tariffs on Chinese imports. Otherwise, it vowed to fight resolutely until having final victory. And on Tuesday (April 10), China's top mouthpiece, People's Daily, clarified that the United States will be the sole country excluded from Chinese President Xi Jinping's latest offers of market opening.
Western news outlets have reported extensively on Beijing's hard-line responses on Washington's tariff threats. However, they have missed the two most important commentaries issued by two top Communist Party mouthpieces last Friday (April 6) which provided the most authoritative guidelines on how to handle China's trade fight with the US.
Xinhua News Agency's commentary is as follows:
This is a struggle between unilateralism and multilateralism. It is a struggle between protectionism and free trade! The United States seriously misjudged the situation and took extremely wrong actions. The Chinese have never made provocations, but we are not afraid of fighting provocations. Although there will be no winner in a trade conflict, for the sake of China's core interests and for the common interests of the world, the Chinese will fight resolutely! Do not say we have not told you beforehand!
The most important part of this commentary is the ending sentence: "Do not say we have not told you beforehand!" In fact, this sentence of six Chinese words (勿谓言之不预!Wù wèi yán zhī bù yù!) is the most severe war warning in Chinese diplomatic language.
Before last Friday, the People's Republic of China has issued commentaries ending with those six Chinese words only on three occasions - all responding to incursions or provocations by foreign countries. The first one was issued in 1962 targeting India. The second one was issued in 1967 targeting the Soviet Union. The third one was against Vietnam in 1978. The publication of these three commentaries was followed by severe border wars in each case. Hence, this six-word sentence is China's version of a war ultimatum.
The commentary of People's Daily is as follows:
"No matter how long they want to fight, we will fight that long, we will fight all the way until (we have) complete victory!" The United States is raging and arrogant, but we respond calmly and confidently. Today China is stronger, more confident, and braver than ever. Whoever wants to stop China's development and growth will like a mantis who wants to stop a car or an ant who wants to shake a tree. It will eventually pay a terrible price!
Here, the most important part of the commentary is the first sentence, because it is a quotation by Chairman Mao Zedong. It is a Beijing tradition to quote Mao's words as a guiding ideology on an important policy. In this case, Beijing stresses its resolution to fight against the US trade threats.
The two commentaries together give a simple and strong message: the US has to stop waging the "wrong trade war" against China. Otherwise, China is determined to have a long fight against the US, and is confident of having a complete victory at the end.
The unprecedented hard-line aired by Beijing thus explained why a Commerce Ministry spokesman told a late evening press conference on Friday (April 6) that no negotiation was possible "under current circumstances".
Other Interpretations: Trump Has to Resolve Trade Grievances Through The WTO
China represents the right side (representing multilateralism and free trade), while the US is on the wrong side (representing unilateralism and protectionism). That means Beijing will stop fighting against Washington only if the latter removes unilateral tariffs and resolves any grievances through the World Trade Organization.
Beijing will fight resolutely in trade war with the US because it is for the sake of China's core interests - the nation's development and growth. Beijing thus lifts this trade issue up to a national security and development level.
The US would pay dearly if it does slap tariff on Chinese products, because it is now stronger than ever.
The trade conflicts between the two economic superpowers started on April 4, when US President Donald Trump's administration proposed duties on some 1,300 Chinese industrial, technology, transport, and medical products.
Washington called for extra duties on these $50 billion products after it said an investigation had determined Chinese government policies are designed to transfer U.S. intellectual property to Chinese companies and allow them to seize leadership in key high-technology industries of the future.
Just hours after Washington's announcement, China retaliated by placing duties on more than 100 US products, including soybeans, cars and aircraft.
In light of what he called China's "unfair retaliation", Trump threatened on Thursday (April 5) night to slap tariffs on additional $100 billion worth of Chinese products, escalating a tit-for-tat confrontation between the two countries.
Latest Development: Only US Not Benefits From Xi's Market Opening Offers
On Tuesday (April 10), Xi told a development conference that Beijing would widen market access, improve the investment environment and intellectual property protection, as well as actively enlarge imports of goods. Considering these offers a sign of concession, Wall Street was thrilled and the DJIA jumped 429 points on Tuesday.
Yet, Xi, in fact, just repeated what he had said before. Even worse, barely one hour after Xi's speech, People's Daily issued a commentary saying his offers were "of course not" concessions under Trump's trade threats. The top mouthpiece of the Communist Party concluded: "China's new measures to expand openness will benefit many trading partners. But it will not apply to those countries that violate the rules of the WTO and frequently launch trade wars against other countries!"
That means the US is the only country not qualified for these offers. US investors have got an empty joy.
Conclusion: Xi Promises Chinese People Not To Back Down Against Trump
In the current tit-for-tat trade confrontation between US and China, western media and investors have overlooked the two most important hard-line messages from Beijing! As a result, they misread Xi's Tuesday speech and had the wishful thinking that Xi had already kowtowed to Trump even before the trade war had started.
Beijing had, in fact, two audiences in mind by sending an ultimatum to Washington and quoting Mao's words. To Trump, Xi pledged to fight until complete victory, unless the US president withdraws the unilateral trade tariffs. As for the Chinese people, Xi indeed urged them to prepare for a long, hard fight with a US trade war. In return, he effectively made a solemn promise not to back down facing Trump's trade threats.
Thus, it is unbelievable that Xi would break his promise to the Chinese people in such vital issue, especially just weeks after he got a vote of confidence to become the first president allowed to stay longer than two terms.
Xi has so far not backed down in words or in deeds to dampen the roiling trade dispute with the US, and is highly unlikely to do so. The fear of a trade war is escalating, not cooling. The ball is now in Trump's court. Wall Street is up on its toes again.
Disclosure: I/we have no positions in any stocks mentioned, and no plans to initiate any positions within the next 72 hours. I wrote this article myself, and it expresses my own opinions. I am not receiving compensation for it (other than from Seeking Alpha). I have no business relationship with any company whose stock is mentioned in this article.