The railcar industry has long been known for being competitive, capital intensive and highly cyclical. Today the industry's main players include FreightCar America (NASDAQ: RAIL), American Railcar Industries (NASDAQ: ARII), Greenbrier Companies (NYSE: GBX), Trinity Industries (NYSE: TRN), GATX Corporation (NYSE: GATX), and Westinghouse Air Brake Technologies Corp. (NYSE: WAB).
Currently, the shares of FreightCar America Inc. are selling at 73% of book value (P/B = 0.73). An investment in the Company's shares in its IPO on April 6, 2005 (priced at $19/share) would have delivered capital gains return of nearly -30% (excluding dividends) when compared to today's share price of approximately $13.6/share. Also, when compared to the industry peers, the shares have lagged significantly.
Additionally, RAIL has sold at much lower price in comparison to book value for the last one year than its peers.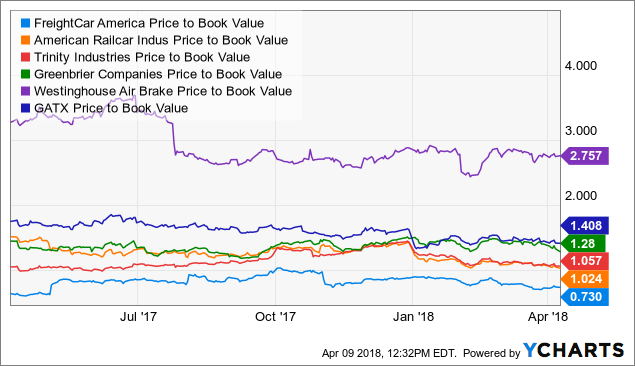 When considering why RAIL's shares are priced this low, there are a few fundamental reasons that can contribute to the explanation.
Low Gross Margins
Since 2008, RAIL's annual gross margins have averaged 7.3% and only 0.8% in 2017, with negative gross margins of -10.9% and -5.1% in the third and fourth quarter, respectively. Compare this to its closest competitor, American Railcar, whose gross margins have averaged 18.7% annually since 2008 (with 24.6% margins in 2017). The recent down-cycle has hurt FreightCar America quite significantly with fourth quarter revenues in 2017 declining by nearly half when compared to the fourth quarter of 2016. And this clearly to a point that would not be sustainable without a future recovery in the railcar economic cycle.
Cost Inefficiency
Apart from the fact that the Company's cost of revenue exceeds its sales in the most recent quarters, RAIL's selling, general and administrative cost (SG&A) as a percentage of sales has averaged approximately 8% since 2008 while American Railcar enjoys a roughly 5% ratio. This obviously hurts the bottom line further and can weigh heavily on earnings over time.
In recent years, the Company has aimed to reduce its costs. "On August 1, 2016, we announced a cost reduction program whereby approximately 15% of the Company's salaried administrative workforce would be eliminated, our Johnstown, Pennsylvania administrative facility would be closed and certain discretionary spending would be reduced. In the first quarter of 2017, in response to lower order trends in the industry, we announced further reductions to our salaried workforce, initiatives to reduce discretionary spending and the idling of our Danville, Illinois facility." In addition, the Company "acquired substantially all of the operating assets of Navistar, Inc. and its subsidiary, International Truck and Engine Investments Corporation", which will improve operational efficiency by taking full control of the manufacturing process at the facility. (Source: Annual Report 2017)
Lastly, the Company has begun executing a "Back to Basics" program, which is designed to transform operational and manufacturing platforms, lower the cost structure and improve productivity. "There are three main components to this program: (1) simplifying our business structure; (2) developing, training and retaining the right talent across our organization; and (3) implementing best-in-class processes across the business." (Source: FreightCar America, Inc. Reports Fourth Quarter and Full Year 2017 Results)
Low ROE
Following the low gross margins and high cost structure, the Company has subsequently delivered mixed results in terms of net income. With operating margin averaging -1% since 2008 and earnings averaging $0.3/share annually, RAIL has only managed to deliver roughly 1.4% in ROE. Where the cost of equity (and cost of capital) certainly exceeds that number, it is no surprise that the Company's shares have been selling at less than book value.
Capital Intensity
The railcar industry is generally capital intensive and FreightCar America is no exception to that. On average, the Company has spent $10 million annually since 2008 on capital expenditures. With limited income, RAIL has on average delivered negative free cash flows of -$0.8/share per annum since 2008.
Dividends
With fluctuating earnings and industrial cyclicality that significantly affects the cash flows of the Company, FreightCar America has not always been able to pay out consistent dividends to shareholders. Although it generally aims to pay out dividends, the Company has had to cut and suspend dividend payments both in the recent year and during previous cyclical downturns (for example, in 2010 and 2011).
This has added to the downside pressure on the Company's shares, making them less attractive in the eyes of prospective investors that otherwise may not necessarily expect significant capital gains from the railcar industry, based on previous experience and history.
Conclusion
Although the business of FreightCar America Inc. has not delivered much to shareholders in recent years, there are some positive signs surrounding the Company. RAIL has a conservative balance sheet with no debt and a management that is focused on keeping cash on hand to allow the business to ride through rough times.
The Company has a longstanding history and industry knowledge with its foundation tracing back to 1901. And even though there have clearly been inefficiencies in the business to date, there are signs of a brighter future on the horizon with a new CEO (Jim Meyer) and the introduction of the "Back to Basics" program that will likely result in a more efficient and productive Company.
With RAIL trading at roughly $13/share (April 2018), 30% below book value ($18.7/share) and the industry likely to be soon entering the final stages of a cyclical downturn, investors with a long-term view should consider FreightCar America Inc. as a relatively attractive low-risk opportunity where dividends might come to be a more frequent and recurring occurrence in the future, especially if the current operating improvement plan results in greater and steadily positive free cash flows.
Disclosure: I/we have no positions in any stocks mentioned, but may initiate a long position in RAIL over the next 72 hours.
I wrote this article myself, and it expresses my own opinions. I am not receiving compensation for it (other than from Seeking Alpha). I have no business relationship with any company whose stock is mentioned in this article.