Weekly Review: High-Yield CEFs
Summary
Review of where high-yield closed-end funds and their benchmark ended last week.
Recap of news related to the sector.
Comparison among the funds using several important metrics.
Pair trade idea for those interested.
Introduction
The opportunities in closed-end funds over the last few months caught the eye of many investors. Most of these products are designed to provide a steady stream of income, usually on a monthly or quarterly basis, as opposed to the biannual payments provided by individual bonds. And this feature continues to attract market participants even when the overall market looks unstable.
In spite of CEFs being mostly of interest to income investors, we have found our path to approaching them as active traders and we are constantly monitoring them. As a testament to this, you will be kept up to date with Weekly Reviews such as this one.
The Benchmark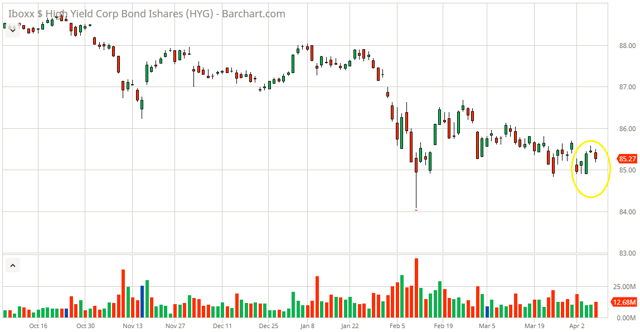 Source: Barchart, iBoxx $ High Yield Corp Bond iShares
The main index for high yield closed-end funds is the iShares iBoxx $ High Yield Corp Bond (HYG). The past week did not surprise us with any directional changes. The benchmark is still trading in a range and if we see a breakdown past the $85 level it could potentially enter a downtrend.
The High Yield sector generally has low correlation with other sectors in the fixed income market. Along with lesser sensitivity to interest rate risk, an allocation to high yield bonds may provide us with benefits in terms of portfolio diversification. Additionally, investments in these products have historically offered similar returns to equity markets, but with lower volatility.
Below you can find a statistical comparison between iShares iBoxx $ High Yield Corp Bond (HYG) and iShares 20+ Year Treasury Bond ETF (TLT):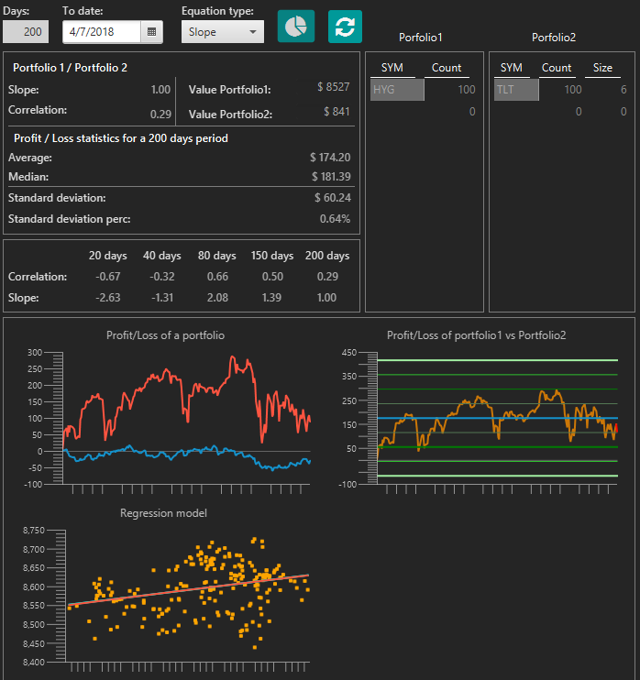 Source: Author's database
The News

Source: Yahoo News, High Yield Closed-End Funds News
As you can see from the table above, several funds declared their monthly distribution rates over the past week. On Friday, Prudential Sht Duration Hi Yld (ISD), published its unaudited investment results for the quarter ended February 28, 2018.
Invesco Advisers, announced officer changes for their closed-end funds. From high-yield sector this will affect Invesco High Income II:(VLT)
Dreyfus High Yield Strategies: (DHF) declared their monthly portfolio holdings, as of end of February 2018.
Review Of High-Yield CEFs
1. Lowest Z-Score: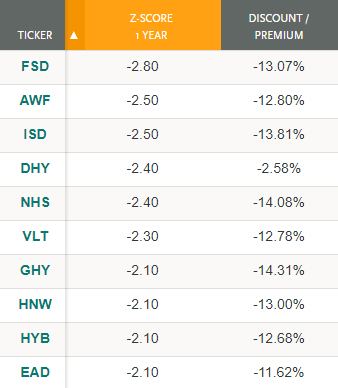 Source: CEFConnect.com
Above are the funds, which are statistically undervalued. The Z-score is an indicator of how many times the Discount/Premium deviates from its mean for a specific period. The observation provides us with potential "Buy" candidates, based on that characteristic and respectively attractive Discount.
Neuberger Berman High Yield St (NHS) is taking the fifth position in our sample. Last time, this fund was not even in the top ten table.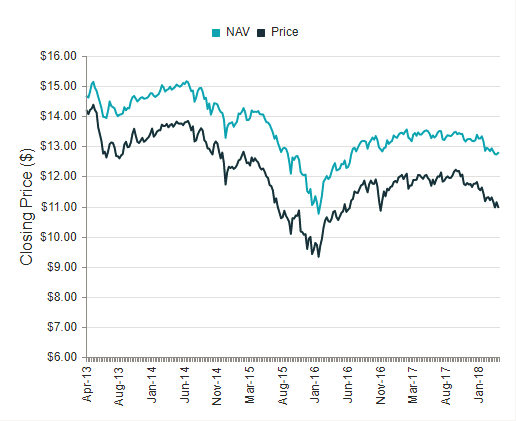 Source: CEFConnect.com, Neuberger Berman High Yield St:(NHS)
2. Highest Z-Score: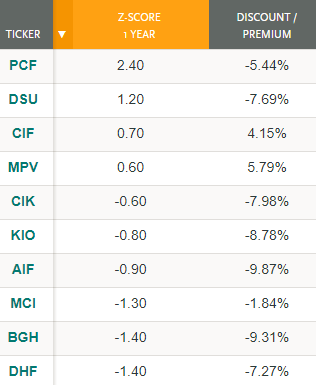 Source: CEFConnect.com
On the other hand, we have only Putnam High Income Securities (PCF) with a significant statistical edge. In spite of this, the fund is still trading at a Discount, so there is still no reason to review it as potential "Short".
MFS Intermediate High Income (CIF) is a fund which I followed over the last few weeks and it was a "Sell" candidate. The fund managed to narrow the spread between price and net asset value, аs we expected.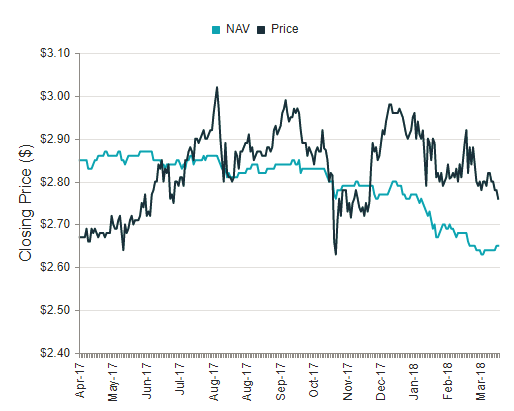 Source: CEFConnect.com, MFS Intermediate High Income:(CIF)
3. Biggest Discount: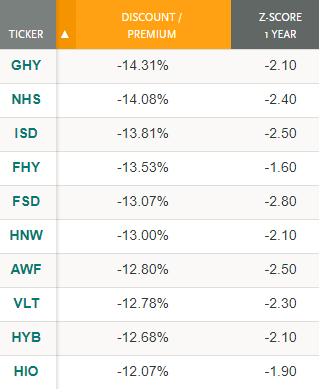 Source: CEFConnect.com
This week, Prudential Global Short Dur Hi (NYSE:GHY) is again our leader, followed by Neuberger Berman High Yield St (NHS), which has also crossed the border of 14% Discount.
If you are looking to add new CEFs to your portfolio, the combination of a Z-score less than -2 and a Discount greater than 10% is always a good foundation. The current market environment has opened up many opportunities in this sector. Of course, before taking some position you will need a deeper analysis of the fund's characteristics.
4. Highest Premium: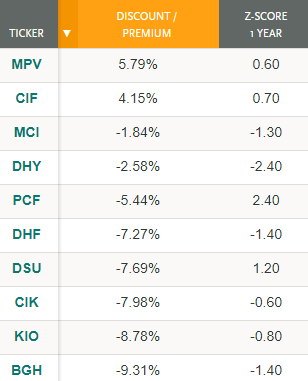 Source: CEFConnect.com
The situation is about the same as last week – only two closed-end funds trade at a Premium, however, there is no statistical reason to discuss them as potential "Sells."
5. Highest 5-year Annualized Return On NAV: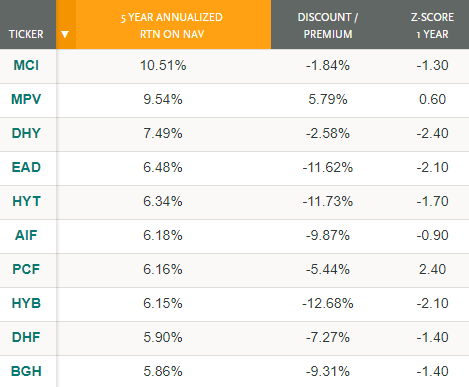 Source: CEFConnect.com
The raw data above shows the high yield closed-end funds with the best returns on net asset value for the past five years. Probably this is the most important metric that investors care about, yet timing also plays an important role. To close in on a good bargain you need to incorporate all of the statistical and fundamental information available. That is why it is important to include Discount/Premium, Z-score and a look at the portfolio while hunting. Based on the ranking above, I may review EAD, HYT, HYB as potential "Buy" candidates.
6. Lowest 5-year Annualized Return On NAV: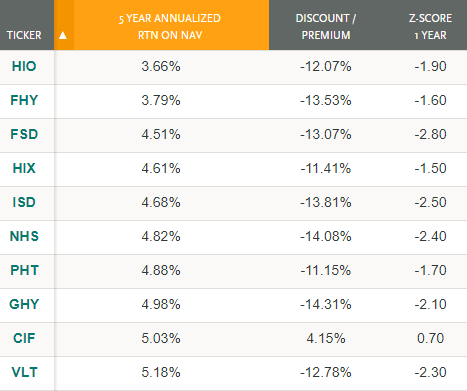 Source: CEFConnect.com
Statistical Comparison & Potential Trades
Usually, I am trying to provide reviews of potential "Buys" and respectively "Shorts." Due to the lack of enough interesting "Sells," I will keep your attention only on the closed-end funds where you can consider taking a "Long" position.
My first choice for today is Wells Fargo Adv Inc Opp (NYSE:EAD). Except that it is sitting among the funds with the highest return on NAV, we found a statistical reason as well. It may seem that it is constantly traded at this level of Discount, but Z-score indicates for a standard deviation of -2.10.

Source: CEFConnect.com, Wells Fargo Adv Inc Opp:(EAD)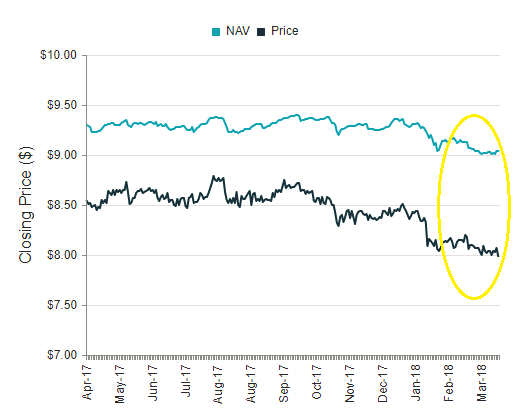 Source: CEFConnect.com, Wells Fargo Adv Inc Opp:(EAD)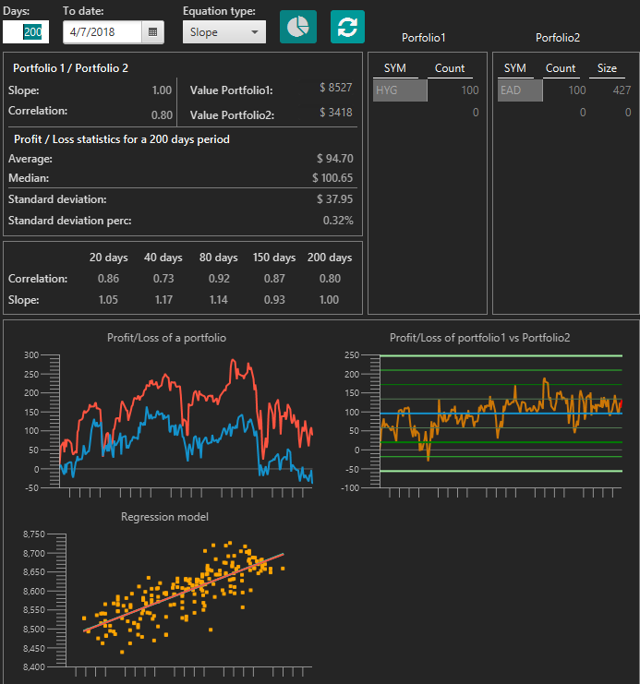 Source: Author's database
Above is the statistical comparison of the main index HYG and EAD for the last 200 days. As it is stated, the correlation between them is 0.80 points.
Today's second fund is AllianceBernstein Glb High Inc (AWF). This CEF does not have one of the highest returns, but has a relative statistical edge to be included in my review.

Source: CEFConnect.com, AllianceBernstein Glb High Inc:(NYSE:AWF)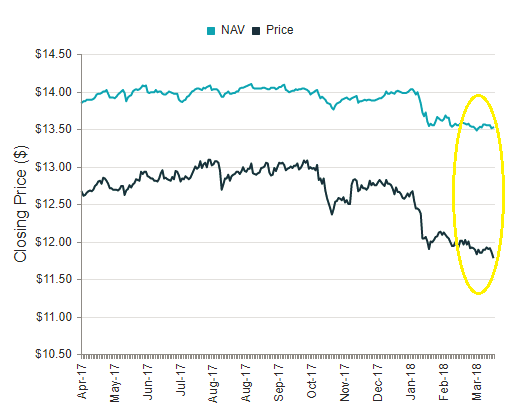 Source: CEFConnect.com, AllianceBernstein Glb High Inc:(AWF)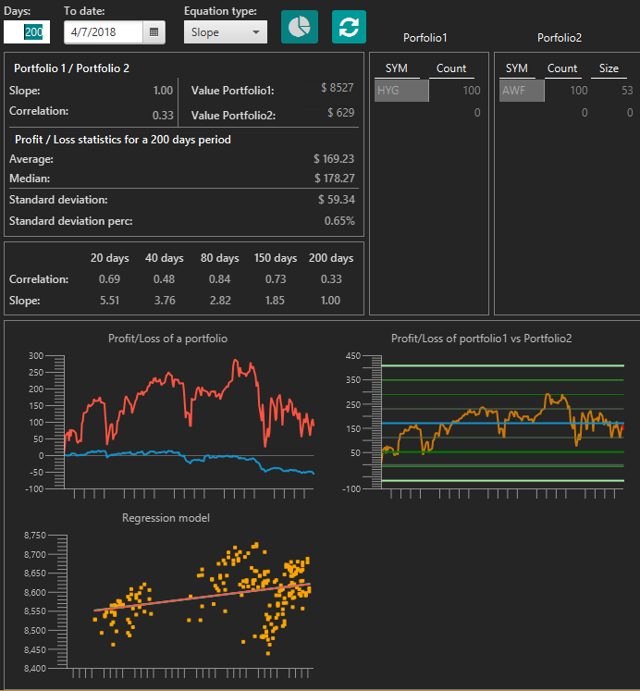 Source: Author's database
Here, the data reveals a low correlation of only 0.33 points. The portfolio credit quality is primarily "BB" rating. The investments are well diversified in different ratings and many countries. The main part of the assets is from issuers located in the United States: 59.89%.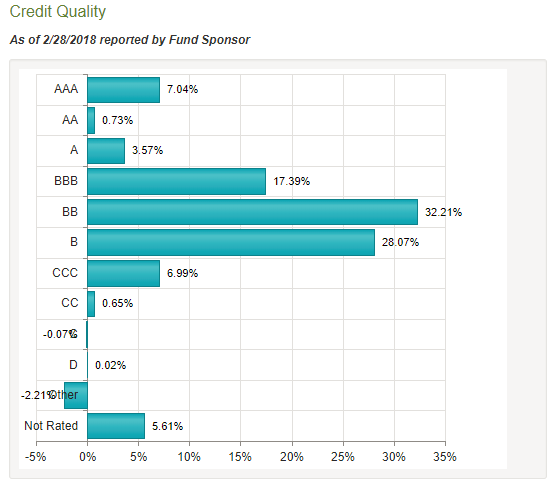 Source: CEFConnect.com, AllianceBernstein Glb High Inc:(AWF)
Conclusion
The high-yield sector does not provide us with significant arbitrage opportunities at present. Most of the CEFs are traded at discounts and it is difficult to find reasonable short candidates. The recent sell-off in the market has played its role by pushing the sector further down.
Trade With Beta
At 'Trade With Beta' we also pay close attention to Closed-end Funds and are always keeping an eye on them for directional and arbitrage opportunities created by market price deviations. As you can guess, timing is crucial in these kind of trades, therefore you are welcome to join us for early access and the discussions accompanying this kind of trades.
This article was written by
Income arbitrage ideas along with managed portfolios and pair trades
Day trader whose strategy is based on arbitrages in preferred stocks and closed-end funds. I have been trading the markets since I started my education in Finance. My professional trading career started right before the big financial crisis of 2008-2009 and I clearly understand what are the risks the average investor faces. Being a very competitive trader I have always worked hard on improving my research and knowledge. All my bets are heavily leveraged(up to 25 times) so there is very little room for mistakes. Through the years my approach has been constantly changing. I started as a pure day trader. Later I added pair trades. At the moment most of my profits come from leveraging my fixed income picks. I find myself somewhere in between a trader and an investor. I am always invested in the markets but constantly replace my normally valued constituents with undervalued ones. This approach is similar to rebalancing your portfolio and I just do this any time there is some better value in the markets. I separate my trading results from my trading/investment results. I target 40% ROE on my investment account and since inception in 2015, I am very close to this target.
My main activity is running a group of traders. Currently, I have around 40 traders on my team. We share our research and make sure not to miss anything. If there is something going on in the markets it is impossible not to participate somehow. Some of my traders are involved in writing the articles in SA. As such Ilia Iliev is writing all fixed-income IPO articles. This is part of their development as successful traders.
My thoughts about the market in general:
*If it is on the exchange it is overvalued and our job is to find the least overvalued.
*Never trust gurus - they are clueless.
*Work hard - this is the only way to convince yourself you deserve success.
*If you take the risk it is you who has to do the research.
*High yield is always too expensive.
We are running a service here on SA. It is a great community with very knowledgable people inside. Even though we are not in the spotlight as often as we would like to our articles' results are among the strongest on SA. You can always contact me to share some of our articles and best picks so far.

Analyst's Disclosure: I/we have no positions in any stocks mentioned, but may initiate a long position in EAD over the next 72 hours. I wrote this article myself, and it expresses my own opinions. I am not receiving compensation for it (other than from Seeking Alpha). I have no business relationship with any company whose stock is mentioned in this article.
Seeking Alpha's Disclosure: Past performance is no guarantee of future results. No recommendation or advice is being given as to whether any investment is suitable for a particular investor. Any views or opinions expressed above may not reflect those of Seeking Alpha as a whole. Seeking Alpha is not a licensed securities dealer, broker or US investment adviser or investment bank. Our analysts are third party authors that include both professional investors and individual investors who may not be licensed or certified by any institute or regulatory body.