Risk-based indices are different from factor-based indices, as they focus on the interaction between securities, not the characteristics within securities. Put simply, it's an alternative, systematic approach to asset allocation and risk management.
The Elston Multi-Asset Min Volatility Index (ESBGMV Index) launched in 2014 represents the minimum variance multi-asset portfolio for GBP investors.
As it takes a systematic approach, it's always interesting to see the asset-class switches that this methodology triggers via its monthly readjustments.
Comparing the index composition from 4q17 to 1q18, the biggest switches have been cutting back European High Yield Bonds and UK Equity, whilst adding to European Aggregate Bonds and Gold.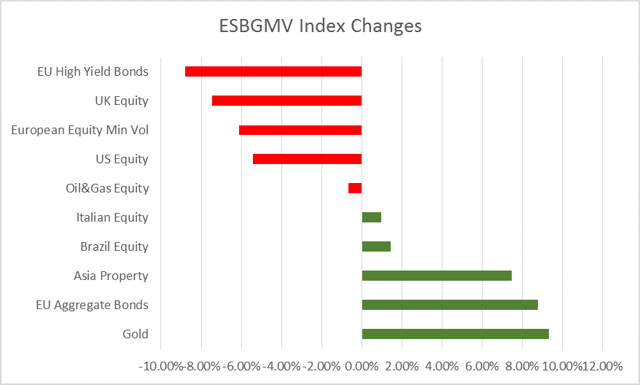 Disclosure: I/we have no positions in any stocks mentioned, and no plans to initiate any positions within the next 72 hours. I wrote this article myself, and it expresses my own opinions. I am not receiving compensation for it. I have no business relationship with any company whose stock is mentioned in this article.
Additional disclosure: This article has been written for a UK audience. Tickers are shown for corresponding and/or similar ETFs prefixed by the relevant exchange code, e.g. "LON:" (London Stock Exchange) for UK readers. For research purposes/market commentary only, does not constitute an investment recommendation or advice, and should not be used or construed as an offer to sell, a solicitation of an offer to buy, or a recommendation for any product. This blog reflects the views of the author and does not necessarily reflect the views of Elston Consulting, its clients or affiliates. For information and disclaimers, please see www.elstonconsulting.co.uk