MannKind (MNKD) has been living the corporate version of paycheck to paycheck for quite some time. That is not to say that there have been no improvements over the last two years because there have been. The company has worked on its debt picture and has newly minted shares to continue working on that issue. The problem is that using shares to pay debt and raise money is not the best position to be in. It can and often is very dilutive to existing shareholders.
Let me be perfectly clear here. Discussing the cash situation and how long existing cash will last is not a call that the company will go bankrupt. In fact, with enough shares and enough carrots to dangle, a company can tread the proverbial water for quite some time without going bankrupt.
I have taken the opportunity to model out the cash situation between now and the end of the year. In this model, I have assumed that the company will be able to accomplish quarter over quarter script growth of a bit over 25% between now and the end of the year. I should make it clear that this is something MannKind has not yet accomplished. For perspective, here is the quarter over quarter data since MannKind took control:
Q3 of 2016 saw an 11% decline vs. Q2 of 2016
Q4 of 2016 saw a 4% increase vs. Q3 of 2016
Q1 of 2017 saw a 10% decline vs. Q4 of 2016
Q2 of 2017 saw a 20% increase vs. Q1 of 2017
Q3 of 2017 saw a 27% increase vs. Q2 of 2017
Q4 of 2017 saw a 17% decline vs. Q3 of 2017
Q1 of 2018 saw a 2% decline vs. Q4 of 2017
While the chart I have would reflect a balance at the end of Q1 of $22.4 million, I am assuming that the company finished with about $27 million (I added $4.5 million to the final week of the quarter). This assumption was made because the company was very clear that they were in compliance with the Deerfield covenant at the end of Q1. That covenant requires that MannKind has a minimum of $25 million in cash. It is possible that the ATM facility was used during Q1 to raise the needed capital to remain in Deerfield compliance, or it was very prudent on expenses. The chart is immediately below. I will discuss the critical points based on that chart.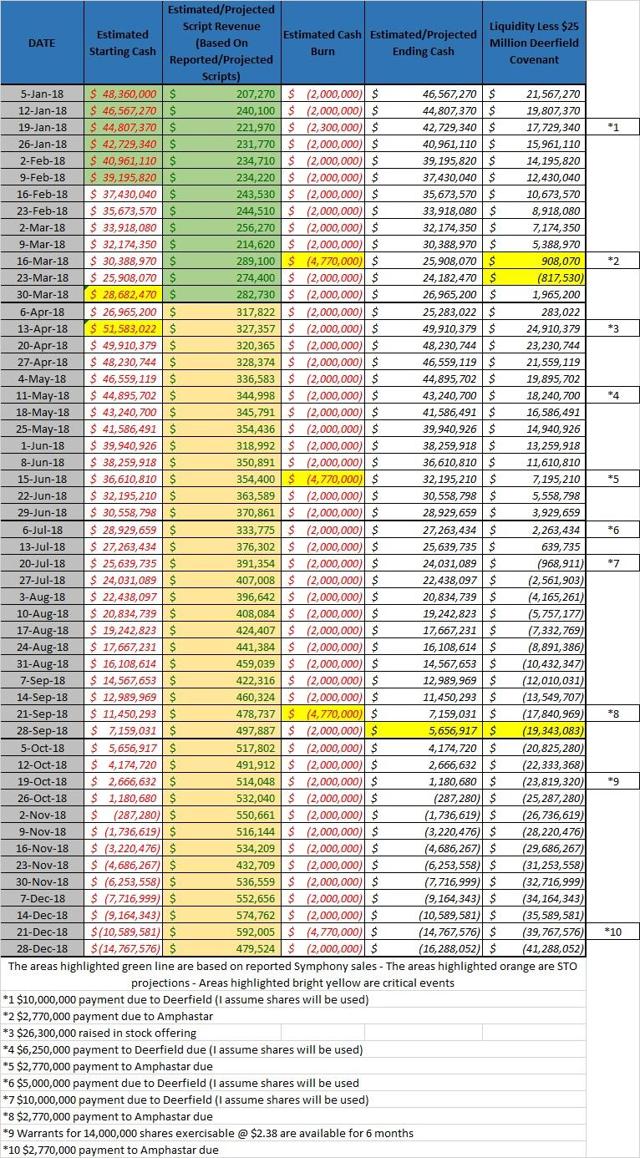 Chart Source - Spencer Osborne
First, let's discuss the numbers as if the only capital infusion is Afrezza sales. If we use that assumption, MannKind will be able to comply with the Deerfield covenant at the end of Q2, but not by much. It will essentially have enough cash to get through Q3 but cannot do so and remain in compliance with the covenant. By this model, cash is exhausted in October of 2018.
Looking at the cash model, this way can give a savvy investor some insight on when the company needs to take action. It would appear that a prudent time to infuse some cash is in Q2, and a drop-dead date for cash infusion is in Q3. MannKind has indicated that it has a signed term sheet that it feels it can bring to a deal at some point in Q2. Depending on the amount of up-front cash that such a deal could deliver, it could ease concerns about Q3. It would take about $20 million in up-front cash to mitigate the Deerfield covenant for Q3. It is my opinion that getting $20 million in up-front cash is a tall order. Is it possible? Yes, but only if the back end (the revenue split, etc.) is favorable to the partner. Most likely, the up-front cash will land between $10 million and $20 million simply because the deal needs to be structured in such a way as to have an up-front cash component. Let's plug those assumptions in.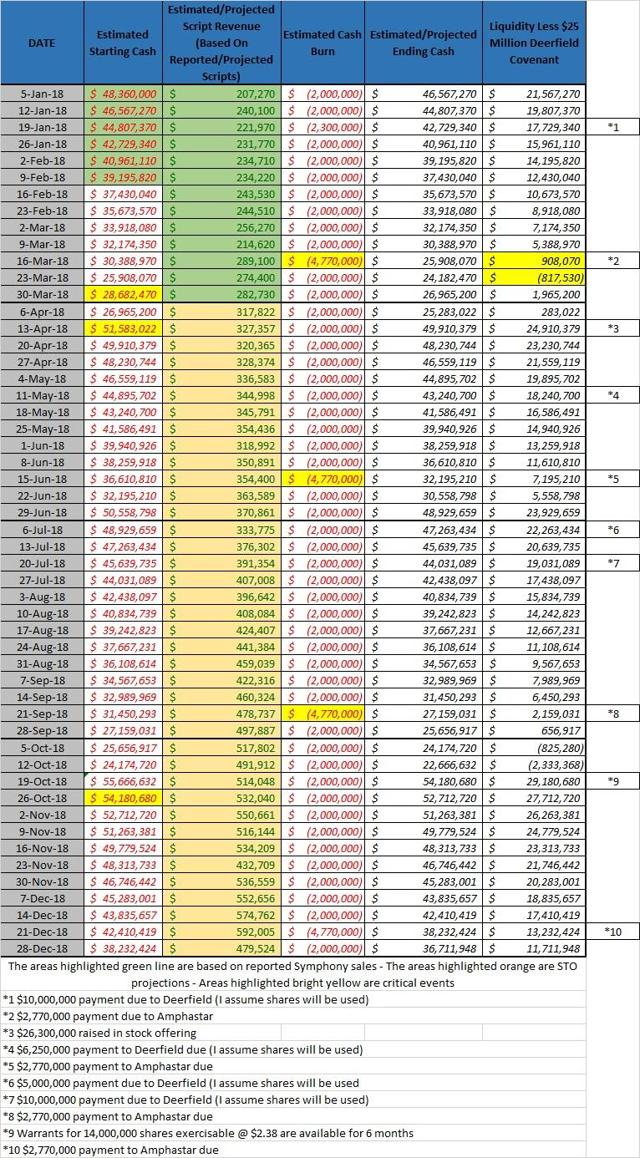 Chart Source - Spencer Osborne
If a deal can ease the concerns of Q3, then we need to look at Q4. By my projections, Q3 would finish with about $25 million if a deal with $20 million up-front is obtained. Q4 brings the warrants attached to the recent share offering to the table. If all warrants are exercised, the company could add $33 million to the coffers. This would allow the company to finish the year with about $37 million in cash and be in compliance with Deerfield.
Now, let's review the assumptions that were made to paint the latter picture:
Company finished Q1 with $27 million
Company is able to produce just over 25% growth each quarter in 2018
Company is able to raise $20 million in up-front cash from a deal
Warrants are 100% exercised at $2.38 per share
Company handles $15 million in debt due with shares
Company keeps operations, marketing, and R&D costs flat
What This Means For Investors
What investors need to do is consider the most probable points in time that the company needs to take certain actions. The first event that needs consideration is happening in Q2. Savvy investors are already modeling all of this and developing their trading plays as I type. Getting a signed term sheet can essentially happen at any point during the quarter. That is a 13-week window. Based on some deduction, there are a few windows of time to consider. The annual meeting is May 16th. One might think that announcing a deal ahead of that meeting may be prudent. In my opinion that window is between May 7th and May 15th. Another probable widow is toward the end of the quarter but prior to it being critical in terms of cash situation. The second window is June 4th through the 18th.
No matter what the structure of such a deal is, it will create a pop in the stock simply based on the headline. What savvy investors will want to assess is the following:
Is the up-front cash enough to alleviate the Deerfield covenant issue?
What is the split?
Who is responsible for any clinical trials if required?
How long is the average approval in the country or countries?
Least important are the milestones. Typically, these sound good, but hitting all of them rarely happens. Assess the realistic milestones attached to filing for approval, getting approval, and launch.
I often hear investors assigning a great deal of importance to the STAT study. While the study will not hurt MannKind stock, it is not very likely to boost it either. Having the data is great. Monetizing that data is another animal. If the partner deal does not deliver the level of up-front cash needed, the STAT study could be a selling point on a capital raise similar to what transpired with using the label change as a catalyst. I am not saying that the STAT study will pop this to $6 (in fact, I highly doubt it would), but it could make a little noise if the company needs to drum up a story to sell.
On the caution side, the end of Q2 will also be the point in time when savvy investors assess whether or not the company is likely to hit its 2018 guidance of Afrezza net sales being between $25 million and $30 million. Net sales in Q1 will be in the neighborhood of $3.2 million. MannKind essentially needs to deliver 50% growth every quarter to hit the low end of its guidance. By the second half of Q2, savvy investors will be able to assess whether hitting guidance is likely. I think that the guidance is a very tall order.
Thus, Q2 has its positives and its negatives. A deal announcement and the ADA conference will compete against script counts and the guidance story. All of this will tie back to assessing the cash situation.
The Q3 story will be less sexy in terms of catalysts. The story of Q3 will be whether or not the company was able to raise what was needed to erase the concern of cash in Q2, and how the company will deal with its guidance. The Q2 call will happen in mid Q3, and if the company is on pace for guidance, it will need to state as much. If not, it will need to be realistic with investors. The big factor as Q3 winds down is where the equity price is relative to $2.38 price tag on the 14 million warrants. There are a lot of players that will see this as an opportunity to short the stock any time it gets above that strike price. It would take very, very compelling news, and very compelling sales numbers to remove that type of trade from the table. I will not say that Q3 is a total make or break for this stock, but there are a lot of things that need to go perfectly in order to drive appreciation. By the tail end of Q3, it will be pretty clear what the end of year numbers will be.
Q4 is about what happens with the warrants. They are good from mid-October to mid-April of 2019. The fact of the matter is that MannKind will need the cash associated with them ($33 million) in Q4 to continue operations and maintain compliance with Deerfield. If these warrants are not converted, MannKind will most likely need to dilute again in Q4 whilst leaving the warrant window open.
Essentially, under the best-case scenario and with a lot of things going right, MannKind can fund its business through Q1 of 2019. One hiccup though could mean some ugly times. The $2.38 warrants are a bit toxic to the equity over the next 12 months but could deliver some much-needed cash to the coffers (albeit at a very cheap price).
There will be some readers that say, "What if MannKind hits is guidance... All will be right". My assumptions have MannKind missing guidance by about $4.5 million at the low end and $9.5 million at the high end. Neither of those numbers really change the narrative. Stay Tuned!
Disclosure: I/we have no positions in any stocks mentioned, and no plans to initiate any positions within the next 72 hours. I wrote this article myself, and it expresses my own opinions. I am not receiving compensation for it (other than from Seeking Alpha). I have no business relationship with any company whose stock is mentioned in this article.