Incyte (NASDAQ:INCY) has come under the spotlight and for all the wrong reasons. Last Friday saw the company releasing very disappointing results for its Keytruda-epacadostat combo therapy for advanced skin cancer, and that has pushed the stock down by a massive 23%, from $83.07 all the way down to $64.02. The failure of this combo has also cast a shadow of doubt on the future of all IDO1 inhibitors.
So we have all the trials evaluating epacadostat–Keytruda in indications such as advanced pancreatic cancer with chromosomal instability/homologous recombination repair deficiency and non-small cell lung cancer, being now subjected to increased scrutiny. Beyond this, even other pharmaceutical and biotech companies with other investigational IDO1 drugs such as Bristol-Myers Squibb (NYSE:BMY) and NewLink have faced the wrath of investors.
Despite this setback, I dare to say that this can prove to be an excellent entry point for Incyte and investors can get really lucky by picking up this stock in 2018.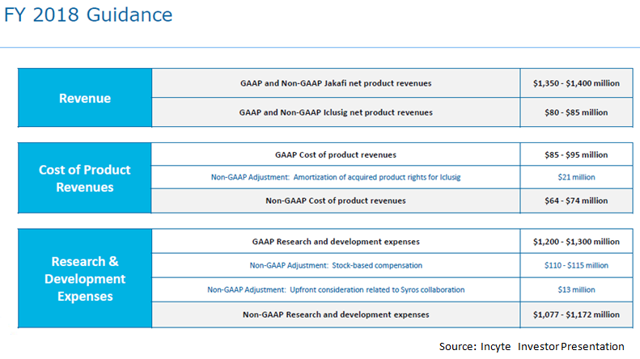 But first take a look at 2018 guidance figures for Incyte. Let me explain my hypothesis in greater detail.
To start with, there may still be some scope in IDO1 inhibitors.
EvaluatePharma had tagged the peak sales potential of epacadostat to be around $2.0 billion, and had ranked it the top third commercial launch in 2018. The hazard ratio of 1.0 (linked above) in the trial, seems to have further quashed hopes of this highly watched for drug's effectiveness in any subgroup analysis.
However, an oncologist at the University of Chicago, Dr. Jason Luke, has pointed out that the population sample tested in this trial was too broad. He explained that since the sample only had patients with T-cell inflamed tumors, epacadostat may prove useful in this small subgroup of cancer patients. However, his hypothesis extends not only for lung cancer indication, but for all patients with the natural immune response with any type of cancer.
This implies that Incyte will have to redesign its trials and pick out patient samples most likely to benefit from IDO1 inhibitors.
Jakafi/Jakavi continues to be a solid growth driver for Incyte Corporation in 2018.
Jakafi is the first and only approved therapy for rare blood cancer patients, those suffering with polycythemia vera or PV who fail to respond sufficiently to hydroxyurea, and for patients suffering with intermediate or high-risk myelofibrosis or MF, which also involves post-essential thrombocythemia MF, primary MF, and post-PV MF patients. The drug, marketed by Novartis (NYSE:NVS) in ex-US markets under the brand name of Jakavi, also fetches royalty revenues for Incyte.
And with new potential approvals in indications such as graft versus host disease or GVHD and essential-thrombocythemia or ET, just round the corner, the company is projecting the drug's net revenues to land up in the range of $1.35 billion-$1.40 billion in 2018, significantly higher than the $1.1 billion reported in 2017.
Per Incyte estimates, approximately 16,000 to 18,500 patients in the US suffer from MF, of which 80% to 90% fall in the intermediate or high risk category. Further, there are almost 25,000 PV patients in the US, who are eligible for treatment with Jakafi. With only 11,000 patients currently being treated with the drug in the US, and most of them being MF patients, there is definitely significant scope for the drug to penetrate deeper in the market.
This JAK1/JAK2 inhibitor has managed to demonstrate superiority in hematocrit control and spleen volume reduction, without opting for phlebotomy, in inadequately controlled PV patients who were intolerant or resistant to hydroxyurea. The response was maintained in the majority of patients, even after Jakafi was administered to these patients for a longer period of time. Jakavi also managed to demonstrate higher percentage of complete hematologic remission in PV indication as compared to best available therapy.
In case of MF indication, the FDA allowed the company to add Kaplan-Meier overall survival data (linked above) to the drug's label, based on three-year results from Phase 3 trials, COMFORT-I and COMFORT-II.
Incyte and Novartis are currently studying the potential of Jakafi in steroid-refractory GVHD indication in the REACH program. The pivotal Phase 2 REACH 1 trial is already fully enrolled and is expected to readout in the first half of 2018. Based on this trial, the company aims to file an sNDA for the drug in the GVHD indication in late 2018. Phase 3 trials, REACH 2 and REACH 3, are also underway and are expected to help in strengthening Jakafi's label in the GVHD indication.
All these label expansions are playing a pivotal role in strengthening the confidence of both physician and patient community in the drug's efficacy and safety profile. The medical community has also started recognizing the improved patient outcomes resulting from earlier intervention with Jakafi. This has resulted in the company updating its long-term revenue guidance for the drug to be around $2.5 billion-$3.0 billion.
Beyond this, Jakafi has already secured orphan drug designation for PV, MF, GVHD, ET, and acute lymphoblastic leukemia or ALL, which will allow the drug to enjoy a seven-year marketing exclusivity in these indications. The company also holds several patents protecting the drug's composition of matter as well as use all the way till late 2027.
Incyte has forged very lucrative collaborations in the past few years.
Since 2009, Incyte has been working in collaboration with Novartis and Eli Lilly (NYSE:LLY). The company has out-licensed ex-US development and commercialization rights for Jakafi to Novartis for all hematology and oncology indications. However, the company had also entered into collaboration with Eli Lilly and out-licensed worldwide development and commercialization rights for Olumiant as well as other follow-up compounds for autoimmune conditions.
Hence, in April 2016, the company had to first acquire back the development and commercialization rights for Jakafi/Jakavi in GVHD indication from Eli Lilly and thereby amend the agreement with Novartis, to allow the later GVHD indication rights for Jakavi in ex-US markets. Olumiant is currently being evaluated in multiple autoimmune diseases such as rheumatoid arthritis, psoriatic arthritis, and systemic lupus erythematosus.
In January 2015, Incyte inked a collaborative agreement with Agenus, to combine its oncology expertise with the latter's Retrocyte Display™ antibody discovery platform, for developing novel immune-therapies. Both the companies have been involved in developing four checkpoint modulators targeting GITR, OX40, LAG-3 and TIM-3 as well as three additional targets. The companies have initiated Phase 1/2 trial to evaluate safety and tolerability of anti-GITR agonist antibody INCAGN1876 in solid tumor indications.
In June 2016, Incyte Corporation acquired ARIAD Pharmaceuticals' (NASDAQ:ARIA) European operations as well as development and commercialization rights extending into the European Union and 22 other countries for the leukemia drug Iclusig. This drug, which is expected to fetch $80 million to $85 million in revenues in 2018, is playing a key role in strengthening Incyte's footprint in Europe. The transaction is expected to become EPS accretive in FY 2018.
In December 2016, Incyte entered into collaboration with Merus (NASDAQ:MRUS) and secured global development and commercialization rights for eleven of the latter's bispecific antibody programs. In January 2017, the company entered into collaboration with Calithera Biosciences (NASDAQ:CALA) to secure rights for developing and commercializing small molecule arginase inhibitors in hematology and oncology indications. In October 2017, the company entered into collaboration with MacroGenics (NASDAQ:MGNX) for securing rights for investigational monoclonal antibody inhibiting PD-1.
Finally, in January 2018, the company entered into collaboration with Syros Pharmaceuticals (NASDAQ:SYRS), where the latter will identify new myeloproliferative neoplasms therapies using its gene control platform and offer Incyte the option to assume worldwide rights of up to seven validated targets.
All these strategic deals mean either additional revenues for Incyte, in the form of upfront payments, royalties, and milestone payments, from geographically diversified and cash-rich partner companies or access to innovative molecules.
But even beyond epacadostat, there are certain risks that may affect Incyte's growth trajectory in 2018.
Excessive dependence of Jakafi/Jakavi is a big business risk for Incyte. Any setback in its label expansion initiatives or entry of competition can prove to be a big blow for Incyte.
In MF indication, there has been a significantly high level of unmet demand, especially for patients with lower platelet counts. And CTI Biopharma's (NASDAQ:CTIC) investigational JAK inhibitor, Pacritinib, demonstrated encouraging results in the Phase 3, PERSIST-1 trial, even in MF patients with low platelet counts. And since thrombocytopenia is also one of the listed side-effects of Jakafi, despite seeking approval only for MF patients with low platelet count, physicians may actually prefer off-label usage of Pacritinib for the entire MF patient population.
However, it is vital to also adjust dosage of this therapy, since FDA had put the development of pacritinib on hold due to concerns about the cardiac toxicity and mortality of this drug. This hold was removed in January 2017.
Already approved in Europe, Switzerland, and Japan in the rheumatoid arthritis or RA indication, Incyte's royalty-earning asset, Olumiant, faced rejection from the FDA in April 2017. However, Eli Lilly has now resubmitted the application, with additional clinical data, and is anticipating approval for the drug in 2018. Even if approved, the delay in the entire procedure has definitely helped the drug's competitors such as AbbVie's (NYSE:ABBV) Humira, Pfizer's (NYSE:PFE) Xeljanz, and Amgen's (NASDAQ:AMGN) Enbrel latch onto more RA patients.
Incyte Corporation continues to be a buy opportunity in 2018.
Prior to the setback of the unfavorable results from epacadostat–Keytruda, Wall Street analysts had projected Incyte Corporation's 12-month consensus target price to be close to $140.28. After the dismal results, the target price has been revised downward to $114.59. And yet, this implies a return of almost 78.6% over the company's current trading price.
While the failure of the highly awaited Phase 3 ECHO-301/KEYNOTE-252 study is no joke, the investors have definitely overreacted to the bad news. This is a company which has slowly but surely established its presence not only in the US but also in Europe and Japan. And then, the company also had cash and cash equivalents close to $1.2 billion, while total debt was only 24 million at the end of December 2017. The balance sheet has vastly improved after the company retired a $700 million convertible debt in 2017.
Considering the business fundamentals of the company as well as its financial position, I believe that Incyte can prove to be a strong buy opportunity for retail investors in 2018.
Disclosure: I/we have no positions in any stocks mentioned, and no plans to initiate any positions within the next 72 hours. I wrote this article myself, and it expresses my own opinions. I am not receiving compensation for it (other than from Seeking Alpha). I have no business relationship with any company whose stock is mentioned in this article.