Moderate Attractiveness Driven By Low Risk In Malaysia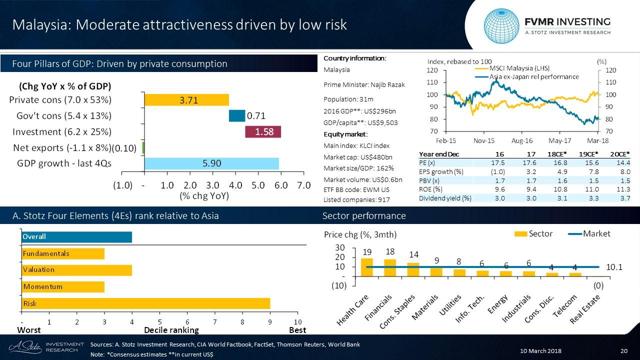 Four Pillars of GDP: Driven by private consumption
Malaysia has relatively fast GDP growth, driven mainly by private consumption and private investments. Net export was a slight drag on GDP growth in the past four quarters.
Malaysia is not cheap and fundamentals don't impress
Malaysia is not cheap on PE or PB. Fundamentals aren't impressive, slightly below Asia ex Japan, but decent dividend yield.
A. Stotz Four Elements: Malaysia's rank relative to Asia
Overall, Malaysia appears moderately attractive in Asia considering all our four elements: Fundamentals, Valuation, Momentum, and Risk.
Fundamentals: Unimpressive, relatively low ROE.
Valuation: Trades above Asia ex Japan on both PE and PB. Decent dividend yield.
Momentum: Moderate price momentum, slow earnings growth.
Risk: Second lowest volatility in Asia.
Healthcare and the largest sector Financials were in top
Top 3 largest sectors: Financials: 23% of the market; Consumer Staples: 14%; Industrials: 12%.
Best sector & stock: Healthcare: +19.1% & Top Glove Corporation Bhd: +51.8%.
Worst sector & stock: Real Estate: -0.3% & S P Setia Bhd: -3.0%.
*CE is consensus estimates.
This article was written by
ValuationMasterClass.com | AStotz.com | BecomeaBetterInvestor.netFounded in 2013 by Asian investment research veterans, A. Stotz Investment Research provides research infrastructure to reduce research costs by at least 30%. Specialized in valuing companies, we also use proprietary quantitative tools and on-the-ground research experience to provide our clients with Asian stock portfolios and global asset allocation strategies. We help companies untangle financial messes and get their financial house in order. We train CEOs and management teams to make their companies Financially World Class and increase company value. "Never stop learning" are words we live by, and we share this passion through A. Stotz Academy, providing training online and offline for corporations and individuals within all our areas of expertise. We have offices in Bangkok, Thailand, and Hong Kong. ValuationMasterClass.com is the complete, proven, step-by-step course to guide you from novice to valuation expert. BecomeaBetterInvestor.net is our blog where we share research findings and other learning that drives better investment decisions.