Akcea Therapeutics (NASDAQ:AKCA) is a small cap, clinical-stage biotechnology pharmaceutical company formed in 2015 as a subsidiary of Ionis Pharmaceuticals (NASDAQ:IONS). Akcea began trading separately with an IPO on July 19, 2017 of nearly 18 million shares at $8.00 per share, raising $144 million.
I believe that both companies are undervalued based on their pipelines of clinical-stage drug candidates. I have a concern, however, because Ionis has a controlling interest in Akcea. That could allow value to be shifted from one company to the other with little input from, or warning to, shareholders. A recent deal between the companies, for the rights to what was assumed to be the next Ionis drug likely to be approved by the FDA, illustrates the complexity.
It means the two companies should be analyzed as a pair. I believe ordinary Ionis stockholders would have been better served had the Akcea shares been issued as a special dividend to them, like when Biogen (BIIB) spun off Bioverativ. Given the run up of the share price of Akcea since the IPO, I believe that Ionis is the better value for new investors at present.
Akcea is "focused on helping patients living with serious cardiometabolic lipid disorders." Its platform, like that of Ionis, is based on RNA antisense technology, sometimes called RNAi (RNA interference). It has a drug candidate that has been submitted for FDA approval and three candidates in Phase 2 trials. [akceatx.com]
Ownership
In addition to the IPO last July, at the same time Novartis (NYSE:NVS) purchased $50.0 million of common stock in a separate-but-equal placement. At the same time Novartis purchased $100 million of Ionis common stock.
17,968,750 shares were places at $8.00, for gross proceeds of $143.8 million; that included the follow-on offering. The additional Novartis investment would amount to 6.25 million shares.
Ionis reported on February 27, 2018 that it owned 68% of Akcea as of year-end 2017. The Akcea Q4 2017 release reported total shares outstanding were just above 66.5 million. Novartis then owned 9.4%, leaving just 22.6% for everyone else, including institutions. Note that means it does not take a large volume of trading to move the stock. Average volume lately has been about 304 thousand shares per day. Note too a high degree of volatility:
Akcea has risen dramatically since its IPO, closing on April 10, 2018 at $22.82 per share, giving it a market capitalization of $1.5 billion. It peaked at $33.99 in March.
During the same period, Ionis has been near flat, closing at $43.60 on April 10, 2018, giving it a market cap of $5.5 billion.
A deal has been made (see below) that further increases Ionis ownership of Akcea.
Motivation
Why has the considerable rise in the value of Akcea not been reflected in the price of Ionis stock? That is the question that spurred my research for this article. The answer could speak to investors who want to know whether there is an advantage, at these prices, to buying one or the other of the two companies.
Lead product: Volanesorsen
Volanesorsen completed its Phase 3 trial for familial chylomicronemia syndrome or FCS and Akcea filed a new drug application with the FDA in August 2017. The EU application had been made in July. On February 15, 2018, Akcea announced that the FDA will hold an advisory committee meeting to review the data on May 10, 2018. The PDUFA date, the FDA's goal for making a final decision, is August 30, 2018.
Some investors score an FDA advisory committee meeting as a negative, as it may indicate the FDA has serious questions about the clinical data. I generally score holding the meeting as neutral, more likely due to the novelty of the therapy than being any comment on whether the drug will get final approval. The vote of the committee, while not binding, is certainly an indicator of the likely final action of the FDA.
The Phase 3 Volanesorsen results presented to investors look passable. Note they were released on March 6, 2017, before the IPO. The drug "met its primary endpoint of reducing triglyceride levels in patients with familial chylomicronemia syndrome (FCS)." In fact, the treated patients had a highly statistically significant reduction with p<0.0001 [usually any p under <0.05 is statistically significant.] Treated patients had no pancreatitis attacks. Adverse events were relatively mild, so the safety profile is good.
I don't see where the FDA can find fault with the drug. The novelty of the antisense RNA therapy is most likely the reason an advisory committee is being held.
Rest Of Pipeline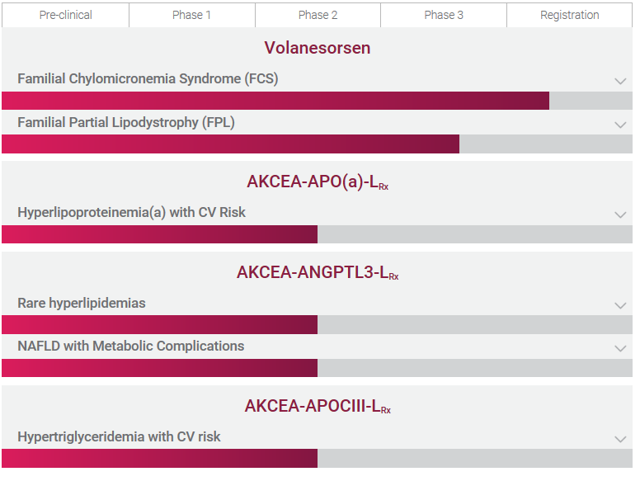 Source: Akcea Therapeutics pipeline
As shown in the above illustration, Volanesorsen is also being tested for FPL (Familial Partial Liposystrophy). There is an ongoing Phase 3 trial, with orphan drug designation for this indication in the EU.
It will be nice when we get pronounceable tradenames for the rest of the pipeline. For the purpose of this article, it is not necessary to fully evaluate each of the three drugs for the total of four indications. I will briefly examine just one.
On March 10, 2018, Akcea announced results from its Phase 1/2 trial of AKCEA-APOCIII-LRx for hypertriglyceridemia with CV risk. The target marker, ApoC-III, was reduced by up to 84%, with triglycerides reduced up to 71%. Secondary endpoints of reduction in apoB and increase in high-density lipoprotein were also met. There were no serious adverse events.
The full Phase 2 results for patients with established cardiovascular disease should be released in 2019.
Akcea is in a collaboration with Novartis for AKCEA-APOCIII-LRx and AKCEA-APO(a)-LRx.
Following the successful completion of each Phase 2 dose-ranging study, and prior to initiation of the Phase 3 study, Novartis has the option to license and commercialize each drug. For each drug, upon option exercise, Novartis will pay Akcea a $150 million license fee of which 50% will be paid to Ionis. Upon licensing, Novartis plans to conduct a global Phase 3 cardiovascular outcome study in high-risk patients. Novartis will be responsible for worldwide development and, if approved, co-commercialization activities. Akcea retains the right to co-commercialize any successful drug through its specialty sales force focused on lipid specialists on terms and conditions to be agreed with Novartis.
Clearly, the drugs in Phase 2 have a large potential value. The actual value will depend on the size of the market and pricing. Given the contentious nature of payers (insurers, both private and national) lately, I am not in a position to put approximate numbers on future revenues yet.
Hypertriglyceridemia is a common condition, affecting about 30% of Americans. As we have seen with Amgen's (NASDAQ:AMGN) Repatha, the willingness of insurers to pay for a condition, as opposed to a disease, is arguable and may be dependent on pricing.
All of Akcea's clinical-stage drugs are licensed from Ionis.
Inotersen For hATTR Deal With Ionis
With Spinraza royalties growing, why would Ionis farm out its next likely big drug, inotersen for the rare disease hereditary transthyretin amyloidosis, or hATTR? According to Ionis CEO Stanley Crooke:
This collaboration reflects our ever-increasing confidence in the value of inotersen and exemplifies our strategy to use commercial affiliates to commercialize our drugs, keeping the core of Ionis focused on innovation and our antisense pipeline. This collaboration will allow the combined Ionis-Akcea team to rapidly deliver inotersen to the patients who desperately need this treatment.
So Ionis will focus on creating new drugs for the antisense pipeline, while avoiding the cost of creating a sales infrastructure. It will benefit from receiving payments from Akcea, while as the majority owner (and controlling interest), also benefiting if Akcea does well. Ionis will expand its ownership interest (my emphasis):
Under the agreement, Akcea will pay Ionis an upfront licensing fee of $150 million, payable in shares of common stock priced by reference to a recent trading average. Akcea will have rights to commercialize inotersen and AKCEA-TTR-LRx globally. To support commercialization of inotersen, Ionis will purchase $200 million of Akcea common stock priced by reference to a recent trading average. Upon closing this transaction, Ionis' ownership in Akcea will increase by 7%, from 68% to 75%, totaling 64,114,545 shares.
The transaction is expected to close in the second quarter of 2018.
To me this seems like a lot of financial engineering, without it being clear who benefits. Once commercial revenue ramps up, Akcea will appear to be the larger company and could become the tail that wags the dog.
Akcea Valuation
With a market capitalization of $1.5 billion, Akcea is getting to the high-end of the small-cap range. With Volanesorsen likely to be approved by the FDA in August, the responsibility for the commercial development of inotersen, and a strong secondary pipeline, that appears to be a reasonable valuation. Keep in mind, however, that so far, these are orphan drug indications, and their ultimate value will depend on being able to charge orphan drug prices and still get reimbursement from insurers.
Though still in the development stage, Akcea had $260 million in cash and equivalents at the end of 2017, and will raise $200 million under the new deal, and so is well set to get to the commercial stage.
If everything in the pipeline gets approved, then Akcea's present market cap will seem undervalued in retrospect. Given the mechanism and data so far, I believe it is more likely than not that there will be approvals for all the indications.
Comparison With Ionis
With a market capitalization of $5.5 billion, although Ionis is a commercial company with royalties from Spinraza, its value is still largely from its pipeline. Spinraza royalties from Biogen were $52.1 million in Q4 2017, and while growing, would not alone justify a $5.4 billion market cap. For my detailed view of Ionis, see Ionis is a Buy on RNA Platform Pipeline.
I think both Ionis and Akcea are strong growth stocks. Ionis has a broader pipeline, which gives it more opportunity but also exposes it to more risk of trial failures. As the pipeline develops, it can sell commercial rights to the highest bidder, or to Akcea.
Akcea is also more likely to be volatile due to its small number of publicly traded shares compared to Ionis.
So, back to my original question: Why has the runup in Akcea not been replicated in Ionis, which owns 68% (and soon 75%) of Akcea?
The most likely reason Ionis has stayed relatively flat is that it appears to be giving up revenue and profits to Akcea through the Inotersen deal.
68% of Akcea's market cap is $1.02 billion. At the IPO price of $8.00, Akcea's market cap would have been $534 million, and 68% of that would have been $363 million. So all other things being equal, the market cap of Ionis should have risen $657 million. That would have sent the share price of Ionis up over 10%.
Perhaps Ionis management made a tactical error in pricing Akcea at $8 per share, and in selling a chunk to Novartis at that price.
Conclusion
We are in an era of astonishing pharmaceutical innovation. The only limit on growth for the sector is society's ability to pay for all the new, proprietary drugs under development.
In particular, RNA interference looks like it has a bright future.
Investors who were able to buy Akcea at the IPO price seem to have come out well ahead in this game. It looks like the plan may be to have Ionis absorb the development costs of any failed therapies, while successful trials will result in collaborations with Akcea. But so what, if Ionis owns 75% of Akcea?
Presuming that both Volanesorsen and Inotersen will be approved by the FDA and other national regulators, both companies appear undervalued.
At this moment, at current stock prices, I suspect that Ionis is the better buy because of its much larger pipeline and because its price does not seem to fully reflect the value of its ownership in Akcea.
Don't be surprised if a larger company swallows Ionis whole in order to get Akcea in the bargain. Or Ionis could sell its 75% stake in Akcea to a larger company like Novartis.
In a complicated situation like this, there is plenty of room for disagreement. I welcome comments on the absolute and relative merits on these two companies.
Disclosure: I am/we are long IONS, AMGN, BIIB. I wrote this article myself, and it expresses my own opinions. I am not receiving compensation for it (other than from Seeking Alpha). I have no business relationship with any company whose stock is mentioned in this article.
Additional disclosure: I own no AKCA, but IONS represents 1% of my portfolio. I began accumulating it in August 2017.