National Presto Industries (NYSE:NPK) is a small, diversified player in both defense and consumer goods. In the past, management took a step to sell off their Absorbent Products segment, but I believe the next step to realize value will be management divesting of its Housewares/Small Appliance business so that it can streamline its operations and focus solely on its role as a defense contractor. If this does happen, the upside potential for the firm could be material from here and shareholders would certainly respond in a positive fashion.
A look back
On May 29th, 2015, I wrote an article for Seeking Alpha wherein I stated that it would likely be positive for National Presto and its shareholders if management were to sell off its Absorbent Products segment. The rationale stemmed from the fact that the segment had been losing money, and yet, it possessed in excess of $60 million worth of assets. As time wore on, the segment appeared to be recovering and in the third quarter of 2016, looked to be on track to generate annualized operating profits of around $1.2 million.
Following the announcement of third quarter earnings (around 3 months later on January 3rd of 2017), management issued a press release that said the firm would be selling Absorbent Products to Drylock Technologies in exchange for $71 million, plus post-closing adjustments. As of today, most of that sale has been completed, with only $4 million of delayed assets awaiting final transfer.
Although shares of National Presto are down 9.6% from the date of their divestiture announcement, they have risen considerably from when I wrote about the business in 2015. In all, the stock is up 36.3%, driven by a growing and profitable Defense segment. Though the decline in shares since the announcement may look at first glance like it's due to shareholders being unhappy with management's decision to unload Absorbent Products, the likely reason for the drop can be tied instead to consistent and worsening performance elsewhere in the business.
Another divestiture is warranted
Now that the worst of National Presto's assets have been divested, I believe that the company would be wise to unload its Housewares/Small Appliance segment. The maker of Presto cookware and bakeware, the segment is well-recognized in this space but its financial performance has slipped considerably in recent years. Take, for instance, a look at the graph below.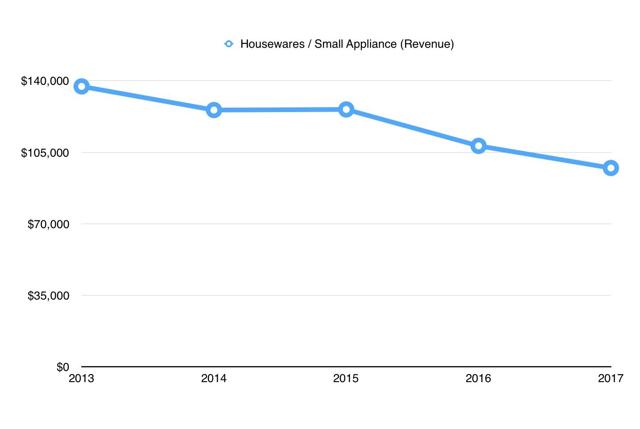 *Created by Author
As you can see, revenue for the segment has fallen nearly every year over at least the past five years. Between 2013 and 2017, revenue plummeted 29.1%, falling from $137.23 million to $97.30 million. According to management's annual reports, a big reason for this decline is simple: fewer shipments. In a competitive space where price is often the deciding factor, it's difficult to maintain a competitive advantage. As sales have dropped, so too have operating profits associated with the segment.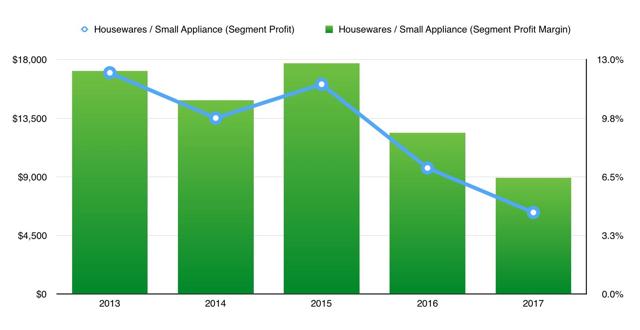 *Created by Author
In the chart above, you can see segment profits for the company's Housewares/Small Appliance segment and how they have changed over time. Between 2013 and 2017, nearly every year reported a decline compared to the last. In all, profits fell 63.1% from $16.98 million to $6.26 million. What's particularly bad here is that the drop in sales brought with it considerable margin contraction. In 2013, the segment profit margin for the segment was 12.4%. Last year, that number had fallen to just 6.4%.
This does not mean, however, that Housewares/Small Appliance is without value. According to management, total assets for the segment stand at $242.82 million. Given the higher profits generated by this segment compared to National Presto's Absorbent Products line, it's difficult to imagine the firm being able to sell off the business for less than its stated asset value, so by monetizing it, the firm, and shareholders, stand to benefit immensely.
Where management's focus should be
Following the sale of Absorbent Products, National Presto took the bulk of the cash it received and allocated $59.83 million toward increasing its investment in Variable Demand Notes to $114.26 million. These are highly-liquid securities that see their interest rates reset every 7 days and, when added to the nearly $30 million in tax-exempt municipal bonds in National Presto's portfolio, are part of the company's $144.25 million worth of marketable securities (plus the firm has $11.22 million in cash) on its books.
It is my contention that management would be wise to take the majority of its marketable securities, add to that the proceeds received from selling off Housewares/Small Appliance, and allocate the capital toward growing its Defense segment. As you can see in the graph below, sales of the segment has thrived in recent years, growing every year and rising from $206.20 million in 2013 to $236.33 million in 2017.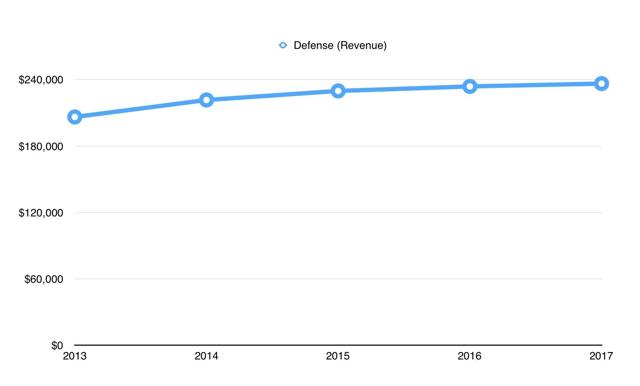 *Created by Author
What's more, Defense has served as a cash cow for the enterprise. In the chart below, you can see that segment profits have jumped nearly every year, rising from $40.46 million in 2013 to $55.44 million in 2017. Even better, the profit margin has improved over time, expanding from 19.6% in 2013 to 23.5% last year. As management continues to invest in this segment, margins will expand because of economies of scale.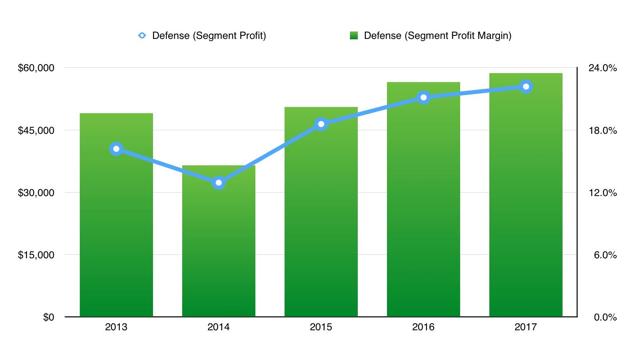 *Created by Author
For years, National Presto has worked with the US government and that work continues to grow. In September of last year, for instance, the firm landed a five-year, $77.70 million contract with the government to provide, through 2021, traditional and tactical ammunition rounds. In February of this year, the company announced that it had received a $58.2 million option award under year two of its five-year contract with the Department of the Army to provide M430A1 cartridges. Delivery for these units is expected to begin in early 2020. In addition to its 40mm system offerings, the segment provides non-lethal enforcement equipment as well.
Takeaway
National Presto's days as a diversified enterprise may be numbered. Right now, management has a great opportunity to capitalize on a growing US military budget and from its more than 17 years' worth of contracts with the US government.
Through its wholly-owned AMTEC Corporation in its Defense segment, the firm is generating significant margins and would be wise to divest itself of its underperforming Housewares/Small Appliance segment and place all of its attention and capital toward profit maximization and growth. Until we see some move in that direction, Housewares/Small Appliance will only serve to slow the company down and, if deterioration in the segment continues, shareholders could see pain as a result.
Disclosure: I/we have no positions in any stocks mentioned, and no plans to initiate any positions within the next 72 hours.
I wrote this article myself, and it expresses my own opinions. I am not receiving compensation for it (other than from Seeking Alpha). I have no business relationship with any company whose stock is mentioned in this article.