Aeon Metals May Have A World Class Copper And Cobalt Sulphide Resource In Northern Australia
Summary
Aeon Metals has 6 promising copper projects, with their flagship being Walford Creek in far North West Queensland Australia.
Walford Creek is a potential world class polymetallic deposit with copper, lead, zinc, silver and cobalt in a sulphide ore.
Walford Creek already has a good size resource, with a further 20km mineralized zone yet to be properly drilled.
Aeon Metals Ltd [ASX:AML] [GR:D6V1] (OTC:AEOMF) - Price = AUD 0.28, USD 0.21
Aeon Metals 100% own their flagship Walford Creek project, in North-West Queensland, Australia. The company states they have - "The largest and most advanced cobalt sulphide deposit in Australia", with a potential ~25km mineralized fault. Current drilling has already confirmed a 5km mineralized zone. This gives Walford Creek potential to be a world class copper-cobalt resource.

Aeon Metals 5 year price graph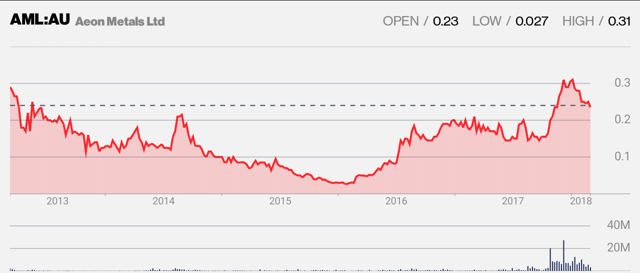 Source: Bloomberg
Summary of Aeon Metals projects all in Queensland Australia:
Walford Creek project (100% owned) - A potential world class polymetallic deposit with copper, lead, zinc, silver and cobalt in a sulphide ore.

Constance Range Project - Copper, gold and zinc-lead-silver mineralisation potential.

Isa North Project - Early stage exploration has found wide zones of copper mineralisation over 180m to 310m widths.
Isa West Project - Copper exploration potential.

Isa South Project - Copper and gold exploration potential.

South East Queensland Portfolio (100% owned except the JV) - The Ben Hur Copper Project and Greater Whitewash, 7B, and the 60% Aeon owned SLWQ Limited (JV with Rio Tinto (RIO).

NB: The middle four projects above have been bought in from Summit Resources, and entitle Aeon Metals to an 80% earn in, and excludes the uranium.
NB: The priority project in the South East Queensland portfolio is the Ben Hur Copper Project. Ben Hur contains contains 190,000 tonnes of copper, 2,700,000 ounces of silver and 16,665,000lbs of molybdenum (at a 0.24% copper cut-off).
The Ben Hur resource

Aeon Metals North Queensland projects location map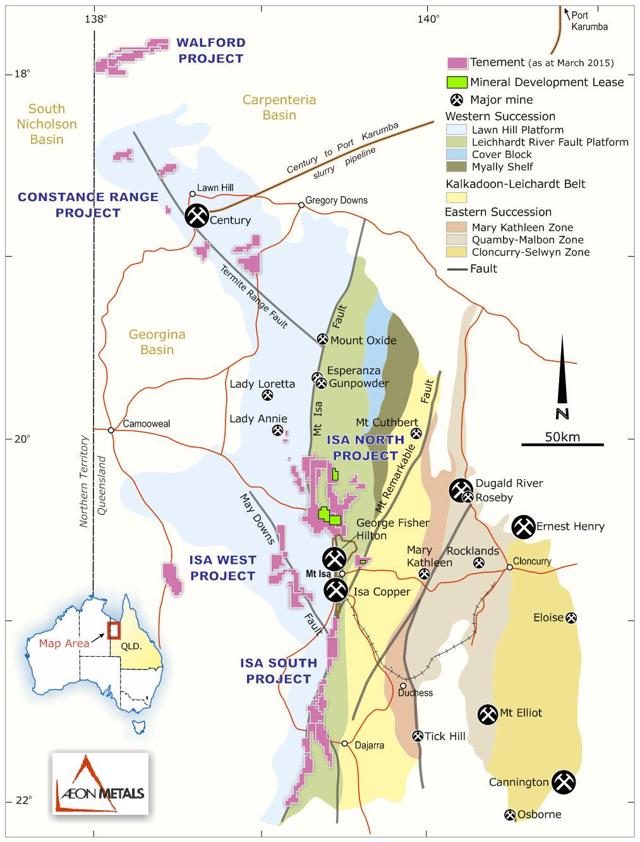 Hereafter I will focus on the company's flagship Walford Creek project.
The Walford Creek project resource
The updated resource estimates for Walford Creek has two components:
Copper Lode Resource - 15.7Mt @ 1.24% Copper and 0.15% Cobalt (also 0.98% Pb, 0.82% Zn and 34g/t Ag).
Cobalt Peripheral Resource - 18.0Mt @ 0.11% Cobalt (also 0.16% Cu, 1.03% Zn, 0.85% Pb and 22g/t Ag).
NB: The company has chosen with the recent above resource estimates to increase the cut-off grades therefore the new total resource now has just 43,500 tonnes of contained cobalt at 0.13% (up from 0.081% in the table below). The details can be fully understood by reading here.
NB: The 2012 JORC Indicated and Inferred Resources was 73Mt at 1.43% Cu equivalent containing: 296,000t of copper, 59,600t of cobalt, 623,000t of zinc, 626,000t of lead, 55moz of silver."
Walford Creek Resource (over a 4km zone) - as of 2015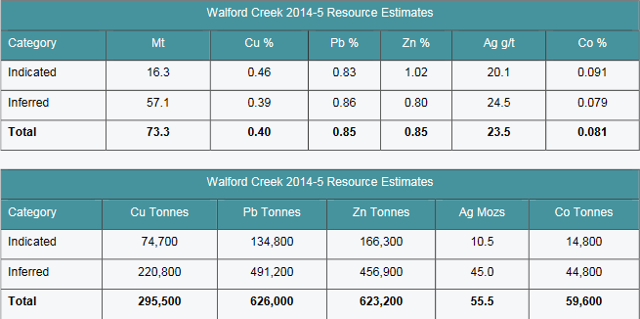 Importantly the resource is open to both the East and West with a few high grade drill results already suggesting the resource may be many fold larger.
Huge potential to grow the resource further

Copper Lode + Cobalt Peripheral Resource +20km mineralized zone



Infrastructure and access
The Walford creek project is quite isolated located near Doomadgee about 600kms by road north of Mt Isa.

Development stage
Walford Creek is still at the exploration stage but should move towards development stage later in 2018. A reasonable size resource has already been defined, and this should grow substantially in 2018. In 2019 I would expect the company to release a Definitive Feasibility Study [DFS] or FS, and commence off-take and funding discussions.

Management
Paul Harris - Chairman
25 years' experience in financial markets and resources investment banking. Previously MD, Head of Metals and Mining at Citigroup.
Hamish Collins - Managing Director

25 years' experience in mining industry and mining investment banking, including M&A and project financing.
Stephen Lonergan - Non-executive Director
More than 30 years involvement as director, legal counsel and/or company secretary for Australian and international mining companies. Mr Lonergan has been Company Secretary of Aeon Metals Limited since 28 September 2006.
Ivan Wong - Non-executive Director
More than 25 years experience in running various businesses in Australia. Mr Wong has well established connections in China.
Dan Johnson - Exploration Manager
More than 30 years experience in exploration management in Australia and overseas.
Large Shareholders
29.7% - OCP Asia (Hong Kong) Ltd.

4.99% - Regal Funds Management Pty Ltd.
4.05% - Bliss Investment Partners Ltd.
3.44% - Washington H. Soul Pattison & Co. Ltd.
3.25% - Ivan Wong.
Note: OCP Asia are a Honk Kong based lending company.
Valuation
Aeon Metals has ~AUD 14m in cash and debt of $14.2m owed to OCP Asia. Current market cap and enterprise value is ~AUD 164m, with 586m shares issued. Recent capital raising were done with institutional investors at AUD 0.28, and at the same price for retail investors. This means the company is well funded for the next year or to the FS stage.

Based on the current known in ground resources from the 2012 JORC at Walford Creek there is 296,000t of copper, 59,600t of cobalt, 623,000t of zinc, 626,000t of lead, 55moz of silver. It is already clear to experienced resource investors the value should be well above the current enterprise value, especially given that grades are reasonable and the enormous by-product credits that a polymetallic resource will generate. Additionally being hosted in a sulphide ore will keep CapEx and Opex costs down.

I have not yet been able to model them due to lack of accurate assumptions; however Bell Potter have a 12 month price target of AUD 0.48, as you can read here.

Note: OCP Asia owns 85m warrants exercisable at $0.16 before December 2019 for $13.6m in potential proceeds for the company. You can read more here.

Catalysts
April 2018 -The company will commence to drill Walford Creek at least 30,000m to advance the known mineralisation to development status, and to test the +20kms of potential extension of the current resources.
Late 2018 - Drill results and likely significant resource upgrade.
2019 - A likely Feasibility Study [FS].
Competitors
Australian Copper miners compared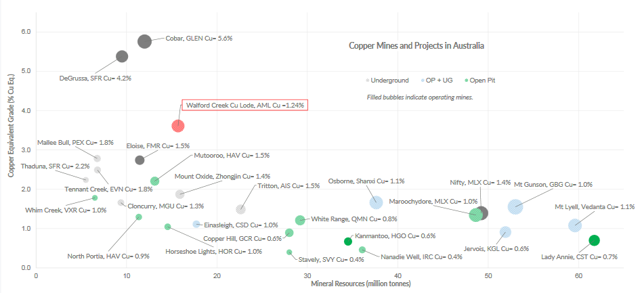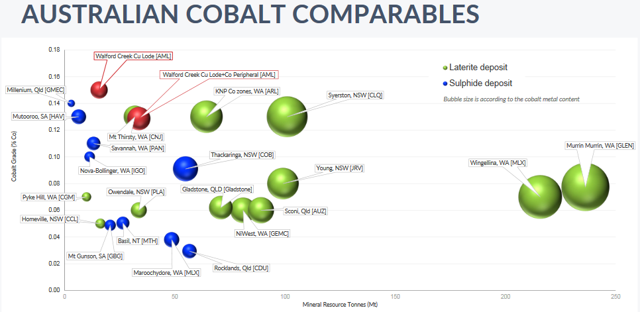 NB: Aeon metals two high grade zones are shown in red.
Risks
Copper price falling. Cobalt prices falling.

The usual mining risks - Exploration risks, funding risks, production risks

Aeon Metals may not be able to increase their current resources.
Management and currency risks.

Sovereign risk - Minimal as all six projects are in Australia.

Stock market risks - Dilution (noting funds will be needed to be raised to cover the CapEx of my estimate ~AUD 450m, typically at at least 30% equity), lack of liquidity (best to buy on local exchange), market sentiment.

Investors can view the latest company presentation here.
Copper price graph 1989 - 2018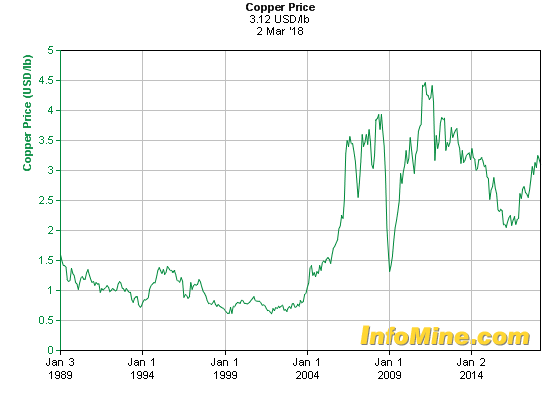 Source: InfoMine
Cobalt price graph from 2005 to 2018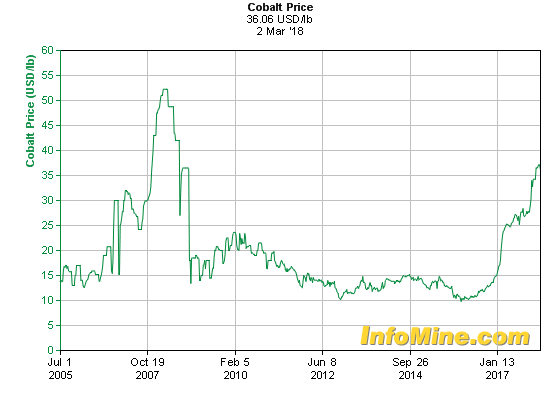 Source: InfoMine
Conclusion
Aeon Metals has a total of 6 very promising projects, all in the mining friendly jurisdiction of Queensland Australia.
Their flagship Walford Creek is a potential world class polymetallic deposit with very valuable metals copper, lead, zinc, silver, and cobalt. Grade is reasonable and the metals are in a sulphide ore, with large exploration upside as only 5km of a 25km strike zone has been properly drilled. In terms of cobalt Walford Creek currently has 59,600t at 0.081% (or at a higher cut-off 43,500 at 0.13%). With further drilling of the 20km untested mineralized strike zone there is potential for the cobalt resource to grow several fold. The same is true for the other metals.

The only main negatives are the location is far from major towns and infrastructure (but still readily accessible by road), and lack of management ownership on the share register (except Ivan Wong with 3.25%). Also the question around OCP Asia and their intentions regarding their large holding. As usual investors should expect some dilution of shares when raising their initial project capital expenditure (say ~AUD 200-250m as a rough estimate).

Current market cap is a mere AUD 164m. Or if we break that up per project it is about AUD 27m per project. Needless to say that is very good buying for a quality group of assets. My view is that Walford Creek alone with the current resource is worth more much than AUD 164m even without factoring in the exploration upside.
For investors wanting a very well valued high exploration upside potential miner with leverage to copper, cobalt and zinc then Aeon Metals is a definite contender.
As usual all comments are welcome.
Trend Investing
Thanks for reading the article. If you want to go to the next level, sign up for Trend Investing, my Marketplace service. I share my best investing ideas and latest articles on the latest trends. You will also get access to exclusive CEO interviews and chat room access to me, and to other sophisticated investors. You can benefit from the hundreds of hours of work I've done to analyze the best opportunities in emerging industries, especially the electric vehicle and EV metals sector. You can learn more by reading "The Trend Investing Difference", or sign up here.
My latest Trend Investing articles are:
This article was written by
Trend Investing looks at investment trends for professional investors.
The Trend Investing group includes qualified financial personnel with a Graduate Diploma in Applied Finance and Investment (similar to CFA) and well over 20 years of professional experience in financial markets. Trend Investing searches the globe for great investments with a focus on "trend investing" themes. Some focus trends include electric vehicles and the lithium/cobalt/graphite/nickel/copper/vanadium miners, battery and plastics recycling, the online data boom, 5G, IoTs, AI, cloud computing, renewable energy, energy storage etc. Trend Investing was recently selected as the leading expert consultancy for a U.S government project on the EV supply chain and to the Board of Directors of the Critical Minerals Institute.
Trend Investing hosts an Investing Group service called Trend Investing for professional and sophisticated investors. The service is information only and does not offer advice or recommendations - see Seeking Alpha's Terms of use .
Analyst's Disclosure: I am/we are long Aeon Metals [ASX:AML]. I wrote this article myself, and it expresses my own opinions. I am not receiving compensation for it (other than from Seeking Alpha). I have no business relationship with any company whose stock is mentioned in this article.

The information in this article is general in nature and should not be relied upon as personal financial advice.
Seeking Alpha's Disclosure: Past performance is no guarantee of future results. No recommendation or advice is being given as to whether any investment is suitable for a particular investor. Any views or opinions expressed above may not reflect those of Seeking Alpha as a whole. Seeking Alpha is not a licensed securities dealer, broker or US investment adviser or investment bank. Our analysts are third party authors that include both professional investors and individual investors who may not be licensed or certified by any institute or regulatory body.