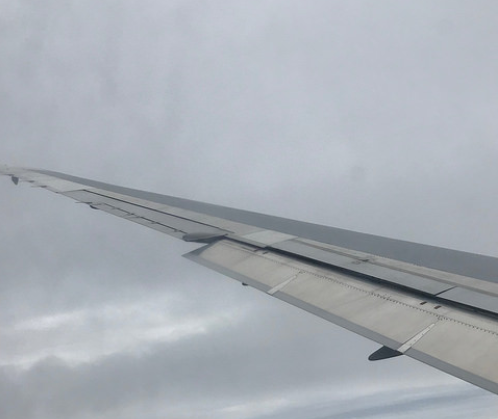 By The Valuentum Team
It's interesting how things can change over time, and sometimes considerably. A couple decades ago, given his views about the poor structural characteristics of the industry, nobody could have imagined that the Oracle of Omaha, more formally known as Warren Buffett, could have ever invested in another airline, but he's back in, owning a number of them now. From bankruptcy after bankruptcy to financial leverage to operating leverage to cyclical end-market demand to volatile jet fuel prices, the structural make-up of the airline industry may be among the worst out there, the recent strong performance of airline equities perhaps only driven by the ongoing upswing in global economic activity. Perhaps Mr. Buffett was just being nice when he was talking about airlines on CNBC more recently, but some are even speculating that he might buy an airline outright. We don't think he will, but then again, we never thought he would have bought equity in an airline again. So it's possible.
We understand the thesis behind rationalization and consolidation in the airline space following the latest bout of bankruptcies after the Financial Crisis, and we think industry executives have taken the necessary steps to make the industry as economically profitable as possible. For starters, American Airlines' (NASDAQ:AAL) CEO Doug Parker has been instrumental in bringing the airline industry back to life. From merging America West with US Airways, and that combined entity with American, he may have done as much for the commercial viability of the airline business as Orville and Wilbur Wright did on the technological side when they first took flight at Kitty Hawk more than 100 years ago. Things have been going so good for the airlines of late that they even attracted the attention of investigators about possible collusion - the investigation dropped just last year.
Though airline operators are loving the good times, we don't think the structural dynamics of the industry have changed as a result of rationalization and consolidation. It is possible that for a short period of time the global economic environment may have reached a threshold to perhaps make the global airline business more profitable compared to prior decades, but while it may imply sustainable accounting profits, we're not so sure we could extend that view to believe economic profits will be sustainable, too. The pricing dynamics of the airline business, for example, are still quite poor, as industry capacity is not regulated. For starters, United Continental's (NASDAQ:UAL) expectations for aggressive capacity expansion gave most of the airline industry indigestion when it released capacity guidance late January. More recently in March, even the low-cost giant Southwest (NYSE:LUV) noted that it was having trouble competing effectively:
Based on current booking and revenue trends, the Company now expects its first quarter 2018 RASM to be comparable with first quarter 2017's RASM of 13.23 cents, as recast. March year-over-year RASM trends for the non-peak travel periods have been below the Company's previous expectations primarily due to the competitive fare environment that continues to pressure passenger revenue yields, and lower-than-expected travel demand due to the timing of spring break holidays. The Company's sub-optimal first quarter 2018 flight schedule driven by the retirement of its Boeing 737-300 Classic fleet is also impacting passenger revenue yields and load factors. For the remainder of this month, Customer demand currently remains strong and year-over-year RASM trends are currently favorable for the peak Easter travel period. The Company continues to plan for year-over-year RASM growth in 2018, including expected benefits from enhanced revenue management capabilities beginning in second quarter 2018.
The industry faces the constant issue of balancing the supply of seats with the demand for seats, and thus far through the current economic upswing, it's been able to do a great job. Further helping its cause has been the decline in crude oil prices and jet fuel costs from all-time highs a number of years ago. Jet fuel accounts for about 20% of an airline's cost structure, according to the International Air Transportation Association (IATA). Jet fuel remains a highly volatile cost component, as airlines generally opt to hedge just a few quarters or years out. What crude oil prices settle at over the long haul makes a big difference with respect to airline profit levels, and it could not only have implications for their all-in unit cost profiles, but also the composition of their fleets. The burden remains on Boeing (NYSE:BA) and Airbus (OTCPK:EADSY) to keep delivering the most fuel-efficient airplanes, but because all airlines have access to the same planes, it's hard for any one of them to carve out a unique competitive advantage. Air travel is a commodity, and most customers just prefer to get from point A to point B at the most cost-conscious price levels possible.
Airlines Still Not Profitable Enough
Investors know the difference between accounting earnings and economic profit, and a discussion between the two is beyond the scope of the paper. In short, accounting is based on GAAP estimates of profitability (e.g. operating margin), where economic profit takes into consideration the net operating assets of the company, as in the case of the calculation of return on invested capital. The IATA puts together an excellent source of data with respect to airline profitability, and while it expects the global airline business to generate more than $38 billion in accounting profit in 2018, nearly $4 billion higher than that of 2017, the organization expects the industry's operating margin to face modest pressure (8.1% expected versus 8.3% in 2017).
The more important measure, however, is what the industry generates as economic profit, generally referred to as the difference between return on invested capital (ROIC) and the weighted average cost of capital (WACC). The IATA expects the airline industry to generate a return on invested capital of 9.4%, which is in excess of the IATA's estimate of the industry's cost of capital of 7.4%. There are two important things to consider. First, the airline industry is 9 years into a strong bull market, so it is very likely that a 9.4% ROIC mark is at or near the peak of the economic cycle, meaning that even during the best of times, airlines are barely able to generate what we might call economic profit, or the difference between ROIC and WACC. Second, we doubt investors in airlines are requiring returns of just 7.4% on their airline investments, so we think the cost of capital estimate is a little on the light side. For simplicity, we think a 10% hurdle rate makes more sense, and at those levels, airlines are still destroying capital today!
What we're trying to say is that it may take the best of times for airlines to generate economic profits. It has taken a huge bull market, considerable economic growth, meaningful consolidation in the US, rationalization of excess supply, a big drop in jet fuel costs and improved labor relations just to achieve an industry-wide return on invested capital mark north of 9%. As global economies ebb and flow, we would expect the industry's return on invested capital to fall below that of IATA's estimate of its cost of capital, and we have a hard time buying into the argument that airlines can generate economic profit consistently through the course of the economic cycle, even at the IATA's relatively low cost of capital mark.
Conclusion
Our view on the airline space remains unchanged. We continue to believe the industry faces too many challenges that are out of its control, from pricing dynamics to jet fuel costs, and if it takes the very best of times for the group to generate sufficient economic returns relative to conservative estimates of cost of capital, then the industry just falls short. Even its best returns fall short of what we believe is an adequate hurdle rate (10%) for operationally leveraged and cyclically oriented equities. Airlines are fun "trading vehicles," and in some cases, indirect plays on crude oil prices, but we're not dipping our toe into the airline space in any of our simulated newsletter portfolios. We don't think airlines are long-term investments, and we think many investors will be reminded of this yet again during the next recession, the timing of which is the only uncertainty.
This article or report and any links within are for information purposes only and should not be considered a solicitation to buy or sell any security. Valuentum is not responsible for any errors or omissions or for results obtained from the use of this article and accepts no liability for how readers may choose to utilize the content. Assumptions, opinions, and estimates are based on our judgment as of the date of the article and are subject to change without notice.
Disclosure: I/we have no positions in any stocks mentioned, and no plans to initiate any positions within the next 72 hours. I wrote this article myself, and it expresses my own opinions. I am not receiving compensation for it (other than from Seeking Alpha). I have no business relationship with any company whose stock is mentioned in this article.
Editor's Note: This article discusses one or more securities that do not trade on a major U.S. exchange. Please be aware of the risks associated with these stocks.