The possibility of a confrontation between an International coalition and Assad of Syria is increasing quickly. President Trump launched a few salvos on Twitter to set the tone; promising rockets to Assad.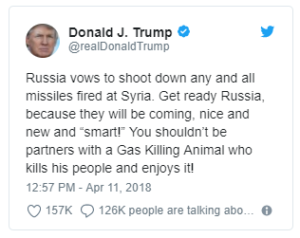 Last year, when the U.S. bombed the Shayrat airport in response to Assad's inhumane transgressions, it gave advance warning to Russian troops. The U.S. carefully maneuvered around the Russians. This time that could be harder as Russia has anti-missile equipment installed in Syria. It seems highly likely an International coalition will strike in Syria and whether Russia will get more warning besides this tweet remains to be seen.
It seems like a high probability event warships from either the U.K, France, or the U.S. will fire long-range missiles on a range of military targets within Syria.
After the Shayrat strike in 2017, the S&P 500 (SPY) did not respond very much although oil traded up 2%+.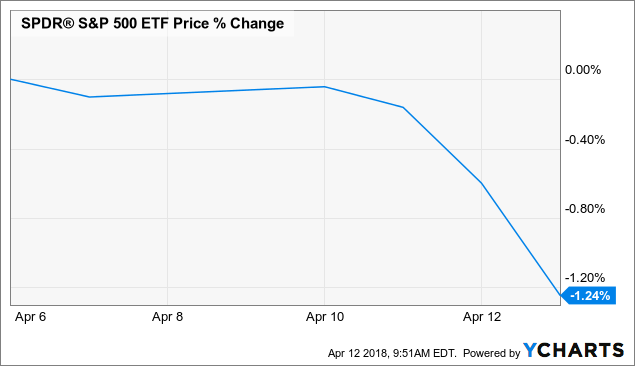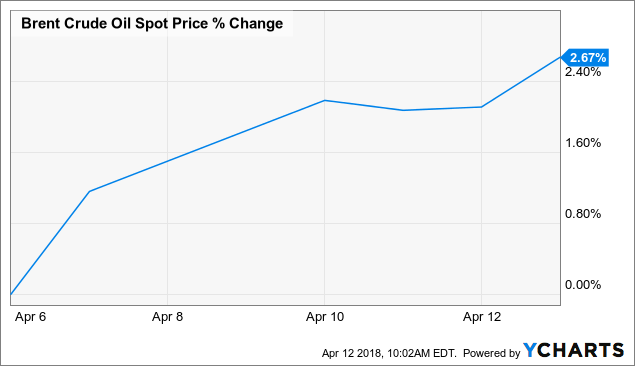 Brent Crude Oil Spot Price data by YCharts
President Trump also tweeted U.S.-Russian relations haven't been this bad since the cold war. From my observations as an outsider (I'm not a citizen of either country) that seems a bit of an overstatement. Even if it is not an overstatement, it isn't necessarily as big a problem as the cold war standoff. Russia is a major nuclear power but its economy is crippled and relatively the country is not as powerful compared to the cold war days.
Because of Russia's presence in the area, there is an undeniable chance the conflict escalates. A low probability event with potential high impact.
There are a few positioning responses that are worth thinking about:
Decrease U.S. exposure
Buy a few short-term puts
Buy energy stocks or oil futures
Buy or add gold
Decreasing U.S. exposure could be worthwhile. Although the 2017 strike didn't stop the market for very long, things can work out differently. Because of the advance warning the U.S. gave the Russians, the Syrians got off relatively scot-free and now they are repeating their past sins. It will hardly be a surprise if the coalition sends in hundreds of missiles without advanced warning.
Because Russian targets could easily become collateral damage, there's huge potential for the market to react with a strong sell-off.
Alternatively, you could short the S&P 500 against your positions to provide some coverage. Buying puts can work too if you can find a price you like.
The primary reason I suggest the security or "trade" is because the S&P 500 is already very highly valued with a CAPE ratio above that off Black Monday and Black Tuesday.
Energy traded up last year in response to the strikes. Countries may start hoarding more energy. Capacity can be taken offline as a result of strikes or counterstrikes. The reason I like energy is because it is one of the few industries with very undemanding multiples. In addition from a bottom-up perspective, it looks to me like energy stocks did not respond strongly to the appreciation of oil prices. Over the years, we have been building our energy exposure at The Black Swan Portfolio. This negative event could turn out to be a catalyst for a re-rate. Not to mention Saudi-Arabia's desire to reach $80 oil.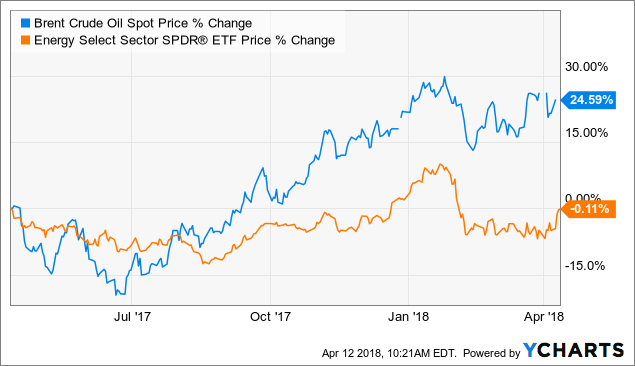 Brent Crude Oil Spot Price data by YCharts
Buy or add gold
It's something of a theme with this article. I'm not at all confident about "trades" in response to airstrikes. However, it seems obvious we are moving into a moment in time when there's the potential for tremendous volatility. Gold is another asset I already favor because of inflation-related considerations. It seems like an interesting trade to keep gold near the top end of the range I'm comfortable with. In The Black Swan Portfolio, we own it outright in the safe portfolio. In addition, we have exposure to certain gold royalty companies that would certainly benefit from higher gold prices as well. Easy ways to gain exposure to gold are through the SPDR Gold Shares (GLD) or the iShares Gold Trust (IAU).
Conclusion
A coalition airstrike seems like a high probability event. It seems to me positions short the S&P 500, long gold, and long energy (stocks and/or the commodity) could be quite interesting. Mostly because in my opinion these are good positions to have anyway and geopolitics could turn out to be catalysts. I'd like to add I'm not a big fan of a short Russia. For example, through VanEck Vectors Russia ETF (RSX) or the iShares MSCI Russia ETF (ERUS)