When you are under stress, you are likely to do things you normally wouldn't do and will likely later regret. This appears to be the case with Elon Musk and Tesla (TSLA), who seem to be making more and more bad decisions by the week. After the company again missed production targets and saw terrible Model S/X sales for Q1, it seems that the pressure is getting to Tesla.
Y now?
Wednesday afternoon, Reuters reported that Tesla was taking preliminary supplier bids for work on its Model Y. Supposedly, an initial production target was set for November 2019 in the U.S., which is just over 18 months from now and 2021 for China. Elon Musk previously stated that Tesla is aiming for up to a million units of production a year for this vehicle.
Fellow SA contributor Montana Skeptic asked a number of questions regarding the Model Y, such as where is it going to be built and does Tesla even have the money to do so? Of course, now it appears that the Y will come out of the Fremont factory, yet it was only last year that he said Fremont was not a possibility and that the Y would have its own new factory.
If Tesla is building a new factory, that likely takes at least 2-3 years from start until car production, and the company has not even mentioned any possible sites yet. At this point, Tesla can't even get the Model 3 going at Fremont, and S/X production is already there. If Fremont is truly bursting at the seams, can Tesla really build there?
The Model Y also likely plays into Tesla's plans to not have to raise capital this year. With the company potentially facing a cash crunch this year, it could open up the deposit books for its newest vehicle, potentially bringing in hundreds of millions of dollars like it did with the Model 3. By starting the hype surrounding the Y, Tesla can shift the narrative off the problems with the 3, which gets me to my next point.
Did Musk just call for more delays?
Elon did a rare interview with CBS This Morning, which is scheduled to air Friday, but we've seen bits and pieces leaked and previewed. After the company missed its Q1 production target of 2,500 units per week, it looks like another opportunity to convince deposit holders to stick with Tesla. However, one statement from Musk needs to be further analyzed:
There shouldn't be a question mark as to whether somebody's gonna get their car, it's just, yes, you'll definitely get your car. It's gonna be six to nine months longer than expected. It's a six-to-nine-month time shift, that's literally it, and three of those months have already passed."
Ignoring initial statements about Model 3 production starting in 2016 or the 100k to 200k vehicles in the second half of 2017, the original plan was 5,000 units per week by the end of last year. Now, Musk is saying it's a 6-9 month shift, which seems to imply (and even electrek mentions this in the article above) that Tesla may not hit that mark until the end of Q3. Of course, I mentioned in my most recent article that some of Tesla and Musk's early April statements imply the company won't be at 5,000 by the end of Q2 anyway.
Something curious about the NTSB situation and Autopilot:
The biggest story this week regarding Tesla has been the back and forth with the NTSB, which did not come to a very good end. While the NTSB has removed Tesla as an official party to the investigation, Tesla has said it withdrew, kind of a you can't fire me because I quit scenario. Unfortunately, Tesla can't even get its facts straight, as the electrek article above details. Look at the following pieces of information:
A Tesla spokesperson sent us the following statement:

"Today, Tesla withdrew from the party agreement with the NTSB because it requires that we not release information about Autopilot to the public.

Update 2: Tesla answered with its own statement:

On Tuesday, we chose to withdraw from the agreement and issued a statement to correct misleading claims that had been made about Autopilot.
So when did they actually withdraw? Was it today or Tuesday? Can they get their facts straight? Of course, as I've detailed plenty of times throughout my coverage of the name on this site, what Tesla says and what is true isn't always the case. That gets me back to the crash itself that is under investigation. Tesla in its initial major update along with the following statement today stated the following (bold is mine):
In the US, there is one automotive fatality every 86 million miles across all vehicles. For Tesla, there is one fatality, including known pedestrian fatalities, every 320 million miles in vehicles equipped with Autopilot hardware. If you are driving a Tesla equipped with Autopilot hardware, you are 3.7 times less likely to be involved in a fatal accident and this continues to improve.
While that seems pretty straightforward, don't forget that all Tesla vehicles are equipped with Autopilot hardware! Of course, you have to shell out $5,000 (or $6,000 after delivery) for them to be enabled. My problem with the statement is that it implies the vehicles are safer just for having the hardware installed, but what if the consumer doesn't pay for them to be turned on? If you are not using the features, how can they make the car safer? If Tesla is saying that you are that much safer with Autopilot engaged, then okay, but that is not what was said in the statement.
Final thoughts:
With more and more bad news piling up for Tesla, the company appears to be getting desperate by really trying to change the narrative. Musk is doing an interview from the factory floor, trying to show everything is alright, despite another quarterly miss and perhaps more statements showing another delay. He also said a CEO shouldn't be on vacation while people are experiencing hardship, yet he just took a vacation himself! Additionally, the company has picked a fight with the NTSB, but the statements provided don't make any sense and its Autopilot claim is very questionable. Finally, we're starting to hear about the Model Y going into production late next year, despite Tesla not having the ability to produce the vehicle under its current production and financial situation. Investors have finally started to realize that pressure is mounting, as the chart below shows how Tesla has significantly underperformed the NASDAQ over the last six months.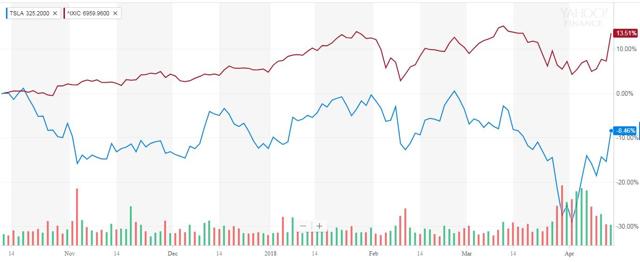 (Source: Yahoo! Finance)
Disclosure: I/we have no positions in any stocks mentioned, and no plans to initiate any positions within the next 72 hours. I wrote this article myself, and it expresses my own opinions. I am not receiving compensation for it (other than from Seeking Alpha). I have no business relationship with any company whose stock is mentioned in this article.
Additional disclosure: Investors are always reminded that before making any investment, you should do your own proper due diligence on any name directly or indirectly mentioned in this article. Investors should also consider seeking advice from a broker or financial adviser before making any investment decisions. Any material in this article should be considered general information, and not relied on as a formal investment recommendation.