General Mills (GIS) is a major packaged foods company with over 100 brands including Annie's, Yoplait, Cheerios, and many more.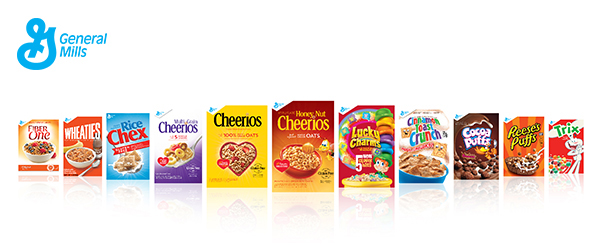 Source: General Mills
But recently, it has had major struggles that have scared investors. Following its last earnings report (Q3 Fiscal 2018) on March 21, 2018, General Mills reported earnings that seemed okay on the surface. EPS came in at $0.79, which met expectations, on $3.88 billion of sales, coming in a hair below estimates of $3.89 billion in revenue. By themselves, these numbers don't point towards anything significant. But dipping deeper, the real news comes out.
Despite meeting EPS estimates, Q3 marked a quarter of poor profit results that saw gross margin fall 2.5% to 32.5% of sales. This decrease was due to higher supply chain costs driven by increased cost of transportation and higher than expected inflation. This is not expected to get better anytime soon and full year 2018 guidance was revised downward once again; even after being updated just one month before at the CAGNY (Consumer Analyst Group of New York) Conference. General Mills now expects operating profit to fall 5-6% in fiscal 2018 compared to the previous guidance of falling 1% to flat. EPS growth is expected to be flat to 1% compared to the previous projection of growing 3-4%. The investor response to this disappointing change was not good and GIS tanked 10% following this earnings report. At about $45 per share, the stock is now trading at a 5 year lows.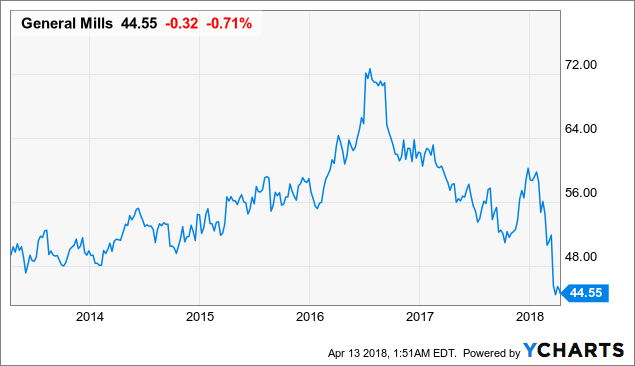 Higher Operating Costs
The overall higher cost of sales is the main reason for the poor profit results reported this recent quarter. The two key drivers of this were higher input and transport costs. The rising inflation rate, which just hit 2.1%, is taking a noticeable effect on General Mills. It has resulted in more expensive raw materials including grains, fruits, and nuts; all of which are crucial to its products. These increases, among others, have led to input cost inflation reaching 4% this past quarter compared to the estimate of 3% put forth by management earlier in the year. The second reason for increased COGS was higher transport costs, mainly in freight shipping. Recently, the US trucking industry has faced a growing shortage of truck drivers. This has resulted in higher shipping costs for General Mills, who still move the majority of their products by truck. In light of this, General Mills was forced to go to the spot (or cash) market for about 20% of all shipments compared to a historic average of only 5%. The problem is that spot market prices are often 30-60% higher than their contracted rates and were nearly at 20 year highs in February 2018. High freight costs also drive up the price of raw materials and was a key contributor to the uptick in raw material costs.
As a result of all this, full year 2018 profit guidance was revised downward. General Mills now expects profits to drop 5-6% compared to fiscal 2017 in constant currency.
What's next?
Obviously, less profit is not good for investors. While not completely unavoidable, the problem was exacerbated by the failure of management to recognize and mitigate this problem in the early stages. Actions such as using different transport methods and contracting more freight carriers could have been taken earlier before the problem evolved into something greater. But this drop in the price of GIS provides a prime opportunity for both value and growth investors, as well as those looking for a generous dividend check, to profit. GIS is down nearly 40% from its 2016 high of around $72 and over 20% year to date. The worst is likely almost over for General Mills and it has the ability and potential to rebound again into a strong company in the future.
Addressing the Problem
As mentioned before, management should have taken action sooner to offset the effects of increased freight truck transport costs. But nobody can change the past and today, General Mill's management is finally taking action to mitigate this problem. More diverse modes of transport, including by air and rail, will be used when economically justified to move product to factories or customers. This will help ease their strong dependency on truck transport and operate in an environment of high freight costs. However, trucks will still deliver the majority of General Mill's shipments right now and will appear to do so in the near future. Management will use and contract more freight carriers to address this problem and reduce their recent reliance on the spot market for transport. These short-term answers will help, but will not fully solve this complex problem. If transport costs cannot be decreased or prevented from rising, management hopes to more tightly control all expenses within the company. In fact, some effects have already taken place. For example, in Q3 2018 (the most recent quarter) SG&A expenses dropped 5% from the year ago quarter. While not huge, it shows that all expenses are being monitored carefully and capital is not allocated wastefully. As more research is done, other costs will no doubt be reduced to compensate for the rise in transport costs.
Also, management is taking action in driving positive net price realization in today's high cost environment. Benefits have begun to happen but will not fully impact the company until fiscal 2019. These efforts help General Mills retain their strong customer base and price products more appropriately in an inflationary environment. It will impact all of its segments and should ease pressure on profits in 2019.
Financials
Turning to earnings, Q3 sales were $3.88 billion, representing 2% growth from LY and 1% organic growth. It was not a bad quarter sales-wise. But operating profit fell 6% constant currency to $628 million as gross margins dropped 2.5% to 32.5%. Adjusted EPS actually rose 10% to $0.79 but was due to a lowered amount of shares outstanding. Looking at 9 month fiscal 2018 results, sales stayed flat at $11.85 billion but profit declined 10% constant currency.
As before mentioned, profit was a major weakness this quarter but effects were partially offset by lower SG&A spending. This was mainly due to 22% less spending on media advertisements in the quarter and 5% less year to date. Instead of traditional ads, General Mills is trying to take a more direct to consumer approach including customer events, in-store loyalty, sponsorships, among others. It recently started the "Million Acts of Good" program with Ellen to promote the popular cereal brand Cheerios. General Mills hopes these initiatives will build loyalty in a more efficient way than tradition media advertising and allow it to get more bang for its buck.
General Mills also has a generous dividend policy, recently raising its quarterly payout 2.1% to $0.49 per share, or $1.96 annually. At current levels, that is a 4.4% yield; much higher than some of the others in its sector. These include the dividends of the Kellogg Company (K) at 3.45%, Unilever NV (UN) at 2.94%, and even Kraft Heinz (KHC) at 4.1%. General Mills has also raised it continuously for 14 years at an 11% compounded annual growth rate. In fact, according to its own website it has paid uninterrupted dividends for 119 years! GIS is very determined in returning capital back to its shareholders and paid out $846 million in dividends last year while buying back $510 million of stock; in total returning almost $1.4 billion to shareholders.
And this dividend is not unjustified. Cash flow, an important metric in determining a dividend's sustainability, was up 29% year to date to $2.14 billion. The dividend is also covered by earnings and has a modest payout ratio of 63.4%. The dividend in my opinion is relatively safe for the time being.
Future Growth
No matter how much you cut costs, sales growth must occur for a company to consistently increase profit. The biggest sales laggard this past quarter was US Yogurt-which includes the popular brand Yoplait-lost 8%. Future growth will be driven by innovation in this key category. During the recent Greek yogurt craze, Yoplait did not fully capitalize on the potential. It got beat out by other yogurt brands such as Chobani, the top-selling yogurt brand in the US and stealing away 10% market share. In an effort to regain this, Yoplait has launched a new premium French Style Yogurt - Oui by Yoplait. This is one of the major yogurt launches in 2018 and should contribute to yogurt sales in the rest of fiscal 2018 and beyond. Yoplait has actually been growing market share as of late, albeit slowly. The success of Oui by Yoplait and other new offerings are crucial to the long-term success of this important brand.
The other key component for long-term growth is its recent acquisition of Blue Buffalo Pet Products. The price will come at $40 per share or $8 billion including net debt. Blue Buffalo is a leader in pet products and has a strong and loyal customer base in Natural Pet Food. With this acquisition, a new pet operating segment will be formed at General Mills for Blue Buffalo to operate. It opens General Mills into the lucrative market of US Pet Food, which currently is worth $30 billion. Of this, only 10% is wholesome natural pet food and Blue Buffalo is the obvious leader. This is the type of addition that can help drive future growth and profit. Over the past 3 years, Blue Buffalo has delivered 12% compounded annual growth with $1.3 billion in annual sales. But all this comes at a price and this was an extremely expensive purchase. Blue Buffalo reported only $194 million in profit during fiscal 2017 and the $8 billion purchase means paying 41 times these earnings. This splashy buy was not well received by investors and GIS fell 6% after the deal was announced. It may drive growth but also adds to an already heavy debt load. General Mills offered $6 billion in unsecured notes to fund this purchase and by doing so, nearly doubled their long-term debt to over $13 billion. They were downgraded by Moody's to Baa2 as a result and it seems clear to all that General Mills overpaid. But, if integrated correctly, Blue Buffalo can bring value to General Mills. The US pet food market is a large space and if they can expand into it, there is potential for both top and bottom line growth. General Mills also has a long track record of integrating acquisitions including natural brands such as Annie's Homegrown; whose sales have doubled since the purchase. General Mills can bring its extensive distribution network and global sourcing abilities to Blue Buffalo and help it grow faster than it could alone. It already has strong brand recognition and is the #1 Pet Brand Online and also the #1 Natural Pet Brand. By applying its strengths, General Mills can turn Blue Buffalo into a core asset driving growth for years to come. Below is a chart showing how General Mills can add value to Blue Buffalo.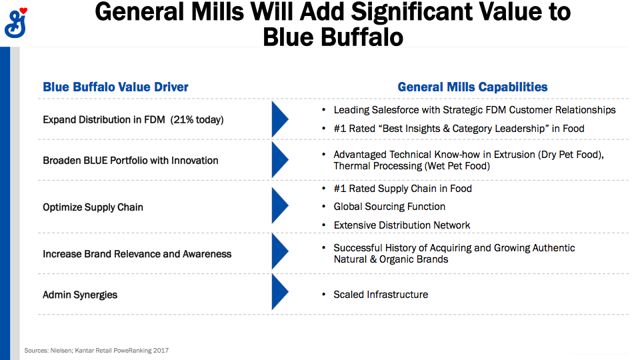 Source: General Mills Q3 2018 Earnings Slides
Conclusion
General Mills has been in a tough spot as of late. Increased inflation and transport costs have hurt profits and another guidance cut has sent its stock into a nosedive. But the recent sell-off has also created a golden opportunity for value, growth, and dividend investors to enter and take advantage of the market's overreaction. GIS may remain volatile in the short-term but has a strong foundation that will allow it to prosper once the dust settles. Actions to address increased supply chain costs will soon see their effects materialize and further innovation will drive future growth. The acquisition of Blue Buffalo, while costly, can prove to be valuable if integrated correctly. On top of all this, General Mills has a sector leading dividend of around 4.4% and has been raised continuously for the past 14 years. Income investors take note. And trading at around 15 times earnings, General Mills is at a good buying point for all investors.
Disclosure: I/we have no positions in any stocks mentioned, but may initiate a long position in GIS over the next 72 hours.
I wrote this article myself, and it expresses my own opinions. I am not receiving compensation for it (other than from Seeking Alpha). I have no business relationship with any company whose stock is mentioned in this article.