Sirius XM (NASDAQ:SIRI) bulls will tell you that Sirius XM is in a league of its own, because it offers a very easy to use service. This is perhaps best said by a commenter from a recent competitor article:
Sirius has a single competitor, that is the terrestrial radio. The mistake people make is they don't know the difference between alternative and substitute products. MP3 players, smartphones, CD etc are substitutes but not alternatives, because they do not provide the ease of use that Satellite Radio provides.
I agree entirely. Sirius is unmatched in ease of use. That's why I'm bearish on Sirius. The primary advantage sustaining its 33 P/E is ease of use. If I'm a technologically disadvantaged baby boomer with a six-figure income, I'm happy to pay Sirius to make my life more comfortable. And here is the problem. I'll be just as happy to pay for voice recognition.
Apple's Siri (NASDAQ:AAPL), Google's (NASDAQ:GOOG) upcoming voice recognition feature, and Nuance's (NASDAQ:NUAN) entire business model all are bad for Sirius. All internet services, such as radio, are going to become a lot easier to use when voice recognition is effectively implemented. This is because people find it easier to learn a spoken technology than a written one. And judging by the success of recent Apple innovations, it is hard to say momentum doesn't favor Siri.
I've explored what this means for Groupon (NASDAQ:GRPN). I think it applies just as strongly or even more strongly to Sirius XM. Sirius XM differentiates itself through a "simplifier" service, but voice recognition will make simplicity ubiquitous, and so simplifiers like Sirius will be unnecessary. I'm not saying simplification is the only thing Sirius does, just that it's the primary selling point for its P/E. I mean, is Howard Stern worth 4 billion dollars?
Pandora (NYSE:P) is taking a hit after-hours from bad earnings. Sirius hasn't shared the pain. The market is buying the line that Sirius stands in a league of its own. Which raises the question: why? What is the value proposition for Sirius with 33 P/E, considering all the other services available? To continue quoting the Sirius bull commenter from above:
Spotify
Last.fm
Iheartradio
AOL radio
Shoutcast
Winamp channels
Yahoo music
Google music
Youtube
Slacker
etc...
So simplification is the moat. And now we see why simplification makes Siri seriously bad for Sirius. Sirius is a high-end service facing widespread disruption from the low end. It's a bad time for bulls to attack Pandora's freemium model. Here's a visual aid, compliments of Modernist Research.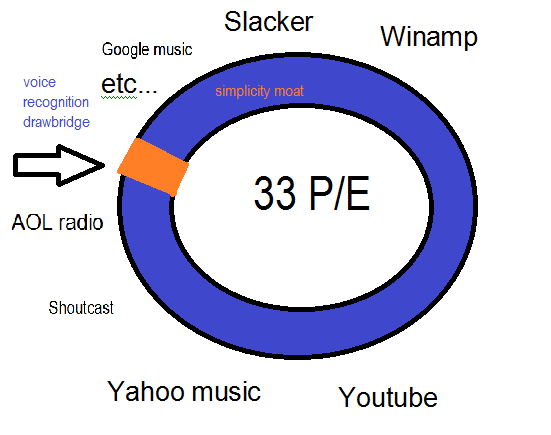 Disclosure: I have no positions in any stocks mentioned, and no plans to initiate any positions within the next 72 hours.