Market Intro


CNBC: Friday Close
The real story here for stocks (SPY, DIA, QQQ, IWM) on Friday was how the VIX (VXX) managed to fall by a full point even though the indexes took a couple nasty spills, closing well off their morning highs:

CNBC: SPX for Friday, April 13.

The yield curve continues to flatten, and without a doubt "September 2008" raises many memories. But the key point readers should consider is that implied volatility on Treasuries is basically diving. Treasury vol (IEF, TLT, AGG) was arguably the catalyst for higher equity volatility in February.

Interactive Brokers: Treasury VIX
Thoughts on Volatility


IB: EFA VIX
For all the talk about trade concerns (which of course may ultimately prove to be legitimate), implied volatilities on foreign indexes such as the EFA VIX are heading to the lowest levels in a month. This carries the appearance of a market that is trying to repair psychological damage. Averages are for the most part not far from their all-time highs. The macro economic backdrop is strong(ish) and earnings reports are meant to impress this quarter.
Oil (USO) vol has kicked up on geopolitics, but really the index is headed for what amounts to some pretty middling levels relative to its five-year range: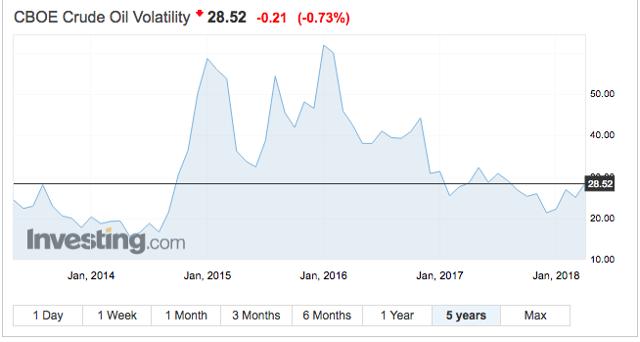 The question that one needs to ask is whether US-equity vol can remain high in isolation. If the last five years is any indication, then the answer is a resounding "no". In fact, SPX vol has usually languished at or near its all-time lows, while other asset classes fretted and slid.
That pattern can change. US stocks do appear to be making the last quarter a 1998-style comeback story. Headlines do make a difference in this market, even if just for half an hour. Until stocks can just shrug off news almost instantly, I take the mindset that short vol is a position to rent for a few days to a month or so, but that the core dynamic (fearlessness) that led stocks higher is finished.
Organic Volatility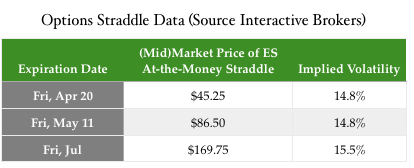 Organic at-the-money implied volatility, as measured by options prices on S&P futures, shows a reasonably low, flat structure (see second column). The bid-ask spreads as I recorded the figures in Friday afternoon trade (just prior to the mini-swoon) were moderate (about 1.75 wide).
Spot VIX is a 30-day measure of implied volatility on a basket of S&P options (including out-of-the-money calls and puts); the May 11 contract - Row 2 - is the closest proxy. Spot of course took a real dip on Friday, posting the lowest close in about a month.
Believe it or not, monthly straddles as recently as January were trading close to $38 for the month! Compare that against pricing of $86.50 heading into the weekend. We are seeing "contango" creep back into the options volatility surface, with the quarterlies sporting modestly higher vols than the monthlies or weeklies.
My take is that the options market (and by extension, the VIX complex) will want to test out lower vols. Stocks made attempts at some large moves - up and down - in the last week, and each time seemed to be foiled.

IB: VVIX
VVIX is settling way down, which further indicates that VX products are discounting "vol-plosion" events more and more. This lends support to the notion that volatility players are giving credence to at least a temporary slowdown in the Q1 story.

IB: SVXY Implied Vol
Implied volatilities on SVXY options have taken a dip. The sudden drop-off in late February is of course attributable to the deleveraging decision by Pro Shares to take SVXY's leverage ratio from -1x to -.5x its index. Since then, the implied vol range has been at least reasonably stable (though note the very wide range in scaling), and currently hugs the low end.
Conclusion
If this is your first time reading Market Volatility Bulletin, thanks for giving it a try. If you're a regular, we thank you for your ongoing contributions in the comments section.
In the most recent MVB, reader jz30 offers observations on the options spreads relating to the popular vol ETP UVXY: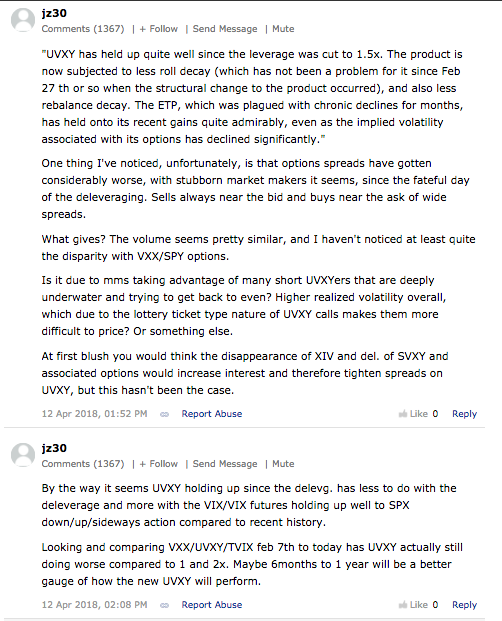 Indeed I think the next six months to a year will be a better gauge as to determining how beneficial the deleveraging was for long-UVXY investors.
In the first of the two comments, I personally opine that much of the illiquidity may come from the fact that "structural risk" (another shift from Pro Shares) would be a primary culprit for wider bid-asks. That would, anyway, explain how the pricing has gotten worse while the volume has held up and competing products are trading in line with their past patterns.
Thank you to jz30 for putting his thoughts out for others to consider.
Please consider following us.
Disclosure: I/we have no positions in any stocks mentioned, and no plans to initiate any positions within the next 72 hours. I wrote this article myself, and it expresses my own opinions. I am not receiving compensation for it (other than from Seeking Alpha). I have no business relationship with any company whose stock is mentioned in this article.
Additional disclosure: I actively trade the futures and options markets, potentially taking multiple positions on any given day, both long and short. I also hold a more traditional portfolio of stocks and bonds that I do not "trade". I do believe the S&P 500 is priced for poor forward-looking returns over a long timeframe, and so my trading activity centers around a negative delta for hedging purposes.