I'm in the final stages of working with the SA editors on my newsletter, Turning Points. This analysis will soon go behind a paywall. Please stay tuned for more details!
This was a positive week for the sectors:
Only utilities were down; everything else was positive.
When we look at the longer relative strength picture, we get the following: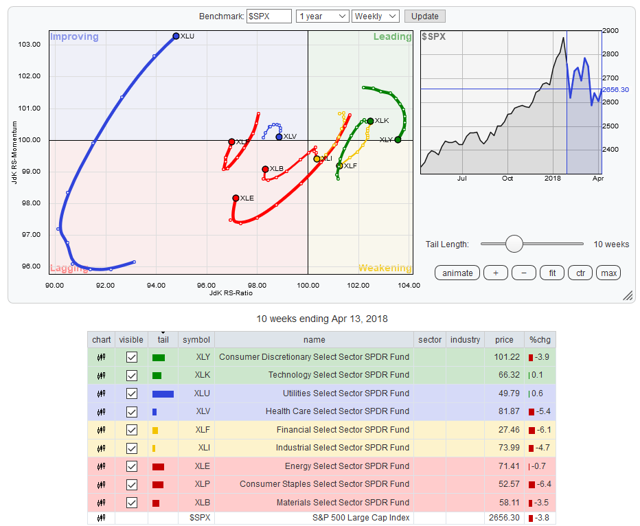 Utilities and healthcare are in the "improving" area. Consumer staples are about to crossover to that area. Both energy and basic materials recently turned north and are moving into that area as well. Consumer discretionary (XLY) is about to transition to the weakening category, where the financials and industrials already lay.
Let's take a deeper look at some of these charts, starting with the energy sector: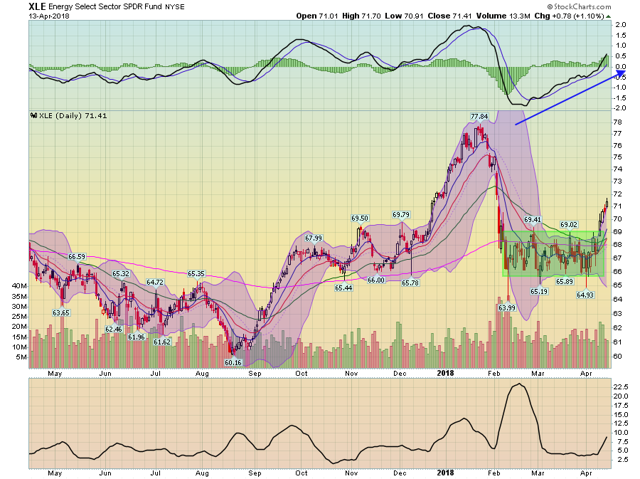 The XLEs had been consolidating recent losses, trading between the 66 and 69 levels. This was also right around the 200-day EMA, which is a traditional area of technical consolidation. This week, prices advanced sharply, printing several strong candles. The MACD (top panel) is also moving higher, indicating that momentum is rising.
The XLEs are rising in sympathy with the oil market: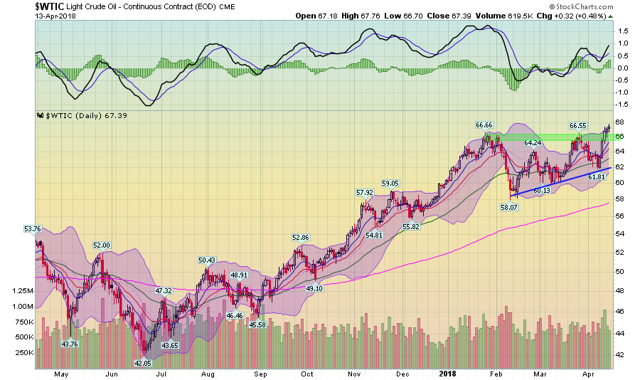 Oil has been consolidating in a rising wedge pattern for most of this year. Last week, prices broke out to the upside. Momentum has plenty of room to rally to the upside. There are two fundamental reasons for the rally: OPEC has been successful in eliminating the oil supply glut and an overall increase in Mid-east tensions.
Next, let's look at the XLYs, which are transitioning to an out-of-favor status: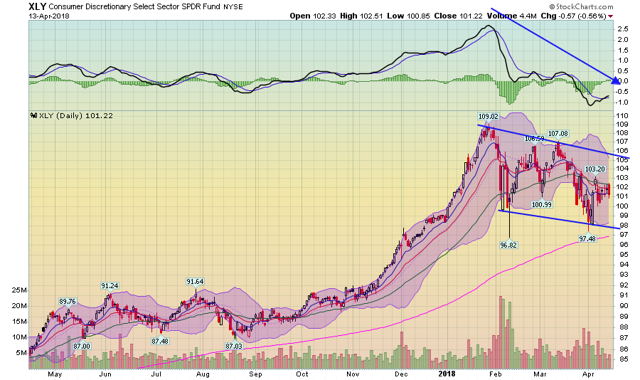 The ETF is in a downward sloping channel with weakening momentum. What's particularly interesting is there are no signs that consumer spending is slowing: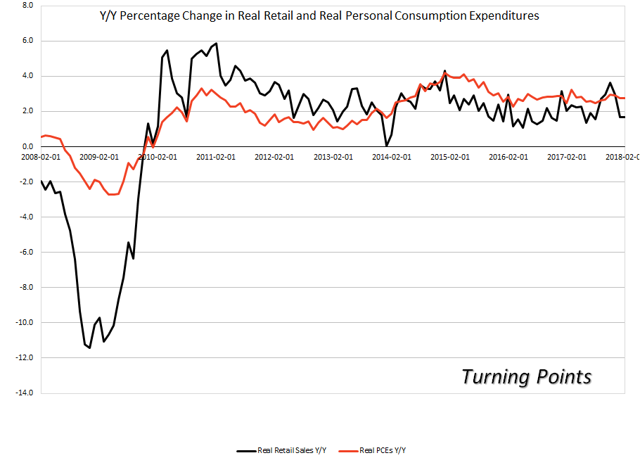 Both the Y/Y percentage change in real retail sales and real PCEs is still strong. And with the unemployment rate low, it's doubtful we'll see a pullback anytime soon.
Turning to the XLPs, we see this daily chart: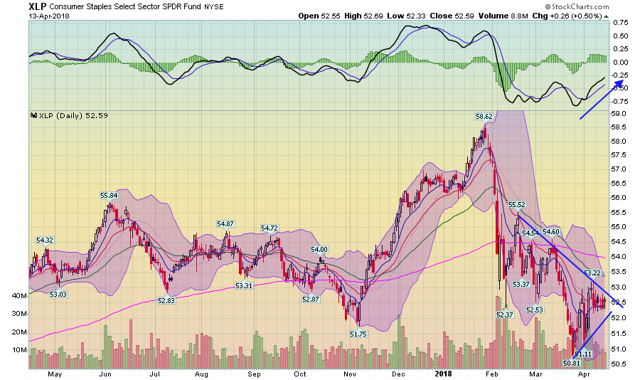 Prices are still in a solid downtrend that connects the highs of mid-February, early March, and early April. However, there is a possibility prices are consolidating in a symmetrical triangle pattern over the last month. The rising MACD indicates we could see an upside break-out. This is what the relative strength graph is picking up on by moving the XLPs closer to the "improving" category.
Finally, let's take a look at the technology sector because it's been in the news lately in a modestly negative way: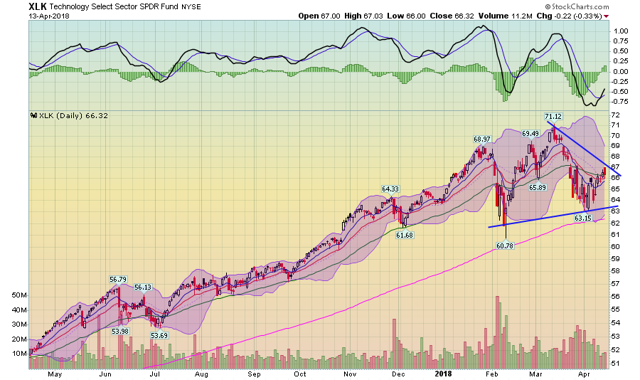 We haven't seen a sharp drop like other sectors. Instead, prices are moving sideways, consolidating in a triangle pattern. The longer-term trend (the 200-day EMA) is still positive. Prices are entangled with the shorter EMAs, which is a pattern referred to as "barbed wire." This clouds the short-term outlook. Prices usually lead EMA movement; when prices are about the EMAs, the EMAs will move higher, and vice-versa. But when they are ensnared like this, we have no visibility.
Disclosure: I/we have no positions in any stocks mentioned, and no plans to initiate any positions within the next 72 hours. I wrote this article myself, and it expresses my own opinions. I am not receiving compensation for it (other than from Seeking Alpha). I have no business relationship with any company whose stock is mentioned in this article.