I just finished reading a terrific strategy book, "Repeatability: Build Enduring Businesses for a World of Constant Change". In this exceptional book (and in my Forbes.com book review), co-authors Chris Zook and James Allen, reveal compelling new research exploring secrets of sustainable companies and "great repeatable business models." As explained by the co-authors:
The more precise your understanding of your model and what leads to success, and the simpler your differentiation is, the more precisely you can focus innovation resources on those areas where threats and change are greatest. This is why a well-defined core differentiation, and clear and well-articulated activity system to support and replicate it, are at the center of our first design principle - without uniqueness you can't succeed long in the market, and without sharp self-awareness of each element, you can't easily target innovation resources.
Differentiated by their reliability and predictability, REITs are recognized for the "great repeatable" attributes of dividends. Accordingly, investors are attracted to yields that are both sustainable and safe. However, a third attribute to consider is yield and the following REITs are recognized not only by their "repeatability" characteristics but also by their towering and attractive yield attributes.
Washington Real Estate Investment Trust (NYSE:WRE) engages in the ownership, operation, and development of office, medical office, industrial, and multi-family properties. The firm invests in real estate markets of the greater Washington D.C. metro region and was founded in 1960 and is based in Rockville, Maryland. I wrote a detailed article on WRE here.
STAG Industrial, Inc. (NYSE:STAG) invests in single tenant industrial leased properties across the United States. It is engaged in investment and management of real estate assets. STAG Industrial, Inc. was founded on July 21, 2010 and is based in Boston, Massachusetts. I wrote a detailed article on STAG here.
Monmouth Real Estate Investment Corporation (NYSE:MNR) owns, manages, and leases properties to investment-grade tenants on long-term leases. The firm invests in the public equity and real estate markets of the United States. It primarily invests in industrial properties and holds a portfolio of REIT securities. Monmouth Real Estate Investment Corporation was founded in 1968 and is based in Freehold, New Jersey. I wrote a detailed article on MNR here.
CapLease, Inc. (NYSE:LSE) is focused on financing and investing in commercial real estate that is net leased primarily to single tenants with investment grade or near investment grade credit ratings. It provides private and corporate owners of net lease real estate with equity, debt, and mezzanine financing options. The company is organized to qualify as a REIT for federal income tax purposes and accordingly it distributes at least 90% of its taxable income to its stockholders. Capital Lease is based in New York City. I discussed details of LSE here.
Lexington Corporate Properties Trust (NYSE:LXP) acquires, owns, and manages a portfolio of office, industrial, and retail properties net-leased to corporate tenants in the United States. It also provides investment advisory and asset management services to institutional investors in the net lease area. The company was founded in 1991 and is based in New York City.
Entertainment Properties Trust, (NYSE:EPR) develops, owns, leases, and finances entertainment and related properties in the United States and Canada. Its properties include megaplex theatres, entertainment retail centers, and destination recreational and specialty properties. The company was founded in 1997 and is based in Kansas City, Missouri.
Agree Realty Corporation (NYSE:ADC) engages in the ownership, development, acquisition, and management of retail properties, which are primarily leased to national and regional retail companies in the United States. Agree Realty Corporation was founded in 1971 and is headquartered in Farmington Hills, Michigan. I wrote a detailed article on ADC here.
UMH Properties, Inc. (NYSEMKT:UMH) is a real estate investment trust. The firm engages in the ownership and operation of manufactured home communities. It leases manufactured home spaces to private manufactured home owners, as well as leases homes to residents. The firm invests in the real estate markets of New York, New Jersey, Pennsylvania, Ohio, and Tennessee. In addition, it invests in debt and equity securities of REITs. UMH is managed by some of the same principles that manage MNR (Landy family).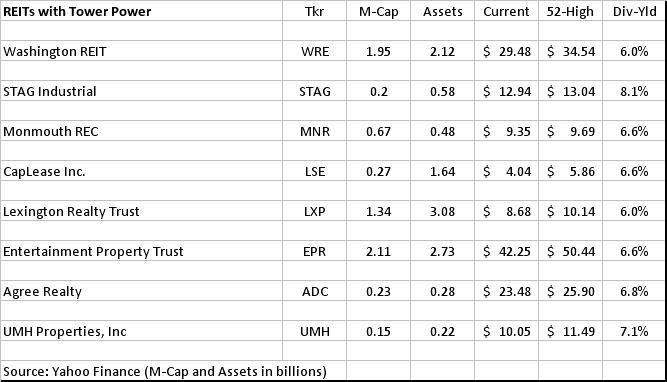 In summary, compounding is an incredibly powerful concept and that theory is best described by Darren Hardy in his book, Compounding Effect:
It takes very little extra effort to be EXTRAordinary. In all areas of your life, look for the multiplier opportunities where you can go a little further, push yourself a little harder, last a little longer, prepare a little better, and deliver a little bit more. Where can you do better and more than expected? When can you do the totally unexpected? Find as many opportunities for 'WOW,' and the level and speed of your accomplishments will astonish you…and everyone else around you."
Disclosure: I have no positions in any stocks mentioned, and no plans to initiate any positions within the next 72 hours.