2017 was the seventh consecutive year with an operating margin decline for Bed Bath & Beyond (NASDAQ:BBBY). There is no wonder that shares trade near 2008 low and about 80% lower than three years ago. Unfortunately, the management did not provide a guidance that would indicate stabilization. The forecast for current and next years is a further margin decline. Analysts expected signs of margin stabilization and potential turnaround strategy but received only another indication of margin decline. There is not a lot to cheer about for Bed Bath & Beyond's future. I wrote a couple of articles on Bed Bath & Beyond last year whereas I highlighted that I was waiting for signs of margin stabilization. And unfortunately, the thesis is still valid today.
Another year with margin decline
The company reached the peak of 16.5% in operating margin in 2011. Since then, margins declined every year and recently the speed of decline accelerated. Last year, the operating margin was only 6.5%.


Source: Author's Compiled Data Using Company's 10K
Every stakeholder is watching carefully when Bed Bath & Beyond can stabilize its business and potentially expand earnings in the future. The management foresees 2020 as the year with an earnings increase. In fact, the management forecasts growing comps this year, moderate declines in operating profitability in current and next year, and earnings growth by 2020. They provided key areas of focus how to achieve the earnings growth by 2020.
2020 Roadmap
The management introduced four major areas of focus that should help the company turn the trajectory and return to profitability growth:
Substantially differentiated merchandise assortment
Intelligently and dynamically price assortments using machine learnings and membership program across all channels
Best-in-class services, faster delivery options, as well as a premier offering of in-home services and a superior customer experience across all channels
More personalized digital experience and more in-store experience
The above key points do not really look like something substantially different than the company was doing before. In fact, analysts were quite skeptical about the credibility of the turnaround plan. For instance, Michael Lasser, the analyst from UBS, asked the management what are they doing differently now that will drive the comps growth and stabilize the profitability.
The management response was that in the past they have been building an eCommerce platform and creating a digital experience so that customers would recognize Bed Bath & Beyond brand in the digital world. This has been done at the expense of the profitability. Now, the management believes they have various choices how to improve the profitability including an online business. In addition to that, the management believes they are creating a better shopping experience to drive the overall traffic and eventually boost the sales. Also, they are trying to free up more time for sales associates so that they have more time for a customer.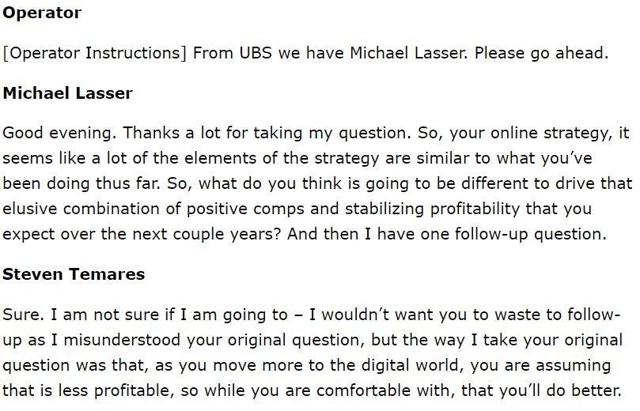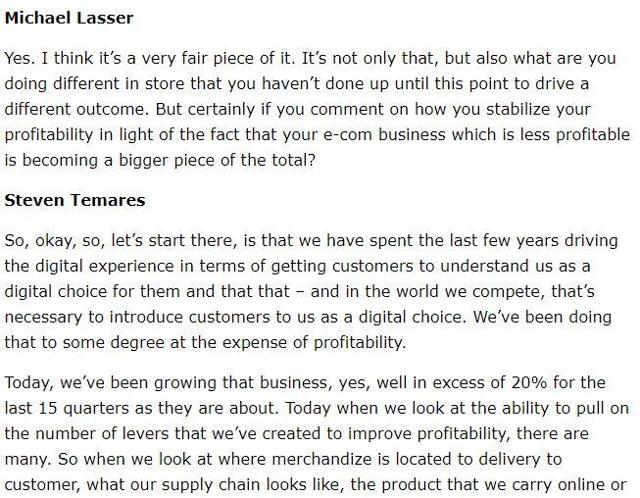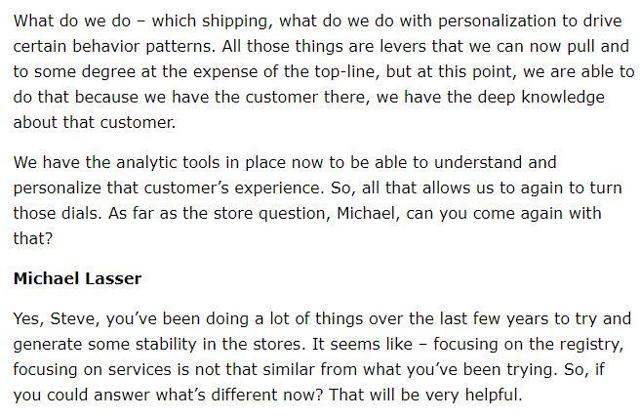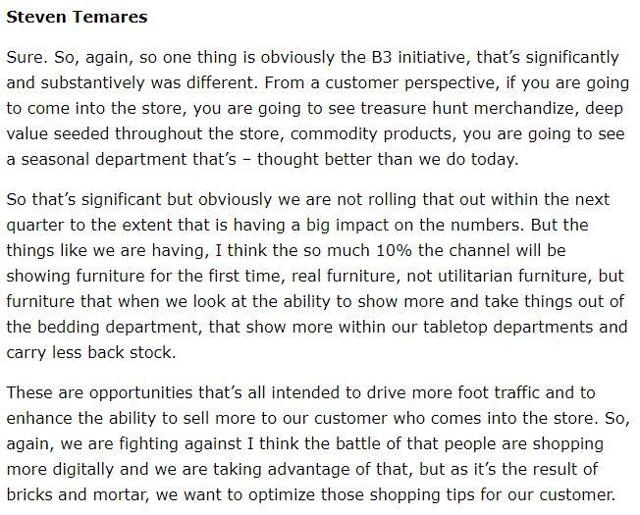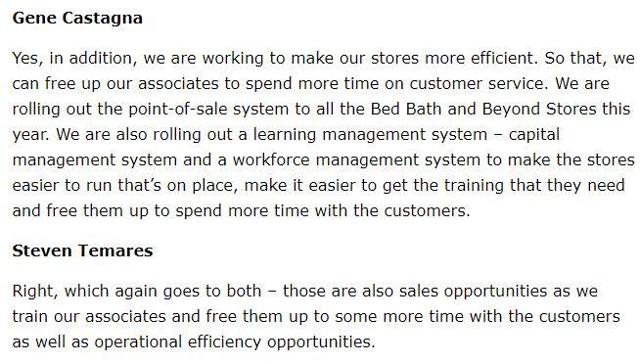 Source: Bed Bath & Beyond 4Q 2017 Earnings Call Transcript
In my point of view, the response lacks a clear inflection point and the new strategy seems to be just continuation of ineffective previous strategy. And this strategy is projected to deliver another operating margin decline.
A further decline in profitability is expected in 2018 and 2019
As highlighted above, the management guided a further decline in operating margin in 2018 and 2019 and margin stabilization only in 2020.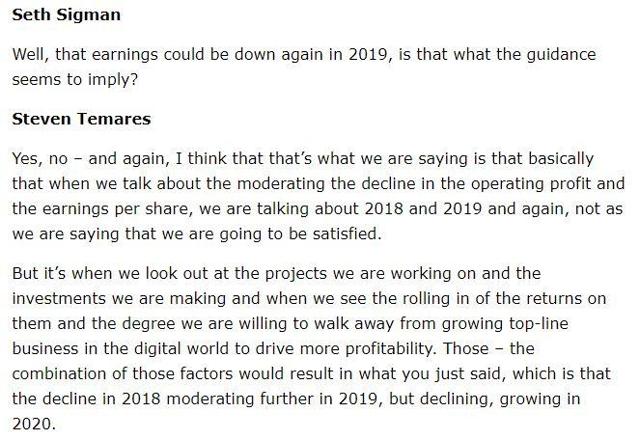 Source: Bed Bath & Beyond 4Q 2017 Earnings Call Transcript
2020 seems quite a distant future to predict with a precision. In addition, we are in a late stage of the cycle and the probability of recession in three years is quite high. The recession is always a hard one to predict, however, Goldman Sachs in its 2018 annual investment outlook "(Un) Steady as She Goes" assigned 60% probability of recession within five years.

Source: Goldman Sachs Investment Outlook: "(Un)Steady as She Goes"
It is very hard to take some positive takeaways from the recent earnings call. The management expects a further decline in the profitability in current and next year. The 2020 roadmap seems to be a continuation of the ineffective strategy outlined years ago and there is lack of visibility of an infection point from a fundamental perspective. However, the stock is currently trading at an important technical support.
Technical indicators
We need to look back to 1999 to determine the key technical support. In 1999, it took a whole year for a growing company to break the $19 level on the way up. In fact, the stock reversed to the downside from a high of $19.6 in May 1999 to a low of $11.2 by January 2000. Then in 2000, it took eight months for the price to break the $19, and once the level was broken, shares increased to a high of $33.9 by July 2001. Then in September 2001, when terrorists attacked the WTC, the stock plunged to a low of $18.9 but quickly jumped off that level and continued trending upward until they reached a peak of $47.0 in May 2005. That was a turning point when the next bear trend began. This bear trend ended in September 2008 with a low of $16.2. Shares jumped quickly off that level and started a new upward trend that ended with a peak of $80.8 in January 2014.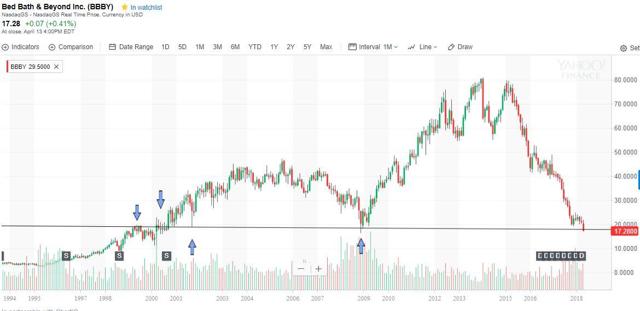 Source: www.finance.yahoo.com
Historically, the zone above $16.2 and below $19 was a very critical zone that acted as a stopping barrier on the downside in 2001 and 2008. And so, if there is a point where the price can stop on the downside, it should be in that area. More importantly when we consider that shares plunged over the last three years by 80% without any significant pullback.
And so, I would carefully watch the price action around that area. From a technical perspective, this could be an infection point. However, the infection point lacks a fundamental background. Perhaps, current price may attract some activist investors who could unlock the company's value through M&A by restructuring. But this is very uncertain and so I am applying the same method as I was doing last year when I wrote: "Waiting For Signs Of Stabilization".
Takeaway
Bed Bath & Beyond reported another disappointing quarter, disappointing year and provided disappointing guidance. It is very hard to take some positive takeaways from recent earnings release and foresee an infection point when the business stabilizes. The 2020 roadmap seems to be just the continuation of previous ineffective strategy. However, the chart indicates a strong support zone above $16 and below $19 that acted as a turning point in 2001 and 2008. Yet, the technical reversal pattern lacks a fundamental story. And so, I think it is better to watch the Bed Bath & Beyond turnaround from the sidelines.
Disclosure: I/we have no positions in any stocks mentioned, and no plans to initiate any positions within the next 72 hours.
I wrote this article myself, and it expresses my own opinions. I am not receiving compensation for it (other than from Seeking Alpha). I have no business relationship with any company whose stock is mentioned in this article.