Friday Night the US, Britain and France launched missiles at Syrian targets tied to chemical weapons. The nations refer to it as a counter strike because Syrian President Assad allegedly used chemical weapons against rebels and civilians.
The wait has been for reports on damages and especially whether Russian or Iranian targets were struck. This doesn't appear to be the case. We have seen the obligatory theatrics from all sides but nothing that indicates the conflict escalating.
The most remarkable snippets of news were from the WSJ:
the president and his advisers agreed on one of the most restrained of the military-strike options crafted by the Pentagon

Mr. Trump pressed his team to also consider strikes on Russian and Iranian targets in Syria if necessary to get at the Assad regime's military equipment, Mr. Mattis pushed back, those familiar with the decision-making said.
I think these are remarkable because it is now obvious there were scenarios laid out to carry out a much larger strike. The strike that was actually carried out placing at the modest end of the range of possible military rebuttals.
It is also remarkable President Trump apparently showed a willingness to hit Russian or Iranian targets if necessary to hit Iranian targets. However, this piece of information seems to benefit the administration in two ways; 1) It counters the perception there is some connection between the administration and Russia 2) I can imagine it is beneficial to the U.S. government if Iran and Russia perceive the U.S. as being willing to accept collateral damage to their respective militaries. It could make them a little bit less willing to risk such events. For example by shielding Syrian troops at their bases.
What I've been looking for is warning signs there would be a giant risk-off inspired sell-off. Because the S&P 500 (SPY) is very richly valued there is a lot of room on the downside. The Shiller P/E ratio has recently ticked down a little but it hasn't been at this sort of level since '99. It wasn't nearly this high in '08.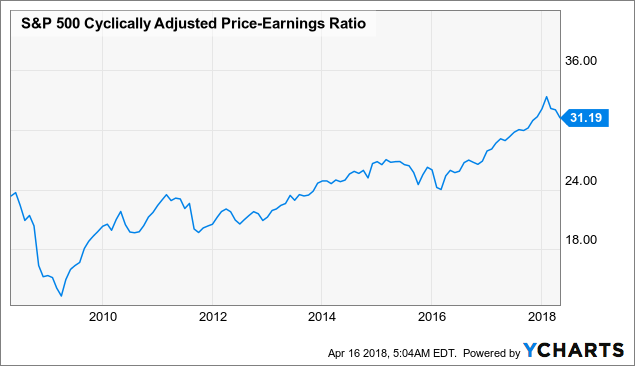 Based on what happened so far in Syria I don't think we are going to see a major sell-off.
I've mentioned a number of trades in recent articles related to the Syrian strike. Buying short term doesn't look as appealing anymore but most of the others are intended as trades that seem solid anyway but would offer protection in case of the Syria conflict broadening in scope.
I continue to like
Decreasing U.S. exposure
Buying energy stocks
Buying or adding gold or precious metal royalty companies
Buy a basket of Russian exposure (preferably partially energy related)
Sell the S&P
The reason I want to decrease U.S. exposure, especially if I can find value elsewhere, is four fold:
Market valuation
U.S. large caps are furthest along in the indexation trend (they are over-indexed)
FED is ahead of other major central banks in tightening monetary policy
Syria could be a catalyst (although odds have decreased)
Energy
There are a number of reasons I like energy stocks:
general levels of valuation
spot prices vs valuations
insider buying in the sector
Spot prices have recovered quite a bit and are nearly $70 for Brent: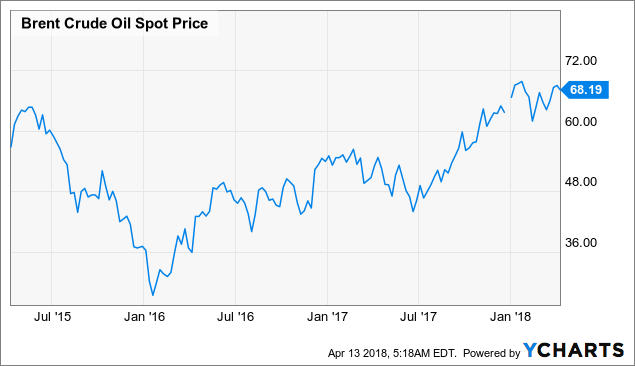 Brent Crude Oil Spot Price data by YCharts
Meanwhile Energy stocks have lagged that recovery as though they are telling us the rally will not be sustained: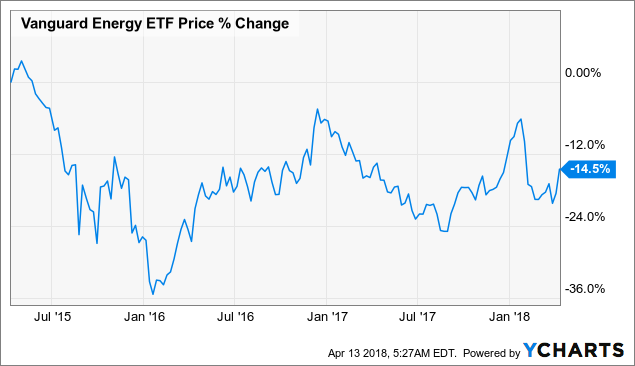 VDE data by YCharts
Finally, insider buying is well above historical buy/sell ratios for energy insiders and it is well above both historical and current buy/sell ratios for the S&P 500.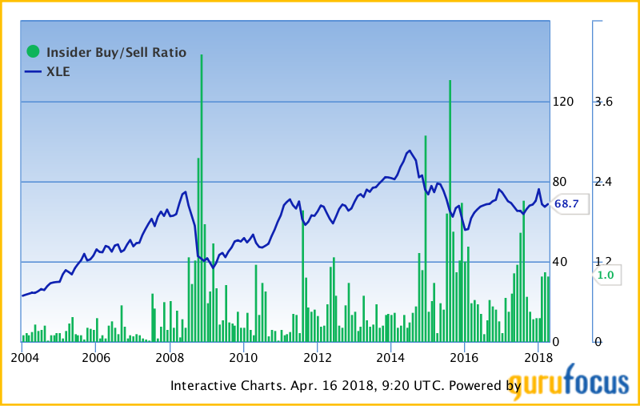 For The Black Swan Portfolio we continue to look for great opportunities to add here even though we already have a few solid horses in the race.
Gold
Gold is a bit of a negative trade.
I find 1) it is harder to find compelling investment ideas compared to a few years ago, obviously in part due to valuations 2) Bond are completely unattractive (Paul Tudor Jones also thinks so) 3) I'm more uneasy than I've been prior to the financial crisis about fiat currencies due to monetary policies 4) inflation is something I can see return and it obliterates cash.
Gold is part of my solution in finding a risk-off exposure. Gold doesn't solve it but it's part of a package with land, real-estate, TIPS etc. This likely also explains some of my attraction to Bitcoin (BTC-USD).
There is one additional benefit with gold in that it can become the go-to trade in certain panic scenarios. It does well exactly when we want to have a lot of liquidity available.
Russia
A controversial alternative I've suggested in recent days is to add some Russian exposures through ETFs or the like. This based on the assumption there would be no major escalation of the conflict before Monday. Some of the larger ETF's are the:
VanEck Vectors Russia ETF (RSX)
iShares MSCI Russia ETF (ERUS)
People trade ETFs quite actively. Likely also in response to events and they have gone down pretty hard in the past week: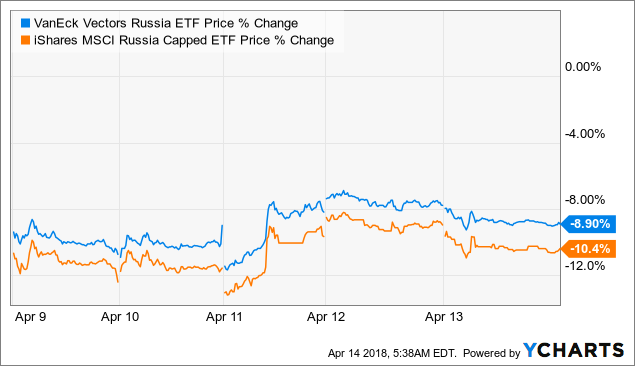 Meanwhile the portfolios have differences but both have major exposure to oil & gas. Energy makes up as much as 43% and 46% of these ETFs.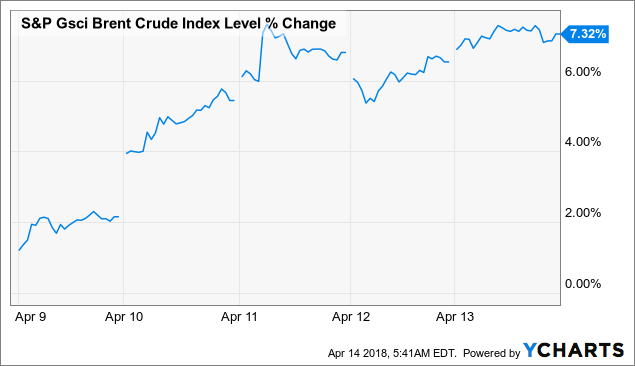 Fundamentally these companies are quite attractive with low price-to-earnings and price-to-cash flow ratios.
Conclusion
For now it looks like tensions could abate. I don't expect a big sell-off in response to Syrian developments so far. I continue to like four trades:
Decreasing U.S. exposure
Buying energy stocks
Buying or adding gold or precious metal royalty companies
Buy a basket of Russian exposure (preferably partially energy related)
Disclosure: I am/we are long IAU. I wrote this article myself, and it expresses my own opinions. I am not receiving compensation for it (other than from Seeking Alpha). I have no business relationship with any company whose stock is mentioned in this article.