The title for this article in my series on the Bottom of the Barrel Club seems like it has changed almost weekly, as the market has shown volatility both to the upside and to the downside. Originally, I planned to blame "Punxsutawney Phil" since a change in market sentiment seemed to coincide roughly with Groundhog Day, at which time Phil proclaimed 6 weeks of bad (market) weather. That evolved into an homage to Bill Murray, star of both "Groundhog Day" and "Caddyshack," where he tried to rid a golf course of gophers, although not the "Golden Gophers" I grew up with. Then, as I began to examine my lawn for spring cleanup and noticed several mole tunnels in my yard, I thought to myself, "Self, you are going to be playing 'whack-a-mole' all over this yard all season to get rid of them."
That title stuck, and not just because Bill Murray also starred with a mole in an animated movie called "Fantastic Fox." Many of you have likely experienced "Whack-A-Mole" in an arcade setting, whether at venues like Chuck E. Cheese's with your kids or Dave and Busters with friends and family. You wait and watch until a mechanical mole pokes its head out of a hole and try to hit it with a mallet (Note: no actual moles are hurt during this process). That pretty much describes the stock market for companies in the BOTB Club (and others) during Q1 2018.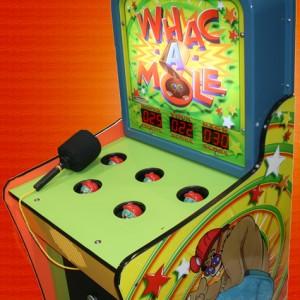 Market Performance
First, the market bid a not so fond farewell to 2 BOTB Club members in 1Q'18, Exco Resources (NYSE:XCO) and EV Energy Partners (NASDAQ:EVEP-OLD), which both filed for bankruptcy. A third company, Rex Energy (NASDAQ:REXX) hangs on the precipice of a filing as well. Assuming that REXX does indeed file, that would bring total bankruptcies to 18 out of the 38 original companies in the BOTB Club (47%).
The year 2018 started out pretty well, actually, with the period from year-end 2017 to February 2 marking a positive swing move for equities. The '% Price Change' (the column highlighted in orange) showed overall gains for the Club of 20%, with EV Energy +63% leading the way, followed by Mid-Con Energy (NASDAQ:MCEP) +56%, Legacy Reserves (NASDAQ:LGCY) +47% and W&T Offshore (NYSE:WTI) +45%. No companies posted negative returns during that period, which also happens to coincide with what is often considered part of the 'January Effect' for small-cap stocks. For comparative purposes, stocks in the Sweet Crude Club (as shown below the BOTB Club) returned 8% as a group.
Then, "Whack!" as the market decided that those returns were enough. Besides corresponding with the end of the January Effect and also with Groundhog Day, a more plausible reason for the change in sentiment is likely the start of earnings season. Companies who reported earnings, almost regardless of result, sold off on the announcements, in many cases dramatically so. Of course, forward guidance may have played an equally important part.
From January 24 through March 31, the end of 1Q, only 2 companies posted positive returns, Legacy +100% and Denbury (NYSE:DNR) +8%. The average for the group was -25%, with EV Energy -77%, Petroquest (NYSE:PQ) -69%, and Eclipse (NYSE:ECR), EP Energy (NYSE:EPE), Gastar (NYSEMKT:GST), Jones Energy (NYSE:OTC:JONE), Rex Energy (REXX) and Sanchez Energy (NYSE:SN) all down -40% or more. Companies in the Sweet Crude Club were down on average -11%.
When all was said and done, and the results for 1Q combined (the column highlighted in green), the BOTB Club was down -9% as a group, vs. the Sweet Crude Club -4%. Legacy was by far the biggest gainer for the BOTB Club, +193%, while the only other gainers were W&T +34%, Denbury +24%, Resolute +15% and Mid-Con +10%. Laggards included Petroquest -69%, EV Energy -63%, and EP Energy, Eclipse and Sanchez all -40% or more.
Other than merely playing games with numbers, what the results from 1Q show is how volatile E&P stocks are. Readers need to be aware of how the market shifts from week-to-week or month-to-month and either be prepared to ride out significant drawdowns in their accounts, or be able to maneuver through difficult periods with designated stop loss cutoffs and the willingness to let cash sit until opportunities present themselves. I continue to be amazed at how readers will join in on article comments when markets are moving up, realizing that they also were likely to still be underwater on their investments based on previous comments.
The columns highlighted in orange (% Price Change since 12/1/15, the start date for the Club) and gray (the far right column for % Price Change since 6/30/14, the start of the slide in E&P stocks), both show how the 'buy and hold' strategy many investors espouse has failed during this long stretch. Losses on average of -44% since the start of the Club, or -91% since the swing high, make it difficult to impossible to recover from, while disciplined entry and exit points would have minimized those losses and (hopefully) kept cash available for more attractive (lower) entries. Prior results may not indicative of future performance, of course.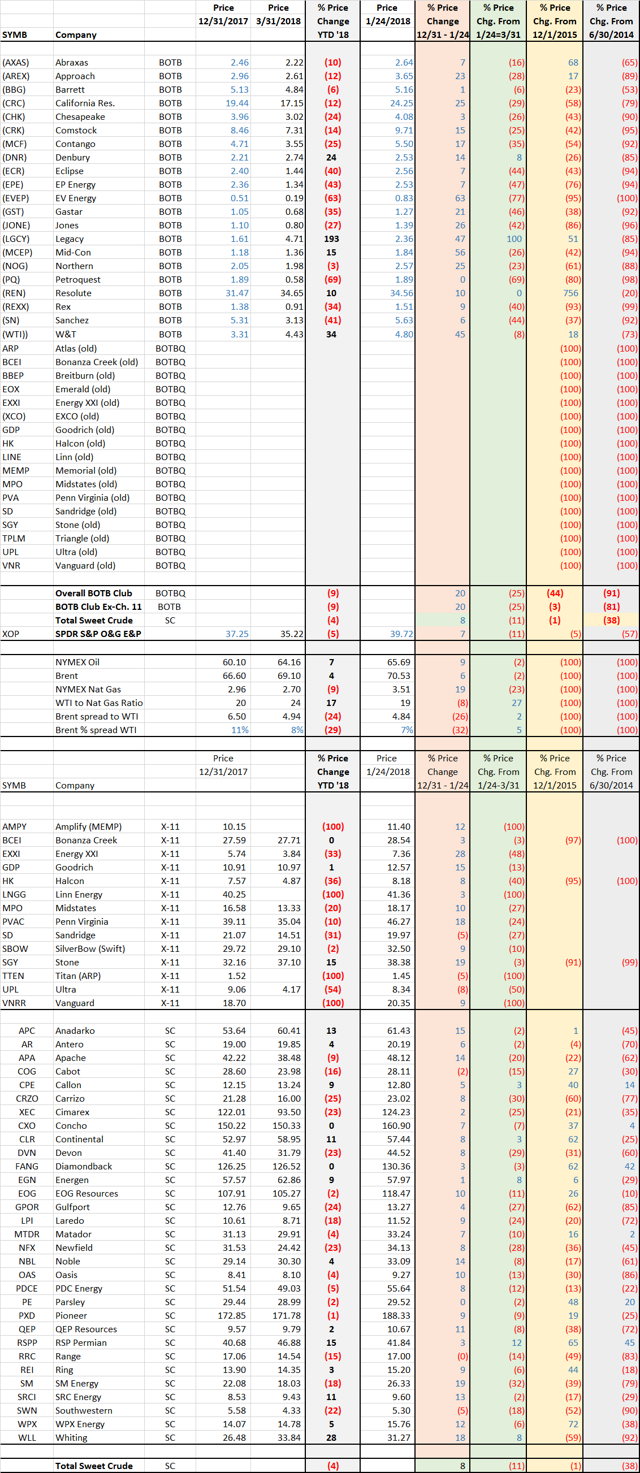 Activity
Restructuring
EV Energy Partners - Just as 'The Talking Dead' pays homage to recently-departed characters from 'The Walking Dead,' so will I. On April 2, EV Energy filed bankruptcy in the US Bankruptcy Court for the District of Delaware to implement the terms of a pre-pack bankruptcy agreement entered into between its creditors and the company. Filings from that case can be found [Here].
Under terms of the Restructuring Support Agreement; (1) the company's bank (1L) debt will be unaffected, as will payments to suppliers and other general unsecured claims; (2) the company's Senior Notes ($343 mm) will be converted into 95% of new EV's equity (subject to the company's Management Incentive Plan and warrants to existing unitholders); and (3) existing unitholders will receive 5% of new EV's equity (subject to dilution) and 5-year warrants to purchase up to 8% of the new equity (at prices determined by recovery of creditors' face value of their claims). The company plans to emerge from bankruptcy sometime in 2Q'18.
At 12/31/17, EV Energy had total debt of $605 mm, all classified as current. At the same time, it had an SEC value of reserves of $579 mm, on a reserve base of 813 bcfe (140 mmboe). It reported cash flows of only $31 mm for '17, yielding debt/cash flow ratios of almost 20:1, clearly unsustainable.
EV Energy utilizes the Successful Efforts method of accounting, which regular readers know often overstates book (and market) values after dramatic price declines. PP&E (book value of properties) was $1.4 B, and unitholders' equity was almost $700 mm under SE accounting. Under Full Cost accounting, or other valuation methods using current data, EV Energy would have had negative unitholders' equity, with no companies willing to refinance their debt. Hence, the filing occurred even with a positive GAAP book value.
Exco Resources - Exco filed bankruptcy back in January in a "freefall" filing, something we haven't seen in quite awhile. Unlike a pre-packaged ("pre-pack") filing where stakeholders have already agreed on the respective shares each class will get upon emergence from bankruptcy, no such agreement exists in a freefall. The last such filing, re Breitburn Energy Partners, just concluded this week with the company, re-named Maverick Natural Resources, emerging this week under control of their creditors (92.5%), led by EIG.
In Exco's case, the steps taken to forestall a filing were extensive. Still, upon filing they had $1.6 billion in debt against < $500 in SEC value of their reserves, with negative shareholders' equity of ($846) mm. They have obtained a DIP financing of $125 - 250 mm from an insider party, which is still being discussed and debated by the parties (since it becomes a priority claim, above all others).
Exco plans to market at least a portion of its assets for sale. Whether that leads to a successful restructuring of the company is uncertain, and it is still quite possible that the company just liquidates its assets in a series of what are known as 363 sales. There has not been a liquidation of a sizable company in Ch. 11 proceedings that I can recall.
Rex Energy - Although Rex has technically not filed for bankruptcy yet, they have published outlines of the current negotiating stances, and I expect those to be close enough for this discussion. As background, REXX has a PP&E book value (SE) of $884 mm and a working capital deficit and debt of $950 mm, with net equity of (-$53) mm. Cash flow was $25 mm for '17, so debt/cash flow was 38:1.
Under proposed settlement terms between the company and its noteholders: (1) the 2L noteholders would receive [$125-200] mm in New 8% Notes due 2022 plus 98% of the equity of new REXX; (2) the preferred and common equity holders would receive 2% of the new equity, with the split between them to be determined yet; (3) unsecured note holders would receive a % of the new equity shared with the 2L deficiency claims, if any, and (4) the 1L creditors would receive an amendment fee.
Separately, the noteholders and the 1L group (Angelo Gordon, a credit fund) are negotiating their respective rights. The 2L holders want to retain a $175 mm 2L position and have the company pay the 1L a $3 mm fee, while the 1L holders want no more than $125 mm for the 2L position and wish to receive a $9.5 mm fee.
This restructuring should not be a surprise to the market. REXX had already negotiated a PIK (pay in kind) 2L position with its creditors a couple of years ago, but its drilling results were not sufficiently successful to get their equity back to the point where the debt could be refinanced (as noted by the weak cash flow). Last year REXX brought in Angelo Gordon, a private equity credit fund, to take out its bank group, but obviously their emphasis has been to make sure their 1L position is protected, not to protect equity owners. [Note: This is what happens when you swim with the sharks].
Comstock Resources - Like REXX, Comstock has already restructured once, converting its then-existing debt into debt and a 70% equity stake. With its development program adding reserves, production and value, CRK decided to refi its existing debt and take other steps to restructure its balance sheet outside of bankruptcy court.
Comstock's plan involves the following: (1) the sale of producing properties in the EagleFord Shale to USG Energy for $125 mm (191 wells and 10k acres with 7.1 mmbo and 10.5 bcfg -or 9 mmboe, producing 2.5 kboepd); (2) a $75 mm equity investment by Jerry Jones for 10 mm common shares (i.e. $7.50/share); (3) a redemption of the company's existing 1L Secured Notes ($697 mm) for cash equal to 105.25% of face plus accrued interest; (4) an offer to redeem the company's convertible 2L Secure PIK Notes ($483 mm) in exchange for $152 mm in cash and 45.3 mm shares of common at $7.50/share; (5) entry into a new bank credit facility with BMO (Bank of Montreal) for $300 mm; (6) an expected offering of $600 mm in new senior unsecured notes; and (7) entry into a development JV with Jerry Jones in which CRK will receive a carried interest equal to 20% of drilling costs. Jones will end up with 14% ownership in CRK as a result of his investment.
The $7.50/share conversion price was an amended term, down from $12.50 initially. In response to the offering, and despite the investment by Jones, the stock price has now fallen to $5.40, showing the impact on common stock investors of the dilution in the various deals, which is almost 80%. A necessary ouch….
Northern Oil & Gas - Like REXX, Northern recently took out its bank group with a loan from TPG, a private equity credit fund. While common stock investors cheered what they perceived to be a friendlier face among its creditors, they did not focus on the fact that one of TPG's conditions was effectively a restructuring requirement for its existing 2020 notes by sometime in 2019. Rather than wait and risk not being able to do a refi at a later time, especially during the one-year window that would classify debt as current, NOG decided to do a restructuring now.
The founder of Lifetime Fitness had become NOG's chairman following an SEC action involving the former chairman, and as a significant shareholder was willing to participate in an equity offering if additional equity could be gained. Another significant stakeholder, the founder of Gold's Gym (and owner of Crescent Hotels) owned a big piece of NOG's debt and was willing to convert that debt and also participate in the new equity offering.
Therefore, NOG entered into agreements with $497 mm of its 8% Senior Notes due 2020 (71%) for $155 mm in common stock (39.3% of the total before the equity offering below) and $344 mm in new, Senior Secured 2L Notes due 2023. The Exchange Agreement was conditioned upon NOG also conducting an equity offering for $155 mm. Both equity infusions were originally targeted at a price of $3/share.
Seeing the dilution coming from these deals, whether it was common stock investors selling or short sellers anticipating lower prices, the stock price immediately started a descent, causing the offering prices to be reduced to $1.50/share, where the equity offering of $88 mm, plus $52 mm from control stakeholders, took place. NOG will be out with its proxy approving these transactions shortly, and has pointed out that without the equity, they would have limited liquidity and have to "explore other options."
At year-end 2017, NOG had book value of PP&E (FC) of $473 mm, long term debt of $979 mm and deficit shareholders' equity of (-$490) mm. Cash flow was roughly $80 mm in '17, so debt/cash flow was 12:1. SEC value was $754 mm, so even adding the difference between SEC and PP&E of $300 mm to equity would still leave an "adjusted equity" value of (-$200) mm, reinforcing the need for additional equity (not debt!) capital.
California Resources - CRC completed two transactions which, individually and/or collectively, could be considered as part of CRC's ongoing restructuring efforts. In the first transaction, CRC entered into a "JV" with an affiliate of Ares, a private equity firm, and in the second, CRC acquired properties in its Elk Hills Field from Chevron.
In the Ares transaction, CRC contributed its midstream assets in the Elk Hills Field (CA) to a new entity funded by Ares with $750 mm in cash. In return for that cash, Ares received preferred units in the JV entitling it to a 13.5% distribution return, with the first 3 years being payable 9.5% in cash and up to 4.0% deferred and, and if deferred, payable during the 2 year period thereafter including interest at 13.5%. Any cash remaining after payment of preferred distributions will be split 95.25% to CRC and 4.75% to Ares.
CRC has the right to redeem such preferred units at the end of 5 years or, if extended at the end of 7.5 years. If the units have not been redeemed at the end of 7.5 years, Ares can put the units to CRC or cause CRC to sell the assets to a 3rd party.
The economic impact of this transaction is akin to 5 or 7.5-year debt, which is how most analysts will treat it. However, for accounting purposes, CRC will treat the funds as mezzanine equity, thus allowing it to avoid any total leverage issues with (the consent of) its senior creditors. CRC will continue to consolidate the assets of the JV in its financials, backing out Ares share as "noncontrolling interests" in both the balance sheet and income statement. The funds to pay distributions to Ares will come from purchases of electricity, steam and gas processing by the JV from CRC in exchange for monthly capacity payments, costs which will increase LOE and decrease property values for CRC (because it was essentially paying those to itself, or not at all, prior to the Ares deal).
In addition, Ares purchased $50 mm in CRC common stock at a purchase price of $21.33/share. Approximately $300 mm of the transactions' proceeds were used to pay down existing debt under its 2014 credit agreement, while the other $500 mm became available for general corporate use.
On April 9, CRC agreed to purchase the remaining interests in the Elk Hills Field from Chevron for $460 mm plus 2.85 mm CRC shares, or roughly $520 mm total. When closed, this will bring CRC's ownership in the field to 100%. The properties produced approximately 13.3 kboepd net to Chevron in 2017, with 46% oil and 9% ngls. The properties will add approximately 64 mmboe of proved reserves to CRC, 75% of which are proved developed reserves. Also included is CVX's share (20-22%) of the 47,000 acres, roughly 75 square miles (the size of Washington, DC), about 20 miles from Bakersfield in the San Joaquin Basin.
While I do not believe that the metrics often cited in the media are bona fide valuations, I will note that the purchase amounts to a price of roughly $40,000/flowing barrel, definitely on the high side for assets which are 45% natural gas. While oil production often sells for prices quoted between $30-50,000/bo in most areas, natural gas production often sells for $3-4,000/mcfg; using these parameters would have yielded a price of $245 mm for the oil (@ $40,000/bo), $21 mm for the natural gas (@ $3,500/mcf) and around $30 mm for the ngls (@ $25,000/boe). That might leave the 47,000 net acres valued at $4,600/acre. Or, if you prefer, you can make up your own #s as long as they add to $520 mm (including the $60 mm equity investment), at least until the real allocations show up in CRC's financials.
The net economic impact of these 2 transactions to CRC on a combined basis is an increase of $750 in debt/mezzanine equity; an offset (amount unknown) to the value of properties due to increased costs from the JV; a reduction in 1L bank debt of roughly $300 mm, an increase in PP&E of $520 mm for the CVX purchase (of which $60 mm goes to equity and $460 mm is cash supplied from the Ares deal). The net net is an increase in debt/mezzanine equity, but also an increase in cash flow of $40 mm/yr., or $50-60 mm/yr. when projected cost savings are taken into account.
Denbury - Denbury completed a sizable restructuring of its debt in transactions in December and January. In two exchange transactions on a combined basis, it exchanged $11.6 mm in 2021 Notes, $458.3 mm in 2022 Notes and $314.3 mm in 2023 Notes for (1) $455.7 mm in New 9 ¼% 2L Notes, (2) $59.4 mm in New 5% Convertible Senior Notes due 2023, and (3) $84.7 mm in new 3 ½% Convertible Senior Notes due 2024. On the closing date, DNR reduced its debt by $184 mm (a discount of roughly 12%), which could rise to $269 mm and $329 mm on conversion of its 2023 and 2024 convertible notes, respectively. The convertible notes are convertible at $3.55 and $2.20, respectively, and the 2024 notes convert automatically if the stock trades at or above $2.65 for 10 out of 15 trading days (which could be soon), while the 2023 notes automatically convert if the stock trades at $3.55 for 10 of 15 trading days. Approximately 80 mm shares could be issued upon conversion, or 20% of existing shares (or a dilution of 17% to existing holders).
Sanchez Energy - While not a traditional form of restructuring, Sanchez Energy sold $500 mm of 7.25% 1L Senior Secured Notes due 2023, using the proceeds to pay down most of its existing bank credit facility and to provide for future development costs. While common stock investors may rejoice at this move ("any cash is good cash"), a higher interest rate comes with the raise. Avoiding any risk of borrowing base reductions seemed attractive to SN, so ensuring that it would have funds to complete its program in future years was an added bonus. Of course, now the company must perform, likely better than results to date, or the funds merely add onto SN's existing and (now) onerous debt pile.
Jones Energy - Like SN, JONE saw an opportunity to raise 1L capital to pay off bank debt, raising $450 mm in 9.25% Senior Secured 1L Notes due 2023. Like SN, too, its task will be to ensure that its drilling program is more successful going forward, because its existing debt is onerous as well. Of course, to buyers of the 1L in both SN and JONE, the priority and security of their 1L position puts them at the top of the debt pyramid, subordinating all other debt to their new positions. Still, the interest rates charged indicate the risk that buyers see even with that protection.
M&A
High Point Resources - HPR, formerly Bill Barrett Oil & Gas, was recently formed by the merger of BBG with 5th Creek Energy, a portfolio company of Natural Gas Partners, a private equity firm. Under terms of the agreement, NGP received 100 mm shares of HPR, or nearly 50% of the 211 shares now outstanding.
While final numbers will not be available until 1Q'18 financials are filed, pro forma estimates are that HPR will have PP&E of $1.6 billion and $2.0 billion in total assets, with net debt of $274 mm and shareholders' equity of $1.2 billion, or roughly $6/share. The shares closed today (4/13) at $5.56.
HPR will own 151,000 net acres in the DJ Basin with almost 3,000 estimated horizontal drilling locations. Almost 2/3 of the value of 5th Creek was in acreage, with roughly $200 mm attributable to proved reserves and $400 mm ($6,500/acre) attributable to acreage. Pro forma reserves at 12/31/16 (the last year available when the proxy was prepared) were 154 mmboe, of which 126 mmboe were PD reserves. SEC value at the same date was $608 mm. Production estimates for 1Q'18 are 2.2 mmboe.
W&T Offshore - WTI completed 2 significant transactions in 1Q'18: (1) it acquired an interest in the Heidelberg Field offshore GOM from Cobalt International in a bankruptcy auction for $31 mm, for properties producing 3,000 boepd net; and (2) it entered into a drilling JV with an investor group, in which the group may commit up to $420 mm to drill 14 prospects, with an initial commitment of $231 mm. In the JV, WTI will generally pay 20% of well costs and receive 30% of net revenues, while the investor group will pay 80% to receive 70%. After the investor group receives a certain IRR, it will receive 61.6% and WTI 38.4% of net revenues on a well-by-well basis. A nice deal for WTI to ensure that it has enough risk diversity to drill many more prospects than it could alone.
Gastar - GST sold its interest in the West Hunton Edmond Lime Unit for $98 mm in cash at closing. Funds have been used to pay suspended preferred stock dividends, with the remainder going to fund GST's '18 STACK development program.
Contango Oil & Gas - MCF sold EagleFord properties with 1,050 net acres for $21 mm, a price of $20,000/net acre. Proceeds will help fund its Delaware drilling program.
Legacy Reserves - Legacy Reserves, LP has proposed a merger with a new company, Legacy Reserves, Inc., that would convert the company from an MLP to a corporation. Existing common units would be converted into shares of the new company, preferred units would be converted into new common shares at ratios of 1.962/1.722 per preferred (LGCYO and LGCYP) units, respectively. The general partner interest would be purchased from its owners for $3 mm in cash. Existing unsecured debt holders would be asked to amend their Indenture to change the definition of 'Change of Control" to exclude the transaction, and the remaining 1L and GSO 2L debt would be assumed by the new company. Legacy plans to vote the unsecured notes repurchased by it in favor of the amendment, asserting that the notes are outstanding for legal purposes despite being treated as cancelled for accounting and tax purposes.
Preferred unitholders will end up with roughly 17 mm common units of new Legacy, out of 95.3 mm shares (approximately 18%). While other forms of the transaction might have resulted in different sharing, particularly if liquidation values ($25/share) had been used for preferred unitholders, LGCY is choosing the merger alternative to trigger its 'change of control's provisions and the resulting sharing ratios proposed. By structuring the transaction as a COC, LGCY also triggers its compensation arrangements for employees, so effectively avoids paying preferred holders $42 mm in suspended distributions while paying its employees $27 mm in compensation instead … to avoid a distressed financial result that the employees were largely responsible for.
Of course, this may be merely the first in a series of restructuring steps for LGCY. As Paul Horne, their CEO, noted in a letter to their employees, "While this simplifies our capital structure, I want to be clear, that this transaction does not reduce our debt outstanding. However, we believe it improves our opportunity to do just that." Reduce their debt, not merely extend their debt, which of course is what most common holders pray for. With debt and working capital deficit of $1.4 billion against an SEC value of $1.17 billion and negative unitholders/shareholders' equity of (-$272) mm, LGCY has only impacted preferred unitholders so far; further dilution to both is likely still ahead.
I termed the whole deal "disgusting" in one of my comments on another article, and I stand by that. This is the most egregious abuse of a general partner's authority I have seen since the raft of similar deals in the late 1980's and early 1990's. While readers may only be concerned with their own economic positions, I believe that integrity and transparency are key attributes of management, and on those measures and my own ethical system, LGCY ranks as a 1 on a ranking of 1 to 10, with 1 being the lowest. All I can say to readers who may feel like they were mistaken or misled about the nature of their investment, and lost money as I result, is that I am sorry for your loss.
For those who have inquired: A class action suit has been filed in the Court of Chancery of the State of Delaware. The suit, Jeffry L. Doppelt v. Legacy Reserves, LP and Legacy Reserves GP and Legacy Reserves, Inc. Case No. 2018-0225, seeks an injunction to stop the transaction before the merger is completed, and an expedited discovery process was ordered by the court this week.
Miscellaneous
Resolute Energy - REN attracted 2 activist investors, Monarch Capital and Fir Tree. Monarch issued a proxy proposing its own slate of directors, with a May meeting date set. Fir Tree announced that it has acquired a 9% stake as well.
Eclipse Resources - After closing on acquisitions totaling $100 mm in stock from EnCap affiliates (who now own 80% of ECR), ECR announced that its Board will conduct a strategic review of alternatives, which may include mergers, joint ventures, etc. A likely consideration may be for a midstream venture, with ECR retaining its acreage, including what is part of its recent Sequel $320 mm JV. No time frame was established.
Approach Resources - Wilks Bros. just filed an Sch. 13 filing explaining that it plans to ask management to waive the current cap on its ownership of 48.61% (it currently owns 47.96% of the common stock and $60 mm of AREX's 7% Senior Secured Notes due 2021).
Banking
Time for the Spring Redeterminations once again! While readers may think that banks would be loosening up on their pricing decks and the borrowing bases that arise from them, that does not appear to be the case.
Macquarie Capital does a quarterly survey of 31 participating banks to see what their pricing decks provide for the current period. The chart below shows the average base case figures, which start with NYMEX oil at $51 and Henry Hub at $2.75, largely leaving those figures unchanged through 2022. In a sensitivity case (lower prices) the banks the prices are $42 for oil and $2.24 for natural gas on average. For companies that limit their loans to proved developed reserves only, the maximum advance rate remains at roughly 60%. What this is all says to me is that absent changes from those figures, borrowing bases may remain the same but are not likely to see big moves up; banks remain very cautious in light of past over-advance situations, and will let equity (or other credit) take its rightful place back in the capital structure of companies going forward.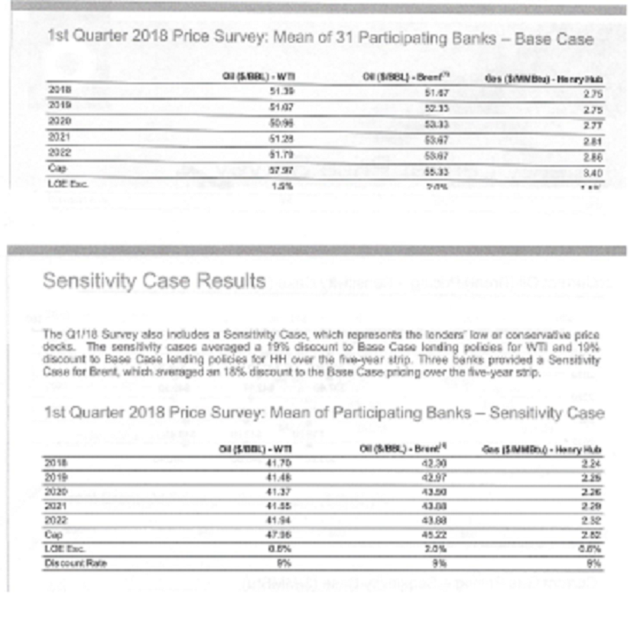 2017 Year-end Stats
I recently compiled a list of statistics, mostly reserves, credit and equity analytical metrics, which I am including in the chart below. For comparative purposes, I am including all of the companies compiled, not just the BOTB Club, so that readers can compare and contrast their own positions against other companies. Each reader may interpret the data in a different way from another, but the data can be powerful in establishing a baseline to use to establish relative value and performance. After all, something like 90% of a company's results in '18 will depend more on past results than on current operations, a fact which is little understood by many investors.
What I see in the chart is that BOTB Club companies were much more likely to have negative FCF than other companies, despite worse financial conditions to begin with. Only MCEP and WTI had positive FCF in '17, largely because their liquidity would not allow them to invest more CAPEX.
The lack of investment shows up for MCEP and WTI in the fact that reserves remained flat year-over-year, while REN, EPE and JONE all posted negative reserve changes. CRC, CHK and DNR also produced reserve increases of 12% or less, while ECR, SN, GST, AXAS and NOG posted reserve increases of 40% or more. DNR, MCEP, NOG and CRC had the largest % of oil reserves within the Club. SEC reserve values were up across the board as higher prices took effect, with SN, ECR, AXAS, LGCY and GST all with gains in excess of 100%.
A major difference between Club members and others relates to debt, which remains far higher for Club members. Almost 2/3 of Club members have debt in excess of SEC values, while only 1 of 36 Sweet Crude Club members does. The numbers highlighted in red in that column tell part of the story.
Another indication of elevated debt levels is the last column, representing debt/cash flow. While AXAS, MCF, REN and ECR all sport levels of less than 4:1 on the basis of 4Q'17 levels annualized, most of the Sweet Crude Club members are at more "normal" levels of < 2:1. BOTB Club members have much more work to do.
With Total Enterprise Values (TEV) scheduled to head down to levels more like 4:1 in '18, many companies need help to get there, both in the Club and the Sweet Crude Club. Because capital is more available to non-Club members, the need for additional equity remains acute, although debt maturities do not arise until the 2020+ time frame. Plenty of time for traders to act and react, but a caution for longer-term investors despite recent oil price increases (which in some companies may be offset by declines in natural gas prices). The lack of both equity (preferably) and debt availability must be resolved before maturities become more of an issue, as the continuing (slower) pace of bankruptcies attests. Cash flows and EBITDA remain still too weak to support historical valuations.
As a final point, while this article focuses on the BOTB Club, the intent is to show that many of these companies are still very distressed, and that there are companies outside the group that may be healthier and more appropriate investment candidates. Of course, some readers are attracted to the most leveraged, most distressed companies in the hope that they will benefit more in certain scenarios. To each their own, as long as appropriate risk parameters, position size, etc., are utilized … and as my saying goes, "Protection of capital is Job #1." That doesn't mean take no risk, but it does mean to be smart about the risks you do take.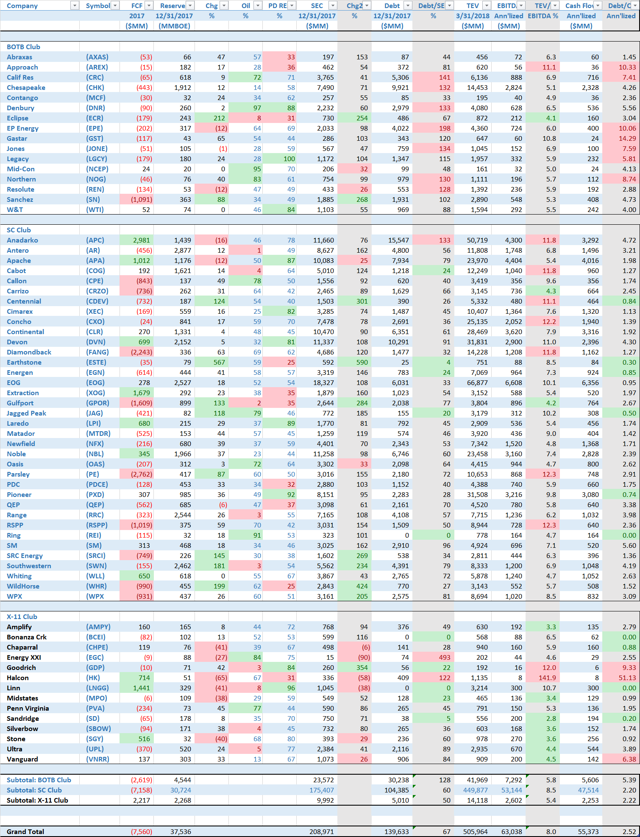 Macro Environment
If you looked back at my articles from January, "18+ Things to Watch in 2018", (Part 1) and (Part 2), you would see many of the things I suggested readers look at in 2018. I am not sure how much of that I would change heading into 2Q. As the title to this article indicates, we have been in a "Whack-A-Mole," volatile trading environment, actually for most of the past 2-3 years, so it is important to try to avoid the inevitable stock price declines if you can and use uptrending stocks with good volume to ride. Easier said than done, but the key is not to let a trade turn into a big losing "investment," which is the complaint I see and hear most often. FOMO, or Fear Of Missing Out, is a powerful motivating force that often runs counter to positive investment performance.
The conventional wisdom is that oil prices rise as geopolitical risk increases, but investment professionals sell when the first bullets (or missiles?) fly. Will that happen now? I certainly wouldn't rule it out, given that trading long positions in crude oil futures are at all time highs; if sabre-rattling declines and diplomacy takes over, oil prices may well retrace part of their YTD increase.
The bull argument is well stated by the Saudis; (1) the world has under-invested in energy assets since 2014, (2) demand is increasing around the globe; (3) Venezuelan and other non-OPEC declines will offset US shale increases; (4) US shale will not increase as fast as some think; etc. etc. It is a mantra that has been picked up by many articles; maybe they are right.
On the other hand, I think it is interesting that (1) since 2014 costs have decreased by roughly 50% and project time frames have been cut by 50% since 2014, something that OPEC does not want the markets to focus on; (2) the "goal" that OPEC set of achieving output equal to the 5-year moving average is simply a joke, one that OPEC will undoubtedly shift at its upcoming meeting (by their measure, all that is necessary to achieve the 5-year average is to keep over-producing until the average catches up); (3) supplies may be balanced sometime this year, maybe by now, but inventory levels will not be back to "normal" until later this year or in 2019 (which is why OPEC needs to talk about extensions to its "cuts"; and (4) the US shale activity has not only proven resilient but much more aggressive and dynamic than the markets expected. Does all this mean that the annual peak oil price has been reached in 1Q'18 just as it was in 1Q'17? No, it just means that patience is required … as if the declines noted in the charts above weren't indication enough. All the fundamental analysis in the world cannot fight with sentiment in the short term, so volume and price movements are the key to watch.
Natural gas is the lesser noticed crater, as it has plunged from $3 to $2.75. With companies' existing cost structures, that is very damaging, and while storage inventories are as low as they have been in many years, the dynamic of storage itself has changed dramatically since the introduction of shale plays. Lack of stored natural gas used to mean an expected lack of future production, while today the future production is, unfortunately, virtually unlimited in most investment time frames, especially with new infrastructure coming online in 2H'18 and in '19. Associated Permian volumes, even with short-term bottlenecks, will be growing in the long term, much faster than anyone anticipated, and the infrastructure will be built to accommodate. In the meantime, think DUCs for '18 if production is constrained, with expanded growth following sometime in '19.
What about company valuations, I am often asked? Why are oil prices up more than 100% and my stocks are down? The answer to that one is relatively easy for me; it's because the stock market never reflected $30 oil … or $40 oil … or even $50 oil. The stock market is still working its way down from valuations based on $100 oil, and the equilibrium point has not been reached. How do I know that? Well, partly because prices have continued to go down (at least into the end of 1Q), and the "normal" levels of valuations/reserves, debt/cash flow and TEV/EBITDA are still adjusting. Negative FCF, the "curse words" of the investment community, still exist, because institutional investors do not seem to realize that breakevens at the corporate level from investments made in 2014 are not the same as current economics, and it will take another 2-3 years for prior "lost capital" to be purged from company balance sheets. That is why the selloff in January began just as companies started reporting earnings and guidance, which according to many institutional investors was not "sufficient." I would not be surprised to see another such reaction in May when those same investors realize that hedging, natural gas prices and other factors leave companies short of the mark that such investors believe should be achievable … whether it is or not. So rally hard into May, then watch out for the mallet!
Conclusions
With 3 more BOTB Club members on the Ch. 11 chopping block this quarter, we close in on a 50% loss of members in 2 ½ years. I don't think these will be the last companies to go bankrupt; certainly most of these companies will need some restructuring to survive, but the day(s) of reckoning do not arrive until 2020 for the most part. While I can put all kinds of numbers together on the fundamentals to help investors select possible investment candidates, the E&P industry requires patience and the willingness to accept significant volatility risk. For many, the swings are too much, but with a well-organized game plan E&P can be a great place to invest and/or trade. Hopefully the 2Q will provide such a positive environment, and successful trading for those who stick to a plan.
If you've gotten this far in the article, you may still be wondering whether other factors will enter into the market in 2Q. Returning to my homage to Bill Murray and to Gilda Radnor, his frequent co-star on SNL, as her character Rosanne Rosannadanna might say, "Well, Jane (Curtin), it just goes to show you, if it ain't one thing, it's another." For this market, that is very likely to be true.
Disclosure: I/we have no positions in any stocks mentioned, and no plans to initiate any positions within the next 72 hours. I wrote this article myself, and it expresses my own opinions. I am not receiving compensation for it (other than from Seeking Alpha). I have no business relationship with any company whose stock is mentioned in this article.
Editor's Note: This article covers one or more microcap stocks. Please be aware of the risks associated with these stocks.