Battle Royale games have gained significant traction, generate massive revenues for publishers
The video games industry has grown rapidly over last years, with increasing popularity in such areas as esports and gaming media content. Such games as Blizzard's (ATVI) Overwatch launched their own leagues, similar to the traditional sports industry, and the audience is huge for this kind of entertainment. For instance, during its first week in January, the Overwatch league attracted about 10 million viewers, with 425,000 concurrent Twitch viewers on an opening day.
Recently, the battle royale games, like Fortnite or Player Unknown's Battlegrounds, have become especially popular, with millions of active users playing the games every month. Hence, Fortnite has 45 million global players, with a peak of 3.4 million concurrent players, while PUBG has 33 million owners.
Why is this important? Firstly, because the games generate about $230 million in monthly sales for publishers, which shows how valuable the battle royale trend is. The main takeaway, however, is the fact that streaming services, such as Amazon's (NASDAQ:AMZN) Twitch, experience ever-increasing popularity, which makes them more valuable as sources of revenue.
For instance, a research by Newzoo demonstrates Fortnite and PUBG combined account for about 22% of viewership hours on Twitch and Youtube Gaming. It is claimed the primary reason for this success is the way how battle royale titles combine specific features of survival and shooter games, creating "endless replayability options," thus making it "fun-to-play and fun-to-watch." Fortnite seems to be especially successful in this case, as the game quickly became the most played battle royale game.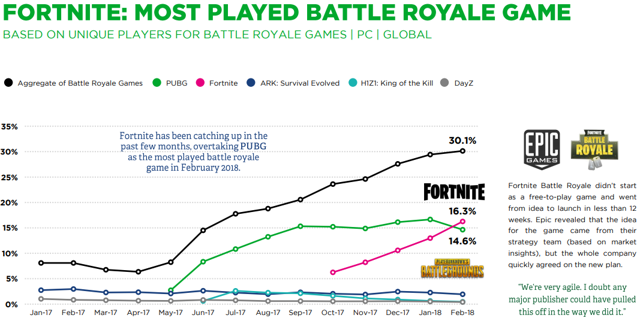 (Source: Newzoo)
As a result, more users join Twitch and subscribe to the premium service, Twitch Prime, which means the platform will generate higher ad revenue and the proceeds from the subscription service will increase. All of this creates a solid opportunity for Amazon, which I am going to explain below.
Thanks to a smart strategy, Twitch Prime audience has increased by 70% since Fortnite became popular
Twitch allows people to stream their gameplay to a broad audience, and the service is growing at a rapid pace. For instance, Twitch increased its streamer base by hefty 197% in 2017, and it now has more than 100 million unique monthly users, as of February 2018. Considering Amazon bought Twitch for about $970 million in 2014, the company paid less than $10 per user, which means the acquisition was apparently a success. I expect the success will follow Amazon and Twitch in the coming years.
Recently, the platform has built a viable strategy of promoting its Prime membership in a partnership with Fortnite's publisher Epic Games. Prime membership allows users to use extra features on Twitch (like ad-free viewing), but these advantages had not entirely justified the price (99$ a year in the U.S.) paid for the subscription (although, one could still use all the benefits of Prime in Amazon online store). To address this, Twitch introduced a process of giving in-game content, like outfits or emotes, to subscribers every month, and the latest partnership with Epic Games' Fortnite seems to work exceptionally well.
Twitch noticed a huge influx in subscribers when the company partnered with Epic Games for exclusive in-game Fortnite loot. This included a glider, emotes for Twitch chat and a limited-time skin. Offering players something they could only get through a Twitch Prime subscription helped grow people's recognition of the platform — and gave them a reason to join.
This was recognized by Twitch management - Erin Wayne, a community manager at Twitch, mentioned during the annual meeting that Twitch Prime's social media "grew by approximately 70 percent since Fortnite became a thing," and most streamers noticed an improved growth around their own channels, even those "who aren't just streaming Fortnite." While there are cases where the game was a primary reason for a channel to grow exponentially, (for instance, Tyler "Ninja" Blevins setting a new record while streaming with Drake) the whole platform sees a substantial growth in users, which is a big win for Twitch and Amazon. It is stated by Polygon:
Fortnite is a gateway for Twitch.
Although Twitch does not disclose the exact number of users who have joined the Prime service over last year, some statistics can still be estimated. In September 2017, Amazon Prime had about 90 million subscribers. Let's assume at least 10% of the members were Twitch Prime users, which would correspond to about 9-10 million people, also representing about 10% of monthly active users on Twitch. Therefore, a 70% increase in Prime users due to the Fortnite boom could potentially bring about 6-7 million people to the service, meaning Amazon could gain $500-600 million in subscription revenue, based on an average annual price of 88$. This is a solid number which will continue to grow along with the gaming industry.
Moreover, the influx of Twitch Prime users means the number of Amazon Prime users is growing as well, which creates a valuable synergy - Fortnite is a gateway for Twitch, and Twitch is a gateway for Amazon Prime. I find this point especially important, since the positive trends in the video game industry will be beneficial for Amazon as an e-commerce and cloud company. If Twitch continues to build partnerships in the exponentially growing esports area, Amazon's revenue will be boosted significantly by the increase in the number of consumers locked by the Prime subscription.
The gaming business of Amazon, the owner of Twitch, is in good shape and will become a valuable source of revenue
Overall, several revenue segments of Amazon can gain from the gaming industry:
Twitch revenue from advertising;
Prime subscription revenue;
Amazon's e-commerce revenue;
Cloud sales.
As regards the cloud in connection to the field of gaming, I discussed the topic in detail in my previous article on Amazon: Amazon As A Gaming Company. In short, the corporation has a vast ecosystem set for gaming, which makes the AWS cloud especially attractive for the clients from the video game industry. This ecosystem includes the platform for selling digital and physical content, AWS cloud solution, Lumberyard game engine and streaming service Twitch.
To sum up, it is seen that Amazon continues to push into the gaming market. Twitch's strategy of attracting users to the premium subscription service, Twitch Prime, seems to work more than well, in light of the recent events. Hence, a 70% increase in Prime audience due to a deal with Epic Games is a total win for the platform, which leads to a win for Amazon itself. My guesstimate is that Amazon and Twitch could potentially earn about $500 million from the new subscribers since Fortnite was launched, which is a decent number, considering additional advertising revenue is not taken into account here. It can be expected the game will not be the only title that will create such a level of attention, which is why I am optimistic about the future of Twitch as a source of revenue for the parent company.
As for AMZN stock, my opinion remains similar to the one expressed in the previous article: valuation multiples are enormous and show the signs of overvaluation. At the same time, this does not mean the stock will plummet - Amazon tries to be involved in so many industries that it is almost impossible to assess which one will drive the profits in 5-10 years. Therefore, I still think it is wise to monitor the company's efforts on the gaming front, as this industry can become a solid source of revenue for Amazon in the future.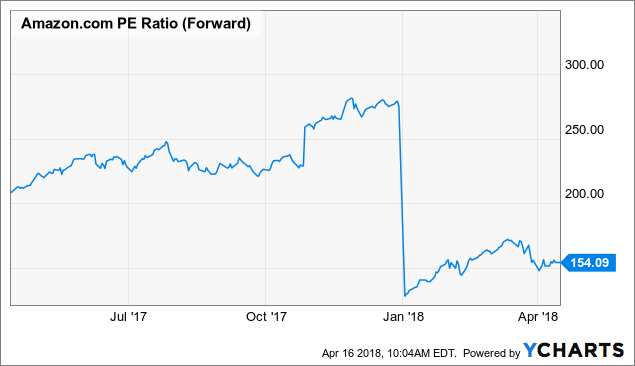 My detailed analyses of Amazon, Activision, and other gaming and tech companies can be found on my profile page. If you like my article and would like to stay up to date on the next one, you can click the "Follow" button next to my profile.