I have not written about Cirrus Logic (CRUS) for a very long time. Looking at my article archives, the last time I wrote about CRUS was back in 2013. Back then I said:
Bottom Line

There is absolutely nothing I don't like about this company. As such I reiterate my $56 a share target price for the stock over the next 12 months, or until such time that I see something I don't like that makes me change my mind.

With a forward P/E of about 7, the absolute worst that can happen owning this stock is that you will not make money.
To be honest, the stock did not play out as I hoped for back then. Nevertheless I was correct in that it was a very cheap stock, and that it was almost impossible to lose money but owning it.
CRUS's fortunes are tied to the smartphone sector and especially to Apple (AAPL). In fact, both stocks have gone up in tandem over the years. However at times their fortunes have diverged.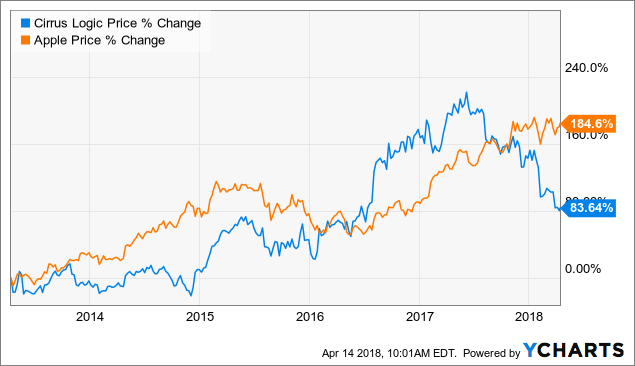 The truth is that the company's business tends to be cyclical and seasonal. And while there are ups and downs, overall the long term prospects are intact and the prospects look good. In fact CRUS is a perfect stock to play up and down depending on what happens to the smartphone sector.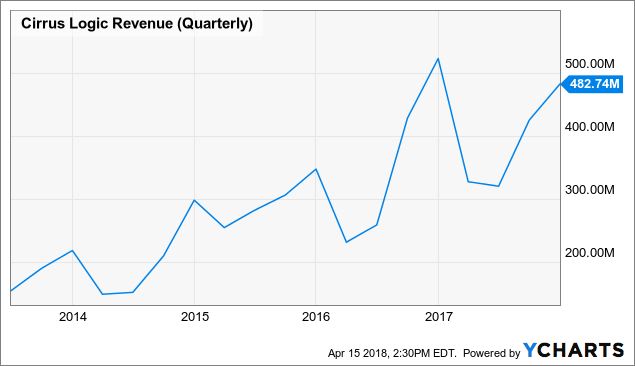 Now the reason why I am spotlighting CRUS once more, is that its fundamentals are once more at levels where I think investors could benefit.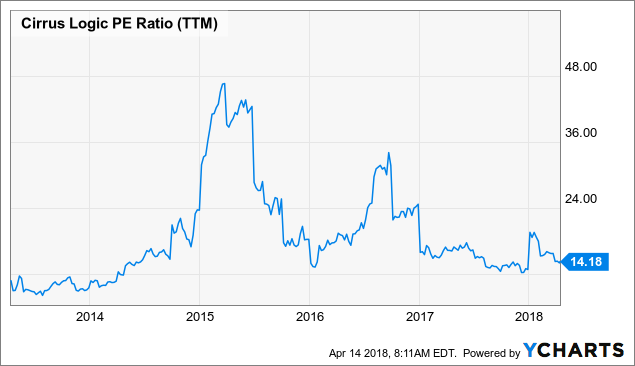 For example, the trailing P/E ratio is once again way below its 5 year average, and below the average of the S&P 500 Index (SPY) of about 25, and 17 forward.
While analysts are not always right, the average consensus usually is. So if analysts are correct, the forward 12 months P/E is about 10 (data from Yahoo).
However future analyst EPS estimates have been trending down over the past several quarters. And in analysts are right again, EPS will be lower for 2019.

As you can see in the table above, 90 days ago analysts were modeling $4.86 EPS for 2018, and the current estimate is $4.36. Furthermore, EPS estimates are even lower for 2019. This is probably the reason why the stock has correct by so much over the past several months.
However anything could happen over the next 12-24 months, so I would not take these estimates at face value for the time being.
Another reason I like the company is the company's spotless balance sheet. The company has $680M in current assets, and about $280M in total liabilities.
As such, the company has been able to use a portion of its cash flow to repurchase shares. It recently authorized an additional $200M for the repurchase of shares, in additional to the $60M remaining as per the board's previous repurchase authorization program back in October 2015.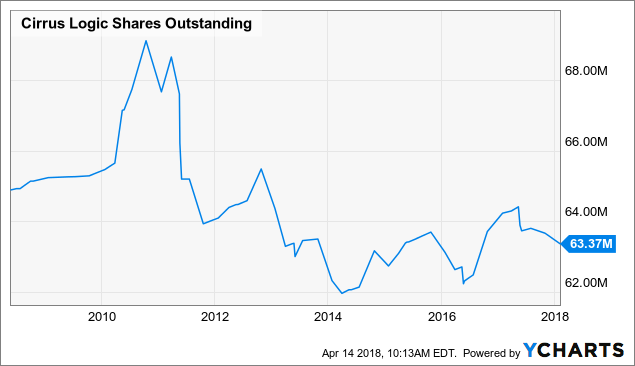 While the company's float has not been reduced as much as APPL's, nevertheless it's not increasing, and has been reduced over time.
Growth has been consistent over the years.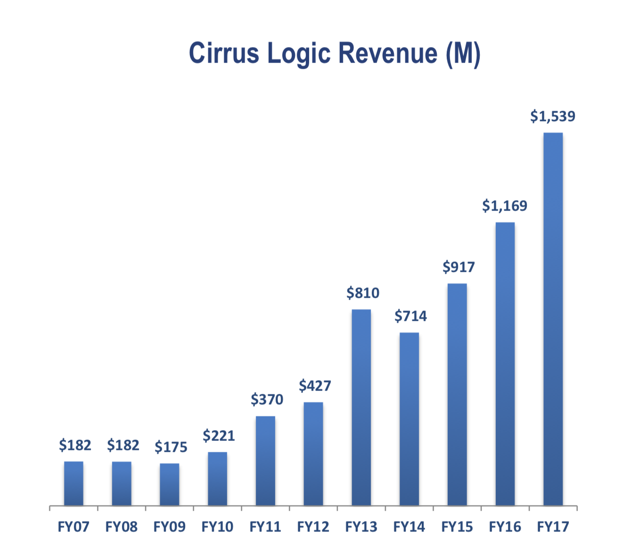 Source
Please note the company has been growing at CAGR of 24% over the past decade. While past performance is no guaranty of future results, I see no reason for growth not to continue in a similar pattern over the next decade. Also note revenue growth for FY17 revenue up 32% Y/Y.
So should you buy Cirrus Logic at the moment?
Not yet. The reason has to do with technicals.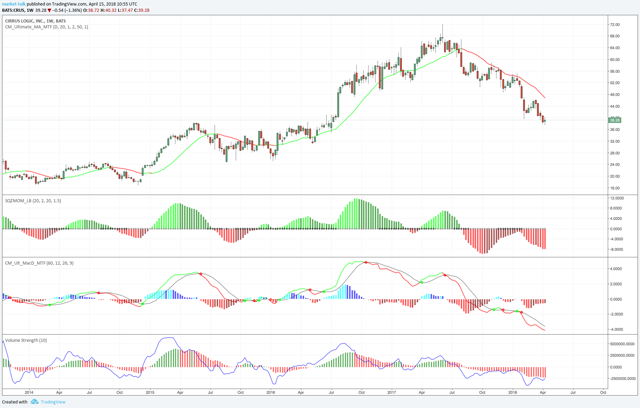 The trend is still down. The 52wk high for CRUS is $71.97, and the low is $37.47. In other words we are very close to the 52wk lows. It might just be that the stock will not fall much further.
But on the other hand, since analysts see further EPS downside over the next 24 months, there are not many reasons to buy the stock at the moment. So there is a chance that the stock might correct more than we could imagine.
Also worth noting is that the average 12 month forward price target is $55, or about 40% higher than current levels. So despite the fact analysts see downward pressure on EPS in 2019, it does not mean that the stock cannot not rise. I mean how much lower can a stock fall when the forward P/E is 10?
So the way I would play CRUS is to follow what the charts say. Use your favorite technical indicator, but on a weekly scale. Buy it once you see a bullish pattern of any kind. That will probably be the absolute bottom.
Bottom lime
CRUS's is tied to the fate of the smartphone sector, and to that of Apple.
Currently it is trading at a very low multiple, which history has shown are good entry levels.
The company has a spotless balance sheet, and is also repurchasing shares.
However EPS estimates have come down over the past several months, and analysts think EPS will be even lower next year.
As such there are not many reason to buy the stock at the current moment, unless it becomes so cheap, that it will be worth holding shares despite a lower forward EPS.
So put CRUS on your radar, and use your favorite technical indicator on a weekly scale for entry points. If we are lucky, the market might get tired and push shares much more than we could imagine.
Disclosure: I/we have no positions in any stocks mentioned, and no plans to initiate any positions within the next 72 hours.
I wrote this article myself, and it expresses my own opinions. I am not receiving compensation for it (other than from Seeking Alpha). I have no business relationship with any company whose stock is mentioned in this article.