Since 2014, Harley-Davidson (NYSE:HOG) has been struggling to increase sales amidst changing consumer preferences and increasing competition from lower-priced, foreign brands. Management's effort to increase shareholder value by expanding within international markets has been offset by lagging sales, increasing debt, low margins, and increasing credit risk. I believe Harley-Davidson is a good short candidate with a 12-month price target of $38.00.
Company Overview
Harley-Davidson, founded in 1903, is a motorcycle company that operates in two different business segments. The Harley-Davidson Motorcycle Company (HDMC) overlooks the design, sales, and manufacturing operations of the company, and the Harley-Davidson Financial Services (HDFS) provides financing for both wholesale dealers and retail customers. According to IBISWorld, Harley-Davidson controls 49.3% of the motorcycle, bike, and parts manufacturing industry. As of April 10th, shares are trading at $42.38 with a P/E ratio (TTM) of 13.92.
Financial Performance
Harley-Davidson has been popular among Caucasian male baby boomers aged 40 and older. One of the biggest challenges for the company has been the aging baby boomers and their gradual shift away from motorcycle riding. Moreover, Harley-Davidson's conspicuous and loud motorcycles have failed to gain popularity with other demographics, including minorities, females, and the millennial generation. In order to increase revenue and appeal to a broader audience, Harley-Davidson has been expanding internationally and investing in the development of its first electric motorcycle under the LiveWire Project.
So far, however, the positive impact of these initiatives has been doubtful. Compared to 2016, U.S. and international retail sales decreased by 8.5% and 3.9%, respectively, leading to an overall decrease in retail sales by 6.7% in 2017. Furthermore, total shipment decreased by 7.9% and operating income of the HDMC segment (which accounts for about 90% of the company's total revenue) decreased by 20.4% during the same time period. Since 2014, Harley-Davidson has been struggling to grow revenue and increase its market share; between 2014 and 2017, revenue and EBITDA decreased by 9% and 24%, respectively.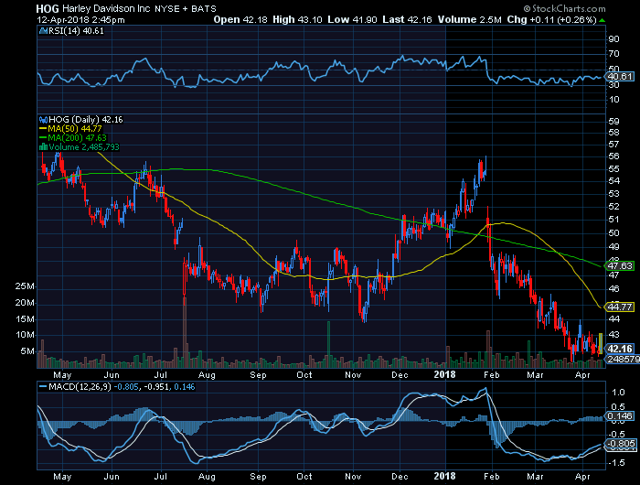 Source: StockCharts
International Sales
Despite the recent slump in international sales, the biggest catalyst for the company still lies in its ability to successfully expand into markets outside of the U.S. Between 2016 and 2017, Harley-Davidson added 97 new international dealers, with additional plans to add a total of 150 to 200 new dealers from 2016 through 2020. Although the increased exposure of Harley-Davidson from new dealers may lead to an increase in shipment and top-line growth, recent trends have shown that this has been an ineffective strategy.
Harley-Davidson's international dealers, which include those in Latin America, Asia, Canada, and Europe/Middle East/Africa (EMEA), experienced a decrease in retail sales between 2016 and 2017. Harley-Davidson also faces difficulty in the next few years from macroeconomic conditions. As the Federal Reserve Bank raises interest rates, it will become more expensive for domestic consumers to borrow money. Furthermore, currency headwinds from the strengthening dollar will negatively affect foreign revenue.
International Manufacturing
Harley-Davidson competes with foreign brands like Suzuki, Kawasaki, and BRP. These manufacturers take advantage of cheap labor that is available in developing countries by opening up new manufacturing plants there. However, Harley-Davidson has been hesitant to engage in these practices, mainly due to its iconic, Made-in-America image. Although some of its internationally marketed motorcycles are manufactured at facilities in Brazil, India, and up until recently, Australia, Harley-Davidson motorcycles sold in the U.S. are manufactured domestically. Without the ability to decrease manufacturing costs, the company has resorted to increasing prices in order to obtain better margins. Unless Harley-Davidson successfully addresses this issue by expanding manufacturing operations into developing countries, the company will continue experiencing decreasing margins.
Risk From Company-Dealer Relationship
Due to Harley-Davidson's operation in two different business segments, the company suffers considerable risk from potential shortcomings of its dealers. Harley-Davidson not only depends on its dealers for the sale of its motorcycles but it also depends on them to do it successfully and fulfill their debt obligations to Harley-Davidson Financial Services. The biggest risk lies in the North American market, which is the only region that receives financing from Harley-Davidson Financial Services. Although dealers outside of North America receive financing from third-party financial services companies, their inability to meet sales targets and fulfill its debt obligations can hurt both bottom-line growth and Harley-Davidson's relationship with these companies.
Risk From Debt and Financing Segment
The credit quality of Harley-Davidson has been decreasing since 2014. From 2014 until 2017, total debt increased by 27%, while EBITDA decreased by 24%. Interest expense continues to increase as the company takes on more debt, leading to a lower EBITDA to interest expense ratio.
| | | | | |
| --- | --- | --- | --- | --- |
| | 2014 | 2015 | 2016 | 2017 |
| EBITDA | 1460.3M | 1380.4M | 1276.7M | 1113.5M |
| Debt | 5504.6M | 6872.2M | 6807.6M | 6988.0M |
| Interest Expense | 4.2M | 12.1M | 29.7M | 31.0M |
| Debt/EBITDA | 3.8 | 5.0 | 5.3 | 6.3 |
| EBITDA/Int Exp | 347.7 | 114.1 | 43.0 | 35.9 |
Source: Data from company 10-K
Furthermore, the total amount of delinquent accounts receivables has been steadily increasing for retail buyers, including those greater than 90 days past due. Accounts receivables that are delinquent for 120 days or more are considered to be uncollectible and are charged off. Consequently, Harley-Davidson Motor Company's revenues must be adjusted to accurately account for these delinquencies. Harley-Davidson Financial Services is also at risk since it uses motorcycles as collateral. Defaults can be detrimental to the company for several reasons.
First, as Harley-Davidson repossesses more used motorcycles, the total supply of used motorcycles in the market increases and their prices go down. As the value of used motorcycles goes down, the value of the collateral also goes down, leading to an even greater credit loss for the company. It's also worth noting that the introduction of models with new technologies leads to a decrease in demand and price for both used motorcycles and prior-year new motorcycles. Increased default rates for accounts receivables from retail sales poses a possible conundrum for the company; although the introduction of new models may increase sales, it can also decrease the value of repossessed used motorcycles, leading to further credit loss for the company.
Total Past Due From Accounts Receivable
| | | | | |
| --- | --- | --- | --- | --- |
| (in thousands) | 2014 | 2015 | 2016 | 2017 |
| Retail | 180,205 | 195,468 | 221,393 | 227,127 |
| Wholesale | 661 | 1,495 | 1,595 | 957 |
Source: Data from company 10-K
A/R Greater Than 90 Days Past Due
| | | | | |
| --- | --- | --- | --- | --- |
| (in thousands) | 2014 | 2015 | 2016 | 2017 |
| Retail Total | 28,712 | 32,792 | 40,449 | 39,959 |
| Wholesale Total | 206 | 77 | 276 | 117 |
Source: Data from company 10-K
Closing Thoughts
Management gave a negative outlook for 2018, with lower domestic sales and flat to lower international sales. Total shipment in the first quarter of 2018 is expected to be between 60,000 and 65,000, with an annual shipment target between 231,000 and 236,000. Harley-Davidson has been struggling for several years and this trend is likely to continue into the future. In order to successfully increase revenue and cash flow, management must improve the collection rate of its accounts receivables, implement a new plan to increase international sales, and transform the company's image to target a diverse set of consumers. Unless these changes are made, I expect share prices to continue falling.
Disclosure: I/we have no positions in any stocks mentioned, and no plans to initiate any positions within the next 72 hours.
I wrote this article myself, and it expresses my own opinions. I am not receiving compensation for it (other than from Seeking Alpha). I have no business relationship with any company whose stock is mentioned in this article.