We have highlighted our trust in PIMCO management on numerous occasions and one of the best-positioned is PIMCO Dynamic Credit and Mortgage Income Fund (PCI). Last summer, the fund was the source of a back and forth on Seeking Alpha with authors discussing the merits of the investment, the risks, and why they liked or disliked the fund. We liked it then and continue to like it now:
Over the last six months, the fund has performed very well despite a significant rise in interest rates. During that period, the fund's NAV is up 5.75% compared to declines for the iShares iBoxx High Yield Corporate ETF- (HYG) and the iShares iBoxx Investment Grade Corp Bond Fund ETF - (LQD), proxies for the corporate bond market.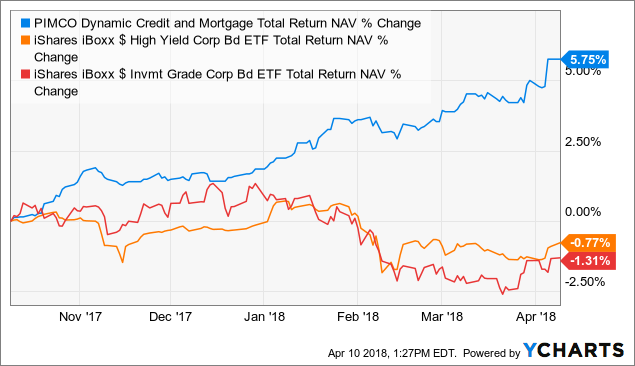 In our recent article, "An Update To The Greatest Bond Fund Of All Time," we noted that the sister fund, PIMCO Dynamic Income Fund - (PDI) and PCI are heavily invested into non-agency MBS. From that article:
Those are the largely subprime mortgage from prior to the financial crisis. PDI managers bought those formerly AAA rated - not all were AAA but almost all were investment grade rated - for pennies on the dollar. These were busted MBSs that no one wanted and the institutional investors were trying very hard to sell. Many pension funds, endowments, and insurance companies have strict ratings requirements that forced them to sell the securities once they were no longer investment grade.

An MBS is just a pool of mortgages that are then sliced up into tranches. As a borrower fails to pay, their house is foreclosed upon and the mortgage pulled from the pool permanently impairing its value. This was demonstrated in the movie The Big Short by Ryan Gosling's character when he kept pulling the jenga blocks out of the stack.
A few years ago, this wasn't the case. PCI was launched with a different management team and a different investment mandate. The fund had a significant amount of senior loans, although it did still have an allocation to mortgages.

(Source: June 2013 Form N-CSR)
We went through our thesis for making the fund our largest position in our Core Income Portfolio that we disclose on our marketplace service, Yield Hunting. The fund in 2013 was already shifting away from its prior strategy. We discussed this change and our thesis as to why we thought PCI should trade like PDI and PIMCO Income Opportunity (PKO). This was laid out in our report in September 2016, "PCI Is PDI And PKO: It Should Trade Like It."
Change In Management and Strategy at PCI
In early 2014, PIMCO announced that they were changing the management team of the fund from Marc Seidner to the same team that manages both PDI and PKO. They include star manager Dan Ivascyn, Alfred Murata, Mark Keisel, Elizabeth MacLean, and Sai Devabhaktuni.
The change in management was driven by the poor performance of the fund when it launched in early 2013. At that time, they had significant exposure to emerging market debt and senior loans with just 15% in non-agency MBS.
Since then, the portfolio composition has shifted fairly drastically going to over 62% non-agency MBS. This compares to the 70% that is held in PDI and 50% in PKO.
Today, the fund still has a heavy position in non-agency mortgages though it is down approximately 800 bps from about 18 months ago. Approximately 25% of the fund is international and PCI has always had a slightly heavier weighting to foreign bonds compared to PDI. In terms of non-agency MBS, PDI still has the larger allocation with 62.5%. As of March 31, the fund had the following allocation to bond sub-sectors: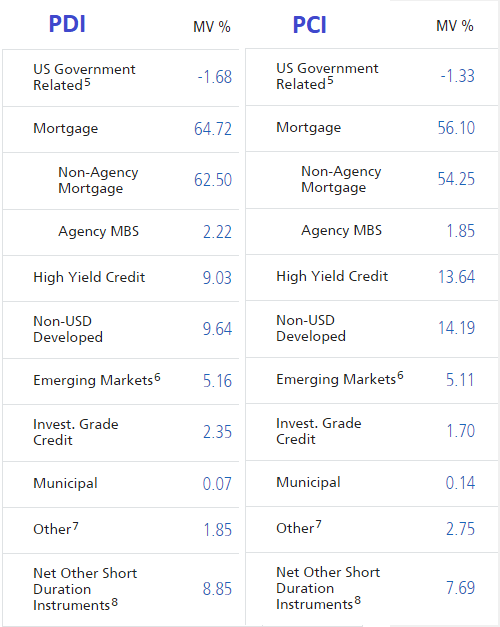 (Source: PIMCO, Alpha Gen Capital)
We like the non-agency trade and think it has room to run. The index, though flawed, is still below par giving us some capital appreciation potential in addition to the superior risk-adjusted yields. The supply is constrained with very low new issuance with demand remaining strong due to the fundamentals. Those include a strong and continuing to improve housing market, lower unemployment, and improving wages. We are also seeing some relaxation in lending allowing these once marginal, sub-prime borrowers to refinance which pulls that mortgage out at par.
The funds have all performed well over the last three years, though PKO has lagged a bit lately. We have noted that in our marketplace forum as the NAV, YTD, is down 7 cents net of the distribution compared to +19 cents for PCI and +9 cents for PDI. The performance of the NAVs for all three are below.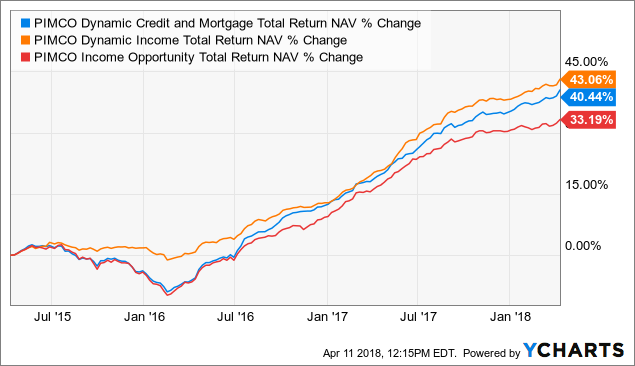 The non-agency MBS trade remains a vibrant one and one that we think will outperform traditional fixed income credit sectors. This is the same 'trade' that has made PIMCO Income (PIMIX)(PONAX) one of, if not the largest bond fund in the world. Many advisors and retail investors alike use this fund as their core bond position in their asset allocations. The $112 billion fund, which was half the size a couple of years ago, was heavily invested in the non-agency mortgage trade. This allowed them to carry an outsized 5%+ yield when most other core bond funds with similar or even greater durations were around 3%.
Well, of course that 5% (in a 3% world) was a shiny object and capital flowed in. The problem is that the non-agency space is relatively small. As we've noted many times, these are a by-product of the housing bubble prior to the 2008 recession and bust. New issuance in the space since the recession has been minimal although we have seen some trickle out more recently. These are not backed by a government-sponsored enterprise ("GSE") but were issued by third-parties like CountryWide Financial.
The problem for investors in the open-end fund was the non-agency MBS has been diluted down as a weighting. For instance, PIMIX had over 45% in non-agency mortgage debt a few years ago. Today, that level is down to ~22% in pure non-agencies and in asset-backed. In speaking with PIMCO management, they have noted that they have not sold any but that some have matured but mostly, new money was put to work in other sectors.
This has clearly affected the once stellar performance of the fund. Prior to 2016, the performance of PIMIX and PCI were fairly similar with a bit more volatility, naturally, for PCI given the leverage. But since early 2016, performance for PCI has been substantially better than PIMIX.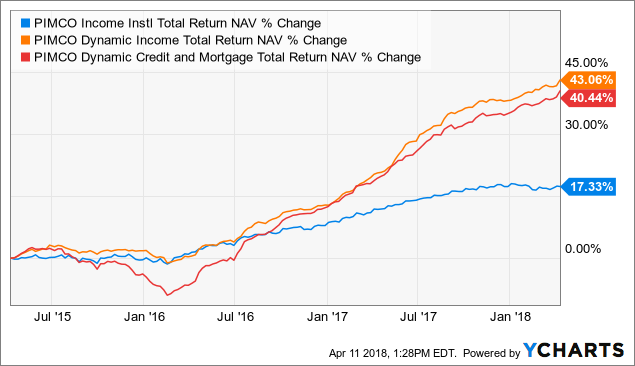 Over the last year, we have seen several buying opportunities emerge for PCI for various reasons. Some in regards to the monthly GAAP EPS and UNII reports and the volatile month-to-month coverage ratios. Investors have been used to seeing those coverage ratios safely above 100% for many years. However, in the last year, we have seen that ratio spend more time below 100% than above, raising the specter of a distribution cut.
In addition, the sharp rise in the NAV more or less seems to have stalled out starting in September of last year. From April 2017 to September 2017, the NAV rose from $22 to $23.75, an increase of 8% net of the distribution of 9% annualized. That could have caused some of the widening of the discount as many investors rely on NAV momentum and other technical factors for their buying criteria.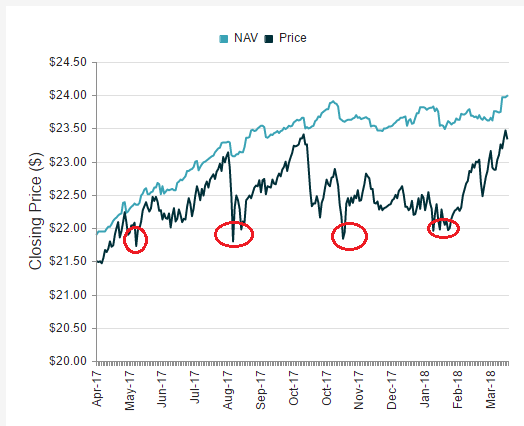 Just two months ago, the shares of PCI were trading at a 7%+ discount as the market was reeling from interest rate spike fears. We have noted many times in the past that the CEF marketplace is the ultimate sentiment indicator for interest rates. Any sniff of higher rates tends to send these largely retail investors running for the exits and the lower-liquidity of the space compounds the move. CEFs tend to get hit twice from a shift up across the entire yield curve. First, from the higher leverage costs and second from the long-maturity rates depressing the values of the underlying holdings.
We advised members of our marketplace to overweight PCI at that point given what we saw was an anomaly. The fund had been up nicely since the start of the year with the NAV up 4 cents after extracting out over 32 cents for distributions. In other words, investors were selling off this fund despite the YTD NAV return being UP 1.35%.
The fund has in place several pay-fixed swaps that hedge out the interest rate risk. They have done this both on the short-end of the curve and on the long-end in order to hedge both a rise in market-based interest rates on the long-end and future Federal Reserve hikes on the short-end.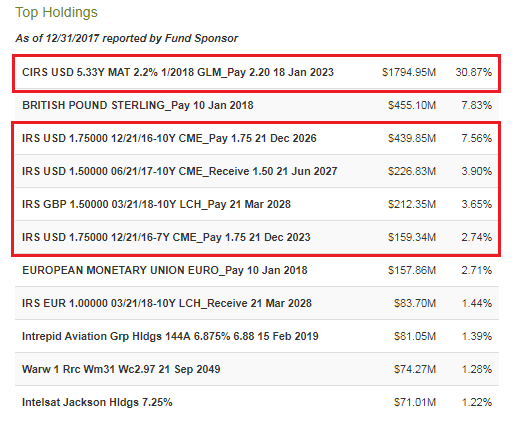 (Source: CEFConnect, Alpha Gen Capital)
Conclusion
We have had an overweight to PCI for a couple of months now which has been a nice boost to overall performance. The shares are up 6.36% on price and 3.92% on NAV, which is superior to just about any asset class this year. The variance between the NAV performance and price performance has meant that the discount has closed materially since early February. At a sub-3% discount, the shares are more fairly valued.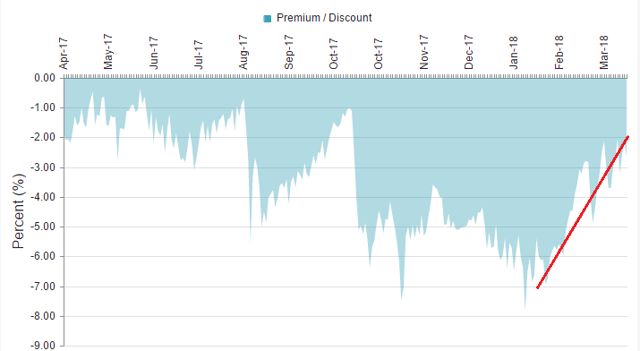 It is hard to find a yield structure that is superior to the twin PIMCO CEFs. The ability to earn 8%+ yields with likely capital gains and the NAVs hedged to higher rates is mostly relegated to the hedge fund world. While there are always risks - earning nearly 9% in a 2.8% world doesn't come for free - we think the returns adjusted for that risk are superior to just about any other security available to retail investors.
Additional opportunities to add to PCI (and PDI) will come. As our chart above showed, we had four great opportunities in the trailing twelve months to add to our positions. Lightening up is a personal decision - a dilemma between reducing your income in order to capture gains or simply hold and be agnostic towards price movements.
Last year, the fund returned over 21%, besting the equity markets which had one of its best years since the recession. This is a bond fund, granted not your typical bond fund, and for it to surpass the equity markets during a very good stock year is staggering. We think investors should continue to watch this fund for a great entry point or opportunity to add shares and improve yield on cost. Obviously, we will continue to advise our members on when those opportunities arise.
Note: To get these types of articles as soon as they are published, just click on the "Follow" button next to my profile and choose the "real-time alerts" option.
Yield Hunting is a marketplace concept that focuses on finding that best risk-return area of the market for income investors, especially those nearing or in retirement. We focus on a Core Portfolio that aims to provide enough income to support your lifestyle without taking on excessive risks. We provide members with model portfolios, a vibrant and educational chat room, and access to professionals who can help guide you in building a proper portfolio for your risk tolerance. We issue a monthly letter and weekly commentaries used by financial advisors for their clients. For a sample of a past newsletter, please message us on SA. Click here to learn more and subscribe.
Disclosure: I am/we are long PCI. I wrote this article myself, and it expresses my own opinions. I am not receiving compensation for it (other than from Seeking Alpha). I have no business relationship with any company whose stock is mentioned in this article.