While many financial websites are littered with headlines about trade war this and times of war that, the S&P 500 (SPY) continues to trend higher above its key monthly moving average after a much-needed and overdue correction. Doom and gloom sells headlines and pays the bills for these analysts, but it doesn't when it comes to managing a portfolio. How many bombs hit Syria, what items are on Donald's list of tariffs or what he might tweet tomorrow provide zero value to a trading plan. Trying to figure out how you're going to position based on watching or reading CNBC, Twitter and or ZeroHedge are great ways to cost yourself money as they're almost always bullish near the highs and bearish near the lows, regardless of the market environment. Meanwhile, sentiment and price do help to make objective trading decisions, are based on facts, and have no hidden agenda like page-views derived from click-bait titles. The facts are that sentiment is at levels last seen during the Q1 2017 correction, the market is still above a rising 20-month moving average, and the bears are out in full-force once again calling the next bear market. While anything is possible and nothing is certain, the odds do not suggest we're heading into a bear market and instead suggest this is simply an overdue but nasty correction within a longer-term bull market.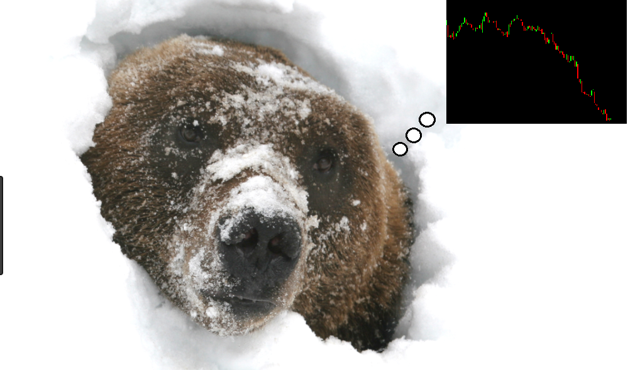 (Source: Fernie.com, TC2000.com)
In late 2017 and early 2018, I began using smaller position sizes for new positions and elected to hold at least 30% cash as sentiment was nearing levels I rarely see based on several different sentiment indicators. AAII Sentiment Survey bullish sentiment levels were hovering above 50% bulls vs. a long-term average of 38% bulls, and bearish sentiment had dropped below 20% bulls, an extremely low reading considering the survey is based on neutral sentiment, bearish sentiment and bullish sentiment. This means that if all camps were equal they would each sit at 33.3% to make up a total of 100%. A reading of 50%+ bulls and less than 20% bears was very extreme based on historical averages and we have to go back to November 2014 to see a similar reading. Since that time we've seen an exodus in bullish sentiment, with bears coming out of hibernation at a very brisk pace. Bearish sentiment has nearly tripled from now to the 15% reading during the first week of January to a current 43% reading as of mid last week.
We now have people discussing with certainty that a trade war is imminent, with certainty that a war is imminent, and with certainty that we're in the early innings of a new bear market. This should be welcomed with open arms by bulls as this is precisely how bottoms are eventually formed. The perma-bears that were muted by a monstrous rally off the election lows have finally meandered back out of the woodwork and without fail, they're still convinced that there are no such things as corrections, only bear markets. I've heard just about everything from a coming liquidity crisis, to the transports flashing heavy sell signals the past couple weeks, and this is exactly what happens after every correction. Sure, some of these occurrences do turn into bear markets, but I think price should be given the benefit of the doubt, and we're still in a bull market based on the monthly chart.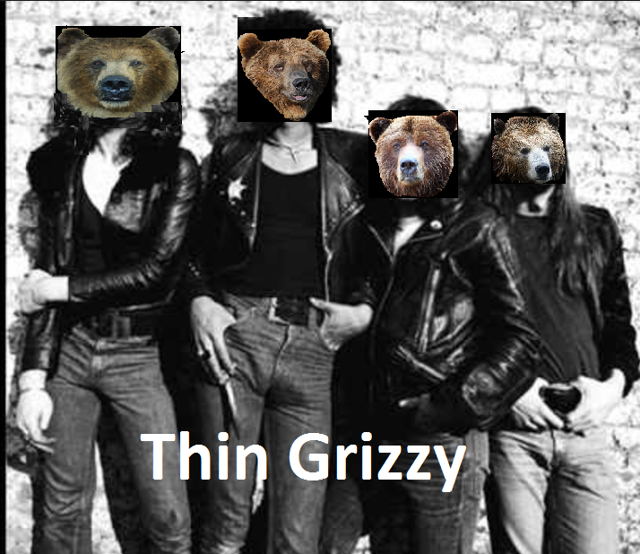 (Source: Author's Photo)
There is no guarantee we won't head into a bear market here and nothing is certain in the market, but this is exactly how it feels after every correction. The usual suspects come out and get all "bear-ed" up and they're often near perfect contrarian indicators. They're bearish at the highs because they have been for the past 18 months or longer, they proclaim victory after the correction and they are so set in their ways that they cannot possibly see any outcome other than heading into a new bear market. They stay bearish while the market climbs a wall of worry back near the highs, they sing the same tune for months while the market stairsteps higher against their thesis and when the market finally corrects and they proclaim victory again, it's time to start looking for new long setups. My favorite contrarian indicator was looking for a 70% decline in January of 2016 and finally turned bullish looking for 3000+ on the S&P 500 in the last week of January 2018. This would be hard to believe as a plot of a movie, but like clockwork, this happens almost every single time.

Anecdotal evidence aside, bearish sentiment is now significantly higher than bullish sentiment even during a period when the market has actually traded higher. As we can see in the below image, bullish sentiment has dropped from 32% to 26% from March 28th to April 11th, despite the market trading higher from 2605 to 2642 - a roughly 1.5% gain. Over the same period, bearish sentiment has crept higher from 35% bears up to nearly 43% bears. The last time I saw a consistent divergence like this was in Q1 2016 while the market was trying to find a bottom and rising and participants were actually becoming less bullish and more bearish. This does not guarantee the market has bottomed, this doesn't mean to pile into the market on the ask tomorrow morning, but these indicators are certainly moving towards contrarian bullish and are helping the bull thesis here if they remain this way. The last time we had a reading of over 40% bears and 30% or fewer bulls was on March 9th, 2017, and February 11th, 2016. While the March 9th, 2017 occurrence did trade lower by 2% before heading higher, I believe the February 11th, 2016 occurrence to be more similar as it also came after a 10% or larger correction (the March correction was barely 3%). These dates are shown in the circles on the below chart.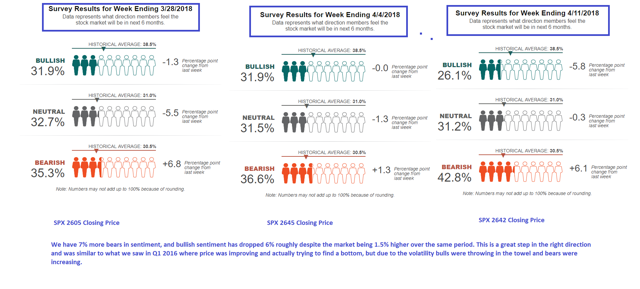 (Source: AAII Sentiment Survey, Author's Photo).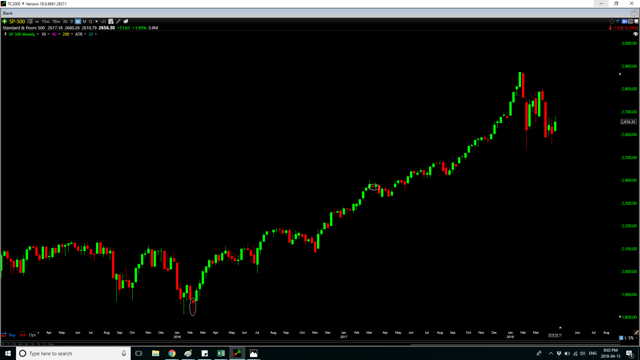 (Source: TC2000.com)
As we can see from the below monthly chart of the S&P 500, we have not broken the 2016 uptrend line, we are still above a rising 20-month moving average, and we have seen a much overdue couple down months after what was a nearly unprecedented 40% rise without even a 10% pullback from the July 2016 breakout. According to the bears retracing 1/3 of an advance is a bearish sign, and if you listened to ZeroHedge you'd be shopping for backup can-openers for the bomb shelter with their constant fear mongering. These pullbacks towards the 20-month moving average after strong advances are completely normal and nothing to get concerned over, and they are a perfect recipe for bringing the perma-bears back to roost to create some fuel for the market to go higher.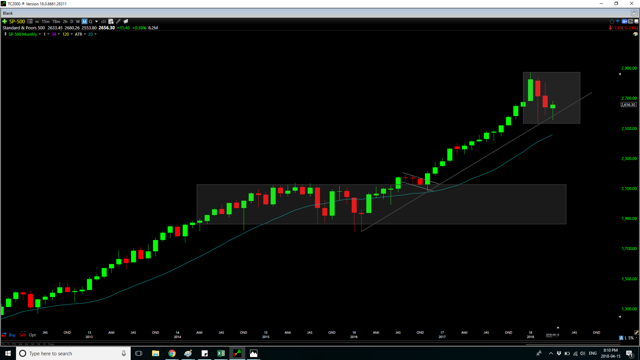 (Source: TC2000.com)
Below is a look at 7% to 20% pullbacks towards the rising 20-month moving average during the 80's to early 90's, and we can see that most of them were not times to be fearful. The bears will of course point to the one time where investors were walloped in 1987, but that's not surprising as that is how the perma-bears have always worked. They cite the outlier among the majority of examples about what could happen, rather than what typically happens the majority of the time. This is precisely why I also do not buy blindly and rush back into the market but instead put some money to work and then wait for confirmation to put more money to work. I could show more examples from the 90's to 2000 and throughout the 2000's but they are more of the same and not necessary to prove my point.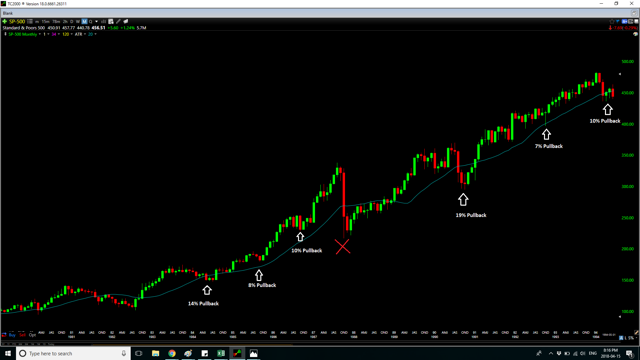 (Source: TC2000.com)
I see absolutely zero reason to be losing any sleep in this market, but I am personally at a cash position of closer to 50% currently as I am waiting for more setups to show up before wading back into the market. I am not short and do not have any hedges and see no reason to as this market is innocent until proven guilty. The reason I am not fully invested is that I do not see enough A+ setups that I am looking for currently to get aggressive and while I believe this is a buying opportunity, I'm still not 100% confident we have bottomed neither price nor time wise.
As long as the S&P 500 continues to trend higher above the 20-month moving average and does not violate the 20-month moving average on a monthly close, this is a bull market. Corrections and even cyclical bear markets within these monthly bull markets are buying opportunities, not selling opportunities. The 20-month moving average for the S&P 500 currently sits at 2457 and until we see a monthly close below this level, the market may be under pressure, but it's not broken. Without a doubt, the bears will cite several reasons why this time is different and why the bulls must throw away their playbooks of the past because this is a market unlike anything we've ever seen before and this is simply their inexperience on display for the rest of us to see. This time is never different and when it is, the market sends a loud clear signal it's ready to break as it closes below the 200-day moving average on heavy volume and is unable to reclaim it.
Rather than listening to the nonsense put forth by the perma-bears and worrying about missile strikes in Syria, Trump's next target in his tweets or what talk show Stormy will be on tomorrow, one should focus on what they can control. So much time is wasted watching futures (for those that only trade regular markets), and futures are typically a poor predictor of where the market will close the next day anyway. I gave up caring about all of this nonsense a long time ago as it detracts from my plan, it is silly fear-mongering and it doesn't do anything for my portfolio except hurt it. If I was worried about the laundry list of reasons this market has to go down I wouldn't have been buying Abercrombie & Fitch (ANF) two weeks ago and be up nearly 20% from my entry, I wouldn't have been buying Floor & Decor Holdings (FND) a month ago and be up over 20% from my entry, and I wouldn't have been fortunate enough to have got long Cabot Microelectronics (CCMP) in early March. Despite the market making almost zero progress the past month, all of these stocks are up 10% or more in the same period and have been helpful additions to the portfolio. These stocks don't care about Trump's next tweet, they're quietly making new 52-week highs while the market tries to find its footing. Watching futures and listening to the bears will give investors and traders second thoughts about long positions and this is not how you make money.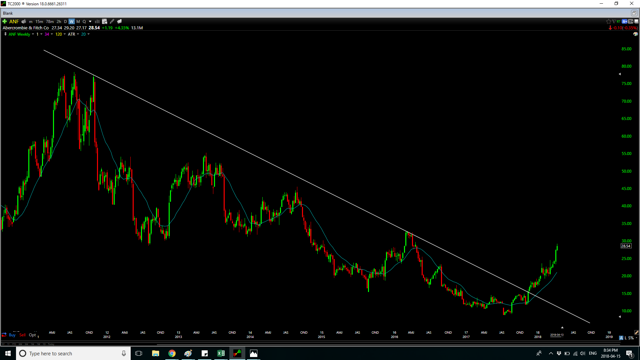 (Source: TC2000.com)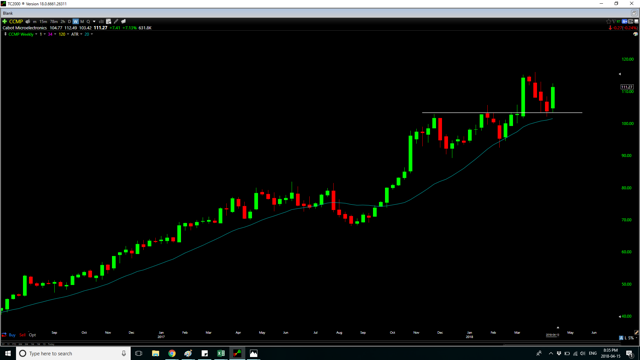 (Source: TC2000.com)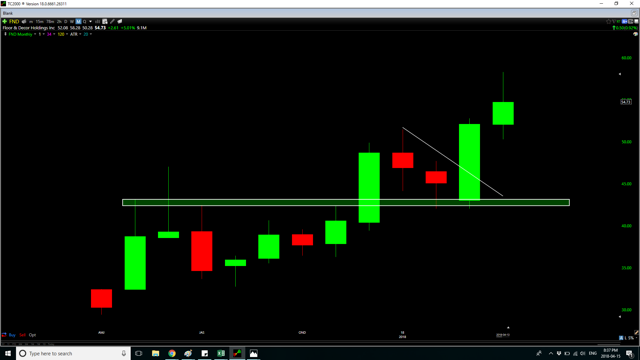 (Source: TC2000.com)
This article and the argument doesn't mean the market has to bottom here, this doesn't mean we can rule out us going a little lower, and this doesn't mean we're going back to new highs next week. Having said that, it's worth pointing out that there are stocks making new 52-week highs and holding up exceptionally despite the minefield that the bears have made this market out to be. Until 2457 breaks on a monthly close, I will remain biased to the long side of this market and will be looking for great names that are on sale to add to my portfolio. I believe we are closer to the bottom than the top and I see no conditions in place to suggest we are heading into a new bear market here. If I'm wrong and this market does roll over and finally proves the bears right, that's what stops are for.
Disclosure: I am/we are long FND, ANF, CCMP, SPY. I wrote this article myself, and it expresses my own opinions. I am not receiving compensation for it (other than from Seeking Alpha). I have no business relationship with any company whose stock is mentioned in this article.