Back in February, I wrote about the possibility of Apple (AAPL) launching even more expensive iPhones this year. This was primarily based on the notion that the company will go with its largest screen ever for the flagship model this year, which likely means a higher starting price. Recently, one Apple analyst suggested a price hike coming for the smartphone, which I think would be a major mistake in 2018.
As I've mentioned in prior articles, Apple estimates have come down based on the notion that the iPhone X isn't doing as well as originally thought. Despite this, UBS recently came out with a note suggesting Apple could make the newest iPhone X version this year start at $1,100. The firm provided the following chart showing iPhone price bands and how the trend has usually been higher, outside of the special version iPhone SE.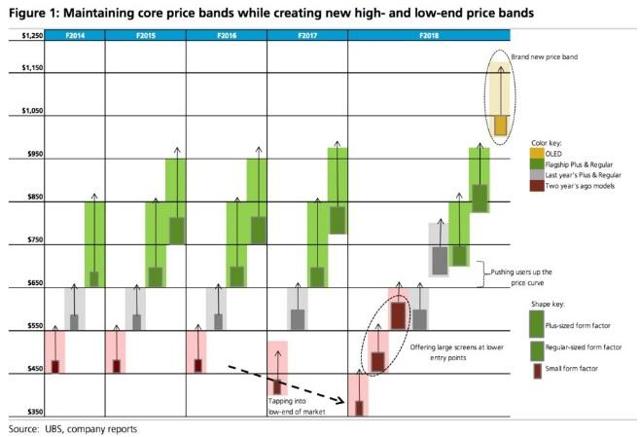 Currently, the iPhone 8, 8 Plus, and X start at $699, $799 and $999, respectively, with higher prices for larger storage versions. From most of the rumors out there currently, Apple might go with another three-phone launch lineup this year. This would consist of a similar 5.8-inch OLED screen, which would be an updated version of the X, a 6.5-inch OLED "X Plus" device, and a roughly 6.1-inch LCD screen "budget phone" that would be an updated version of the iPhone 8 but with a larger form factor. I could see the LCD one starting at $699, the new X at $899, and the X Plus at $1,099. It's even possible that the LCD one could be even more expensive given the screen size, but that all depends on the hardware put into the device.
I personally just think this is the wrong year for Apple to move up the price ladder even more. Last year, it made sense with the iPhone X because it was a completely new design with an OLED screen, the move to FaceID, etc. There definitely was a group of consumers that were waiting for this special device, and they were willing to pay the premium price for it. I don't see a similar situation this year if Apple is just going with a larger screen and making the usual upgrades to the processor and other hardware.
The second reason against this move is the battery replacement program Apple has going until December 2018. If a consumer is perfectly fine with their current phone, why would they go out and spend potentially a grand or more on a new phone when they can just get a new battery? I believe Apple will see slightly softer iPhone sales over the next few quarters due to the program, and I'll be listening to the upcoming call to see what management has to say about this issue.
I also think the US economy may play into this a bit in the second half of this year. While tax cuts may have provided some growth early in 2018, there are a number of headwinds to consumer spending. First, interest rates have risen considerably, making things like mortgage rates, auto loan rates, etc. a bit more expensive. Gas prices also are up more than 10% over this time last year, and they actually were a bit lower from April to August 2017. The stock market also pulling back from its highs means investors aren't sitting on as much profit.
One item I found interesting in the UBS report was the suggestion that the iPhone SE could have its price dropped to around $300. While that would likely increase the market opportunity, let's not forget that it's a two-year-old phone. If Apple were to significantly upgrade the hardware in the SE and then charge $300, it likely would hurt margins a bit given the rise in component costs over the past few years. I think the small form factor phone needs to remain in the lineup, but Apple either needs to upgrade the hardware a bit (meaning price stays same or goes higher) or dramatically cut the cost because it is quite outdated.
In the end, I really hope Apple is not planning on raising iPhone prices even further this year. The move made sense last year with a totally new flagship phone, but will this year's model be that much different except for screen size? With the US economy likely weakening later this year and the iPhone battery replacement plan providing a headwind to sales, Apple should not try to test the consumer's patience. UBS even came out with a note on Monday suggesting that the iPhone X's success in China has been limited by its high price. Should this price raise scenario play out, I could see Apple shares topping out later this summer and into fall.
Disclosure: I/we have no positions in any stocks mentioned, and no plans to initiate any positions within the next 72 hours.
I wrote this article myself, and it expresses my own opinions. I am not receiving compensation for it (other than from Seeking Alpha). I have no business relationship with any company whose stock is mentioned in this article.
Additional disclosure: Investors are always reminded that before making any investment, you should do your own proper due diligence on any name directly or indirectly mentioned in this article. Investors should also consider seeking advice from a broker or financial adviser before making any investment decisions. Any material in this article should be considered general information, and not relied on as a formal investment recommendation.