We looked at ServiceNow (NOW) half a year ago and had some concerns about high valuation, slowing growth, and the amount of stock-based compensation. Has the situation improved in these past six months?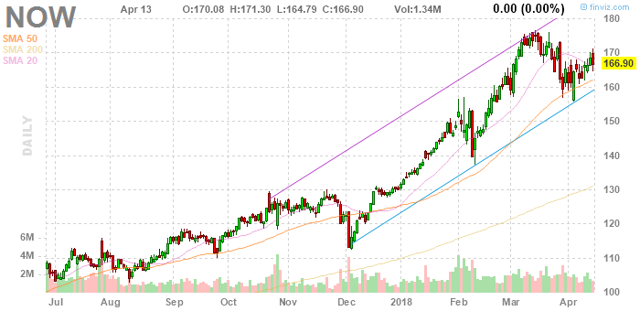 Well, as you can see, even if we had some valuation issues, others clearly didn't as the stock just kept on rising and even accelerated after a little selloff early December, even if it hasn't escaped the more recent market turbulence.
SaaS business platform strategy
SaaS business software companies are among the best business model out there, which is why the stocks are usually exorbitantly valued.
But that valuation is often justified, as these platforms usually have great first mover advantage, generate considerable switching cost, and have plenty of ways to keep revenues growing and generate even faster cash and profit growth.
One could describe the general SaaS business service model in the following steps:
Get a foot into the door with a killer app, something at which the company is good at that fulfills a real business need.
Convert license clients into recurring revenues via SaaS in the cloud.
Expand users (seats) at existing customers.
Expand geographically.
Have a nice side business called services where you help customers understand the product, show what it can do for them, and train them and help in installation, configuration, etc.
Open a partner channel, that is, build a community or ecosystem.
Use the recurring (subscription) revenues to build out sales and R&D.
Use R&D to build additional functionality and/or verticals, modules that can be used to up-sell ('land and expand').
M&A might be used for the same purpose as R&D, to acquire new capabilities to up-sell.
Open up the platform for third-party/customer apps and take a share of the cut or use it to solidify the platform position and value.
Grow revenues in order to achieve operational leverage.
Ultimately, earn enough free cash flow to deleverage (where applicable) or allowing the company to buy back the shares that are issued as stock-based compensation and/or pay dividends.
We won't go through the whole list, but note that the company is particularly strong in point 8, generating revenue from additional products and services (or modules).
The killer app with which the company started was IT Service Management, but they've added a host of new products and services (or modules, as its software), and customers have been biting: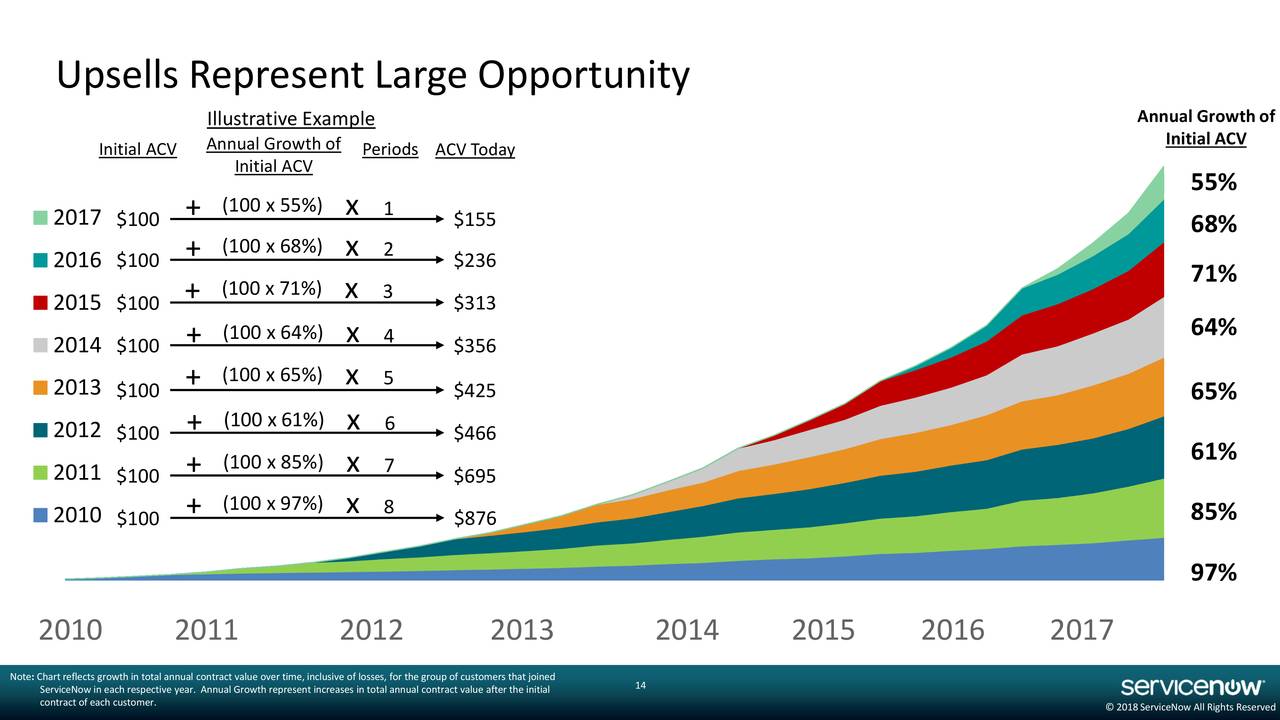 Management described the process during the Q4CC. They are talking to lots of companies who want to move to the cloud, but need a few trusted platforms to help.
They chose the likes of Amazon (AMZN) AWS or Microsoft (MSFT) Azure as infrastructure, and (Q4CC):
And then they're looking for a few key strategic software platforms. And increasingly, we are one of those core strategic software platforms. And I hear that regularly. And they're looking to us to not only help them -- usually, it's initially an ITSM or an existing application. But increasingly, they're looking at cross-functional workflows.
And since the company offers a host of modules, it not only generates lots of up-sell opportunities, it also offers a host of different entry avenues. In fact, customers themselves seem to drive this process, at least in part (Q4CC):
And so as we think about ourselves as a strategic platform, what's interesting is they're pulling us into new applications. They're asking, what are your next out-of-the-box applications going to be?
And this process is often so involving that the company really becomes a strategic partner of their customers (Q4CC):
These large companies need help driving transformation and reengineering, redesigning their processes. And so - and they're asking for us to play a more proactive role, partnering with third-party ecosystem providers and so the significant investment in customer success.
You see third party ecosystem mentioned in that answer (our point 6 above), and this is another growth generating impulse. When asked how ecosystem partners like the Accentures (NYSE:ACN) and DXCs (NYSE:DXC) of the world see the company (in the same light as Microsoft and SAP?), management responded (Q4CC):
But what I think they're excited about working with us on is we're creating - our platform, right, is all around redesigning workflows. And it's really hard for these companies to redesign workflows on their own, and so having a valued SI, a valued partner to do that in Accenture, a DXC, a Deloitte - I was actually with Unisys this morning that's got a huge government business in the security area.

And when customers are buying ServiceNow, to get real value out of ServiceNow, they want to reengineer their processes, redesign those workflows. So, you're not just slapping old workflows on a cloud platform. You're redesigning the workflows and wall putting them on ServiceNow's platform, and that delivers maximum value to the customer. It also generates healthy, high value-added business for the third-party partners.
Which is saying that they really are becoming a SaaS-based rival to ERP vendors, the likes of SAP (SAP) and Microsoft. The ecosystem partners help with implementation and process change of ServiceNow customers, but the company also has its own service department, whose role has changed a bit (Q4CC):
we said we're not going to try to compete with our third-party partners. But there are circumstances where PS -- our own PS, is the right answer for a customer. And those tend to be early products... And there are some customers who would just rather deal with their own PS organization.
There are other ways in which success breeds success, which is based on the learning within ServiceNow and its ecosystem of partners itself.
As it evolves from a provider of single solutions to an integrated partner and provider of multiple solutions, it becomes an ever more important strategic partner for companies.
And, this itself is a learning experience that the company can leverage and increase its value proposition to new and existing customers (Q4CC):
We have so many large, global, multinational companies for whom we're a strategic partner that we're learning how to cover them more effectively. And that's what, in essence, customer success is. It's the ability to sort of cover them in an end-to-end basis and ensure they get value, and we're highly confident that that's going to increase and accelerate our ability to expand our relationships with them.
And, there is a good deal to be learned from customer experiences which can be leveraged (even if they cannot code! From Q4CC):
And so we built what we're calling no-code development, where someone outside of IT can automate a workflow. And that's interesting because I would say probably a third of our use cases are not in our core platform because our customers are taking our platform and they're using it in workflows and in areas that we never even envisioned or imagined.
It's not only learning in a traditional sense but also using machine learning, which is a more prominent feature of the new version of their platform (Kingston), helped by the acquisition of DxContinuum a year ago.
The company also has a thriving third party development market in which third party offer apps on top of the company's core functionality (point 10 in the list above) from the Q4CC:
So, our store, our ISVs in store grew 100%. 100% net new ACV growth from our partners through our store and OEM program last year. It's still a relatively small program, but it's a way where we can open up the ability to innovate on top of our platform.

And we're having a number of OEM partners like Nuvolo and Factor5 and Fairchild who have built applications on top of our platform, often a vertical solution or a specific use case that they're gearing it toward.
Not only does this enlist the intelligence of people outside the company, it also has a habit of increasing the functionality of the platform and thereby increasing its stickiness.
So, basically, many of the improvements and innovations are customer-driven, and this experience is then leveraged, increasing functionality and switching cost. That seems a very good business strategy to us, and it leads to stuff like this (Q4CC):
What I'm struck by is the number of partners that want to integrate with our platform because you've got customers saying that they want to
Slowdown?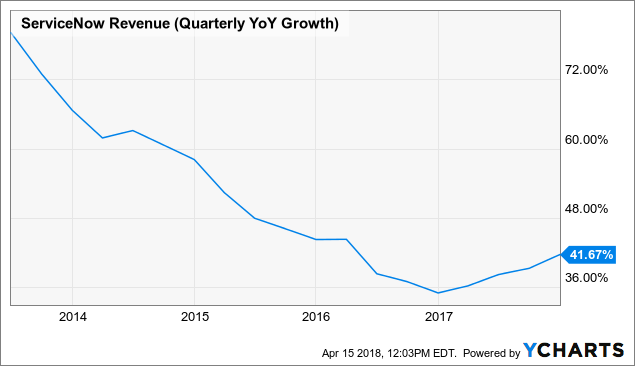 At first sight, growth seems to have re-accelerated, after a normal slowdown as a result of the law of big numbers. Yet, there are a few tentative signs of some slowdown:
New customers, but these numbers tend to be somewhat lumpy.
Two quarters of revenue miss
SA contributor Gary Alexander, who writes excellent articles about ServiceNow and other tech names, already covered this more thoroughly, so we point to his latest article on ServiceNow, in which he:
Also note that total billings in the quarter were $734.3 million, comprising $684 million of subscription billings and $50.4 million of professional services. ServiceNow's billings grew only 37% - meaning that the rate at which it billed new revenue and added to backlog lagged behind revenue growth (as revenue "consumes" deferred revenue backlog in the quarter), which is a slightly concerning sign for future growth.
And this is actually worse because $20M in billings that arrived in Q4 should have been in Q1 as they were pulled forward. Management blames this largely on increased seasonality of the business as big clients were early with renewals and prepayments.
Gary is right to argue that, in and by itself, it's not much to worry about, but given the really steep valuations of the shares, there isn't much room for error. Nevertheless, the market took these figures in stride.
Guidance
Things are a little problematic as they move to the new 606 accounting standard. Q1 guidance:
Subscription revenue between $525M and $530M or 31-32% growth y/y.
Subscription billing between $601M and $605M or 25-26% growth y/y.
Not including approximately $4M due to 606 accounting change.
Full year 2018:
Subscription revenues between $2.355B and $2.375B, representing 35-37% year-over-year growth and 33-34% adjusted growth.
Subscription billings between $2.77B and $2.79B, representing 30-31% year-over-year growth and 29-30% adjusted growth.
Subscription gross margins of 85%.
Operating margin of 20%.
Free cash flow margin of 27%.
Overall, a slight deceleration of growth but some margin improvement.
Margins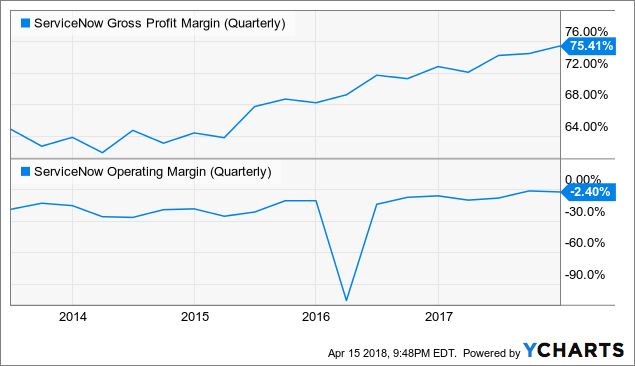 Gross margins have trended up significantly over the years, but operating margins (at least in their GAAP version) don't seem to have, although the figure is very much scaled to accommodate the Q1 2016 outlier, so it's difficult to perceive. Here are the non-GAAP figures: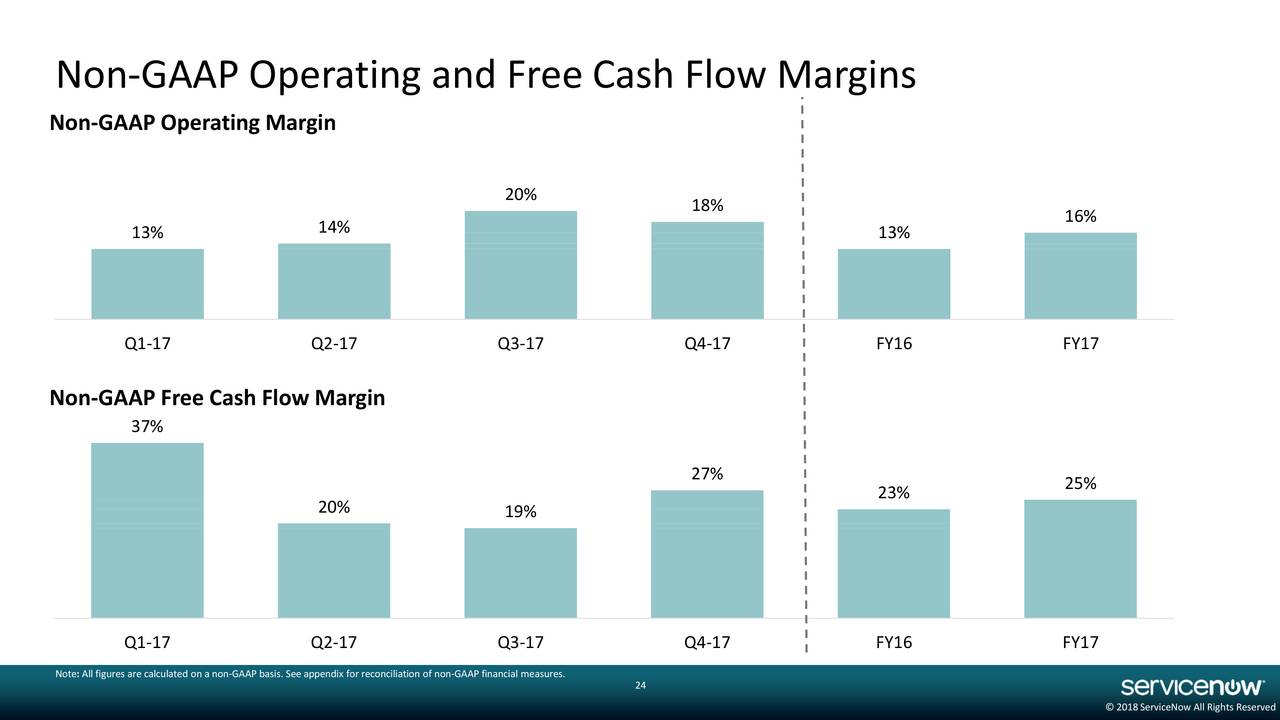 Although this only goes a year back, there seems to be some operational leverage.
Earnings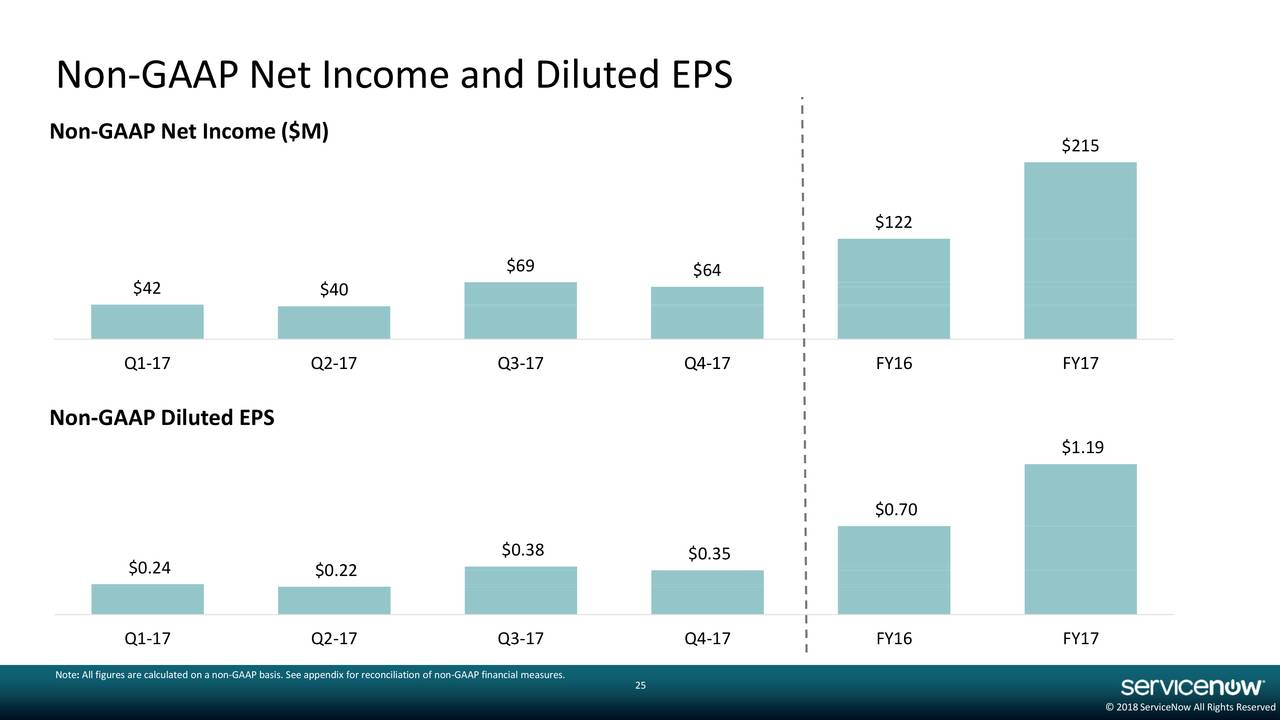 Cash flow and balance sheet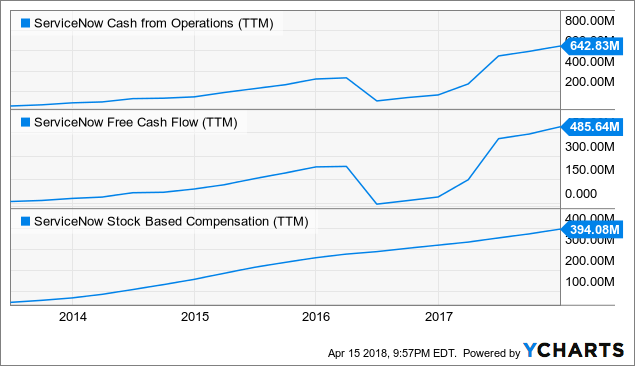 The company's cash generation, after dipping in 2016 due to acquisitions, is clearly trending upward in a meaningful way, which is encouraging for shareholders until you realize that much of it is due to rising share-based compensation.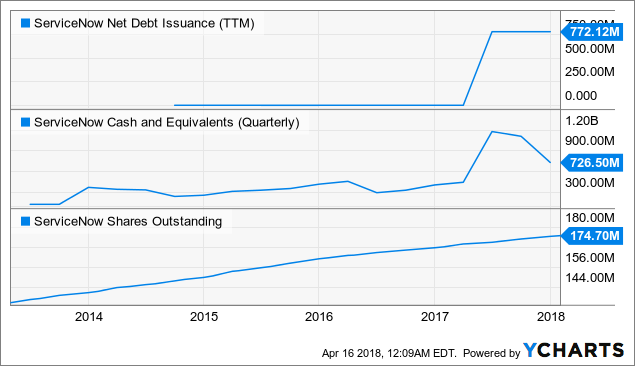 Given the steep valuation metrics of the shares (see below), we were somewhat surprised to see that the company has $630M in long-term debt. But it also has $1.77B in cash and short-term investment so there are no balance sheet worries. There is a considerable degree of growth in the shares outstanding, though, and no buyback program.
Valuation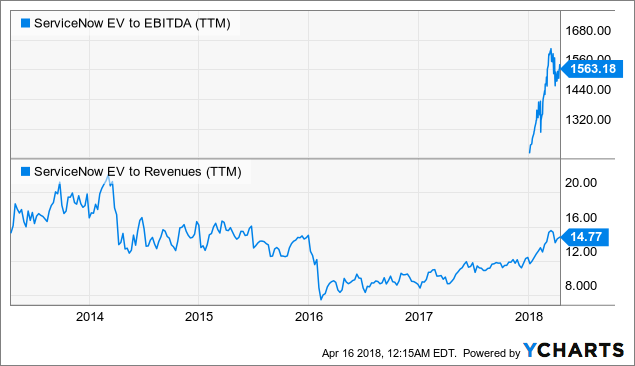 Nearly 15x sales, that is steep, there is now way around that. EPS was $1.19 per share in 2017, analysts expect that to rise to $2.02 this year and $2.98 the next.
While that is really very rapid EPS growth, it also gives the shares an earnings multiple of 55 in 2019.
Conclusion
We think ServiceNow has one of the best business models in the business. It has plentiful levers to enlist its own, and perhaps equally if not more important, customer and partner intelligence to increase the functionality of the platform, thereby create more up-sell opportunities, a better value proposition for the platform and more stickiness.
Worries of a slowdown in revenue or billings are not reflected in analyst expectations of EPS growth, which far exceeds these.
So, there is a reason for a serious premium in valuation, but investing at these levels would give us a bit of vertigo, there is no margin for error here.
Disclosure: I/we have no positions in any stocks mentioned, and no plans to initiate any positions within the next 72 hours.
I wrote this article myself, and it expresses my own opinions. I am not receiving compensation for it (other than from Seeking Alpha). I have no business relationship with any company whose stock is mentioned in this article.