Apple (AAPL) has faced a number of issues while bringing Siri up to par with Alexa and Google Assistant. A recent report shows in detail how Apple missed its biggest opportunity in Siri. A number of management and technological missteps resulted in Siri getting dethroned by Amazon (AMZN) and Google (GOOG) (NASDAQ:GOOGL) in the race for voice assistants. This has already caused a negative impact on the sales potential of HomePod. As we see a greater proliferation of these assistants in our lives, Apple could end up performing poorly in big segments which are dependent on Siri in the next few years.
This time, it's different
Apple has been able to corner a major chunk of profits in the smartphone industry because of its higher brand value compared to other peers. But when it comes to voice assistants, the two biggest competitors of Apple are Amazon and Google. Samsung (OTC:SSNLF) has given a good competition to iPhones but Amazon and Google are in a different league altogether. In the latest Harris Poll Reputation Quotient, Amazon has held on to its No. 1 position while Apple has dropped from 5th position to 29th position.
The brand advantage which Apple has used in the past to gain better pricing power is almost non-existent against Amazon and Google. Many customers think that HomePod is expensive compared to other alternatives. However, Apple is actually selling HomePod at a much lower margin compared to other products. According to IHS Markit, an iPhone 8 Plus has a bill of materials (BOM) cost of $295.44 while an unsubsidized iPhone 8 Plus retails for $799. Hence the BOM makes up only 36.97% of the final retail price. In case of HomePod, Bloomberg reported that BOM for the device was $216 while it retails for $349. Hence, BOM for this device makes up 61.89% of the final retail price.
Apple always keeps its BOM for all products in 35% to 40% range. If it were to keep the BOM of HomePod at a similar range, Apple could have set a retail price of $549. But due to the strong foothold of Amazon and Google in this segment, Apple ended up taking a big hit on the margins and priced it at a "low" level. Even at this low price point, HomePod is seeing poor demand as most of the addressable market has already been saturated by competitors.
A big chunk of blame has also been put on Siri which does not compare favorably with Alexa and Google Assistant. Apple has huge resources to correct any technical flaws in the software, but it looks that there is a more fundamental disadvantage for Siri. Alexa has a clear lead in terms of fulfilling the retail requests of the customers due to Amazon's huge footprint in the industry. Google is also catching up as it forms a stronger partnership with other retailers to fulfill online orders. Siri will most certainly be in the third position in this segment. In terms of Search, Google Assistant has a major advantage due to the core search platform of Google. Even in the entertainment segment, Amazon is investing billions of dollars to strengthen its Prime Video offerings and Google has a good presence through YouTube.
Siri faces a completely different ball game due to these competitors. The past management issues have certainly not helped the cause of Apple in perfecting Siri. But the possibility of Siri taking a lead in the future also seems very slim due to key strengths of competitors in core industries like retail, search and entertainment.
The end result is that investors should expect a lower margin on future Apple products, which are heavily dependent on Siri. Apple has already shown a declining operating margin for the past nine quarters consecutively.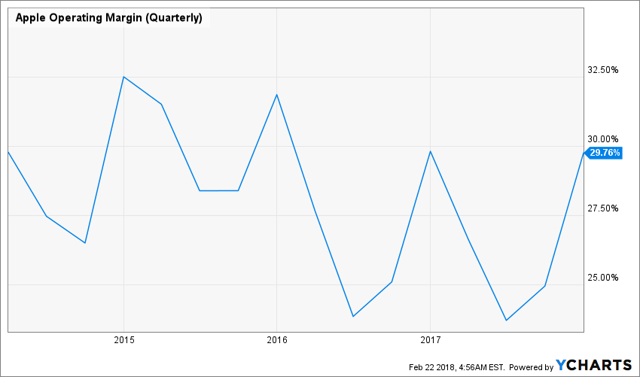 Fig: YOY operating margin decline shown by Apple: Source: Apple filings, Ycharts
Dec. 2014: 32.50%, Dec. 2015: 31.86%, Dec. 2016: 29.81%, Dec. 2017: 29.76%, Cumulative decline: (274 bps)
March 2015: 31.51%, March 2016: 27.67%, March 2017: 26.65%, Cumulative decline: (486 bps)
June 2015: 28.39%, June 2016: 23.86%, June 2017: 23.71%, Cumulative decline: (468 bps)
Sep. 2015:28.39%, Sep. 2016: 25.10%, Sep. 2017: 24.95%, Cumulative decline: (344 bps)
Apple's ecosystem has its limits
Putting a lot of faith in Apple's ecosystem is wrong. Even if a customer is completely hooked to Apple devices, it would be difficult to justify spending $349 on a HomePod which provides limited functionality if you already have an Echo or Google Home speaker. Both Amazon and Google have made considerable efforts to expand their presence in the electronic hardware segment, but have had limited success. Their advantages in voice assistants could be the magic pill which helps them deliver sustainable progress in device sales.
Apple's limited access walled garden strategy can also have a negative impact on future sales prospects of its devices. Both Alexa and Google provide a huge range of third-party apps which help to increase their value proposition to the users. On the other hand, Apple is trying to bank upon its brand image. Apple has yet to see a similar growth of third-party apps for Siri. In a report by The Information, one of Apple's former executives, Richard Williamson, says
It was slow, when it worked at all. The software was riddled with serious bugs."
Even if most of the coding issues are ironed out over the next few quarters, there would still be lingering doubts about the scalability of Siri for new skills.
Investor Takeaway
Apple was an early adopter of voice assistant. But it has squandered most of its lead due to lack of focus and management issues. At the same time, Amazon and Google have built strong voice assistants which would be difficult for Apple to compete with. Siri will remain as a major handicap for Apple, which will have a negative impact on the pricing power of future products released by Apple. Investors should prepare themselves for a sliding operating margin within Apple for the near future.
Disclosure: I/we have no positions in any stocks mentioned, and no plans to initiate any positions within the next 72 hours.
I wrote this article myself, and it expresses my own opinions. I am not receiving compensation for it (other than from Seeking Alpha). I have no business relationship with any company whose stock is mentioned in this article.