Paychex (NASDAQ:PAYX) engages in the provision of payroll, human resource, insurance, and benefits outsourcing solutions for small and medium-sized businesses. The company had 605,000 payroll clients at full-year end 2017 and serves its customers in two broad segments: Payroll Services and Human Resources Services. A third source of revenue is interest held on funds for clients. This is somewhat akin to float in the insurance world. The company earns interest on cash when an employer deposits money with Paychex to be disbursed for payroll at a later date. For the time between the deposit and payout in payroll, Paychex earns interest.
Revenue and EBITDA growth have been solid over the last three years and is due to a mix of supporting customers through the Affordable Care Act and providing outsourced HR services (through its SaaS platform), insurance services, retirement administration, as well as insurance and 401(k) plans for its small and mid-sized customers. PAYX has leveraged its payroll processing customers to grow the HRS segment. Not only has this segment experienced strong growth, but there is demand for these services, and the margins are stronger than those in the legacy payroll service segment.

Growth in the HRS segment continues to perform exceptionally well for the first nine months ended 2/28/18, as there is an increase in the client bases and strong growth in the number of client worksite employees served. EBITDA margins should continue to expand as HRS becomes a greater part of total revenues. 45% EBITDA margin should be an easily attainable margin, and the expectation is for it to continue to expand as operational issues are resolved.
One of the main issues was transferring experienced customer service reps to handle another customer segment, leaving many newly trained reps to handle the majority of HR services. This is one of the reasons why the retention rate was 81% at FYE17, down from the record high of 82% at FYE16. Management believes that this issue has been corrected and customer satisfaction and retention should improve, leading to better margins, as it is less expensive to keep clients than to replace them.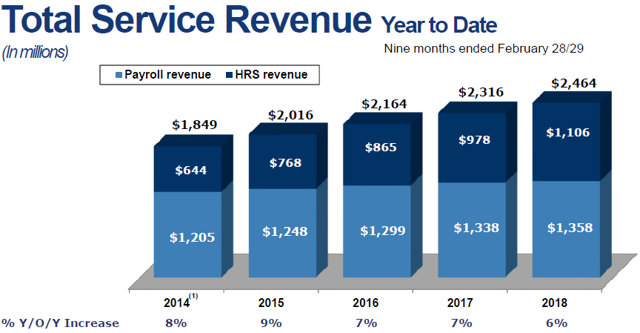 And there is still room to continue this growth. The HRS segment has been an investment focus for the company. The products and services provide HR flexibility for their customers, and the new technology is convenient and easy to use. There are 500 HR specialists to service over 1 million worksite employees. Additionally, the acquisition of HROI has bolstered revenue growth (it accounted for 2% of YTD 2/28/18 HRS revenue). PAYX is operating in a favorable environment, as outlined in the 4Q17 conference call:
A recent survey of our small business clients shows the changes that would most benefit their future success and growth are job creation, tax reform and healthcare reform. These are all priorities of the current administration's agenda and policy changes in these areas will likely lead to more HCM outsourcing demand.
Now that PAYX has made HR outsourcing easier to use and access, the change in regulations and laws should provide a growth opportunity to expand this segment.
We have also seen an increase in the level of state regulations including specific minimum wage changes and over time rules even as the federal government has taken steps to reduce similar regulations. Many multi-state small and mid-size businesses should expect to experience an increased demand for outsourcing of their HR requirements given these changes and we are well positioned to support them through our technology and dedicated service.
The stock has dropped around 20% from its recent highs. There are several reasons why, ranging from macro-economic to a shift in valuation expectations.
Let's say in late January, early February PAYX and the S&P 500 price action have become almost mirror images. The general market downturn due to Russia meddling, North Korea, and tariff talks with China has found a way to negatively impact PAYX. Bruce Berkowitz of Fairholme Capital Management said, "When times get very tough, everything is correlated." These factors might not directly impact PAYX, but it appears the general market correction has pushed the reset button on its valuation. So far, 2018 does not have that smooth sailing environment experienced in 2017 (those were the days).
PAYX and Automatic Data Processing (NASDAQ:ADP) have experienced similar fates over the last six months. But boy, Total System Services (NYSE:TSS) has really taken off since December 2017. It had solid operating performance in FY17, and has been rewarded for that growth; however, it has come in since the recent highs in March.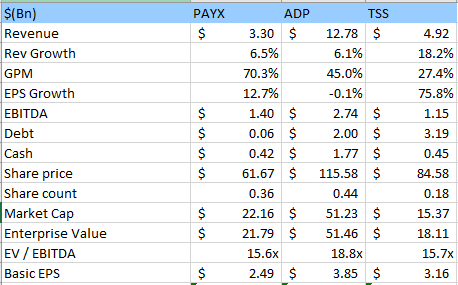 Even with the strong stock performance for TSS, it appears that the stock price was just catching up to its peer group. EPS growth for TSS was supported by $136 million in tax cut benefits. Net Revenue growth is guided to be 7-10% for FY18, and diluted shares are expected to contract -10% to -7%.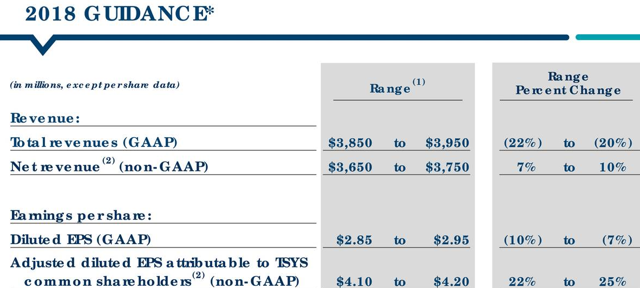 ADP's 2018 outlook appears favorable for stock price appreciation with good revenue growth, with some margin compression supported by an anticipated reduction in tax rates.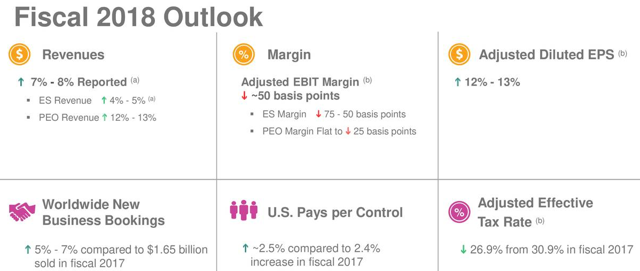 Throughout the year, PAYX has been updating its 2018 outlook and should hit those targets.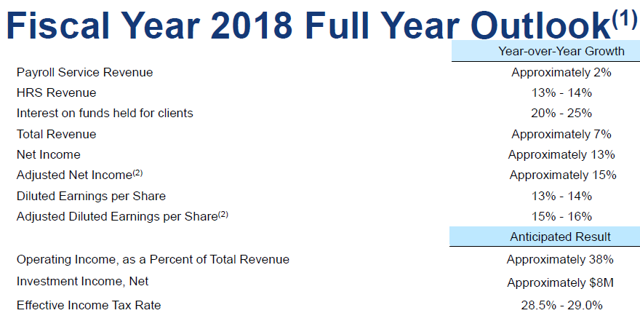 After analyzing the outlook for PAYX and its competitors, the valuation appears in line with that of its competitors, albeit at a lower level than early in the year. The question is, what can drive the valuation higher for PAYX? Taking a macroeconomic view, general improvement in market conditions and general sentiment should lend support to multiple expansion. PAYX would benefit from continued growth in the economy, and the next earnings season could provide further insight. The company has experienced growth in its HRS segment, and as it becomes larger, margins and cash flow should improve, thus it is deserving of a higher multiple.
PAYX was a trusted partner in regard to the implementation of the ACA regulation, and the company was rewarded with strong financial performance. I think the next event that could help PAYX service its customers is the lowering of corporate tax rates. It could benefit from customers engaging PAYX for payroll and HR services to navigate the new tax implications, and the lowering of tax rates could positively impact new hirings, thus growing the need for HR services. I am interested to see the impact that the new corporate tax rates have on the PAYX business model, and answers should come in the next conference call.
At FYE17, the company had $5 billion in funds held for its clients at an average interest rate of 1%. If that amount stayed static and interest earned increased by 25bps, it would represent a $0.03 increase in earnings per share. That may not seem like much, but the 25bps increase will increase EPS by 2%. A 50bps increase in interest rate will increase EPS by $0.07. The Fed is likely to increase rates a few more times in 2018, and PAYX will benefit from it.
Some notable risks include continued disappointment in customer service, leading to a decline in the retention rate. This is entirely possible, as PAYX has struggled with this recently. Management pointed out that this has been a focus, and the company is over the hump as far as kinks in the training of customer service reps go. The new customer service model should benefit its clients, hopefully leading to improved retention and satisfaction. There is always the chance that interest rates do not rise, or rise at a slower pace than is telegraphed by the Fed, and that the interest earned on funds held for clients remains static. Jerome Powell is new to the Fed chair, but he is not unknown and seems to be in line with Janet Yellen, which should provide some comfort and sense of stability. It appears that PAYX and its competitors have been re-valued at a lower level compared to 2017 and early 2018. I think this will be temporary in nature for the company given the favorable environment and growth levers still being quite strong.
With revenue growth rates based on recent trends and management guidance, as well as stable margins, the DCF model generated a stock price of $68, or ~11% upside. With a 100bps improvement in GPM and OPM, the target price is $70, which is a ~16% appreciation.

PAYX has been managed well and has been highly profitable. Management has been pulling the right levers to improve operational performance by continuing to innovate and make outsourced HR services easier for customers. Potential growth catalysts included changes in the tax code that can lead to growth in new hirings and businesses to seek services from PAYX; given constant change in regulations will lead businesses to outsource their HR services, and increases in interest rates will increase the interest on funds held for clients. As the HRS segment becomes a larger portion of total revenue, there is an opportunity for margins to improve. With the aforementioned growth catalysts, coupled with a favorable dividend payout and continuous share repurchases, a pullback from the recent highs may present a good buying opportunity.
Disclosure: I/we have no positions in any stocks mentioned, and no plans to initiate any positions within the next 72 hours. I wrote this article myself, and it expresses my own opinions. I am not receiving compensation for it (other than from Seeking Alpha). I have no business relationship with any company whose stock is mentioned in this article.