The first quarter of 2018 was not kind to TSP investors. The F, C and I funds declined, and stock market volatility - which was missing in 2017 - returned.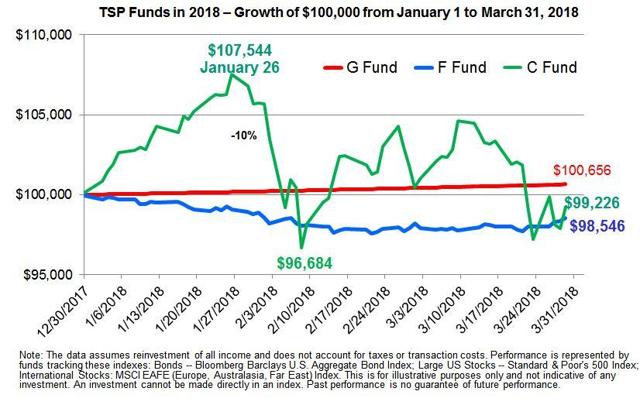 So far, the bad news is short term but not long term. Returns over the past 12 months were quite good.

F Fund (US bonds) returns have been poor for some time. The F Fund share price peaked on September 7, 2017, and as of March 31, 2018, was 2% lower. The G Fund increased 1% during the same period.
Calendar year 2017 was very different. Stock market volatility was at the lowest level ever, and returns were excellent for the stock funds.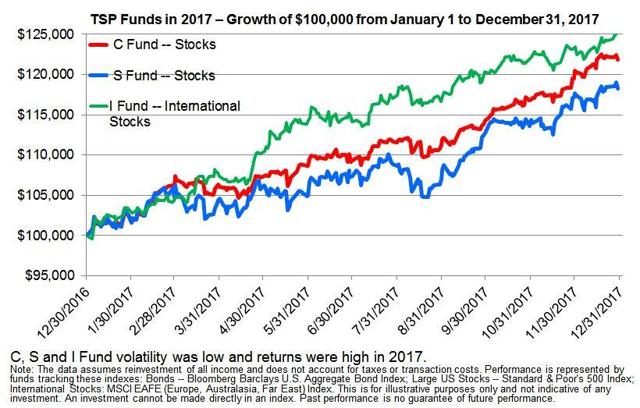 The higher volatility and slightly negative returns during the first quarter 2018 are quite different from those in 2017. What changed?
In my opinion, no one knows exactly. However, some issues that may be affecting the markets include:
The beginning of a trade war;
Slightly higher interest rates and the possibility of higher rates in the future;
Political turmoil in the US.
Looking for some positive trends? Well...
The world economy continues to grow.
The US tax cut and continued economic growth could stimulate corporate earnings this year.
Inflation and interest rates remain relatively low.
Does this tell us anything about future returns? I don't think so. One-, five- and ten-year average returns are excellent, but we are overdue for a major stock market decline. "Major" meaning 20% or more - a "Bear Market." The average historical occurrence for such large declines was every 3.5 years. The last to occur was in 2008 and 2009. So, we are five years overdue. It could happen soon or much later, but TSP investors need to be aware of the risk.