If you are not already doing so, I strongly encourage you to start analyzing free cash flow in all your current and future stocks picks. This is true whether you are an income investor or a total return investor. Certain free cash flow ratios can improve your odds of a sustainable dividend, as well as an increased potential for capital returns. And not small returns either.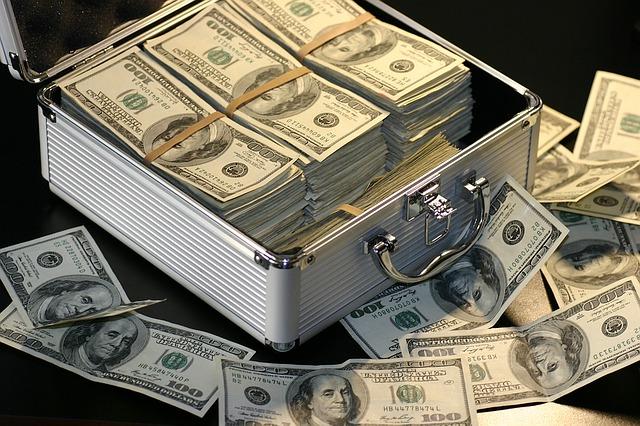 Free Cash Flow Definition
Let's get the boring stuff out of the way first. Free Cash Flow is the operating cash flow minus capital expenses. It generally represents the money left over from normal operations which can be used for dividends, buybacks, expansion or reducing debt.
Just be sure to check on how each company defines free cash flow, as there are numerous ways they can report it. Some deduct dividends paid so that the remaining amount better reflects their ability to pay future dividend increases. Others do not deduct dividends.
Free Cash Flow Is Important to Dividend Investors
Free Cash Flow is a key concept for dividend investors because dividends are paid out of cash flows. It is superior to earnings because accrual-based accounting smooths data over a longer period of time and may not give an accurate representation of a company's ability to pay dividends.
For instance, the accrual method will include accounts receivable, which is money owed to the company but which has not been paid. You can't pay dividends out of that.
As well, capital expenditures are amortized, which is great for smoothing, but the full amount of cash will have already left the bank account and dividends cannot be paid out of that either.
In addition to this, there is more interpretation of various line items which may lead to low earnings quality.
If a company is paying large amounts in capex and people owe you money, the earnings could appear high but the sustainability of the dividend could be in danger.
Positive and growing free cash flow will help provide sustainability to the dividend, as reported on by S&P researcher Qing Li, who works as the Associate Director of Global Research & Design at S&P Dow Jones Indices.
Why Important To Total Return Investors
Free cash flow is currently one of the most powerful predictors of stock returns. You will no doubt want to read more on this topic in the white paper "Are Cash Flows Better Stock Return Predictors than Profits?" Reading this and other papers, such as "Free Cash Flow as a Reliable Proxy for Predicting Stock Returns," has finally convinced me to replace earnings with cash flow measures in virtually all of my future equity models.
But why should total return investors care?
As you will find out from reading the first study I linked to, stocks in the top-performing decile outperform stocks in the lowest decile by about 10% annually.
Think of that for a moment... an additional 10% annual return, on average, by focusing on the top 10% of stocks when ranked according to free cash flow yield, which is a measure that we will talk about a little later.
Qing Li reported in the research report, "Incorporating Free Cash Flow Yield In Dividend Analysis," that between 1990 and 2017 the top 100 S&P 500 stocks as regards free cash flow yield outperformed the bottom 100 stocks by 7% annually.
And once they combined high dividend yield with high free cash flow yield, the difference between the top and bottom 100 stocks of this multi-factor portfolio soared to a 19.5% annually! That being said, the annual excess returns above the S&P 500 was just over 6%, while the bottom 100 stocks generated an annualized loss of 13.5%.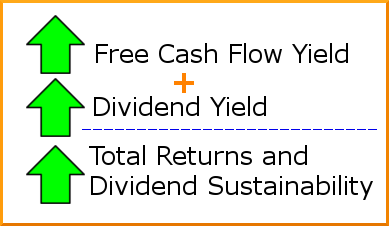 I would like to add my own analysis to the mix, where I separate S&P 500 stocks into 10 portfolio sorts based on free cash flow yield between the years 1999 and 2018. The annual return of the 50 highest free cash flow yield stocks has a spread of 9% annually when compared to the 50 lowest free cash flow yield stocks. This is a single factor test and does not include high dividend yield.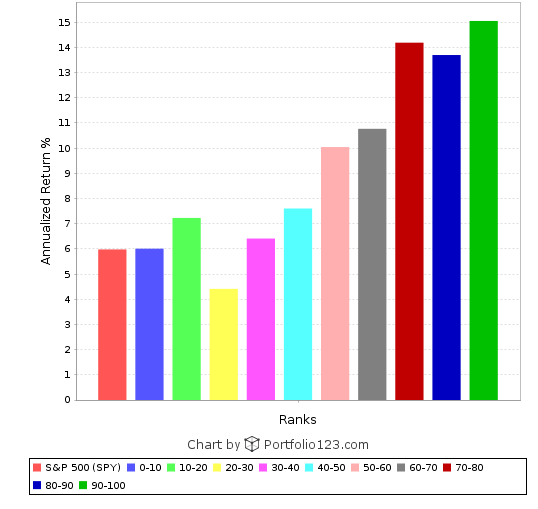 The first red bar is the annualized return of the S&P 500 ETF (SPY) between 1999 and today. The next blue bar represents the annual return for the 50 stocks with the lowest free cash flow yield. The green bar on the far right represents the 50 stocks with the highest free cash flow yield.
What To Look For With Free Cash Flow
As has already been pointed out, positive and growing free cash flow is desirable. But how can we take it further? There are two factors that you can consider, but we will only focus on the second one in this article:
Free cash flow / assets

Free cash flow / market cap
The first is a profitability ratio and is discussed in the white paper. The second one is referred to as free cash flow yield and is a value factor.
As was mentioned earlier, if you combine high dividend yield with high free cash flow yield, you will have a powerful combination that has historically led to increased dividend sustainability and higher total returns. Free cash flow yield compares the free cash flow to the market value of the equity. This tells you how much free cash flow you are getting for each dollar spent on the stock. Think of this as a much, much better metric than the earnings yield or price-to-earnings ratio.
How To Do It Yourself
You might be wondering how to implement this yourself, since you might not have access to an institutional-grade database. But you still want to use free cash flow yield and high dividend yield to pick large-cap dividend growth stocks or just high dividend yields with big upside potential. No problem!
Remember that ETFs are required to report their holdings. The AAM S&P 500 High Dividend Value ETF (NYSEARCA:SPDV) is the ETF you will want to examine, since the fund selects the top-ranked 5 stocks per sector in the S&P 500 based on high dividend yield and high free cash flow yield. It is one-stop shopping.
Here is the list you can browse for your individual stock selections. Of course, with a 0.29% expense ratio, I would also recommend just getting the ETF, as it is already diversified, and holdings will be adjusted as needed with no work on your part. You just buy and forget about it.
The AAM S&P 500 High Dividend Value ETF (SPDV)
CONSUMER DISCRETIONARY
(F)
FORD MOTOR CO.
(KSS)
KOHL'S CORP.
(HRB)
H&R BLOCK INC.
(M)
MACY'S INC.
(TGT)
TARGET CORP.
CONSUMER STAPLES
(CVS)
CVS HEALTH CORP.
(ADM)
ARCHER DANIELS MIDLAND CO.
(CPB)
CAMPBELL SOUP CO.
(GIS)
GENERAL MILLS INC.
(SJM)
J.M. SMUCKER CO.
ENERGY
(XOM)
EXXON MOBIL CORP.
(MPC)
MARATHON PETROLEUM CORP.
(VLO)
VALERO ENERGY CORP. NEW
(OKE)
ONEOK INC.
(WMB)
WILLIAMS COMPANIES INC.
FINANCIALS
(HBAN)
HUNTINGTON BANCSHARES INC.
(MET)
METLIFE INC.
(NAVI)
NAVIENT CORP.
(PRU)
PRUDENTIAL FINANCIAL INC.
(PFG)
PRINCIPAL FINANCIAL GROUP INC.
HEALTHCARE
(CAH)
CARDINAL HEALTH INC.
(GILD)
GILEAD SCIENCES INC.
(ABBV)
ABBVIE INC.
(AMGN)
AMGEN INC.
(PFE)
PFIZER INC.
INDUSTRIALS
(ETN)
EATON CORP. PLC
(GWW)
W.W. GRAINGER INC.
(BA)
BOEING CO.
(NLSN)
NIELSEN HOLDINGS PLC
(CMI)
CUMMINS INC.
INFORMATION TECHNOLOGY
(IBM)
INTERNATIONAL BUSINESS MACHINES CORP.
(CSCO)
CISCO SYSTEMS, INC.
(STX)
SEAGATE TECHNOLOGY
(WDC)
WESTERN DIGITAL CORP.
(CA)
CA INC.
MATERIALS
(CF)
C.F. INDUSTRIES HOLDINGS INC.
(EMN)
EASTMAN CHEMICAL CO.
(LYB)
LYONDELLBASELL INDUSTRIES-CL A
(NUE)
NUCOR CORP.
(WRK)
WESTROCK CO.
TELECOMMUNICATION SERVICES
(T)
AT&T INC.
(CTL)
CENTURYLINK INC.
(VZ)
VERIZON COMMUNICATIONS INC.
UTILITIES
(AES)
AES CORP.
(FE)
FIRSTENERGY CORP.
(NEE)
NEXTERA ENERGY INC.
(WEC)
WEC ENERGY GROUP INC.
(ED)
CONSOLIDATED EDISON INC.
REAL ESTATE
(HCP)
HCP INC.
(SPG)
SIMON PROPERTY GROUP INC. NEW
(HST)
HOST HOTELS & RESORTS INC.
(VTR)
VENTAS INC.
(KIM)
KIMCO REALTY CORP.
You can read more about my analysis of this ETF in the article entitled "AAM S&P 500 High Dividend Value ETF SPDV: Should You Ditch The High Yield Dog For This ETF?"
Other ETFs And Free Cash Flow Yield
Is SPDV the only ETF that takes advantage of free cash flow yield and high dividend yield? No. If you are into emerging markets, then you may want to have a look at the AAM S&P Emerging Markets High Dividend Value ETF (NYSEARCA:EEMD).
Pacer ETFs also has a free cash flow yield series of funds. I like their Pacer US Cash Cows 100 ETF (BATS:COWZ), and I will report on it more fully in a future article.
I like that they include a wide cap range which draws from the Russell 1000 index. They select 100 stocks with the highest free cash flow yield.
I also like that they weight towards free cash flow yield with a 2% position cap.
What I really don't like is that they don't include high dividend yield as a factor.
I find that the 0.49% expense ratio is much higher than the 0.29% of SPDV.
TrimTabs also has a couple of ETFs which I will examine in a future article: the TrimTabs All Cap International Free-Cash-Flow ETF (BATS:TTAI) and the TrimTabs All Cap US Free-Cash-Flow ETF (BATS:TTAC). The 0.59% expense ratio is a bit off-setting. I like that TTAC includes small to large caps from the Russell 3000 index, but I find it less of a free cash flow play, since float shrinkage is given more emphasis than free cash flow (according to what I gather from their prospectus).
Summary
The bottom line I want you to take away is that free cash flow is an incredibly important item to consider. It might be one of the most important items to track over time. It sustains the dividend and is linked to superior portfolio performance.
You can divide free cash flow by the market cap (or possibly enterprise value) for a value ratio (free cash flow yield) but also by assets for a profitability ratio. Or you might simply look for positive and growing free cash flows to keep things simple. High free cash flow yield with high dividend yield appears to be a particularly strong combination. If you don't have a database of such factors, you can simply look at the holdings in various free cash flow ETFs or just buy the fund for a well-diversified and simple approach.
Disclosure: I/we have no positions in any stocks mentioned, and no plans to initiate any positions within the next 72 hours. I wrote this article myself, and it expresses my own opinions. I am not receiving compensation for it (other than from Seeking Alpha). I have no business relationship with any company whose stock is mentioned in this article.