Q1 brought yet another blowout quarter for Netflix (NFLX), and the streaming giant is back on its way toward toppling its old all-time highs. It's almost as if the market-wide tech selloff of March and April didn't happen for Netflix. Though it's the smallest of the FANG stocks, it has put some decent mileage toward closing the gap in recent weeks, as Netflix has been the only large-cap internet stock to advance in April.
The question for investors is: does Netflix have enough of its secret sauce to continue meriting such a high valuation premium and to keep the fuel tank for its rally full? There's no doubt that Netflix is a Wall Street favorite and many investors, large and small, swear undying loyalty to the stock - but as a value-oriented investor, I don't mind being a contrarian here. Netflix's valuation keeps pushing the envelope and has far exceeded its fair value. At current levels, the stock is at best a hold. Should it rise any further than $330, there will be plenty of investors trying to sell and lock in gains.
Each of the other three FANG stocks lost major ground in recent weeks. Facebook (FB) and Alphabet/Google (GOOG) (NASDAQ:GOOGL) got slammed on data privacy issues after Facebook's Cambridge Analytica scandal; Amazon (AMZN) got reamed on regulatory fears after President Trump blasted the company for dodging taxes and putting retailers out of business. For the moment it seems that Netflix is safe from these headline risks, but for how long? Its watershed moment will come soon as well, and in my view, it can be either one of two related things: a failure to keep the subscriber growth engine going, or a failure to realize an acceptable ROI on its content spending.
These aren't insignificant risks. Competition is heating up in the streaming space, with both Disney (DIS) and Viacom (VIAB) to launch competing offerings soon, and with the likes of HBO continuing to show strength. And on the content side, as I've written in a prior article, a lot of Netflix's content budget this year has gone toward nonstarter films that don't do much to engender subscriber loyalty. If the company can't put its $8 billion of content spending to good use in producing another hit like Stranger Things, Netflix could lose the creative edge that is its greatest appeal to new subscribers.
Also note on the content side: Netflix amortizes its huge and growing content spending, so in a sense, Netflix's EBITDA and bottom-line results somewhat mask the increasing spend that the company has committed to producing content. The whole industry - Netflix, Disney, and a slew of others - are in an arms race to win over eyeballs to their screens, and content budgets have never been higher. It's unclear whether Netflix can sustain a long-term margin if it has to continually up its content spending year after year to produce subscription growth. This year, it's taking content spending up by 33% (from $6 billion last year). Though top-line growth is expected to exceed content spend growth this year, is it possible that some day it won't - thus implying a shrinkage of margins?
With Netflix's valuation so bloated (8.7x forward revenues and 72x forward EBITDA, as shown in the chart above), its risk-reward profile is extremely unappealing. I'd use this earnings rally to trim exposure to the stock.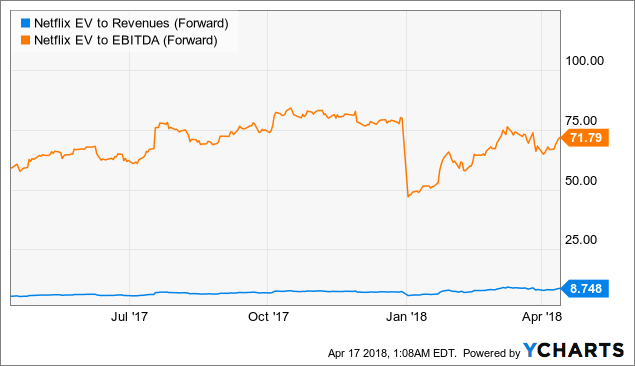 Subscriber growth beats, but how long can it be sustained?
The most important number of every quarter isn't the financial results, but the subscriber adds. This quarter, Netflix added a total of 7.41 million net new subscribers, beating the 6.5 million that Wall Street was looking for. This brings Netflix to a total of 118.9 million paid memberships, and the net adds this quarter are 50% higher than the 4.95 million net adds it saw in 1Q17.
On a geographic basis, 1.96 million net adds were in the U.S. (versus consensus of 1.48 million) and 5.46 million overseas (versus 4.98 million consensus). Clearly, it's the domestic side that stirred investors excitement, as both the beat margin and the signal that Netflix isn't too saturated in the U.S. are bullish indicators.
How long can these results be sustained, though? Netflix has had a history of choppy results on the subscriber side. Last year's Q1 release disappointed heavily on the U.S. side, jolting the shares downward. The easy comp from last year is partially a tailwind that the company saw in this quarter's comparative results.
Netflix is the dominant streaming player for now, but as CEO Reed Hastings himself has said, "If we get lazy or slow, we'll be run over just like anybody else." All the big media players are hungry for a piece of Netflix's business. Disney, in particular, is the key competitor to note. This week the company released ESPN+, a $4.99/month offering for what most consider to be Disney's most valuable media asset. ESPN+ might not have much overlap with Netflix's feature films and TV shows, but the movie streaming service that Disney is slated to launch next year certainly does. Ditto for Viacom's service, which is also home to major entertainments brands like Nickelodeon and MTV. And then there are the other internet players like HBO, Hulu (partially owned by Disney), as well as Amazon Video (free with Prime, something most consumers already have anyway).
Unless Netflix can get its creative groove back and release another massive original hit (it needs several of these, actually), it risks losing subscribers and decelerating its net adds to these new competitive offerings.
Next quarter Netflix has guided to 6.20 million net adds, already significantly more than the 5.24 million Wall Street has penciled in. Though it's tempting to hope Netflix can continue beating its subscriber addition guidance, consumer behavior is very fickle - and as we've seen in the not-too-distant past, even Netflix can be caught by surprise.
Q1 download
Here's a look at Netflix's full Q1 results: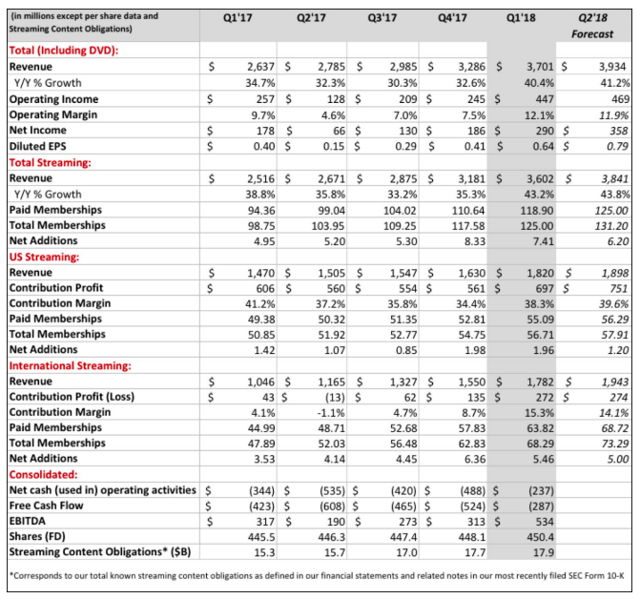 Source: Netflix investor relations
Note that outside of the large beats to subscriber additions that we just discussed, Netflix's actual financial results didn't show too much upside versus Wall Street's expectations.
Revenues in the quarter grew 40.4% y/y to $3.70 billion. While this is an impressive growth rate for a company of Netflix's scale, Netflix only beat Wall Street's consensus of $3.69 billion (+40.0% y/y) by just a hair. On the bottom line, the story is the same as well: pro forma EPS of $0.64 is only a penny higher than consensus expectations of $0.63.
This makes the fact that Netflix soared 6% in after-hours trading a ludicrous response to the modest earnings beat. Yes, it's true that Netflix delivered hugely against subscriber expectations, but that's an extremely choppy metric - and for all we know, a pull-in of subscriber adds into this quarter could risk underperformance next quarter.
Netflix has a decent story on the operating margin side, with its ever-larger international business now producing a double-digit contribution margin (last year, it was negative). Total operating margin was 12.1% this quarter, owing largely to improvements in the international segment, up from 9.7% in the prior year.
Note as I mentioned before, however, that Netflix's amortization treatment for its content spending somewhat exaggerates its profitability. The $7.5 to $8 billion of content spending that Netflix expects to engage in this year will only hit the income statement in gradual increments. Netflix's free cash flow of -$287 million in the quarter is a better indicator of how expensive the company's growth is to achieve. Only time will tell if Netflix can earn a sizable return from its content investments, and if the subscribers it adds can be retained.
Key takeaways
Despite another optically strong quarter for Netflix, I see more risk than opportunity in the company's near-term future - especially with its nosebleed valuation. The company's freewheeling increase in content spending - even if it's gone to securing contracts with award-winning writers like Shonda Rhimes and Ryan Murphy - is no guarantee of sustaining subscriber growth. For a company valued this richly, any misstep could see a large negative reaction in the shares.
There's no doubt that Netflix has built the definitive, market-leading product in the streaming industry it invented. But with competitors at its heels, there's more than enough reason to cut exposure and lock in gains.
Disclosure: I/we have no positions in any stocks mentioned, and no plans to initiate any positions within the next 72 hours. I wrote this article myself, and it expresses my own opinions. I am not receiving compensation for it (other than from Seeking Alpha). I have no business relationship with any company whose stock is mentioned in this article.