Recently, I have credited Fed chief Jay Powell for having moved closer to a more rules-based monetary policy, and I have expressed the hope that we could be entering a new regime - a Powell Standard. This is probably somewhat overly optimistic, but it mostly reflects the fact that inflation expectations (and our forecasts for US inflation) are becoming re-anchored close to 2% in the medium term, and that interest rates have moved more materially above the Zero Lower Bound (ZLB).
In fact, a couple of months ago, I started to fear that inflation would increase too much and more permanently overshoot the Fed's 2% inflation. However, since the latest FOMC meeting, I have become more worried that the Fed might tighten monetary policy too aggressively even before we get close to 2% (core) inflation.
Rüdiger "Rudi" Dornbusch famously said that economic expansions do not die in bed from old age but are murdered by the Fed. I strongly believe he was right, as basically all US recessions since the Second World War have been preceded by an inversion of the yield curve as the Fed has moved to push short-term rates above long-term yields. Hence, I am presently more worried about the Fed causing a recession - likely in 2020-21 - than by a sudden spike in inflation.
Why am I not worried about an inflationary spike? Because monetary variables tell me so.
The US money base is contracting, and broad money growth is not very strong. Furthermore, even though nominal GDP growth has accelerated, there are no signs that inflation is going to significantly overshoot the 2% target. Market inflation expectations are telling us the same story.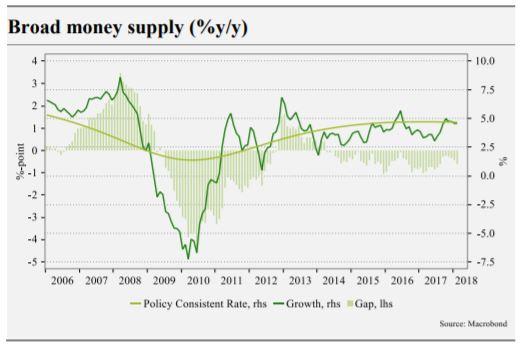 Our Monetary Indicator (which is based on broad money and NGDP growth, the dollar and short-term rates) is presently pointing to 2.1% inflation in 2-3 years. That is hardly alarming.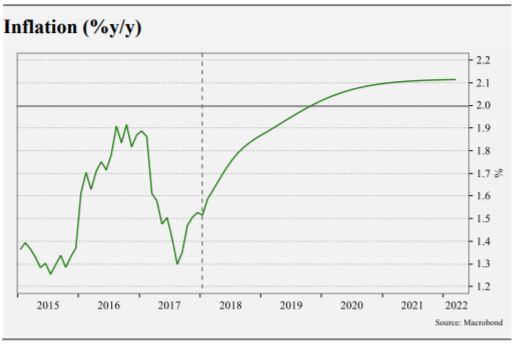 Furthermore, our work on (interest rate) policy rules shows that if the Fed follows the "median" of the rules, it should hike rates by 100bp over the next 24 months, and that is also pretty much what the markets expect. (See more here.)
However, our simulations also indicate that the FOMC's so-called dots for 36-48 months is far too hawkish compared to standard policy rules. In fact, the FOMC de facto has already announced it will "murder" the recovery in 2020-21, as it will push the short-term rates above long yields.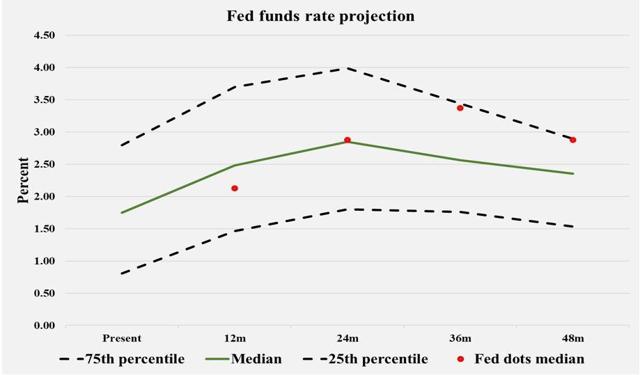 Therefore, I fear the risk of a recession caused by the Fed - even if inflation has not accelerated - is bigger than a sudden jump in inflation.
In this regard, I also think it is extremely important that there still is a significant risk that within the next five years we will re-test the ZLB, and that the Fed once again will make a deflationary mistake.
Our work on the long-term natural rate indicates that demographic factors are likely to push down rates and yields in the coming decade rather than up (see more on that here), which adds to the risk that the Fed makes a deflationary mistake.
How could I be wrong? The only way I see a sudden upward shift in inflation expectations is if we see a sudden jump in money velocity. That could happen for all kind of reasons, but the Fed should not conduct monetary policy under an assumption that it will happen.
However, there are a few scenarios where this could happen.
First, it might be that fiscal policy is becoming completely unsustainable, and that could cause a sudden jump in long yields (the market assessment of the natural rate). Then the Fed obviously would have to move rates up in line with this, but if it fails to do so, then it would be inflationary.
Second, we could see something even worse - a collapse of the overall credibility of US economic policy. President Trump certainly is doing everything to make this happen, but so far, the markets are telling us not to be overly worried (in the meanwhile, I will try not to read Trump's insane tweets).
So how would I evaluate things going forward?
First of all, I would keep an eye on inflation expectations - both market expectations and forecasts based on monetary analysis. As long as they continue to indicate inflation close to 2% in the medium term, I would not be overly worried.
Second, I would track Fed rate changes compared to standard policy rules (we have a good toolbox to do that), and as part of that, I would closely track developments in the natural rate.
If medium-term inflation expectations are well-anchored and the Fed follows a relatively well-defined Taylor-style rule, I am not too worried about inflation getting un-anchored to the upside.
Is this the consensus view on the FOMC? Not really. There is no coherent monetary policy framework on the FOMC, and there isn't yet new monetary standard. My talk of a "Powell Standard," in that sense, is more a hope than reality.
What does this mean from a market perspective? Well, first of all we shouldn't really fear that long yields move above 3%, and if short rates move above 3%, the Fed will soon be forced (by a recession and/or a financial "event") to cut rates and maybe restart QE - and with US stock prices still fairly elevated relative to fundamentals, there continues to be a risk of more stock market volatility.
Consequently, I wouldn't sell my US Treasuries anytime soon. And the dollar? Only god knows, but on a PPP basis, the dollar probably is exactly where it should be also in the medium term.