By Ethan Lovell, Rich Carney, CFA & Ryan Smith, CFA
Ever since Hillary Clinton tweeted about rising drug costs during the 2016 U.S. presidential campaign, concerns about drug-pricing reform have cast a shadow over health care stocks. President Trump's election did little to allay those fears. Entering office, he accused the pharmaceutical industry of "getting away with murder," and fired off tweets such as one in which he declared drug pricing would "come way down." Each time, health care stocks sold off.
In recent weeks, investors have gotten more insight to how the Trump administration might actually address drug pricing. In both Congress' recently passed Bipartisan Budget Act (BBA) and the White House's budget proposal for fiscal year 2019, legislators focused on reforms that would lower out-of-pocket drug costs for Medicare beneficiaries. Those reforms include increasing manufacturer discounts in the coverage gap, or "donut hole," in Medicare Part D plans and sharing drug rebates with patients. And in a speech in early March, Scott Gottlieb, M.D., commissioner of the Food and Drug Administration (FDA), discussed the agency's efforts to improve market access to generics and biosimilars (generic versions of complex biologics).
Fixing the Market, Not Drug Prices
What's not on the table: Negotiating drug prices directly with drug manufacturers. Instead, the government wants to help create incentives to bolster market competition - incentives that regulators argue currently are lacking or being hindered.
For example, in his speech, Dr. Gottlieb criticized consolidation within the pharmacy, distribution and pharmacy benefit manager (PBM) industries. Facing little competition, he argued these powerful players are able to negotiate lucrative rebates on branded drugs, which are then given prime placement on plan formularies. Lower-cost generics and biosimilars also have rebates, but the discounts tend to be smaller and, therefore, make the drugs less appealing. What's more, these companies, along with insurers, tend to pocket the rebates rather than pass the savings on to patients. Said Dr. Gottlieb: "These Kabuki drug-pricing constructs … obscure profit-taking across the supply chain … and actively discourage competition."
With more attention being paid to these "constructs," some companies are taking action. Starting next year, for example, UnitedHealth Group (NYSE:UNH) and Aetna (NYSE:AET), two major insurers, will begin sharing drug rebates with consumers in fully insured commercial group plans. Amazon.com (NASDAQ:AMZN) has secured wholesale pharmacy licenses in 12 states, suggesting the e-commerce giant might one day begin distributing pharmaceutical drugs. In January, Amazon also announced a partnership with Berkshire Hathaway (NYSE:BRK.A) (NYSE:BRK.B) and JPMorgan Chase (NYSE:JPM) to form an independent health care company to try to lower costs for their employees. And mergers and acquisitions have increased, as insurers combine with PBMs to lower expenses. Last year, for example, CVS Health (NYSE:CVS), the large retail pharmacy and PBM, said it would buy Aetna, a major insurer, and in March, Cigna (NYSE:CI), a managed care firm, said it would purchase Express Scripts (NASDAQ:ESRX), a PBM.
The Impact to Investors
What does this all mean for investors? For the moment, we think it could alleviate the number of tweets we get from Trump, potentially reducing some volatility for the sector. Both Congress and the White House are targeting Medicare, which makes up only one-fifth of all health care costs in the U.S. But those efforts could be sufficient for Trump to claim "victory" over drug prices, at least in the near term.
Exhibit 1: Lower Costs for Seniors
The Bipartisan Budget Act of 2018 reduces out-of-pocket costs for seniors who hit the coverage gap, or "donut hole," in Medicare Part D. All else being equal, we calculate these seniors could save roughly $2.4 billion in 2019, when the law takes effect. The figure could grow dramatically if the Centers for Medicare & Medicaid Services requires manufacturer rebates to be passed on to seniors at the point of sale - a proposal under review.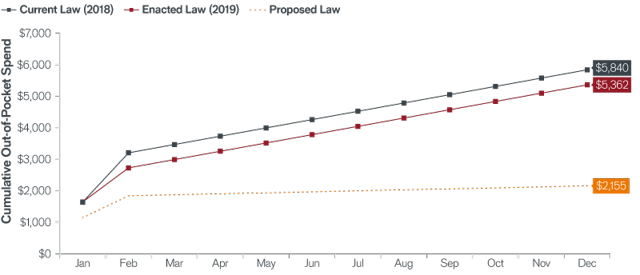 Source: Janus Henderson Investors, Centers for Medicare & Medicaid Services, Express Scripts Notes: Spending figures are cumulative YTD for Medicare Part D beneficiaries. Calculations are illustrative and based on the annual gross spend for Humira in Express Scripts' Medicare Part D plan, which is $57,844. In 2018, beneficiary deductible is $405. Above that, beneficiary pays 25% of drug cost until $3,750 in cumulative gross costs, at which point the coverage gap begins. From there, beneficiary pays 35%, manufacturer discounts 50% and insurer covers 15%. Starting in 2019, the deductible rises to $415 and the initial coverage limit is $3,820. In the coverage gap, beneficiary pays 25% and manufacturer discount rises to 70%, with insurer paying 5%. Proposed law uses 2019 assumptions, plus point-of-sale rebates (33% of a negotiated rebate of 25%) and an estimated monthly premium increase of 17%.
Consumers might also benefit from better access to generics and biosimilars. Under the BBA, starting in 2019, biosimilars will be treated the same as branded drugs in the coverage gap and qualify for manufacturer discounts. Also, last year, the FDA approved more than 1,000 generics, a record number. In the coming months, the agency is expected to deliver a Biosimilar Access Plan, a list of policy options to improve market competition and uptake of biosimilars. If implemented, the plan would likely increase competition for branded drugs set to lose patent protection. However, we believe it would also underscore the value of companies that are delivering innovative medicines and/or employing market-based pricing strategies.
Take Sanofi (NASDAQ:SNY) and Regeneron Pharmaceuticals (NASDAQ:REGN): In March, the pharmaceutical makers announced they would cut the price of their cholesterol-lowering drug, Praluent, by as much as 69%, in exchange for better placement on plan formularies. The decision came after Sanofi and Regeneron released new clinical trial data showing that Praluent significantly improved outcomes for patients who have already experienced a serious coronary event (such as heart attack) and are taking statin drugs. The price was also based on a cost-effective analysis from the Institute for Clinical and Economic Review, which measures the value of prescription drugs. The benefit of the drug makers' strategy could be twofold: Sanofi and Regeneron could see higher volumes (making up for the lower price), while patients get pocketbook relief.
Then, there's Amazon. Already, a handful of pharmaceutical CEOs have said they'd welcome the tech titan if it brought greater efficiencies to drug distribution. Doing so is not without its challenges; the U.S. health care system is notoriously complex. But with more consumers enrolled in high-deductible health plans, and therefore paying a greater percentage of their care out of pocket, we believe the demand for simplicity and transparency in drug pricing is only likely to grow - goals that fall squarely within Amazon's wheelhouse.
Disclaimer: The health care industries are subject to government regulation and reimbursement rates, as well as government approval of products and services, which could have a significant effect on price and availability, and can be significantly affected by rapid obsolescence and patent expirations.
Please consider the charges, risks, expenses and investment objectives carefully before investing. Please see a prospectus or, if available, a summary prospectus containing this and other information. Read it carefully before you invest or send money.
The opinions and views expressed are as of the date published and are subject to change without notice. They are for information purposes only and should not be used or construed as an offer to sell, a solicitation of an offer to buy, or a recommendation to buy, sell or hold any security, investment strategy or market sector. No forecasts can be guaranteed. Opinions and examples are meant as an illustration of broader themes and are not an indication of trading intent. It is not intended to indicate or imply that any illustration/example mentioned is now or was ever held in any portfolio. Janus Henderson Group plc through its subsidiaries may manage investment products with a financial interest in securities mentioned herein and any comments should not be construed as a reflection on the past or future profitability. There is no guarantee that the information supplied is accurate, complete, or timely, nor are there any warranties with regards to the results obtained from its use. Past performance is no guarantee of future results. Investing involves risk, including the possible loss of principal and fluctuation of value.

Janus Henderson Investors © 2001-2018. All rights reserved.