Though we seem to have had stunt starts each time a rally appeared set to get going for stocks recently, I believe we can now, finally, more confidently cue the rally for stocks. It is earnings season after all, and the livin is easy...
Stock Market Rally Stymied Recently
Before the Syrian scare stirred fear of a direct confrontation between the United States and Russia, stocks appeared set to start a rally. And before that, the spark of a potential trade war with China inconveniently set stocks back. While the Syria setback was unpredictable, and the U.S. trade policy is something that is still unsavory, the issues have faded into the background. The strikes on Syria went without a hitch, and though relations between the U.S. and Russia and Iran are far from friendly, the threat is not imminent or definable.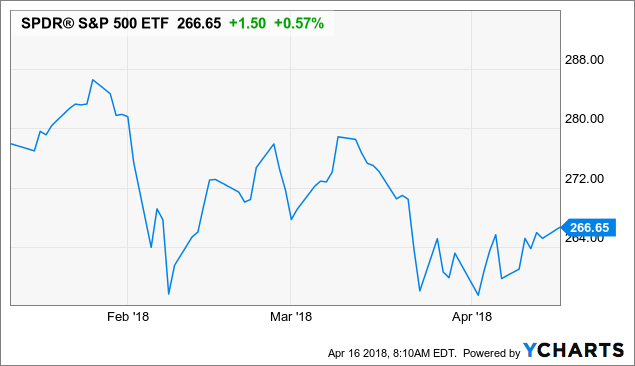 The trade of tariff fire between China and the United States has each nation's representatives talking down the current state of affairs and suggesting that something might be worked out before a full-on trade war were to break out. So can we now remind ourselves about the benefits of full employment, global economic synchronous growth and tax reform in the U.S.? The answer to the rhetorical question is I believe so.
| | |
| --- | --- |
| Sector Security | Premarket Monday April 16 |
| SPDR S&P 500 (SPY) | +0.6% |
| SPDR Dow Jones (DIA) | +0.6% |
| PowerShares QQQ (QQQ) | +0.6% |
| iShares Russell 2000 (IWM) | +0.4% |
Cue the Stock Market Rally
Equities appeared set to reflect relief Monday morning, though the news wire was still full of reasons to worry. But, it's earnings season, let me remind you, and given favorable economic factors, I suspect the earnings flow will be a positive factor for stocks broadly.
The real operational results of corporations should be a tangible reminder of what matters most for stocks. As corporates report, their earnings data should reflect the benefits of a fully employed American labor force that I expect will be spending more this year. It should also reflect the benefits of economic expansion globally, synchronized and set to further serve stocks. And, last but not least, it should reflect the benefits of tax reform in America, driving consumer spending on stronger take-home pay, and business spending of their capital windfall.
Earnings season effectively just started last week with the reports of J.P. Morgan Chase (NYSE: JPM), Citigroup (NYSE: C) and Wells Fargo (NYSE: WFC), bank bellwethers for the economy. The news was good last week for all three banks, and it probably would have kick-started a rally if not for fear about the Syria issue. So now that Syria is behind us, and with the rest of America's corporations set to state earnings, with Bank of America beating estimates this morning, equities should now be able to remark the year's high. For my regular coverage of the market, readers are welcome to follow the column here at Seeking Alpha.
Disclosure: I/we have no positions in any stocks mentioned, and no plans to initiate any positions within the next 72 hours. I wrote this article myself, and it expresses my own opinions. I am not receiving compensation for it (other than from Seeking Alpha). I have no business relationship with any company whose stock is mentioned in this article.