Earlier this year, virtually every bitcoin ETF proposal was withdrawn. The reason given was that the SEC said it was concerned over the liquidity and proper valuation of the underlying bitcoin futures that would be used by most of the funds. Unless the SEC's position suddenly changes, I think it's safe to say that bitcoin ETFs are off the table for the foreseeable future.
If ETF investors are still looking for exposure to the cryptocurrency space, the next best option would be blockchain ETFs. Blockchain, the technology that underlies bitcoin and other cryptocurrencies by acting as an online transaction ledger, is still in its infancy, but could have limitless applications in other areas of business. As we've seen with robotics, artificial intelligence and genomics, investors are always looking to jump in early on a potentially game-changing technology. According to Gartner, the value of blockchain could surpass the trillion dollar mark over the next decade.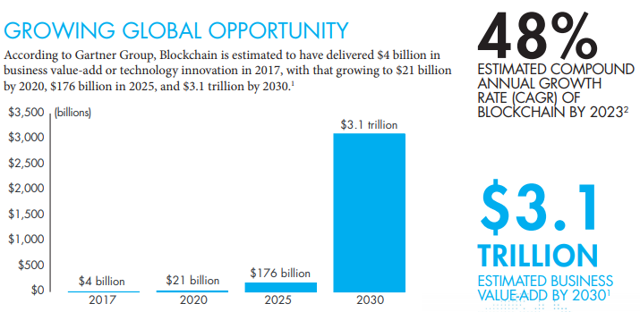 The ETF industry, as it usually does, was quick to respond. Over a two-week period in the second half of January, four blockchain ETFs were launched. In what will probably be remembered as a smart move, the SEC asked that the word "blockchain" be removed from the funds' names in order to help prevent an investor mania of money piling into these products. In other words, it wanted to try to prevent a similar situation to what happened with Riot Blockchain (RIOT) and Long Blockchain (OTCPK:LBCC), two companies that added the word "blockchain" to their names and immediately saw their stock prices more than double overnight.
The four blockchain ETFs are...
The problem with the blockchain ETF is that there are very few pure plays in this space. As a result, you've got these funds that are filled with large-cap names that are actively developing or utilizing blockchain technology, but it's still a very small part of their overall business model. If you invest in a blockchain ETF, you're ultimately getting very little blockchain exposure at all. The relative attractiveness of these funds is the future potential of blockchain and how well the funds' chosen holdings are able to capitalize on it as opposed to the present.
Each of these funds approach portfolio construction a little differently, but it's the ability to target companies that are both committed to and invested in developing their blockchain capabilities the best that will make better choices for investors (for the record, all of the four ETFs make it a point to avoid companies, such as RIOT and LBCC, that are blockchain companies in name only, with BLOK's 0.3% allocation to Eastman Kodak (KODK) looking like the most egregious holding).
All of the four funds charge roughly the same in fees, but BLOK is the only one that's actively managed.

LEGR looks to be the most diversified of the bunch with far more holdings than its peers and a lower percentage of assets held in its top 10 holdings. The semiannual rebalancing of BLCN and LEGR isn't going to do those funds any favors. The blockchain landscape figures to change rapidly, and the inability of those two funds to change with it could put them behind. BLOK's active management should help it stay nimble and it won't come at a big extra cost either.
BLOK has two more important benefits coming right out of the gate. One, it had the first to market advantage (technically, BLCN launched on the same day, but they both beat out the other two funds). Two, it had the most recognizable ticker of the bunch (yes, tickers don't really matter, but they kind of do). Whether or not you believe in the importance of the ticker, BLOK has managed to attract the most assets.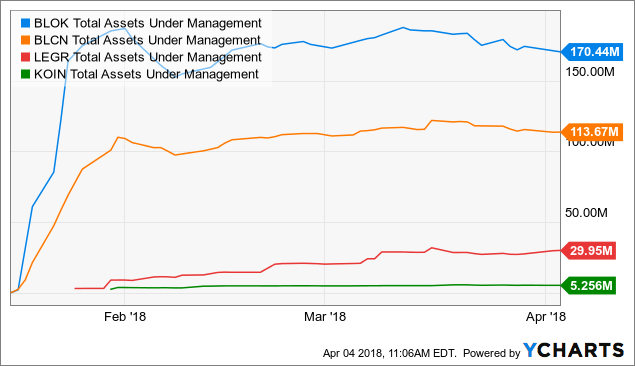 Assets have begun trending back down after the initial boom, thanks to the correction in tech. These funds are currently about 8-13% below their 2018 highs, and it's going to take a rebound in performance before we'll see assets make a move up again. It could be a similar situation to what we saw with the ROBO Global Robotics & Automation Index ETF (ROBO), which saw total assets languish under $150 million for three full years before 2017's 44% return pushed assets over the $2 billion mark.
Let's break down these funds one by one.
Amplify Transformational Data Sharing ETF
As mentioned above, BLOK is the only actively-managed fund of the group, which I believe will ultimately serve it the best. In a rapidly changing sector, ETFs need to be able to remain flexible to change their composition quickly. An index fund that only reconstitutes itself periodically won't be able to do that nearly as effectively. This is one of the relatively few cases where choosing a higher cost actively-managed fund makes more sense.
These are the fund's top 10 holdings.

The fund includes many of the big names that have already announced major investments in blockchain technology. Overstock (OSTK), which resides at #11 in the fund's top holdings, announced it was investing $3 million in a blockchain payments startup. IBM (IBM) recently revealed a new blockchain system for startups. Taiwan Semiconductor (TSM) recently announced that cryptocurrency mining was a driver in its quarterly revenue growth. Stifel analyst Kevin Cassidy says that AMD (AMD) and Nvidia (NVDA) stand to benefit from supplying the intellectual property for blockchain development.
In order to qualify for the fund, the managers examine each company using four criteria...
actively engaging in the research and development, proof-of-concept testing, and/or implementation of transformational data sharing technology;
profiting from the demand for transformational data sharing applications such as transaction data, cryptocurrency and supply chain data;
partnering with and/or directly investing in companies that are actively engaged in the development and/or use of transformational data sharing technology; and
acting as a member of multiple consortiums or groups dedicated to the exploration of transformational data sharing technology use.
The managers also categorize companies as either "core" or "secondary". Core companies derive significant direct revenue from transformational data sharing-related business and/or are among the largest five investors in transformational data sharing-engaged companies. Secondary companies directly invest or partner in transformational data sharing technology companies, or participate in multiple blockchain industry consortiums. 70% of fund assets go to core companies, with the remaining 30% going to secondary.
BLOK, however, has that pesky investment in Kodak. It's only a 0.3% allocation in the fund, so it won't significantly affect the fund's performance, but it does raise the question of how the criteria for inclusion is applied in this fund. Most try to steer away from companies that have yet to really commit to blockchain development, but Kodak's presence in this fund is curious.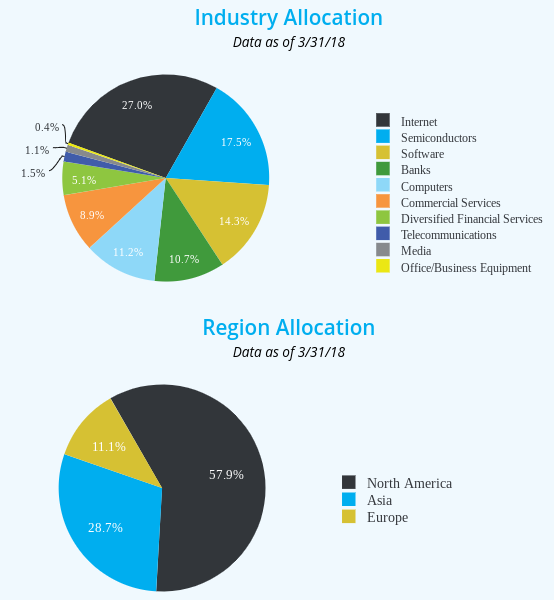 As expected, most of the fund is comprised of tech and financial companies, with a solid 40% of assets coming from overseas. The 58% allocation to North America is actually higher than average in this space.
The factors I find most appealing about this fund are 1) its active management and ability to quickly respond to changes within the industry, and 2) its focus on measurable data to determine the degree of involvement in the blockchain industry. The investment in Kodak is a minor quibble.
Reality Shares Nasdaq NexGen Economy ETF
BLCN debuted at the same time as BLOK, but didn't get quite as much attention as BLOK. I'm not sure there's a whole lot to be read into the difference in AUM out of the gate, but BLOK and BLCN do have some significant differences.
I spoke with Eric Ervin, the CEO of Reality Shares, briefly when the fund launched, and he noted that his company partnered with Nasdaq, because he wanted to make sure that his company was creating the ETF the right way. By that, he meant that he was assembling an advisory board of tech and industry experts to make sure they're assessing companies and their involvement in blockchain accurately in order to deliver a quality product for shareholders.
To do this, BLCN evaluates companies and assigns them a Blockchain Score. This is a proprietary algorithm designed to identify those Blockchain-related companies expected to benefit most, as determined by the potential for increased economic profit, operational efficiencies, and transformational business practices.
The Blockchain Score is evaluated based on several factors, including:
Blockchain technology ecosystem
Participation in industry groups
Blockchain technology development
Innovation
Economic impact
Public references
Research and development
The fund's top holdings include some of the biggest names in tech.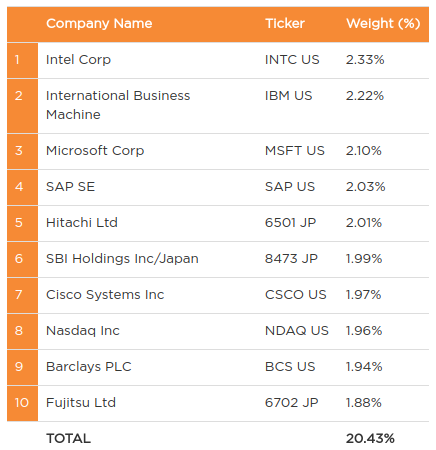 BLCN shares three of its top 10 holdings with BLOK, while 44% of total assets overlap in the two funds. Compared to BLOK, BLCN has somewhat heavier presence overseas, and has a higher percentage of assets invested in financial companies.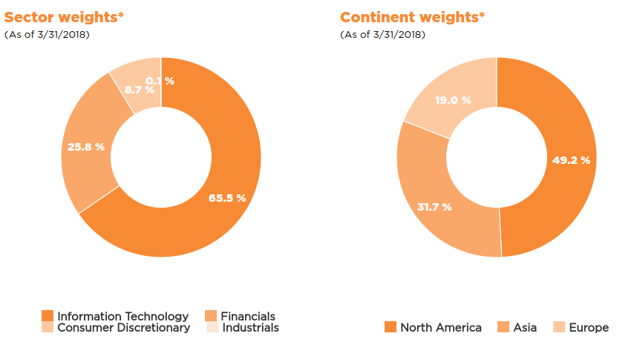 I like the concept of the Blockchain Score and trying to use more of an algorithmically-driven approach to building a portfolio. BLCN seems to have a good team in place to help remain on top of industry trends, but the passive nature of the fund and the semiannual reweighting of the portfolio could be a drawback.
First Trust Indxx Innovative Transaction & Process ETF
LEGR arrived just one week after BLOK and BLCN. It tracks the Indxx Blockchain Index, which tracks the performance of companies across the globe that are either actively using, investing in, developing, or have products that are poised to benefit from blockchain technology. The index seeks to include only companies that have devoted material resources to the use of blockchain technologies.
To identify potential companies for inclusion, the index starts by breaking them down into three categories.
Tier One: Active Enablers – Companies actively developing blockchain technology products or systems for their own internal use and for the sale and support of other companies; companies that are direct service providers for blockchain technology; or, companies that have business models that rely on delivering products or services that use blockchain technology. Companies in this category are assigned a score of 1.
Tier Two: Active Users – Companies that are using blockchain technology that is generally supported by an Active Enabler or have at least one use or test case of using blockchain technology. Companies in this category are assigned a score of 2.
Tier Three: Active Explorers – Companies that have publicly disclosed that they are active in exploring the incorporation of blockchain technology into their business or have a press release on their website or a news article stating that they have started working on the blockchain technology space. These companies do not have at least one use case or test case on blockchain technology and are not currently directly incorporating blockchain technology into their business. Companies in this category are assigned a score of 3.
Companies with a score of 1 or 2 are selected for the index and weighted with Active Enablers receiving 50% and Active Users receiving 50%. The selected companies are weighted equally within each category, and the index is capped at 100 constituents. Smaller companies with lesser trading volume have their weightings capped at 0.50%.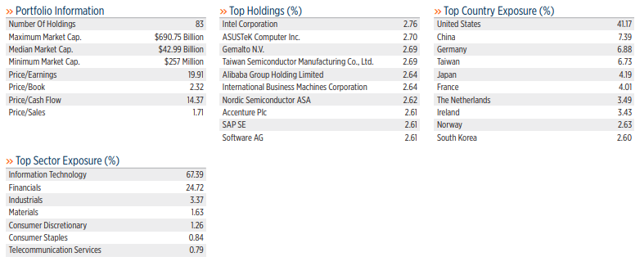 For ETFs that are all focused on the same narrow industry, the composition of the funds look remarkably different. LEGR only has around 1/3 of its assets overlapped with BLOK and BLCN, and looks to be the most diversified with more than 80 holdings, compared to 40-60 for its peers.
Cognizant of the ETF fee war, LEGR came in cheaper than either BLOK or BLCN. Its expense ratio of 0.65% is just slightly lower than its peers, but we've seen an overwhelming trend of cheaper products attracting assets, so even that modest advantage could help the fund. LEGR is also unique in that it easily has the greatest percentage of assets overseas, and is almost exclusively made up of tech and financial companies.
Innovation Shares NextGen Protocol ETF
The most recent entry to the blockchain space is KOIN, and it's the one that's had the most trouble attracting assets. Although, KOIN has the title of being the first blockchain ETF to utilize artificial intelligence to pick stocks.
The index's natural language processing algorithm identifies a relationship between certain keywords that are representative of targeted investment trends and themes in the blockchain industry. It reads through textual data on online media platforms and databases and identifies companies that are strongly tied to blockchain technology and any derivatives of that technology.
Companies are then grouped into four categories.
"Cryptocurrency Payees" - companies that accept cryptocurrency as payment and are developing blockchain payment solutions.
"Mining Enablers" - companies that create hardware to enable creation of new blockchains or are mining blockchains as their main business.
"Solutions Providers" - companies that assist organizations in the creation and implementation of blockchain applications.
"Blockchain Users" - companies that primarily use blockchain technology to increase their own operational efficiencies, optimize settlement processes, enhance their customers' experience and/or increase data security/integrity.
Perhaps more than any of its peers, KOIN looks more like a traditional tech ETF.

Given the composition of this fund, KOIN looks to be the least influenced by actual developments in the blockchain industry. Whereas the other funds have somewhere 25% of assets dedicated to mid-cap and small-cap stocks, KOIN is almost entirely made up of large-cap and mega-cap companies. Amazon (AMZN) and Visa (V) may indeed be developing blockchain, but it has virtually no impact on the bottom line, and likely won't for some time.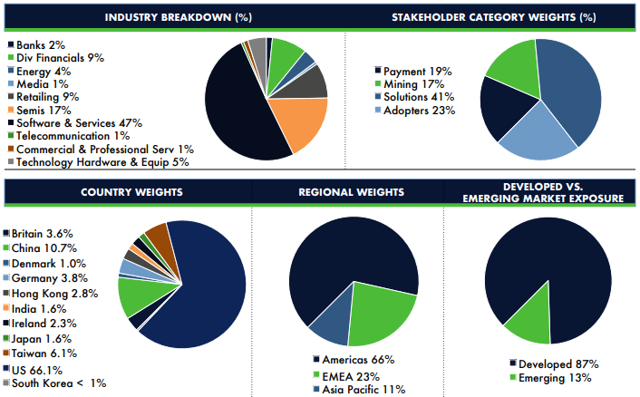 KOIN is also much more dependent on U.S. companies than its peers. It'll be interesting to see if this fund gains traction because of its association with AI, but I see this one having trouble. Over its brief history, KOIN has had a very high correlation with the biggest tech ETFs. Compared to KOIN, investors would be better served buying one of those and savings themselves 50 basis points on fees.
Conclusion
It's tough to really judge any of these funds this early, because blockchain is so new and there are so few companies that are materially impacted by it at this point. I think the early leader in the clubhouse though is BLOK. More than anything, I like the fact that it's actively managed (yes, active management does make sense in some situations). This should help it remain flexible and quick to respond to rapid changes within the industry. The fact that its expense ratio is virtually the same as its peers is a bonus.
I do like BLCN as well. The Blockchain Score is built on a solid methodology and I like the team they have around it to support the product.